Princess Bagaaya tops Most Beautiful Ugandan of-all-time list

By Moses Abeka
Women Whoever wrote "the beautiful are not yet born" never got close to visiting the Pearl of Africa and if he met a Ugandan, it must have been Olara.
From the biblical Eve, Delilah, Jezebel, Sheba; beauty queens melted hearts, wrecked havoc ,and left a trail of debris of broken hearts and shattered dreams on every street they walked. Presenting to you,ladies and gentlemen, the most prolific beautiful women born under the Ugandan sun; the all time most beautiful Ugandan women.
1. Princess Elizabeth Christobel Edith Bagaaya Of Toro Kingdom
Before Mariah Carey, Tyra Banks or Alek wek, there was Bagaaya. In her hey days as a model with trademark big eyes, tall, medium-sized body, crowned with beautiful long natural hair, the princess graced the cover of American Vogue magazine in 1968, then Harper Bazzar-the then top American society magazine.
While today's girls walk patyless just to appear in a city tabloid, the gorgeous cultured beauty was the most sought after model ,a feat no other Ugandan has achieved. Scented petals attract bees. Idi Amin, the then president appointed her ambassador in 1971. Real beauty queens dare the mighty and feared. The princess declined to marry the dictator; a decision which led to sacking of the diplomat, model. actress and politician.
It is said Amin lost his cool and expelled all Asians because their complexion and long natural hair constantly reminded him of his awful rejection by the princess. Now aging gracefully, Bagaaya compares to none. For those who attended Physics lessons, the 77 year old is the S.I unit of beauty and brains.
2. Nnabagereka Sylvia Nagginda
Voted Miss Congeliaty at the 2001 Miss Uganda beauty contest, the modern Ganda queen ranks at number 2 as the most beautiful Ugandan of all time. Her showcase of her "royal back " at the 2010 PAMA will forever be the most memorable moment for her subjects. That was havoc to  conservative subjects.
3. Juliana Kanyomozi
A songbird and descendant of the Tooro royal family, it is said milk and honey flow under her tongue as she lets loose love soaked lyrics torturing men in their most hidden parts. The hour glass shaped singer has left well documented ruins of towering relationships; most prolific being WBC champion Kassim Ouma the US based Ugandan pugilist. After the break up, he lost his belt, all the fights and his career soon followed to the grave! That's the power of Juliana's paradise it killed him!
4.Desire Luzinda.
When she stands ,the world stops moving. When she shakes her bum, the world experiences an earthquake while some men experience volcanic eruptions.
For that reason, she insured her "ass-ets" Her mere presence at the Obudde album launch not only earned the Goodlife boys a BET award nomination but also Weasel was left cursing why he has been fathering kids with mere s.2 drop outs instead!
Aptly described by Seya as the "big girl from Kiboga with a big Kabogo(bum); she is the reason Ugandans are not subscribing to DSTV for till the premiership resumes.
5. Sharon O
She is a living tesimony to the West African,"any woman is a cob of maize to a man with teeth". The hottest tabloid
topic at the moment, her soft thick fleshy thighs and rolling eyes is rhe reason, Ivan is said to be losing his ability to
speak. A source intimated to us that he says these days is OOOHH!! OOOOH!…even when Zari is swallowing what she was born to swallow. Thats the power of beauty.
6. Princess Ruth Komuntale
Another royal makes to our list. She inherited beauty; a trait that is embedded in the DNA of the Toro royal family. Her big eyes and long black silky hair evokes memories of Bagaaya in her hey days. Its said when Baggaya hangs with her, she keeps reerring mbu,"Boooyo, you use my princesss? thats how I lokked!!"'
7.Grace Nakimera
The photegenic singer with sexy hot body and boobs rumoured to have been enhanced by a boob job exudes sex appeal and is comfortably placed among the most beautiful Ugandans ever!
8. Zuena Kirema
Wife to the Gagamel boss definitely makes to the list. I cant emphasize much. You all witnessed how Bebe cool fought to have her back!
9. Zari
She would have ranked higher but being degraded to a spare tyre does not improve your rankings mama. However, you made it! This position could soon pay off.
10. Leila Kayondo 
After a long cat fight on who should occupy this position, the sexy Kayando not only won our heart but also this position.
(Visited 2,577 time, 5 visit today)
National Medical Stores launches new drug for Nodding Syndrome Victims

As it celebrates 25 years of procuring, storing and distributing essential drugs and supplies for the people of Uganda, National Medical Stores (NMS) has joined the fight to curb the effects of Nodding Syndrome amongst those afflicted and affected by the ailment.
Nodding Disease is a neurodegenerative condition whose exact cause is yet to be established. This debilitating ailment affects only children, and has manifested in seven districts in Northern Uganda. What is known is that malnutrition plays a significant role in making a child susceptible to the illness, and also goes on to make their care difficult once they are affected.
And thus NMS, in partnership with the Ugandan firm Doctor's Choice, has acquired and donated 3-months stock worth of a new drug/supplement called 'Replenish'. Replenish is a powerful immune-booster, and is specially designed to counter the deficiencies of selenium and Vitamin B6 that are seen in the sufferers of Nodding Syndrome. The drug has been certified by the National Drug Authority.
The global launch of Replenish occurred at Hope for Humans Care Center in Odek sub-county, Omoro District, on 8th November, 2018. The Chief Guest was the Right Honourable Deputy Speaker and Member of Parliament for Omoro District, Jacob Oulanyah. He thanked NMS for going a step above their usual mandate, and directing energy towards providing care and generating awareness about the ailment.
Both the NMS Board Chairperson, Dr. Jotham Musinguzi, and the General Manager/CEO, Moses Kamabare, thanked the Deputy Speaker for inviting NMS to be part of the initiative. They promised that the corporation shall do even more.
NMS also donated 200 blankets and 200 mattresses to the families of those affected by Nodding Syndrome in the area.
(Visited 2,577 time, 5 visit today)
Preparations for Tecno Heroes in Color run in high gear

By Staff Writer
Tecno Mobile together with their partners Infinix Mobility, Fresh Dairy, Trevor Investments, Capital FM and BEAT FM have organized a mini marathon dubbed 'Tecno Heroes in Color run' and preparations are in high gear.
The charity event that is slated to take place on 18th November 2018 at Kyadondo Rugby Grounds has been organized with the sole aim of collecting funds to purchase Re-Usable Sanitary Pads for a Girl Child in Kamuli District.
The Color RUN is a mini-marathon event where participants play with Color for Fun.
It's quite a new experience in Uganda but has been existing in the developed countries like UK and China.
The Girl-Child in Kamuli between 8 – 15yrs miss school during their menstrual days due to lack of Sanitary Pads. Some use unhygienic means like old cloths and sponge which leaves them at a big health risk. Proceeds from the event will go a long way in helping the girl child in Kamuli.
To be part of the event, the general public can simply pay for an ordinary ticket is at 20,000shs or a VIP ticket at 50,000shs. There is a special offer for children below 13 years. They will get tickets at 10,000shs only.
Another special offer which has been set up is the couple early bird tickets which are being sold at 30,000shs ordinary and VIP at 80,000shs.
Speaking about the event, Lindah Nakityo Kasasa, who is on the organizing committee said that there will be a lot of fun, music performances from Lydia Jazmine, Fille, DJs Slick Stuart & Roja and MC Kats who will be the official MC of the day among others. For the children, bouncing castles have also been included.
Prizes have also been set aside. Infinix and TECNO smartphones along a grand prize of a voucher worth one Million shillings for a lucky winner are up for grabs.
Getting a ticket to the event is very easy. You can purchase yours today from any TECNO or Infinix branded shop in Kampala or at TECNO offices, Kampala Road, The Prism level 6.
There is a hero in each one of us. Let us come and run for the girl child in Kamuli.
(Visited 2,577 time, 5 visit today)
MTN Foundation donates, visits Bududa landslide victims

By Staff Writer
The MTN Foundation has today, following its donation of Shs50m towards the relief efforts of the landslide affected people in Bududa, delivered some relief items to the community. MTN contributed to the Uganda Red Cross drive to raise Shs1.2bn to help the people of Bukalasi Subcounty, Bududa District that were affected by landslides. MTN contributed Shs50m to the cause. More to that, the MTN staff also contributed an assortment of items. Bryan Mbasa, the MTN Foundation Manager handed over these items to the Uganda Red Cross society in Bududa.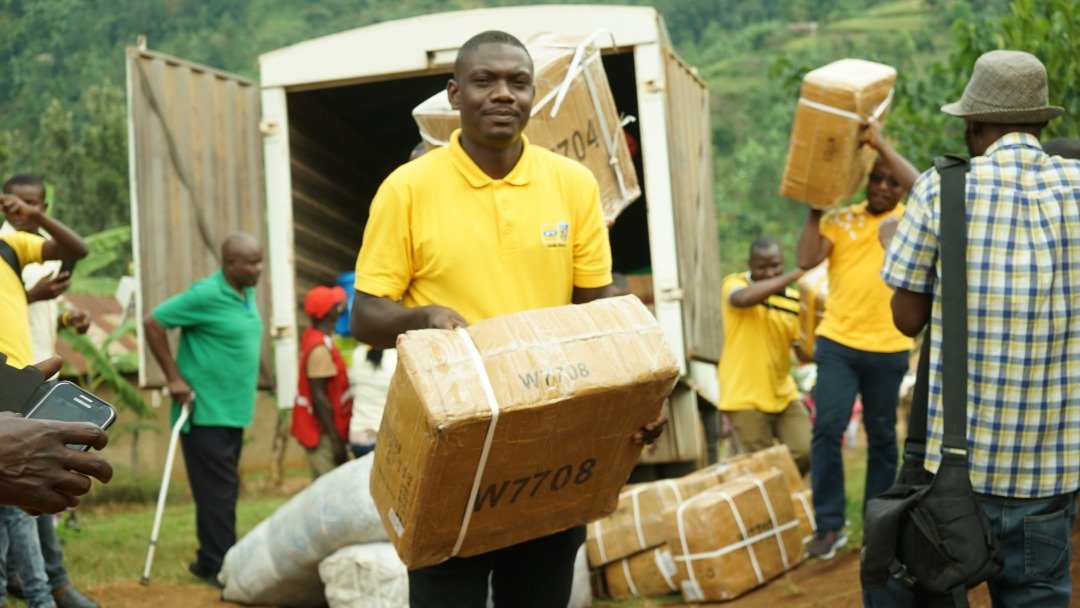 "It is a tragedy what happened to the people of Bukalasi sub-county. Our role as a foundation is to ensure that we contribute towards improvement of livelihoods of people. Some of the people affected by the landslides have lost almost everything. It is important that as a company that operates in Uganda, we get to assist in the relief efforts as a good corporate citizen. We do hope that what we have contributed adds to the already existing efforts being done by the URS and the government," Mbasa said.
The MTN Uganda staff on realising what had happened in Bududa launched an internal campaign, #StandWithBududa where they collected an assortment of clothing and other non-food items towards the welfare of the affected persons. Some of the MTN staff also attended the handover of these items in Bududa. The mobilization of these items is in addition to what the MTN Foundation contributed to URS.
"It is only fair that the welfare of the affected people improves. At this stage there is a combination of grief and pain that they are going through. We call upon Ugandans who can contribute towards this cause to do so because the people of Bukalasi in Bududa need all the help available," Mbasa further noted.
Approximately over 139 households were affected after their houses were washed away and others severely damaged after River Suume burst its banks. Sadly, 43 people lost their lives in this tragic incident.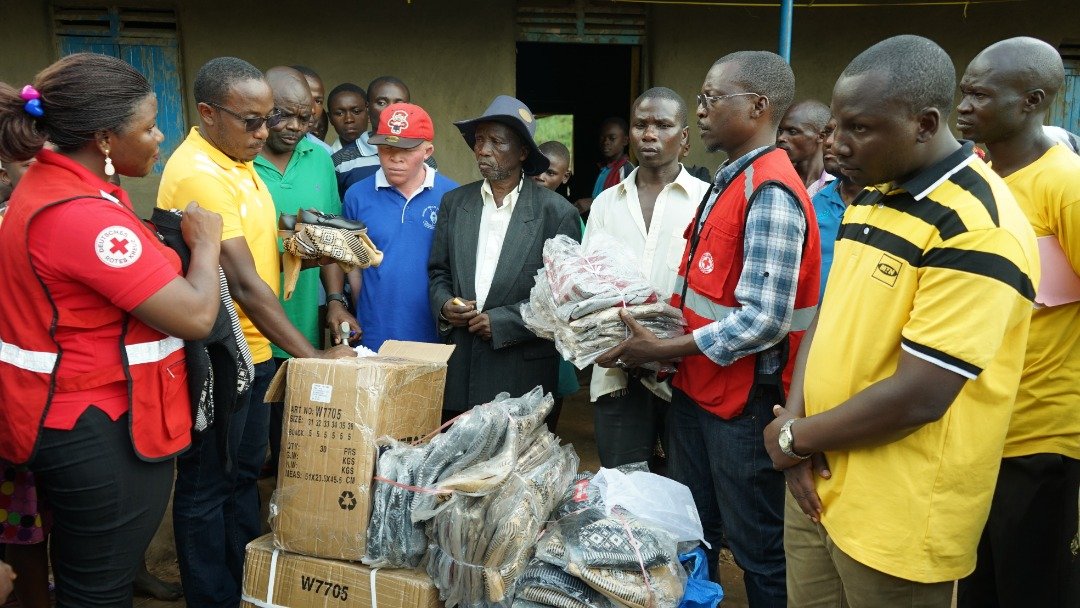 The MTN Uganda Foundation is a non-profit entity that was inaugurated in July 2007 as a vehicle through which MTN Uganda implements its corporate social investments (CSI). The main objective of the foundation is to improve the quality of life in communities across the country by supporting and implementing sustainable projects in education, health, art and sciences, sports and other national priorities.
(Visited 2,577 time, 5 visit today)