Pomp and splendor as Radiocity's McKenzie launches PR firm.
Radiocity's top 10 countdown show host is no ordinary man in the entertainment industry. On the dark soothing Thursday night, the beaming chubby birthday boy-like the moon attracted a host of stars at the Bugolobi based Gato Mato restuarant as he launched his new business venture-"Kella PR" , a public relations company with the tagline " We'll do it", which coincided with his 27th birthday and the introduction of a cocktail dubbed "kella cocktail"; an awesome threesome!
According to MvKenzie, the company in its first phase of operation will concentrate on events management, social media marketing and artiste promotion before going mainstream into corporate affairs. The era of misguided and unnecessary career-killing attention seeking celebrity public stunts could soo be history.
"Kella PR will bring new ideas in the entertainment scene. Rather than artistes making public stunts to attract attention, we'll give them profession and expert advice", Kella firmly stated his vision.
INSPIRATION BEHIND KELLA PR
Way back in 2008, as a presenter at Hot 100fm, McKenzie vowed to change the face of entertainment. He tried his hand at rapping but television and radio got the better of him. Five years later, he has different plans. "I have done PR unprofessionally for the last 3 years. People love my ideas but they are never applied anywhere. I want to add value to the entertainment industry of which am part of", he stated his passion.
The lively massively attended event was graced by acts from city comedians comedians Salvado Idringi ,Alex Muhangi, Keko, Big Tril, Maurice Kiryra,Klear Kut, and Bebe Cool who entertained a star studded crowd with Juliana ,Isaac Lugudde, radio personalities , to mention but a few.
(Visited 109 time, 1 visit today)
LG expands retail chain in Uganda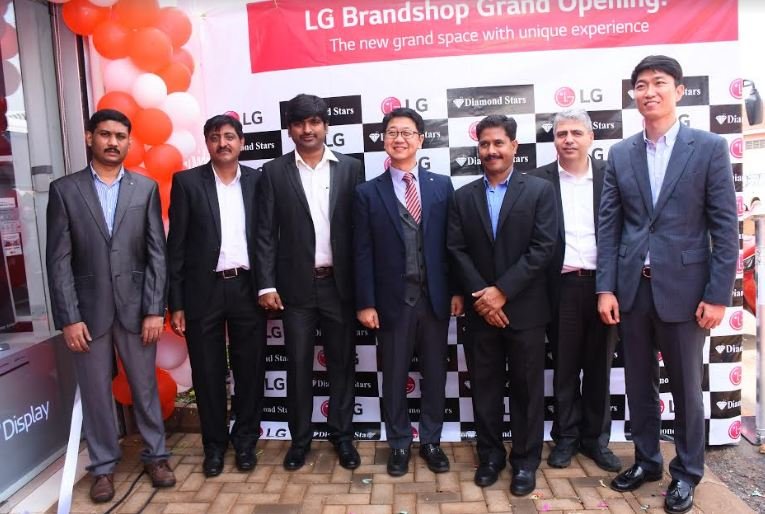 LG Electronics has launched a new brand shop in Kampala's industrial Area that will see the consumer reach doubled in the country.
The 70,000 USD (257 million UGX) investment comes after LG successfully engaged the distributor Diamond Star who will be managing the store, bringing the total number of LG outlets to three in Uganda.
LG has also simultaneously opened a parallel service center in Kampala to cater to the rising number of consumers using LG products.
"We are responding to the rising demand of LG products in the Ugandan market. This expansion will improve the availability of our innovative products to our growing client base. We project that the new store will serve more than 200,000 new customers every month," said Mr. Moses Marji, Marketing Director, East and Central Africa.
LG is a leading supplier of home electronics and appliances to the region and has stores in Kenya, Uganda, Tanzania, Ethiopia, Sudan, Zambia and Rwanda.
Today's launch brings LG's retail store count in the Eastern African region to 98. Four new stores were opened in the region in 2017. Additionally, the company will also refurbish and upgrade some of the major existing outlets to meet the global LG Electronics' shop standards.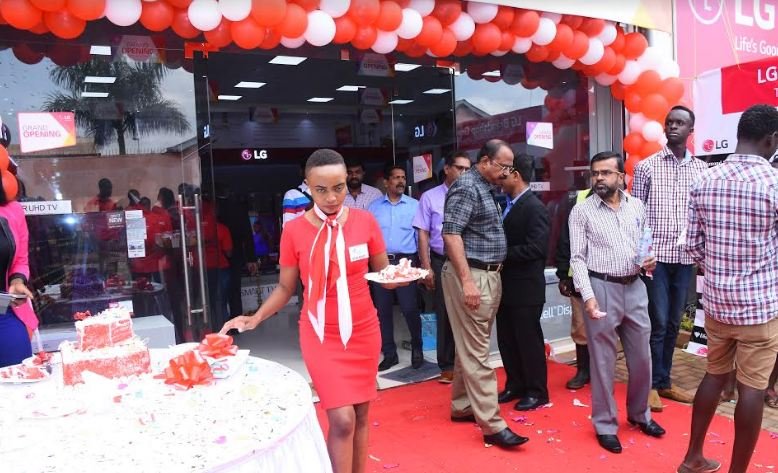 LG Electronics Managing Director in charge of East and Central Africa Janghoon Chung said the company is committed to delivering high quality products that bring convenience to the lives of consumers.
"At LG, quality is our priority and we take the time to make sure that our customers are satisfied with the products that they buy. This is also part of our contribution to the growth of Uganda's economy by delivering outstanding value to customers every day," said Mr Chung.
Some of LG's headlining home appliances such as the LG TWIN Wash will first hit the Ugandan market through the new shop. The TWIN Wash has the capacity to handle two separate loads simultaneously, allowing users to wash different types of clothes seamlessly.
The new brand shop will also stock LG's new range of Super UHD TVs that use Nano Cell technology to deliver accurate colors and high picture quality even when viewed from wide angles.
(Visited 109 time, 1 visit today)
MTN UGANDA LAUNCHES MTN SHORTZ.
MTN Shortz allows subscribers to post video content
There is an opportunity for content created to generate revenue
Video content of up to 10 minutes can be uploaded
To subscribe and upload, visit www.mtnplay.co.ug/shortz
MTN Uganda in a continuous drive to become a digital company has today launched MTN Shortz, a short video streaming platform. MTN Shortz is a mobile-only service that allows subscribers to upload videos of no more than 10 minutes. MTN Shortz is available through mobile phones only on www.mtnplay.co.ug/shortz.
The streaming service allows subscribers to directly post video content from their mobile devices.
"MTN is creating an opportunity for its subscribers to create video content and earn from it. As the leading tech brand in Africa, we are always looking for ways to use technology to provide services that uplift the quality of life in the markets where we operate and so MTN Shortz," said Olivier Prentout, the Chief Marketing Officer.
MTN Shortz has several channels that subscribers can pick to upload content of their choice. It consists of channels belonging to different content owners, which users can access to view a variety of content. For subscribers to view the content on MTN Shortz, there is a daily charge of between Ugx200 and Ugx1000.
For a video viewed, the content owner will be able to earn some money from the visits.
"The MTN Shortz channels will have local content videos, meaning that for the Ugandan content producers, there is an opportunity for views and extra income. MTN believes that MTN Shortz will be able to drive local content video production," Prentout notes.
Adding "There is also an opportunity for those that want to be seen by professional content creators. There are several professional content creators that will be using MTN Shortz and will be able to identify the untapped talent. You won't have to wait for the opportunity to come to you, you can create it."
For the MTN Pulse community, MTN Shortz is empowering the lifestyle of creating an opportunity. There are several platforms where people can post videos, however on MTN Shortz, the fact is that there is an opportunity to make money. The MTN Pulse community, there will be several exclusive offers in order to access and use MTN Shortz.
(Visited 109 time, 1 visit today)
Opportunity Bank rebrands
By Our Reporter
Opportunity Bank, a leading microfinance bank in Uganda, announced their new brand and officially unveiled their  new and improved Head Office in Kamwokya on Friday.
These changes will elevate Opportunity Bank's focus on the ability to provide a strong customer experience and technology-led financial services offering to well serve their existing customers and potential target market in the small and mid-sized businesses (SMEs).
Mr. Tineyi Emmanuel Mawocha, Chief Executive Officer of Opportunity Bank said that "There are still many people who are unbanked and have fettered access to loans for developing their businesses. Being able to provide a strong customer experience while exhibiting our unique brand values and financial solutions can be a key differentiator to enable the local market access to turn-key banking products and services. With our rebranding efforts, Opportunity Bank has been empowered to offer banking solutions and experienced customer support services that SMBs need to grow."
The acting Board Chairperson, Mrs Winnie-Lawoko-Olwe, also added that "Opportunity Bank's unique banking platform is able to meet consumer needs in an easy-to-use way for any SME and individual. Opportunity Bank continues to develop its multi-functional platform, helping our local markets grow one business at a time. The innovative banking solutions that a small business owner will need to grow their business is extensive. We knew that a unique approach was needed, and we have moved to tailor our products and services specifically to meet our client's needs."
Executive Director-Supervision at Bank of Uganda Dr. Tumubweine Twinemanzi who officiated at the launch said that increased confidence in banking benefits will see the move of the 'unbanked funds' from under the mattress to commercial banks. Opportunity Bank's new branding further enables the bank to stand out, not only within the expansive financial sector industry, but also within the ever-growing mobile money banking sector technology ecosystem. Small business owners will enjoy the ease-of-use of Opportunity Bank's sophisticated technology, along with the human touch that is delivered through superior customer service.
The New Opportunity Bank logo brings a sharp new visual identity, characterising the brand as bold, smart, effective, and original. Opportunity Bank's emphasis on providing a full suite of products and services to the local market is reflected in the company's new tagline, – "Empower yourself, empower your business, empower your future." This language speaks to the core belief that in a vast, ever-changing, and evolving financial sector, Opportunity Bank can fully cater to each and every business to establish and secure a thriving banking solution.
(Visited 109 time, 1 visit today)