Plascon rewards winners in the "Paint and Win" promotion

By Our Reporter
Plascon Uganda has rewarded lucky winners in the 5th draw of its ongoing "Paint and Win" promotion.
The promotion, which is in its 6th edition, has so far seen customers walk away with different goodies including cars, scooters and an all-expense paid trip to England to watch Manchester United at Old Trafford among other prizes.
So far, two cars have been given away with the first going to Alex Mulindwa and the other to Edward Namugela. Kalibala George and Judith Ajambo are the only two lucky individuals to so far win an all-expense paid trip to England to watch Manchester United at Old Trafford.
The joy was palpable as Judith Ajambo received her air ticket during the 5th handover ceremony held at Plascon's home on 2nd street industrial area, Kampala. "This has really taken me by surprise,"Judith Ajambo exclaimed. "But now that the opportunity has come, I will go and enjoy the Manchester United game."
According to Plascon Uganda Managing Director Chris Nugent, there are still three more tickets to watch Manchester United in action at Old Trafford and two cars to be won among other prizes. Other prizes to be won include mobile phones, scooters, TVs, daily paint vouchers worth UGX500,000 and airtime worth 2000/=.
To participate, customers are required to buy paint worth UGX100,000 at any Plascon dealer shop, get a scratch card and SMS the code to 6565.
The promotion kicked off on  on Monday, 16 October and will run for nine weeks up to 16 December.
(Visited 106 time, 1 visit today)
Pizza Hut Uganda unveils their largest pizza ever

By Our Reporter
Pizza lovers are in for an epic treat at Pizza Hut Uganda. This after the pizza restaurant company unveiled their new pizza offering which is being touted as the biggest ever on the market.
Dubbed "The Epic" pizza, it was unveiled during a ceremony held at their Muyenga branch on Thursday where invited guests and media personalities got the first taste.
According to Laura Sseezi, the Marketing coordinator Pizza Hut Uganda, "The Epic" pizza is their largest ever and is almost twice their current large size. "'The Epic' pizza is 16 inches long, making it 75% larger than our current large size." She noted.
James Ouma, the Area Coach Pizza Hut Uganda, explained that the decision to introduce the extra large pizza was influenced by continued demands from their customers for a bigger size. "One of the biggest complaints from our customers has been the size of our pizzas," he explained. "And because we listen to our customers, we have decided to introduce, 'The Epic', the biggest pizza on the market."
The Epic pizza comes in five offerings — Pepperoni, Tandori Chicken, Veggie, Meat and Cheese. It is available at Ugx 55, 000.
(Visited 106 time, 1 visit today)
Emirates Airline Foundation transforming communities in Western Uganda

The Emirates Airline Foundation along with Outreach to Africa (OTA) has established a school with three sections; nursery, primary and secondary; The Emirates Airline Foundation campus in Geme village near Fort Portal, Kabarole District, Western Uganda. The campus is presently catering for 850 pupils and students in both day and boarding sections. What began as a collaboration to provide basic health care services to residents in 2010, has grown to become a fully-functioning school. Upon the completion of the on-going construction and renovation work currently underway, the capacity of the school will increase.
The Paul Devlin School was started by OTA in 2008; an NGO located in Fort Portal, Kabarole district, Western Uganda with a mission to empower communities by providing quality education, health care and economic empowerment projects. In 2014, The Emirates Airline Foundation in partnership with OTA announced the commencement of a project valued at over US$ 1.5 million towards a building project that would transform The Paul Devlin School. The construction of The Emirates Airline Foundation Campus – a new wing of the School, will enhance the infrastructure and capacity of the school, allowing more students to enrol and receive a well-rounded education.
"The Emirates Airline Foundation is deeply committed to helping disadvantaged children around the world. The school that we are building with OTA will contribute to empowering communities and transform the lives of so many children," said Sir Tim Clark, Chairman, The Emirates Airline Foundation.
"Our work in Uganda over the past eight years has enabled us to meet our objectives as an organization, and this project also ties in with the goals of the Ugandan government to eradicate poverty through increasing access to education," he added.
The Emirates Airline Foundation Campus is expected to be completed by December 2018; in time for the start of the new academic year in February 2019. The new facility of the Emirates Airline Foundation Campus will include dormitories for boarding students, sports fields, staff housing, a library and computer laboratory, a dining hall, and classrooms.
Over the years, the Paul Devlin School has enrolled thousands of students from vulnerable communities. Mr. Edward Nyakabwa, a board member with OTA said, "we have the responsibility to significantly meet the needs of and improve the lives of the communities in which we are stationed. The new wing whose construction was funded by The Emirates Airline Foundation will enable us to increase the number of students who will, in turn, reap the invaluable asset of education."
"We admit students from the surrounding Rwenzori region and other districts in Uganda. A large number of our students come from disadvantaged backgrounds and are in need of a quality education that will improve their socio-economic standing. This expansion means that we are now equipped to improve the lives of many students who might have otherwise not received any form of formal education," Mr. Nyakabwa added.
(Visited 106 time, 1 visit today)
dfcu Bank appoints new COO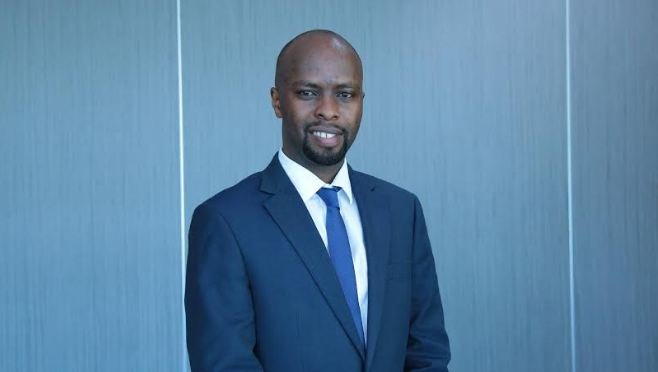 dfcu Bank has appointed Andrew Kabeera as the new Chief Operating Officer. A seasoned banker with experience spanning over 13 years, Andrew Kabeera is responsible for among other aspects establishing operational excellence and great experience across all touch points and driving the strategic goal of Superior financial performance on cost income ratio.
His role entails management of Business Technology Operations; Procurement; Facilities & Administration; Credit Operations and Banking Operations – all aimed at supporting the delivery of the Bank's strategic agenda.
Andrew Kabeera joins dfcu from Standard Chartered Bank where he was the Head of Corporate and Commercial Banking Operations. Prior to that, Andrew held a number of senior positions as Head of Consumer Banking Operations; Head of Risk; Head of Governance for Technology and Operations plus Head of Banking Operations.
He has a good understanding of Banking Operations and how to derive efficiencies through a broad range of IT services. Andrew brings on board a wealth of experience having worked in a number of big centralisation projects for both Operations and IT and also has international exposure from Nigeria, UAE, Kenya, Nigeria, Zambia, Singapore and Malaysia.
Andrew was the chairman of the Operations Committee at the Uganda Bankers Association for 2 years where he delivered a number of industry wide initiatives.
(Visited 106 time, 1 visit today)