Plascon's "Paint and Win" promotion comes to an end

After 9 weeks of spreading the Christmas spirit, the Plascon paint and win gift giving spree has finally come to an end. Prizes for the taking included 4 brand new Toyota wish cars, over 20 scooters, over 50 paint vouchers worth 500,000shs, 60 phones, 20 flat screen TVs and an all-expenses trip to watch Manchester United play live at Old Trafford.
The final prize hand over was held on 20th December at the Plascon head offices on 2 nd street Industrial area, where Nayiga Daphine walked away with the last ticket to Manchester while over 25 customers walked away with phones, TVs and paint vouchers.
"The season 6 paint and win promotion is also further proof that the acquisition of Sadolin Paints by Kansai Plascon Africa Limited is here to benefit and improve the ability to service customers," said Plascon Uganda Managing Director, Chris Nugent.
To participate and win the various prizes, customers were required to buy Plascon paint worth 100,000shs at any dealers shop, get a scratch card and SMS the code to 6565.
(Visited 99 time, 1 visit today)
Roke Telkom offers support to children at Good Samaritan orphanage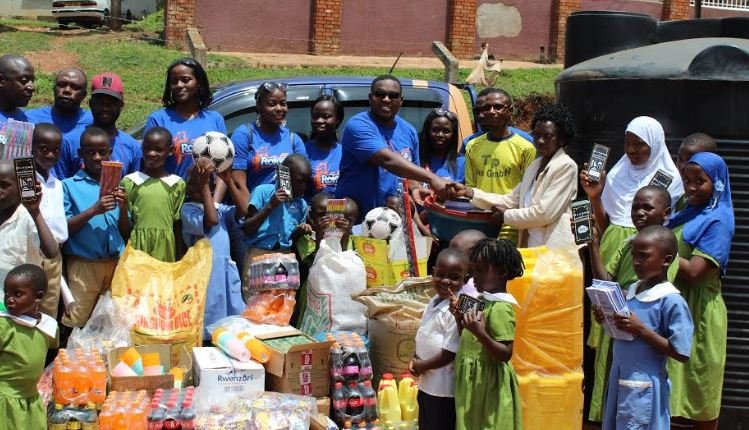 Roke Telkom, a provider of innovative internet service solutions, has offered material and food support to improve the welfare of up to 200 children at Good Samaritan orphanage in Entebbe.
Roke Telkom, which is based in Bugolobi, gave items including; a 5,000 liter water tank, personal effects, scholastic materials, cleaning, and sports equipment to the orphanage. The offer is part of Roke's Corporate Social Responsibility initiative branded Roke Gives Back. It is the third time that the telecommunications firm is supporting the Orphanage with which it has built a good-working relationship.
The orphanage provides care and support to up to 200 children within its community with the aim of upholding the sanctity of human life by meeting the physical, emotional and spiritual needs of children, women and men through a
participatory approach with the grass root communities to ensure that they have improved livelihoods.
Speaking at the handover ceremony, Mr. Amanya Atuhaire, the Credit Control Manager, Roke Telkom appreciated the work of the orphanage in raising and caring for the children. "We are very pleased and inspired by the work you are doing in this community and we commend you for your commitment to better the lives of this children. It is for the same reason that we keep coming back to offer our support to you, through the Roke Gives Back initiative."
He added that, "It's our hope that our contribution will compliment your generosity in a making a difference among these children. We remain committed to improving the well-being of people through such programmes and by delivering efficient, fast and reliable internet services to our communities."
Mr. Collin Bright, the Representative, Good Samaritan Orphanage, commended Roke Telkom for its annual support. "The contribution you have made today, will go a long way in improving the livelihood of our children and their education. We therefore extend our sincere appreciation to the management and staff of Roke Telkom," he said. "With this kind of support, the welfare and future of these children will always be assured. We thank you for the continued partnership."
(Visited 99 time, 1 visit today)
United Bank for Africa embarks on campaign to curb poor reading culture in Uganda

By Our Reporter
In a bid to curb the poor reading culture plaguing the youth in Uganda, United Bank for Africa(UBA) has embarked on a project dubbed read 'Read Africa' to equip students with literature.
On Friday last week, the UBA Fort Portal team led by the Head of Retail Banking, Paul Luyima donated 100 books to students of Fort Portal Secondary School, in Kabarole district. The title of the book donated was the famous 'Things Fall Apart', written by Chinua Achebe.
While addressing the students, Mr. Luyima advised, 'The more we read, the more we acquire new knowledge, the quicker we get at solving complex problems, the better we understand each other, the more confident we get because we will be able to firmly engage in dialogue. You should never tire of reading, it only makes you a better person.'
The Read Africa project was initiated in 2011 by UBA Foundation, the arm of the bank charged with Corporate Social Responsibility(CSR). Read Africa has been rolled out across Africa with the goal of rekindling the dwindling reading culture amongst African youths.
UBA plans to donate books to schools across Uganda in all towns of operation. This week, Read Africa will be live in Mbale town.
(Visited 99 time, 1 visit today)
StarTimes moves to empower youth at SOS Villages

By Our Reporter
StarTimes has moved to empower youth at the SOS Children's Village. The pay TV company on Wednesday signed a memorandum of understanding with SOS during an event held at the NGO's national office in Entebbe.
The three-year partnership will see SOS children get internship and job placement for qualified youths from the village, provide digital television and equipment for learning to the SOS villages so that the children can go e-learning and match with the competitive job market. In addition, StarTimes will use its platform to spearhead a campaign to encourage Ugandans to offer support to children's homes.
Speaking at the event, the CEO of StarTimes Andy Wang said that this partnership is one of the few ways they can give back to Ugandans for the great support they have showed StarTimes in the past 8 years that has turned them into the largest market share holder.
"We believe this partnership will help the youth reach their full potential and contribute positively towards the development of this country," Andy Wang also noted.
Ms Olive Lumonya, the Country Director SOS Children's Villages expressed gratitude towards the partnership noting that with this support will go a long way in providing a more comfortable environment for the children.
"With the biggest population at the SOS Children's Villages being youth, we have been grappling with youth unemployment among other challenges. We are grateful that StarTimes has come on board to help us deal with this." She said.
"It is a great honor to partner with StarTimes which has committed to support us as we strive to create a comfortable home for our kids."
SOS Children's Village have branches in Kakiri, Entebbe, Gulu and Fort portal where they cater for 680 children. They also support over 10,000 more children with in the community.
(Visited 99 time, 1 visit today)