Nutty Neithan, Rema, Sheebah, Mun*G in New Collabo
You could win big cash with FortBet. Click here for more
IDroid phone ambassadors Nutty Neithan, Rema, Sheebah, and Mun*G have joined efforts in a new project for the smartphone company.
The four who are in contract with the smartphone company to promote the brand are allegedly working on a new song as part of the promotional campaign.
Despite iDroid phone management remaining discreet about details of the upcoming project the quartet is involved in, they continue to tease their fans on social media. "We all know these great artistes are our brand ambassadors but can you guess what they are about to do next?" iDroid Africa posted.
Meanwhile, the news of the big project comes  just days before the launch of two new iDroid Royal phones. However, details about the new phones are as scanty as the project the artistes are involved in.
BigEyeUg Staff
(Visited 1 time, 1 visit today)
Philanthropist Achai Wiir brings South Sudan peace talks to Uganda through concert
You could win big cash with FortBet. Click here for more
By Staff Writer
South Sudanese business woman and philanthropist Achai Wiir has not given up on her efforts to reconcile South Sudan as a country. The South Sudanese tycoon and business woman has made all efforts and the latest was with a "Together for peace" concert that ahe organised at former Didis world in Kansanga.
Last Friday 17th of January 2019 'Together for Peace' concert took place at the Wonderworld Auditorium and entrance was absolutely free for all. The event was attended by various dignitaries, including Hon. Simon Duku Michael, Ambassador of South Sudan to Uganda who was the Guest of Honor, Lt. Gen Garang Mabil, the chief guest, Brig. Gen. Majier Abdalla Mabior, 1st Counselor and Technical Attaché to South Sudan embassy in Uganda and many more peace delegates from South Sudan.
The event pulled some of the South Sudane community in Uganda which was the sole aim to unite them as countymen. Ugandans were also not left behind as they too engaged to participate and also have fun on the night.
South Sudanese artists who were fully in attendance also provided memorable performances for the crowd. Legendary, Emmanuel Kembe, John Kudusay, Duop Pur Duop, Silver X, Johnson Jok just to mention a few.
The concert brought a platform for the community to talk about the ongoing peace processes and what everyone can contribute. Several were given an opportunity to express their concerns, appreciations and gratitude, suggestions and general opinions on current matters of peace in the country.
Here are some moments:
(Visited 1 time, 1 visit today)
Why Ssebulime divorced Judith Babirye
You could win big cash with FortBet. Click here for more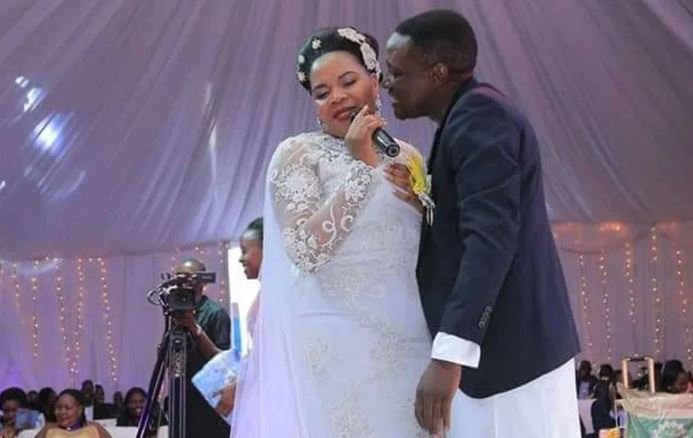 By Our Reporter
Gospel singer and Buikwe Woman MP, Judith Babirye is divorced again. The singer's marriage to fellow MP Paul Musoke Ssebulime has been dissolved by court.
Babirye and Sebulime were married in a traditional ceremony held in July 2018 in Bunga, Kampala.
But barely a year into their union, Sebulime filed for divorce. According to court documents, Ssebulime testified that he had not seen or heard from Babirye since 22 December 2018. In fact, he did not know of his wife's whereabouts for seven months he waited before petitioning court.
Ssebulime also accused Babirye of denying him conjugal rights. He said that the couple had not been intimate since the second week of August 2018.
He further said that Babirye's attitude towards his friends discouraged him from freely interacting with them for fear of upsetting her and this caused him psychological and mental torture because he was forced to live a lonely life.
The family division of the High Court, on 20 December 2019, finally annulled their marriage on grounds of cruelty. It ruled that Babirye's actions were not a demonstration of any commitment to the success of the marriage and therefore the two could no longer stay together as husband and wife.
Judith Bairye was married to Samuel Niiwo in her first marriage, with whom they have a daughter together. They divorced in 2017.
(Visited 1 time, 1 visit today)
I have never received my Evoke prize money — DJ Mackus cries out
You could win big cash with FortBet. Click here for more
By Our Reporter
DJ Mackus is crying foul play. The disc spinner who was one of the Evoke Night season 3 finalists has revealed that he has never received his prize money.
Mackus took to social media to express his disgruntlement. "On 28th November I was ranked the first runner up of the 'Evoke season Three Finale' but I was only left with a paper with figures," he wrote. "What happened to the prize?"
Unlike the first two seasons where individuals were just given a stage to showcase their talent, season 3 saw talent compete for a big cash prize. From deejays to dancers to singers to poets, talents were pitted against each other over the different episodes which culminated in a final showdown held November last year where three finalists were rewarded.
The finale saw H2C Dance Group ultimately crowned champions, taking home a cash prize of UGX 2,000,000 and an iPhone X. DJ Mackus came in second place and was rewarded with UGX 1,500,000 while in 3rd place was a one Mark who was awarded UGX 1,000,000.
According to a congratulatory letter sent to the deejay, he was supposed to receive the prize money not later than December 15, 2019.
When reached for a comment, Timothy Bukenya, the team lead at Evoke said, "There is a delay because we postponed December Evoke Night and yet we must handover at an Evoke Night. Next one is February or March."
(Visited 1 time, 1 visit today)