NTV's Kleith Kyatuhaire apologizes for her leaked nude pictures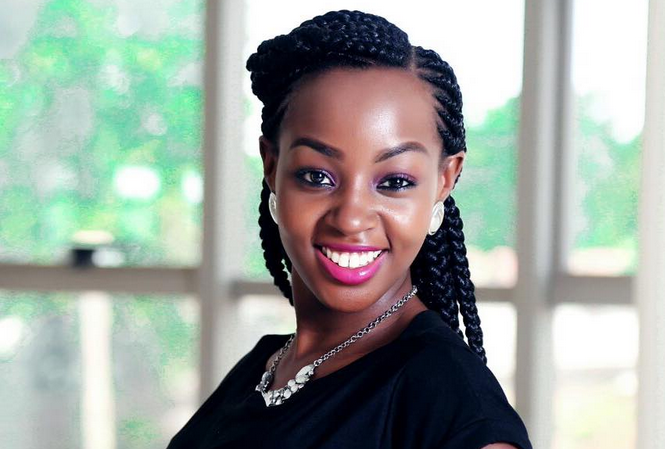 Kleith Kyatuhaire, the Style Project presenter on NTV, has broken the silence, at last, and apologized to her fans, family, and the entire world for her nudes that have been circulating around.
In verbatim, she said:
"In this time of immense difficulty, I wish to express my heartfelt gratitude to those who have stood by me in this trying time. My family, friends, Ntv and my loving fans. I guarantee that it was not my intention that those pictures be circulated and that my privacy be poured out for whoever cares to see.
I have been blackmailed before for having nude photos and relentlessly pursued the blackmailers sure I had never posed for any. Unknown to me, photos that I took years ago, alone, in private, with no intention of sharing somehow got into the hands of those that published them.
You should trust a few, especially with your phone or even lending it out. I cannot go back in time…hit a reset button or delete those images out of your heads, I'll take the available option, which is to apologize. To the parents, who expect more of their daughters, my parents, who have taught me better, my dear family, whose esteem i wish not to lose, my work, my loving fans and especially the youth who i have always tried to inspire through strength, honesty, virtue and piety. I am sorry.
I pray that God strengthen me through this time. And that the divulgers be apprehended."
Staff Writer
(Visited 1 time, 1 visit today)
Fresh Kid beats Kapiripiti and Ring Rapper hands down to a rap battle
After Fresh Kid breaking through to the music industry we can confirm he has inspired young talents and many of them have emerge into the industry and among the most notable ones are Kapiripiti and Ring Rapper
NTV Da Beat's hosted all of them yesterday to a rap battle and some of them wished they had stayed home. The battle was between Kapiripiti, Ring Rapper and Fresh Kid who stole the show because of his unique raps, calmness and confidence.
According to those that watched the battle believed the Bambi hit maker beat his competitors by a mile and most of them took it to social media to praise the young Rapper
"Guys did u see how fresh kid feels his experience.. The ka dude felt like kapiripiti is from oba where… So dearly..
Ring rapper so happening
Kapiripiti so powerful
Fresh kid very calm and experienced" a fan lamented
"Guys Fresh Kid is another league his words match with instrumental in the back ground."
(Visited 1 time, 1 visit today)
Mandatory Entertainment release new Honorebel and Tarrus Riley song called "Be Free"
By Staff Writer
Billboard hitmaker, writer, producer and international Recording Artist Honorebel premieres his new single "Be Free" from the upcoming album entitled "Above The Noise".
This single "Be Free" sets the tone for a masterpiece, as a song it will take you on a journey through some of his happy, most formative and also most troubling moments. Honorebel has cemented himself as an artist known for making international hits.
Now he has joined forces with another Billboard hit maker and award-winning Artist, Tarrus Riley on "Be Free" to make this project epic and unforgettable. Honorebel, born in Kingston, Jamaica migrated to Miami years ago where he became friends with Tarrus Riley and father Jimmy Riley, from then a musical bond was built with both eclectic Artists, Honorebel and Tarrus Riley.
"Be Free", is a Reggae/World Music sounding of the track exemplified by the melodic backdrop of the trombone and ukulele that seamlessly merges every element of the song. The song emphasizes Honorebel's ability to combine hard-hitting lyrics with his voice softened by vulnerability and his verses edging away like rapid-fire with harmonies creating imagery of the song more like storytelling. Tarrus Riley added his soothing and charismatic vocals seen throughout Singy Singy's expansive oeuvre. This Stella collaboration will be memorable for a lifetime.
Mandatory Entertainment for many years has been working behind the scene of the music industry and Conrad Golding, CEO of Mandatory Entertainment is now ready to embark on his musical expedition by launching "Be Free" to a satellite altitude as the sole producer of the project.
Conrad Golding's orchestration and collaborative work with Musician Paul Santo help birth "Be Free". Paul Santo has worked with Aerosmith and Ringo Starr of the Beatles. Conrad Golding has produced this musical bed for Honorebel and Tarrus Riley and is ready to share his outpouring of creativity with the world.
The song "Be Free" was also mastered by Uganda born Producer Herbertskillz of Soundmakers Studio. Herbertskillz has in the past years worked with different top Ugandan musicians including; Bebe Cool A Pass and so many others.
Download and Listen to the Song Below: https://music.apple.com/us/album/be-free-ep/1481657085
http://campaigns.riddimstream.com/w/892uBYvn50Qb8qwmeRjsIGoQ
(Visited 1 time, 1 visit today)
Photos: Bebe Cool thrills fans at comedy Store
Bebe Cool's stage performance has never been doubted and Thursday was just another day at work. Bebe Cool's fans braved the heavy evening rains and stormed Comedy Store in large numbers to witness their artiste perform, not just any artiste does that.
Bebe Cool stepped on stage with his Wasibukawa master piece, he followed it with loving you everyday, wire wire, Easy, Nkuliyo, among many more hits.
It was a well deserved night for the fans that turned up to watch the singer. Here are some moments from comedy store
(Visited 1 time, 1 visit today)