NSSF to raise shs400m for Kampala public Schools in the 2018 Kampala Hash 7 Hills Run

KAMPALA February 12, 2018:- The National Social Security Fund (NSSF), together with Kampala Capital City Authority and Kampala Hash House Harriers, have today launched the 2018 Edition of the NSSF Kampala Hash Seven Hills Run aimed at raising shs400 Million for the renovation of selected public schools in Kampala.
The run will be held on March 25, 2018 starting at Pearl Africa Primary School, Nsambya. It will cover a distance of 21km, traversing the historical seven hills of Kampala – Nakasero, Kibuli, Old Kampala, Namirembe, Rubaga, Lubiri and Nsambya.
Addressing media at the launch of the run at Mbuya Primary school, NSSF Managing Director Richard Byarugaba said that this year's proceeds from the run will go towards the renovation of selected public schools that include Mbuya Primary school and St Paul primary school Nsambya.
"We are proud to have raised more than shs190m in the previous runs, supporting 4 schools namely Nakivubo Settlement Primary school, St. Ponsiano primary school, Makerere University Primary school and Summit View Primary school. This year, we have challenged ourselves to raise more than double that amount for more schools to benefit from this cause. I therefore call upon corporate companies doing business in Kampala to join this cause to improve the learning conditions of the children in public schools in Kampala," Byarugaba, said.
Kampala Capital City Authority has 79 Government grant aided primary schools with a total enrollment of close to 70,000 with an allocation of about shs500m per year. Due to the inadequate funding, most of the schools have dilapidated facilities and require refurbishment, amongst other challenges.
The KCCA Ag. Deputy Executive Director, Juliet Namuddu, said, "We plan to continue to improve the functionality of the schools' infrastructure through renovation of existing facilities as well as construction of new facilities. It is through such partnerships with organizations like NSSF that we will achieve this"
The Kampala Hash House Harriers Master, Steven Luswata said that this year's run will be bigger and better compared to the previous ones.
"We expect about 2000 runners to participate this year. The 7 seven hills challenge is no mean feat – I therefore advise participants to start preparing now by running three to five times a week so that their bodies can adjust gradually to the long hilly run on the d-day."
Over 8 companies are already on board including Vision group, Monitor Publications, Pinnacle Security, Housing Finance Bank, Cementers limited, Galaxy fm, Bank of Uganda and Mukwano Industries.
NSSF has in the past years engaged in a number of social responsible projects like the recent countrywide blood donation drive which collected over 5000 units from staff, members of the Fund and the general public.
(Visited 1 time, 1 visit today)
Emirates rewards Ugandan winners in the global destinations competition

Emirates, the world's largest international airline, has rewarded lucky Ugandan winners in the Emirates global destination competition. The just concluded competition was aimed at having listeners answer questions about Emirates' global destinations and create awareness about the airline's products and services.
The winners participated in a two-week competition where two winners were chosen every Friday at the end of the week. The winners received Emirates amenities that were handed over by the Emirates Country Manager to Uganda, Mr. Puneet Kohli, who applauded them for their knowledge on Emirates.
"This goes to show that many people know a lot about Emirates and its products, services and global destinations. Our decision to reward these fans reflects our commitment to everyone who knows about our business. We have received immense feedback and we thank everyone who contributed to the competition," said Mr. Puneet Kohli.
Emirates boasts of an unrivaled on board product experience with the world's best infight entertainment system, ICE, which offers over 3,500 channels of entertainment including over 100 kids channels and 850 movies from around the world. Travelers can enjoy chef prepared regional and international cuisines using the freshest ingredients, accompanied by a wide range of complimentary wines and beverages. All this is complemented by the airline's international team of over 21,000 cabin crew come from over 135 countries.
(Visited 1 time, 1 visit today)
Over 50 women lawyers trained in financial literacy

Under the Women in Business (WiB) program, dfcu bank in partnership with the Uganda Law Society (ULS), recently held a financial literacy training session for over 50 women lawyers in Kampala. The session conducted at the dfcu Head offices in Nakasero last Friday is a component of the programme aimed at inspiring and empowering women to tackle the challenges faced in the business environment.
Commenting on the women lawyers' training, Jacqueline Namazzi, Chairperson ULS Female Lawyers Committee said; "dfcu has a strong partnership with the female lawyer's committee. We work with them and we come in to advise their businesswomen especially those who work in Kikuubo, but this time we felt that the female lawyers themselves needed financial literacy training. We know so much about the law, about court, but little on personal and business finances. We felt that the lawyers needed that extra education. It's not a bad idea for them to be exposed to the different investment and saving avenues that the bank offers but also mainly how to manage finances."
"Investment avenues are out there but managing ones' own finances as a person, as a law firm whether you are in government or civil society is daunting and that is why we decided to be part of the financial literacy training to gain that extra skill set." Jacqueline added.
According to Victoria Byenkya, Manager Women in Business, women bring their own unique perspective and voice to the world of finance and as their voice becomes more prevalent, everyone will continue to benefit from the financial literacy conversation. "More women today are realizing the importance of being financially literate. They feel more empowered to control their personal, family and business finances," she added.
"From the training I was able to be educated about the basics – things that you know but don't really do. The more you hear them, you realize the need to take action on saving, investment and living a simple life. I would highly recommend more sessions for financial literacy are set up for us and of course, I appreciate dfcu bank for putting this together" said Charlotte Nalumansi one of the trainees.
So far, a total of 1,370 women have benefited from the dfcu WiB business trainings since the start of the year. Since inception of the programme in 2007 over 25,000 women have benefited from the capacity building sessions.
(Visited 1 time, 1 visit today)
Roke Telkom offers support to children at Good Samaritan orphanage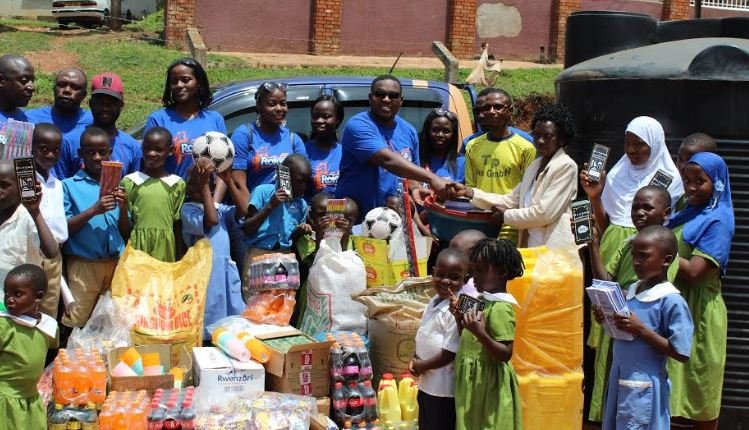 Roke Telkom, a provider of innovative internet service solutions, has offered material and food support to improve the welfare of up to 200 children at Good Samaritan orphanage in Entebbe.
Roke Telkom, which is based in Bugolobi, gave items including; a 5,000 liter water tank, personal effects, scholastic materials, cleaning, and sports equipment to the orphanage. The offer is part of Roke's Corporate Social Responsibility initiative branded Roke Gives Back. It is the third time that the telecommunications firm is supporting the Orphanage with which it has built a good-working relationship.
The orphanage provides care and support to up to 200 children within its community with the aim of upholding the sanctity of human life by meeting the physical, emotional and spiritual needs of children, women and men through a
participatory approach with the grass root communities to ensure that they have improved livelihoods.
Speaking at the handover ceremony, Mr. Amanya Atuhaire, the Credit Control Manager, Roke Telkom appreciated the work of the orphanage in raising and caring for the children. "We are very pleased and inspired by the work you are doing in this community and we commend you for your commitment to better the lives of this children. It is for the same reason that we keep coming back to offer our support to you, through the Roke Gives Back initiative."
He added that, "It's our hope that our contribution will compliment your generosity in a making a difference among these children. We remain committed to improving the well-being of people through such programmes and by delivering efficient, fast and reliable internet services to our communities."
Mr. Collin Bright, the Representative, Good Samaritan Orphanage, commended Roke Telkom for its annual support. "The contribution you have made today, will go a long way in improving the livelihood of our children and their education. We therefore extend our sincere appreciation to the management and staff of Roke Telkom," he said. "With this kind of support, the welfare and future of these children will always be assured. We thank you for the continued partnership."
(Visited 1 time, 1 visit today)