Nothing hurt me as much as being at loggerheads with artistes I had seen grow and even worse my own brother, Chameleone narrates how he met Moze Radio.
Following the untimely fall of the legendary singer Moze Radio, a very grieved Jose Chameleone has taken us back to how he met the Angel voiced singer, how they fell out and mended their relationship. Chameleone known for mentoring multiple talents that with no doubt include Radio has narrated to us on how he met and became Radio's biggest fan.
"I met the late Radio through my then crew member Chagga who was now his manager. I was at Resort beach where I had a show and Chagga showed me Radio. Chagga backed Radio so much asking I allow him to start working with us. I asked Radio to sing for me and he sang his Jenifer song. Because it was in English I asked he joins the Ngoni because his style was similar to theirs." Chameleone told us. He continued, "He insisted he wanted to join Leone Island and it is at this point he sang another Luganda song I don't remember. Radio worked with me for a full year before he could do his first song and because of his discipline I paid for his first studio time and that is when he did his first song."
Chameleone narrated that after a couple of years radio felt he could start on his own and together with Weasel they broke away and started Goodlyfe. "We were at loggerheads for a long time but our differences were childish. Mainly it was about respect."
"One day Radio came to me and amongst so much discussed we reconciled and worked together again. The day I reconciled with Radio and Weasel I felt I had life again. Nothing hurt me as much as being at loggerheads with artistes I had seen grow and even worse, my brother."
"It is a good thing that we were in good terms by the time Radio died, it gives me peace." A sobbing Chameleone concluded.
(Visited 1 time, 6 visit today)
Spice Diana breaks silence on allegedly wearing artificial hips.
Embattled singer Spice Diana may fall prey to all the mushrooming bad rumors about her but she will not let one thing go un-explained. The singer who has in the recent past had very rough days has broken the silence on allegations that she wore hips on her concert day and perhaps still wears then. The singer who previously has had bad interview days on BBS and NTV will let all that pass but not the lies that she wore hips.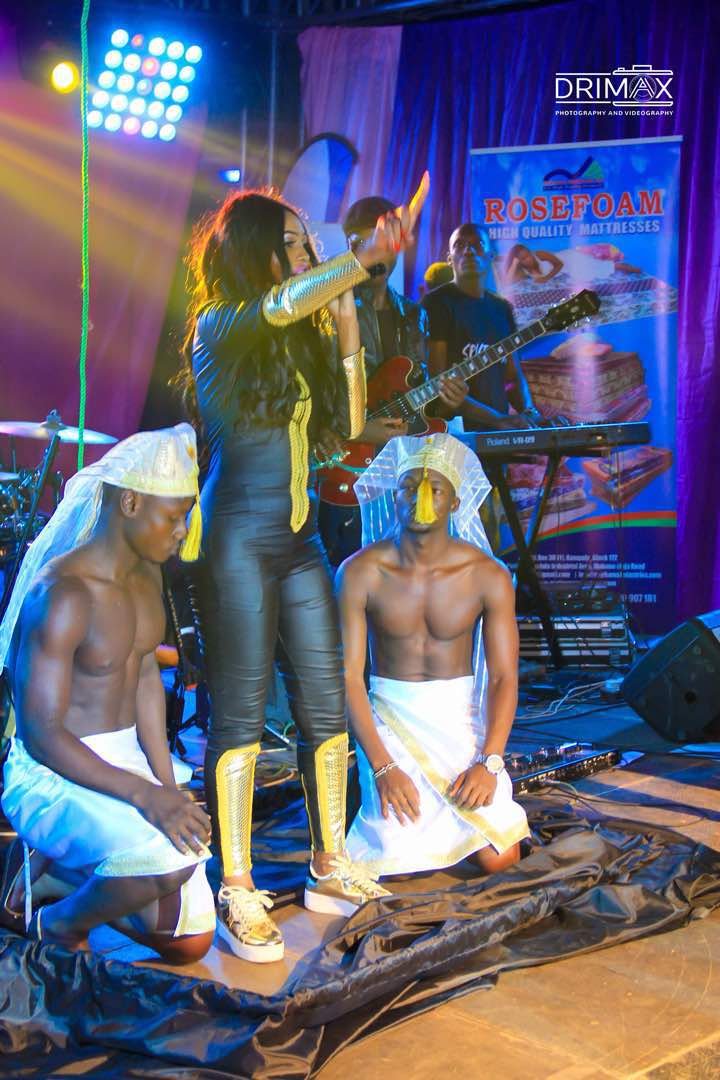 According to Spice Diana, on her concert day she had a costume for the day and was expected to make a grand entrance, to fly in like an angel. "Spice was to come on stage flying like an angel and obviously she had to wear support right from her thighs. Inside her costume she had material from which the ropes that support her were tied and that explains the alleged hip extensions that people are implying." Her manager explained. The singer further confirmed and admitted that had other clothings inside her costume but they were not hip extensions but rather part of her support to her flying entrance.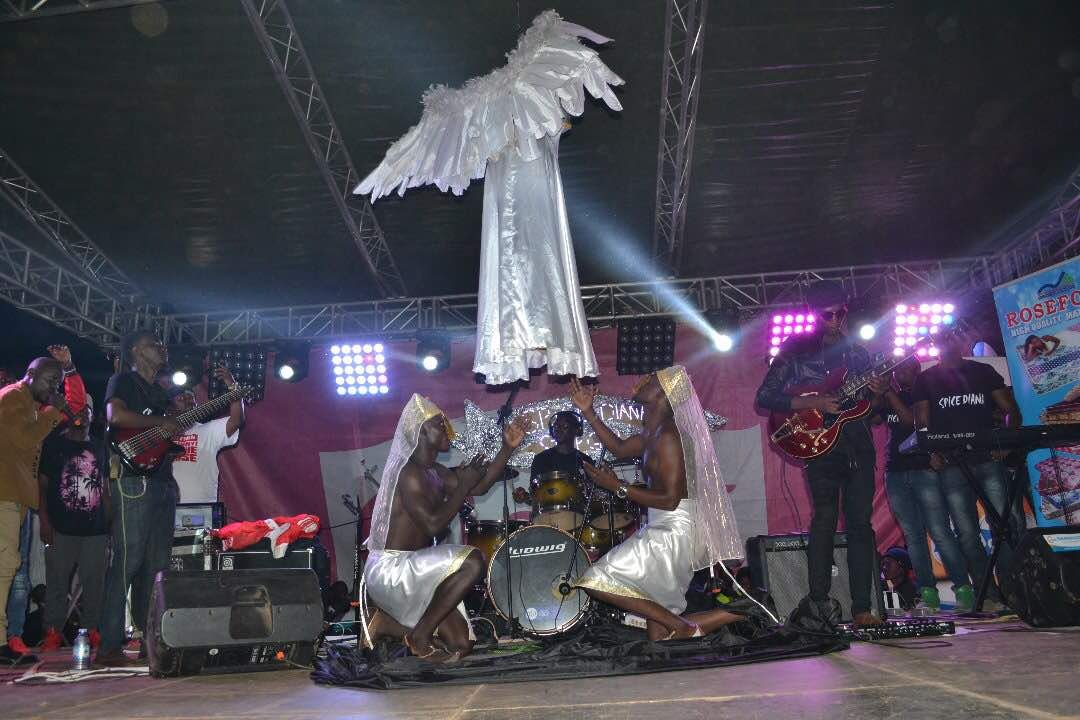 Spice Diana is with no doubt one of the very beautiful female singers we have and we agree she doesn't need hip extensions to rock us.
(Visited 1 time, 6 visit today)
I am a music Dynamo, Jose Chameleone challenges Bebe Cool to a battle of champions.
By Stuart G-Khast.
Singer Jose Chameleone has come out clear and commented on the fast spreading word about his much anticipated battle with Bebe Cool. Chameleone has not declined on any chances that the battle could actually take place.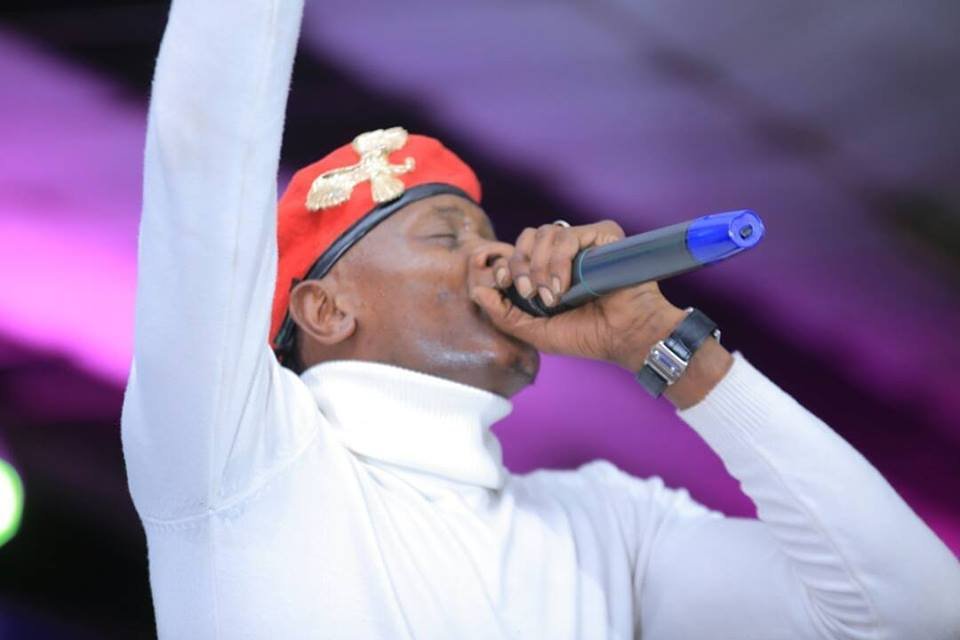 In a long stamen he noted "… I remain the undisputed. I have heard of the battle with my big brother though no one has come forward to put the deal on table. I am a music Dynamo and who so ever wants to battle should know that that's the day you are going to be buried before your disciples!!
And I will put a cross on your grave as I engrave R.I.P. I WILL ONLY ENTER THAT ANTICIPATED SHOWDOWN IF THE KCCA WILL AGREE TO LET IT BE NO TIME LIMIT. He who runs out of music, Goes home.
Jose Chameleone seems ready for what could be the biggest artiste battle of the decade.
(Visited 1 time, 6 visit today)
NTV Zeroes Down On Dagy Nyce For The Beat Show
Demo Riley
Following the departure of talented TV host Douglas Lwanga, the management at Serena based station has been working so hard to find the perfect replacement for the popular entertainment show, NTV the beat.
Initially they thought perhaps Mc Esco could step in the big shoes of Douglas but unfortunately he turned down the offer and a one Crysto Panda of Tnation jumped on to continue with the show.
However, after a few weeks of mixed reactions from the ardent fans of the show, the management was forced call for an open auditions that has seen many aspiring TV hosts sending in their videos and flocking the station for interviews.
Our sources have reliably confirmed that the management made their final decision to take on renowned city emcee Ssubi Douglas aka Dagy Nyce. And he starts the show today alongside Sheila Gashumba.
The hyped up Dagy Nyce is also the host of 'I Know This Song Show' at the sister station Spark TV.
(Visited 1 time, 6 visit today)