Days after Promoter Sipapa's alleged criminal life was exposed online, new shocking photos of the promoter in a sorry state have emerged.
According to the new photos circulating on social media, a beat-up Sipapa is seen handcuffed by his hospital bed.
The promoter had reportedly been badly beaten in a mob justice over alleged burglary. Sipapa was rescued by police who arrested and rushed him to Mulago hospital for medical attention.
However, Sipapa still managed to evade incarceration. Sources have revealed that he bribed his way out of going to prison while at Mulago.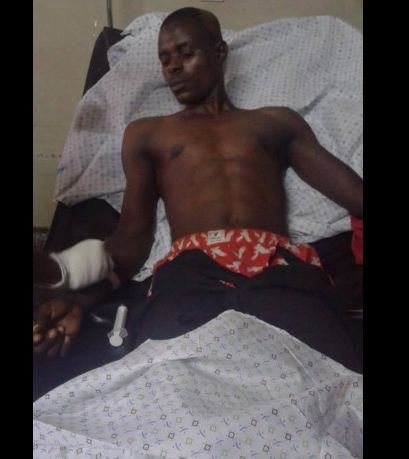 Meanwhile, Chameleone had earlier claimed that Sipapa is a burglar who has for long terrorized city suburbs in an online rant.
"From the day I knew Sipapa was a burglar, he got uncomfortable and we lost the logistics of friendship," he said. "Sipapa has terrorized Prince Charles avenue Kololo and should put effort to prove me wrong. I was your friend and never knew you break into people's houses for a living. That's why I asked my wife to stay away from you." 
Staff Writer
(Visited 3,682 time, 1 visit today)