By Our Reporter
A TV audience survey by Ipsos Marketing Limited has revealed that NBS TV is the leading TV station when it comes to telecasting live events.
The survey that covered the central region and sampled viewers of English language television showed that more than half (54%) of viewers relied on NBS for live coverage of events.
Essentially this means that at least 5 in 10 viewers will tune into NBS to watch live coverage of events happening in the country. Only 3 in 10 viewers said they tuned into NTV to watch live coverage of events and majority of these were female viewers [40% compared to only 25% males].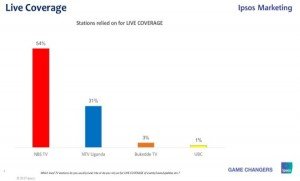 Over the years, NBS TV has shored up its live coverage and now has the ability to telecast live from 15 places. This has earned the station the tag of "political command centre".
(Visited 362 time, 2 visit today)