The National Spelling Bee winners unveiled
Enjuba in partnership with DStv Uganda held the final National School Spelling Bee competition at Kampala Serena Hotel.
The wining schools from each region faced off head on to compete for the top prize.
The final three winners of this competition from Hillside Primary School walked away with a full DStv Zapper decoder kit with one month free subscription and will proceed to represent Uganda in the African Spelling Bee Challenge that will take place in Addis Ababa, Ethiopia in July 2017.
Schools from Busoga, Buganda, Rwenzori, Northern Uganda, Toro, Kampala, Eastern, West Nile and South Western regions all participated to compete for the top position.
Aaron Kirunda, CEO of Enjuba stated, "After 3 months of intense school competitions, teacher training and holding regional finals, we are pleased to reach this significant stage of the competition. We set out to make a difference in the education sector by enhancing literacy and comprehension among these children. This project has enlisted so much interest throughout the country and we are so excited about the victors of the National Spelling Bee Competition."
Phoebe Nakabazzi, DStv Marketing Manager added, "We have taken this major journey together and DStv Uganda is proud to be affiliated in this initiative with the National Spelling Bee and Enjuba. We are certain that we are positively impacting the lives of our future leaders not only through our educational channels but also through strong partnerships ."
The winner of the African Spelling Bee competition will get a scholarship to study an undergraduate degree at Monash University in South Africa.

(Visited 1 time, 1 visit today)
MTN customers can now donate to Uganda Red Cross, and support covid19 relief efforts.
By Staff Writer
MTN Uganda has launched a MoMoPay Red Cross Merchant Account for customers to donate money towards efforts to combat the spread of the coronavirus in the country, and support those most affected by the pandemic.
Customers' dial *165*3*191919# and donate any amount of their choice.
Other interventions include;
MTN Uganda has provisioned a Toll-Free number 919 for the public to call Ministry of Health teams and get assistance related to covid19. This is in addition to the existing 0800203033 and 0800100066 toll free lines, that the public is calling to get help.
MTN Uganda has zero-rated several learners' websites to complement efforts to educate and keep children engaged during the quarantine period. This means MTN data customers don't need MBs to access the sites available at www.mtn.co.ug/learnathome
For 30-days, customers can send any amount of Mobile Money every day to other MTN MoMo customers free of charge.
The offers come alongside a day-time data bundle that is enabling Ugandans stay on-line and work from home. Customers get 1GB of data at just Ushs 2,000 valid between 9am and 5pm.
These propositions are designed to reduce the risk of transmission of covid19, by avoiding the physical exchange of currency notes.
MTN is also supporting government's sensitization drive by availing UGX 500 million. Ushs 297 million of that money has been disbursed to the Uganda Red Cross, to support with community sensitization and surveillance, ambulance services, psychological support, case tracing and handling referrals among other interventions.
To facilitate the flow of information, MTN Uganda has zero rated Ministry of Health and World Health Organization (WHO) websites, so the public can access information about the virus at no charge. They include; www.who.int , www.health.go.ug and www.covid19.gou.go.ug
MTN Uganda has today launched a MoMoPay Merchant Code 191919 through which customers can donate funds to support the relief effort, especially for those most affected by the economic and social devastation brought on by coronavirus. MTN customers need to dial *165*3# then enter the code 191919 and donate any amount of money they wish to.
Proceeds from this intervention are meant to help fund efforts of the Uganda Red Cross as it works to help combat further spread of the virus and support those who are finding it hard to fend for themselves.
Speaking at a news conference hosted on www.facebook.com/mtnug, MTN Uganda CEO – Wim Vanhelleputte, reiterated the company's commitment to stand together with Ugandans by doing everything it can to reduce the impact that covid19 is having on their lives.  He committed that, "MTN Uganda will continue to look at ways of supporting our communities and government, to ensure that together, we do everything feasible to get through this difficult time." 
Speaking at the news conference, Uganda Red Cross Society Secretary General, Mr. Robert Kwesiga appreciated MTN's gesture and reiterated the society's commitment to alleviate the human suffering that is increasingly being experienced by communities especially the most vulnerable people in society.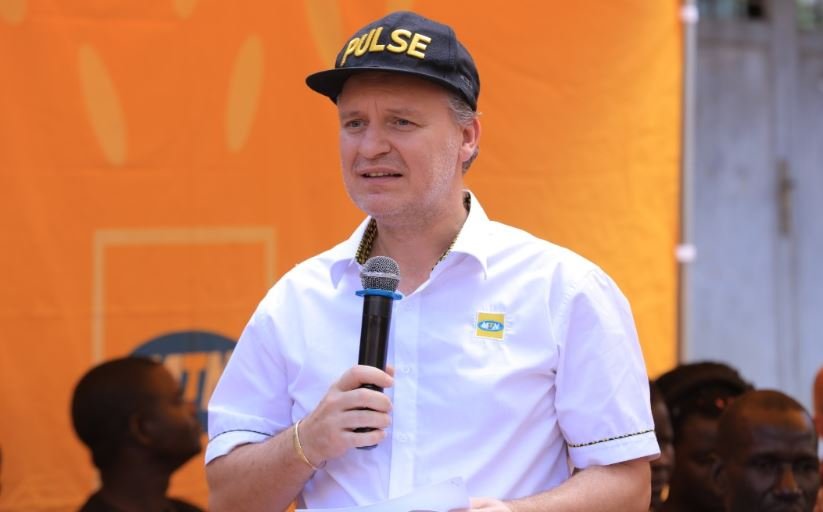 Recently MTN Uganda scrapped all charges to send any amount of money using MTN Mobile Money, in a move to minimize the physical exchange of paper money.
The offer is meant to reduce the risk of transmission of covid-19 that has paralysed daily life across the world.
Alongside this offer, the company also launched a data bundle that is enabling customers to work from home. Dubbed 'Work from home', the data bundle is meant to promote the concept of 'social distancing' while reducing the anticipated negative impact that limited movement and contact between people, may have on both the economic and social fabric of our society.
The 'work from home' data bundle can be accessed through Mobile Money by dialing *165*19# or through the MyMTN app.
"MTN is committed to continue working with the government, and other partners to reduce the impact and disruption that this pandemic is having on the lives of Ugandans. Working closely with the Ministry of Health, MTN Uganda has committed its media assets including radio, SMS, social media, call centre and continues to implement various precautionary measures to drive awareness among the public to protect themselves," Wim further commented.
MTN Uganda also made Ushs 500 million available, to facilitate efforts to prevent, manage and curb the spread of covid 19 in Uganda. Ushs 297 million of that money has already been disbursed to the Uganda Red Cross, who are using the funds for their execution plan that includes community sensitization and surveillance, ambulance services, psychological support, case tracing and handling referrals among other interventions.
It's also now free to check for covid 19 updates at www.who.int , www.health.go.ug and www.covid19.gou.go.ug. Customers will not be charged for browsing these sites.

(Visited 1 time, 1 visit today)