The National Spelling Bee winners unveiled
Enjuba in partnership with DStv Uganda held the final National School Spelling Bee competition at Kampala Serena Hotel.
The wining schools from each region faced off head on to compete for the top prize.
The final three winners of this competition from Hillside Primary School walked away with a full DStv Zapper decoder kit with one month free subscription and will proceed to represent Uganda in the African Spelling Bee Challenge that will take place in Addis Ababa, Ethiopia in July 2017.
Schools from Busoga, Buganda, Rwenzori, Northern Uganda, Toro, Kampala, Eastern, West Nile and South Western regions all participated to compete for the top position.
Aaron Kirunda, CEO of Enjuba stated, "After 3 months of intense school competitions, teacher training and holding regional finals, we are pleased to reach this significant stage of the competition. We set out to make a difference in the education sector by enhancing literacy and comprehension among these children. This project has enlisted so much interest throughout the country and we are so excited about the victors of the National Spelling Bee Competition."
Phoebe Nakabazzi, DStv Marketing Manager added, "We have taken this major journey together and DStv Uganda is proud to be affiliated in this initiative with the National Spelling Bee and Enjuba. We are certain that we are positively impacting the lives of our future leaders not only through our educational channels but also through strong partnerships ."
The winner of the African Spelling Bee competition will get a scholarship to study an undergraduate degree at Monash University in South Africa.
(Visited 1 time, 1 visit today)
Nile Special 'No Excuse' Campaign to highlight Sexual Harassment  
Nile Breweries under its flagship brand Nile Special has launched a behavioral change campaign dubbed "No Excuse" with the aim of addressing the predicament of sexual harassment in the country. The brand will address the subject by calling for smart drinking measures among its consumers,since alcohol abuse has been identified as one of the primary catalysts for sexual harassment.
The aim of the 'No Excuse' campaign is to:
• shine a spotlight on the sexual harassment problem.
• to bring about a change in long established societal behaviours and attitudes
• to activate bystanders with the aim of decreasing and preventing this act
• challenge the public to take appropriate action against perpetrators of sexual harassment
• encourage stakeholders to support the victims to access appropriate support services.
Attention is increasingly being paid to the prevalence of this vice in Uganda. Whether this is down to more cases being reported or the abuse is on the rise, is a matter worth investigating. What is certain, is that the public space in which women can freely express themselves must be guarded. This calls for collective reflection by all stakeholders on the measures to be undertaken to ensure that every individuals rights and freedom are protected as enshrined in the constitution under Article 20.
Utilizing the brand's online platforms, the campaign will implore the public have its say on what constitutes sexual harassment. The information will be curated and the data presented into a communication campaign to both raise awareness and also educate the public about sexual harassment while changing people's attitudes and beliefs.
Francis Nyende, the Nile Special Brand Manager said, "It is a good thing that the plight of women regarding sexual harassment is edging to the fore of the national discourse. But it's also rather disturbing that almost daily there's a story about a woman that has been sexually harassed. As one of the leading Ugandan brands we have decided to champion the cause. "Our ultimate goal is to reduce and prevent the incidences of sexual harassment, which affects the lives of too many women, both directly and indirectly, and thereby make a much safer society.
"Some of the places where women are more susceptible to sexual harassment is during the nightlife (bars, discos etc). At certain hours of the night, after consuming a couple of bottles, some men throw caution to the wind at the expense of the women. So we are here to educate revelers that they should drink smart, there's no excuse for sexual harassment," says Nyende.
Ms. Gloria Nakafeero, the Commissioner Gender and Women Affairs, Ministry of Gender,
Labour and Social Development said, "We are using the 'No Excuse' campaign as a catalyst to
get people to question themselves and their behaviors. We are aware that by identifying the problem we shall need to do more to try and create meaningful change. So by raising awareness about the issue, the existing laws and policies as well as the existing support services, we will contribute towards positive change in attitudes to make sexual harassment "inexcusable" and unacceptable and demand positive actions towards the elimination of sexual harassment.
I am happy to be associated with the Nile Special 'No Excuse' campaign. It always starts with a simple insight. What rings true for me was the idea that in Uganda, whenever we observe or encounter of sexual harassment, we're inclined to absent ourselves of any responsibility – or worse still, excuse behaviour that's totally inexcusable." Article 24 of the constitution protects the dignity of every one in Uganda. No person shall be subjected to any form of inhuman or degrading treatment. This includes respect of a person to their psychological or mental wellbeing.
Enough is enough. Let's stop excusing sexual harassment. Learn more at the Nile Special 'No Excuse' campaign websitewww.noexcuse.ug
(Visited 1 time, 1 visit today)
Johnnie Walker launches Highball as new way to enjoy Whiskey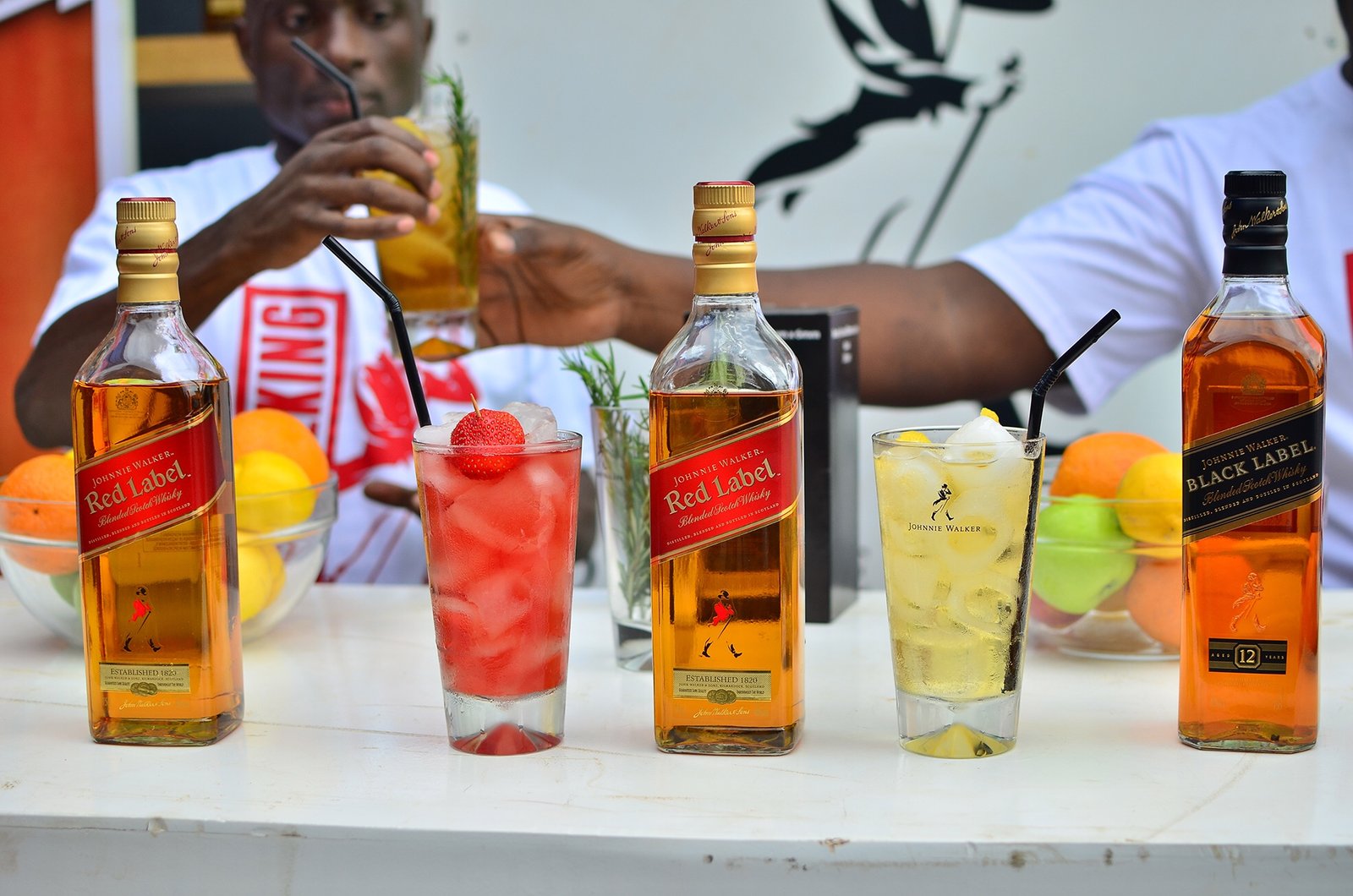 By Our Reporter
The world's most loved whiskey brand will now have even more people falling in love with it, thanks to its Johnnie Walker Highball signature serve.
Uganda was officially introduced to the Johnnie Walker Highball; a drink that entails signature cocktails served in a highball glass during a press launch at Sky Lounge in Kisementi on Wednesday. Some of these cocktails include; Johnnie and Ginger made of Johnnie Walker Red/ Black Label with a top up of ginger ale and garnished with a lemon wheel. Johnnie& Lemon, on the other hand, is a classic that is served in a highball glass with Johnnie Walker Red/ Black Label topped with white lemonade and garnished with an orange wedge.
The campaign is aimed at changing people's perceptions about whisky appreciation, from just the neat serves in the short whisky glasses that they are used to, to new ways of enjoying their Johnnie Walker, with highball cocktails. The Johnnie Walker Highball campaign will roll out with activations in trendy bars in Kampala and in upcountry towns like Fort Portal, Gulu, Mbale, Mbarara and Masaka starting September.
"We have celebrated the Highball at Johnnie Walker for the last few years but with the trend for longer drinks on the rise, now is the time to scale this Johnnie Walker serve nationwide," said Roger Agamba, UBL's International Spirits Brand Manager.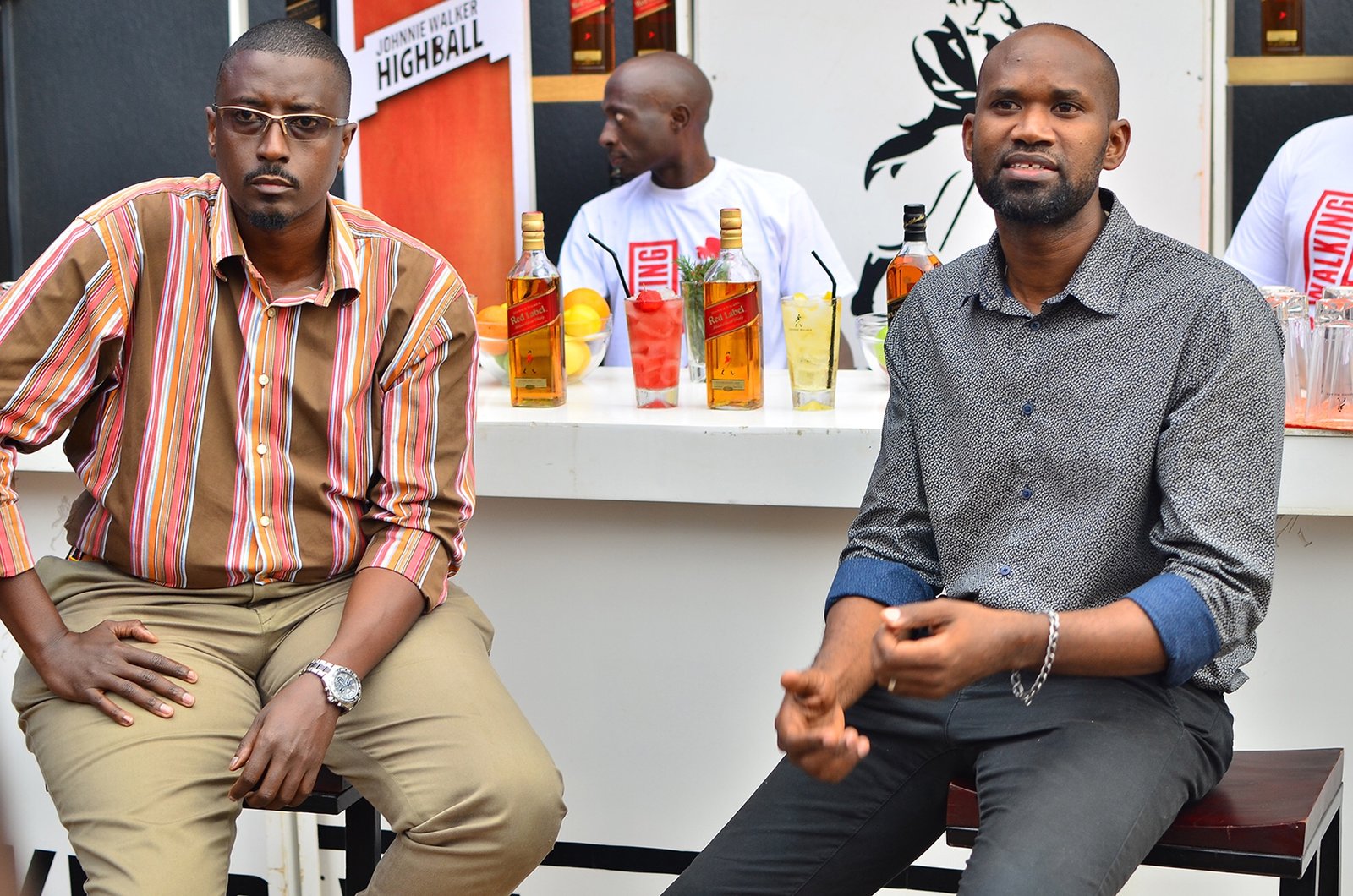 In Kampala, the Highball will be served at all Johnnie Walker theme nights around town. These will include La Venti-Chill Sundays, Zone7 ShisaNyama, Pana Wikidi Wednesdays, Sky Lounge Skyhigh Fridays, H20 Siesta Nights, Monot- Fridays,Exo Mix and Grill and Guvnor's Afrigo Band Night. Whisky lovers will also savour the highball cocktails at Johnnie Walker sponsored events starting this Saturday August 17 at East Meets West,an Afro-Fusion music festival, the Johnnie Walker Soul and Jazz editions at Fezah, NyegeNyege and F1 Whisky Weekends at Zone 7 among others.
(Visited 1 time, 1 visit today)
KIU students shine in Joint Medical Store Innovation Awards
By Kezia Koburungi
Three students from Kampala International University Western campus have emerged as winners in the Innovation Challenge Awards that were organised by Joint Medical stores (JMS).
Erisa Higenyi, a fourth year student of Pharmacy emerged as the overall winner and was rewarded UGX3 million and an internship placement at JMS. He innovated an 'Automatic tablet dispenser' which helps visually impaired patients to take their medicine correctly. The machine has a tablet sorting system and an alarm set to remind patients to take their medication.
The other two winners were rewarded 2 million and 1 million respectively.
In June 2019, as part of its 40 th anniversary celebration, JMS challenged medical students to develop ground breaking ideas in their inaugural Innovation Challenge Awards which was open to all medical institutions across the country.
Speaking during the handover at the JMS main offices at Nsambya, Dr. Belidad Baguma, the Executive Director noted that the competition was stiff, with over five universities participating; Makerere University, Kampala International University, Ndejje University and many more across the country.
"The aim of this competition is to offer a platform for budding medical students to showcase their innovations, get mentorship and also contribute to improving the health sector in the country. The winner will be offered a job immediately after his studies."
Joint Medical Stores company is a private-Not-For Profit (PNFP) Non-Governmental Organization (NGO) which was established in 1979 as a joint venture between the Uganda Catholic Medical Bureau (UCMB) and the Uganda Protestant Medical Bureau (UPMB).
JMS procures, store and distribute medicines and other medical supplies as well as install and maintain medical equipment; apart from this, it also engages in the export, import wholesale of medicines and related health supplies.
In his speech Dr. Tusiime Jonans, the Dean School of Pharmacy at KIU congratulated Higenyi upon winning the innovation challenge. According to Dr.Tussiime, this doesn't come as a surprise given that KIU has in the past scooped prestigious medical awards.
"In 2017, Daniel Muwanguzi won in the UTIL-Price challenge. The second award to be scooped was the HB Drug Applicator Award, and here, four students from KIU participated; the colleague emerged 1 st and 3 rd where they got two of the top three awards. The third runner up was Higenyi. We are very proud of our students and we know they are bound for great things."
In his remarks, Higenyi said, "I thank the management of JMS for the reward and also the KIU Academic staff for supporting and mentoring me. I am so elated."
(Visited 1 time, 1 visit today)