The National Spelling Bee winners unveiled
Enjuba in partnership with DStv Uganda held the final National School Spelling Bee competition at Kampala Serena Hotel.
The wining schools from each region faced off head on to compete for the top prize.
The final three winners of this competition from Hillside Primary School walked away with a full DStv Zapper decoder kit with one month free subscription and will proceed to represent Uganda in the African Spelling Bee Challenge that will take place in Addis Ababa, Ethiopia in July 2017.
Schools from Busoga, Buganda, Rwenzori, Northern Uganda, Toro, Kampala, Eastern, West Nile and South Western regions all participated to compete for the top position.
Aaron Kirunda, CEO of Enjuba stated, "After 3 months of intense school competitions, teacher training and holding regional finals, we are pleased to reach this significant stage of the competition. We set out to make a difference in the education sector by enhancing literacy and comprehension among these children. This project has enlisted so much interest throughout the country and we are so excited about the victors of the National Spelling Bee Competition."
Phoebe Nakabazzi, DStv Marketing Manager added, "We have taken this major journey together and DStv Uganda is proud to be affiliated in this initiative with the National Spelling Bee and Enjuba. We are certain that we are positively impacting the lives of our future leaders not only through our educational channels but also through strong partnerships ."
The winner of the African Spelling Bee competition will get a scholarship to study an undergraduate degree at Monash University in South Africa.
(Visited 1 time, 1 visit today)
Golfers enjoy thrilling tour in Jinja
By Our Reporter
Over the weekend, golfers headed to Jinja to tee off at Jinja Golf Club in the Uganda Open tournament. They made a stop over deep in the very navel of Mabira Forest. Onesmus Muhereza, the guide took the group through a historic journey, breaking down the contributions of the Uganda Tourism Board towards conservation of Mabira Forest over the years.
For the Golfers; his audience, it wasn't just a nature walk. It was a thrill. It was a chance to experience Uganda like never before.
On day two, after battling it out on the golf course at Jinja Golf Club, they were taken on an exciting boat cruise on the breathtaking waters of River Nile.
Many marveled at the scenery en-route the  Source of the Nile while also learning about the history of how it was discovered by John Speke on August 3rd, 1858.
They were blown away by sights and sounds on the captivating boat ride baked with endless drinks and food.
These were left hailing Uganda Tourism Board for the initiative they've gripped to enjoy their favourite sport but simultaneously touring their country.
On day three, they took a trip to 'Itanda' falls, one of the strongest water falls in Uganda which left many excited.
The next edition of Uganda Open Tour is slated for 20th July at Mbarara Sports Club.
(Visited 1 time, 1 visit today)
New Movie: The story of a man that changed the destiny of his people, showing on Record TV
This incredibly successful soap opera tells the epic saga of Moses, from his birth to the arrival of the Hebrews to the Promised Land, including the escape from Egypt through the Red Sea and his encounter with God on Mount Sinai.
Filmed partially on location in Israel, Egypt, and in the Atacama Desert of Chile, authenticity in film sets, scenery, costumes and historical accounts, and a deep respect for the Bible are paramount. A big production filled with amazing special effects unfolds more than a century of history.
Broadcasting through Star Times 221, Gotv 828, FTA platforms, it's rapidly becoming a great choice for TV viewers due to its highly diversified daily content that meets different tastes and interests. It aims to encourage viewers to seek an alternative television experience.
Supported by a great selection of programs, that cover everything from fashion and world news to music, inspirational programs, soap operas, mini-series, reality TV and sports, Record TV is relevant to a wide-ranging audience.
(Visited 1 time, 1 visit today)
Online Kikuubo shopping Comes To You
Many of us are always looking out for the cheaper options when buying goods. The place known to many people is "Kikuubo" where you will get products at relatively cheap prices. Kikuubo serves as the whole sale go to place for many duukas, super markets, wholesalers and retailers alike. The products that Kikuubo offers are mainly Fast Moving Consumer Goods like Oil, Fat, Soap, Sugar, Salt, Baking Powder, Pastas, Noodles, Spaghetti, Spices, Snacks, Biscuits, Juices, Tea, Coffee, packed Milk, Milk Powder, Flavored Milk, Sodas, Sprits, Water, Sanitary Pads, Diapers, Tissue Papers, Toilet Rolls, Tooth Pastes, Tooth Brushes, Pens, Pencils, Exercise books, all stationary related products, Shoe Care Products, Plastic Cups, Plates, Basins, Disposables and so much more.
While one is able to get these goods to stock up their shop, they have to deal with inconveniences like closing up their shop to go downtown, dealing with bad weather (Has anyone noticed how it rains heavily of late? How do people stock up in the rain?) and the ever-present inconvenience of navigating through the Kampala traffic.
That was the case, until Kikuubo Online, a comprehensive Online Wholesale and Retail company decided to bring Kikuubo to you at the tap of a button. All you have to do is download the Kikuubo Online App from the google play store at https://bit.ly/2WW5oqw and also on the App store for Apple users, then #Tap2Stock and with that, all your stocking up problems will be solved.
Shop owners and shop keepers do not have to worry about leaving their businesses unattended or closed to run up and down, looking for best prices and losing valuable time in the process since Kikuubo Online offers very competitive prices and stocks over 2000 plus items.
You can trust Kikuubo Online to help grow your business as they deliver the products that you need at your duuka/mini supermarket/Supermarket/retail shop at the best whole sale prices regardless of the weather with their delivery trucks and tri-cycles.
Kikuubo Online is able to deliver the goods you ordered for within 24 hours of placing the order. The company delivers goods within Wakiso, Kampala central business district, its suburbs and surrounding areas. Soon they will be able to scale up operations to the rest of the country.
A customer's order being loaded onto a delivery truck
Amina, a devoted customer of Kikuubo Online who has retail stores around the city is a happy and visibly relaxed woman since discovering and downloading the Kikuubo Online App. "I have 4 businesses in Kansanga, Wandegeya, Nansana and Kulambiro, it's a nightmare having to stock up all my four shops; you can imagine all the money, energy and coordination I have to put into having all my shops stocked up, it's time consuming and draining to say the least!. But with the new Kikuubo Online App, I am able to have all my shops stocked up from one place and I can trust that all my goods will be delivered on time without any hassle, worry of loss of goods, delay or transportation cost. I now have peace of mind when it comes to stocking up, Kikuubo Online has made payment even simpler because now I can pay using MoMo Pay-this means I can stock up my shops and pay for the goods even while sitting at home." An excited Amina beams with satisfaction.
Think of Kikuubo Online as the name suggests, an online Kikuubo market place with everything the downtown Kikuubo has to offer but only better in terms of pricing, convenience of being able to order whenever and wherever from the palm of your hand without the congestion and fear of "Kifeesi".
If one also needs to do wholesale shopping for a household, kwanjula, wedding or party, it is possible to do so on the Kikuubo Online App where you will find competitive prices. You don't have to go through the gruesome process of running up and down when you can do it on your phone.
Corporate entities that do shopping in bulk can also benefit from the new Kikuubo Online App.
Whatever you need from toiletries, powdered milk, tea, Margarine, cleaning detergents and a lot more in office supplies, Kikuubo Online is the App for you. They will deliver to your office premises at no extra cost.
The Kikuubo Online App can be downloaded from the google play store at https://bit.ly/2WW5oqw and also on the App store for Apple users.
Take advantage of their daily and weekly discount offers by downloading the App now and following them on their social media handles. Kikuubo Online, bringing Kikuubo to you.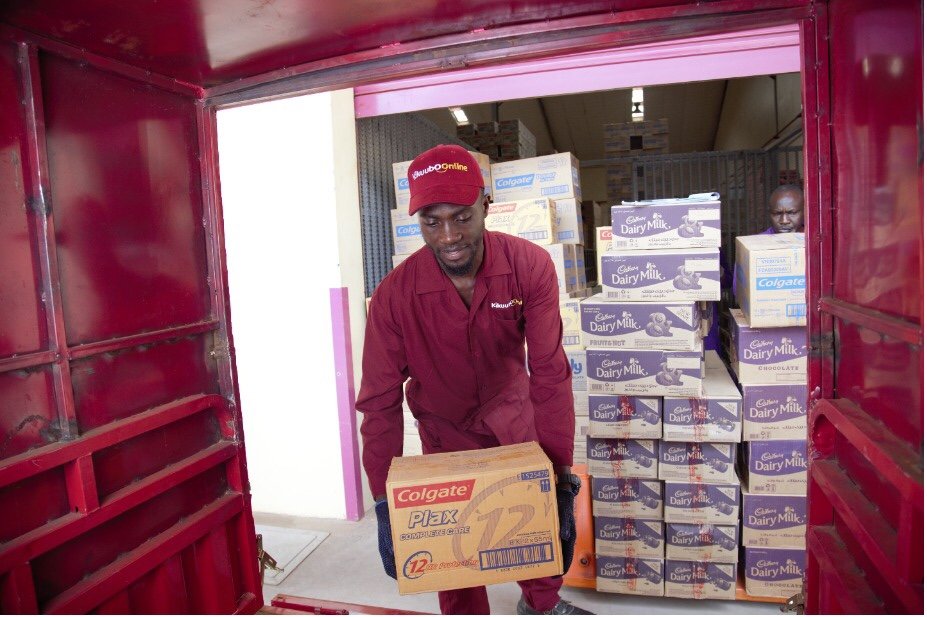 (Visited 1 time, 1 visit today)