MTN launches 2016 Kampala Marathon

MTN Uganda has today launched the 13th edition of the annual Kampala Marathon, with a mission to rally runners to raise funds for the implementation of improved sanitation facilities for pupils through the construction of environmentally friendly smart bio-toilet facilities in a number of selected public primary schools in the outskirts Kampala, in partnership with the KCCA.
The 2016 MTN Kampala Marathon will follow the theme "Run for Kampala"; an extension of the campaign initiated last year and is expected to attract 20,000 participants. Together with partners Stanbic Bank, Huawei, New Vision, Rwenzori Mineral water, the MTN Kampala Marathon promises some big attractions this year with registration inquiries coming from as far as the Netherlands. In association with the Uganda Athletic Federation (UAF) and supported by the Uganda Police, this 13th edition of the internationally recognised MTN Kampala Marathon promises to be an exciting mix of fun and competitive running.
One of the activities in preparation for the Sunday 20th November 2016 event include a Kapchorwa – Kampala run relay that will feature runners from the athletics heartland of Uganda. With support from the New Vision and the other MTN marathon partners, a not-for- profit organization from Netherlands – From Coach to Coach has organized this fun relay; to raise awareness and support for the budding talent in Kapchorwa region of Uganda. This run will feature some of the big names in Ugandan athletics. Participants in the relay will be running the MTN Kampala Marathon.
Over the last 13 years, 170,000 entrants have participated in the MTN Kampala Marathon and have raised money in excess of Sh1.8 billion to help people in less privileged communities. Collections from previous events have been used in a number of projects; in the early years towards the provision of 'Mama Bags' to expectant mothers in the Internally Displaced People's camps in Gulu and most recently to different water and sanitation projects around the country including Kotido, Karamoja, Amuria and Kiryandongo in Masindi.
Speaking at the launch of the 2016 edition of the decade old charity event, MTN CEO Wim Vanhelleputte urged the public to register and participate in what has grown to become Uganda's biggest Marathon. "Your participation (the public) will go a long way in mobilising funds that are improving the wellbeing of children in the less privileged areas of our communities. Apart from improved sanitation, this project has the added benefits of environment friendly bio gas units that will be used in preparing meals for pupils and a rain water harvesting facilities that will improve access to clean water", he stated.
"People run in the marathon for a number of reasons; to challenge themselves to fulfil a personal sense of achievement but also to contribute towards a worthy cause," said Wim. "MTN and partners are proud to give the public the platform to express whatever reason they have through the run," he concluded.
Commenting on Vision Group's involvement with the MTN Kampala Marathon, Robert Kabushenga, the company Chief Executive noted that, "Vision Group, through our flagship brand New Vision, is proud to be a sponsor of the biggest sporting event of the year and this year we are pleased that once again a worthy cause has been selected. The fact that the money raised this year will be used to provide safe sanitation facilities in Kampala children allows us to be part of an initiative to give back to our community".
Stanbic Bank is a key partner that has supported the Marathon since its inception. Commenting on Stanbic Bank's involvement with the MTN Kampala Marathon, Patrick Mweheire, Chief Executive Stanbic Bank Uganda said, "We are extremely proud and excited to partner with MTN once again in what has become a world class event attracting fun runners and elite athletes from across the globe. We have consistently supported the MTN Kampala Marathon because we appreciate the positive impact that the funds raised from the event have on the lives of the chosen beneficiaries and extend communities. Our objective as Stanbic will be to help build on that success through our increased financial contribution and the participation of our staff where we contribute the largest number of runners from a single company".
On his part, Stanley Chyn the Managing Director – Huawei Uganda said, "This is the fifth time Huawei is participating in this meaningful event as a main sponsor. Kampala is a very beautiful city, secure, clean, hospitable and full of good people. As Huawei Technologies, this has given a good and secure work environment to carry out our operations successfully. We shall continue to support efforts to improve access to sustainable sanitation for the urban poor school children in Kampala, and this year Huawei is yet again making a contribution of 250,000,000UGX towards this campaign arranged through the marathon."
Registration for the 2016 MTN Kampala Marathon will commence on Monday 7th November at the new MTN headquarters (formerly BAT offices) along Jinja road. The public will access the registration points using the gate opposite Meat Packers. For convenience, the public can also register at Stanbic Bank – William Street Branch, the MTN service centres at Lugogo (Shoprite), Forest Mall, the MTN shop along Kampala Road, Kyaggwe Road and MTN service centre at Victoria Mall in Entebbe.
Interested members of the public can register for 25,000/- in cash or 23,000/- if they opt to use MTN Mobile Money.
The marathon kit among others includes a bib encased with a timing chip that will register each runner's time. This makes the MTN Kampala Marathon the only professionally timed marathon in Uganda.
(Visited 228 time, 1 visit today)
Museveni meets President of StarTimes Group during FOCAC Summit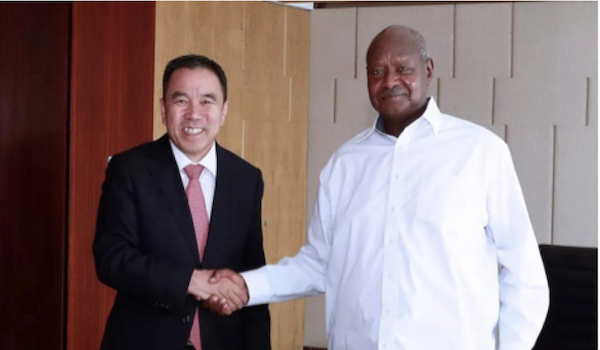 Ugandan President Yoweri Museveni met with the President of StarTimes Group Pang Xinxing on Wednesday when he was attending the Summit of the Forum on China-Africa Cooperation in Beijing. Mr Pang Xinxing introduced that StarTimes created more than 6000 job opportunities since it started investment in Uganda in 2009 and StarTimes digital TV transmission platforms have enabled Ugandan people to watch rich international and local television programs with an affordable price. Pang said: "We look forward to expanding further bilateral cooperation with our advantageous technology and media resources." President Museveni appreciated StarTimes' contribution in Uganda's digital migration progress and the project of "Access to Satellite TV for 10,000 African Villages".
He said that the national digital migration is a very important fundamental project for Ugandan people and it wouldn't be achieved without StarTimes' involvement. Museveni also invited Pang to visit Uganda with hoping that StarTimes can have more investment in the country.
StarTimes now is the biggest digital TV operator in Uganda with holding 75% market because of affordabl prices and rich content services. In August, StarTimes just unveiled the biggest ever single sponsorship in the history of Uganda www.startimestv.com sport after remarkably securing the Uganda Premier League and FUFA Big League "Title and Broadcasting Rights" from FUFA for a staggering US$ 7,240,000 for 10 years starting with the
2018/2019 season. The Vice President of StarTimes Uganda company, Mr Aldrine Nsubuga said: "We however don't just want to entertain football fans with foreign football, we want to be relevant to local football fans. We want them to appreciate their local football and support it with a greater passion which is why we want to bring the local league in every household through our broadcast platforms." The project of "Access to Satellite TV for 10,000 African Villages" is a China-Africa Cooperation program, which was announced by Chinese President Xi Jinping on December 4th, 2015 when he was present at the Johannesburg Summit of the Forum on China-Africa Cooperation. The project is aimed at enabling African families in rural areas to have access to the digital signal with high-quality images and rich TV programs. There will be around 10,000 villages in more than 20 African countries benefiting from the project of "Access to Satellite TV for 10,000 African Villages". For Uganda, 500 villages are
included in this China-Africa cooperation project. As Africa's leading digital TV operator, StarTimes is undertaking the whole project. On 20th July, StarTimes launched the project of "Access to Satellite TV for 10,000 African Villages" in Uganda.
(Visited 228 time, 1 visit today)
Emirates offers Ugandan travelers attractive offers to Dubai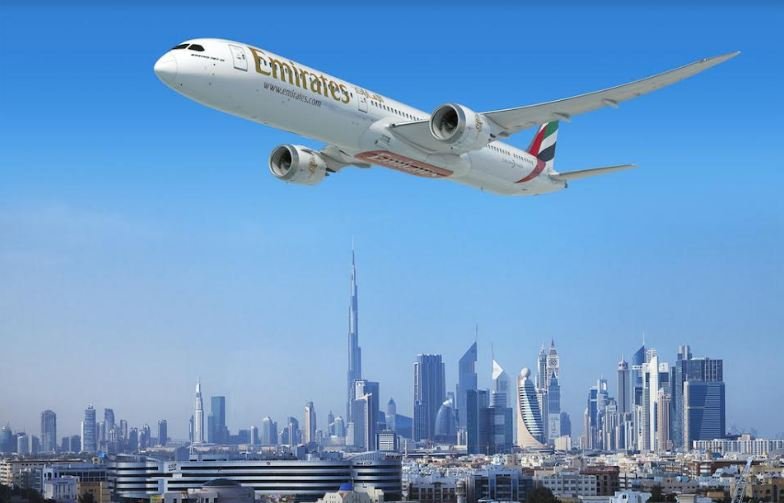 Emirates is offering Ugandan travelers the opportunity to visit Dubai, available at a very special offer for Economy and Business Class roundtrip, a free third piece of luggage of up to 23 kg and a month's tourist visa included in the offer.
Under the special offer, an Economy Class ticket from Entebbe to Dubai costs $359 and Business Class $1,309. The special offer is for a limited time only and tickets must be booked between 13th September 2018 and 27th September 2018, while travel must take place between 13th September 2018 and 31st March 2019. The cost of the ticket includes airport taxes.
Emirates is also offering a 3rd piece of luggage of up to 23kg for Economy Class and up to 32kg for Business Class, with a one-month tourist visa included.
Dubai provides a great escape for visitors. Its year-round sunshine, world-class shopping and restaurants, stunning beaches and iconic buildings offers something for the whole family. Visitors to Dubai can enjoy some of the city's must-see places like Global Village – multi-cultural festival park and shopping destination – as well as theme parks such as Wild Wadi Waterpark and IMG World of Adventures. The city also offers a wide range of accommodation to suit all budgets.
On all Emirates' flights, customers can look forward to hours of entertainment on the award-winning inflight entertainment system, ice, which offers over 3,000 channels of on demand audio and visual entertainment, from the latest movies, music, audio books and games, as well as family friendly products and services for children, including complimentary toys, kids' meals and movies, priority boarding for families and the use of free strollers at Dubai International Airport.
In addition to the on-board comforts and products, customers will experience the world famous hospitality from Emirates' multinational cabin crew who come from 135 nationalities and speak over 60 languages, while enjoying chef prepared regional and international cuisine, using the freshest ingredients, accompanied by a wide range of complimentary wines and beverages.
Emirates flies daily from Entebbe to Dubai.
(Visited 228 time, 1 visit today)
MTN floors Threeways Shipping Group to recover USD 4 million

By Our Reporter
Threeways Shipping Services Group Ltd's persistent applications to courts in a fervent effort to block the hearing of a suit filed by MTN against it and its Directors for recovery of USD 3,761,933 has hit a dead end in a fresh ruling by the High Court Judge, Justice Billy Kainamura of the commercial division who dismissed it with costs.
In his ruling on September 12th 2018, Justice Kainamura agreed with the position fronted by MTN Lawyers that the case involves enormous sums of money and justice would be furthered if the suit is heard on its merits. He further held that Threeways had not set out any legal grounds disputing the hearing of the case and the hearing of the suit had been frustrated by Threeways incessant applications.
The fresh ruling stems from a suit MTN filed against Threeways for defrauding the telecom giant of USD 4million in fictitious claims. Threeways allegedly made the fictitious claims to MTN between March 2009 and April 2012 on over 130 invoices with collusion of two former MTN employees: John Paul Basabosa and Naphtali Were and were paid colossal sums of money. The two employees were jointly sued with Threeways.
However, in 2014 the Commercial court presided over by Justice Christopher Madrama ruled that it was wrong for MTN to pursue the case against Threeways shipping Services yet there was a memorandum signed not to pursue a criminal case against the company at the anti corruption court.
Since then there has been back and forth appeals with MTN seeking to reinstate the suit and Threeways seeking to block it, resulting into the Wednesday ruling in which Justice Kainamura asserted thus: "I am inclined to agree with Counsel for the respondent, this case involves enormous sums of money and justice would be furthered if the suit is heard on its merits. On this premise, I dismiss this application with costs."
MTN Lawyer Bruce Musinguzi said the next course of action is to set down the main suit for hearing at the earliest possible date to enable a speedy conclusion of the case.
A top official at MTN who preferred anonymity because the matter is still before court expressed happiness with the ruling. "It was just a matter of time before the truth comes out," he said, adding, "You cant defraud a reputable company in broad day light, with all the glaring evidence and continue walking around with impunity. We are happy that court will finally dispense justice in a fair hearing."
(Visited 228 time, 1 visit today)