MTN announces the return of the Juzza Internet promotion
MTN Uganda has today announced the return of the "Juzza Internet" promotion, under which customers are instantly rewarded with a bonus for the data bundles loaded.
What's new this time is that bundles as low as 50MBs will be rewarded. "Juzza Internet" has been re-introduced to reward customers for using MTN Internet bundles and make it easier and more affordable for them to enjoy the benefits of the internet, foe longer and better.
"We recognize the importance the Internet plays in people's lives and as such, it is our goal to enable as many new connections as possible. Juzza Internet is yet another step towards realizing this goal," said Mapula Bodibe.
On the strength of a higher demand for reliable and affordable data realized in the previous edition of the promotion, we have re-introduced the promotion with a lower entry criteria to allow more customers have continued access to the internet.
The Juzza Internet promotion offers customers great value and rewards them for their usage.
Commenting on the re-launched Juzza Internet promo, the MTN Uganda Chief Marketing Officer Ms. Mapula Bodibe said, "We know that our customers want value for money and with this promotion, we will enable our customers to enjoy a significant discount in the costs of their data whilst doing more of the things they like to do on the Internet."
"I encourage customers to go ahead buy MTN data bundles and dial *150*3*1# to join Juzza, because more MBs means more Facebook, more WhatsApp, more surfing and more Internet on their MTN SIM card", concluded Ms. Mapula.
Juzza Internet is one of the ways through which MTN is demonstrating its commitment to the delivery of a Bold, New Digital World by creating new opportunities for trial plus increased use and penetration of Internet services in Uganda.
MTN Uganda, through these efforts, aims to continue to extend Internet access to the majority of Ugandans who still don't have access to the Internet. MTN's effort to get Ugandan's on to the Internet is demonstrated by aggressive investment in what is the largest 3G and 4G networks in Uganda, the introduction of a wide and affordable bundle portfolio, affordable data enabled devices and now this exciting Juzza Internet promotion.
(Visited 66 time, 1 visit today)
Opportunity Bank rebrands
By Our Reporter
Opportunity Bank, a leading microfinance bank in Uganda, announced their new brand and officially unveiled their  new and improved Head Office in Kamwokya on Friday.
These changes will elevate Opportunity Bank's focus on the ability to provide a strong customer experience and technology-led financial services offering to well serve their existing customers and potential target market in the small and mid-sized businesses (SMEs).
Mr. Tineyi Emmanuel Mawocha, Chief Executive Officer of Opportunity Bank said that "There are still many people who are unbanked and have fettered access to loans for developing their businesses. Being able to provide a strong customer experience while exhibiting our unique brand values and financial solutions can be a key differentiator to enable the local market access to turn-key banking products and services. With our rebranding efforts, Opportunity Bank has been empowered to offer banking solutions and experienced customer support services that SMBs need to grow."
The acting Board Chairperson, Mrs Winnie-Lawoko-Olwe, also added that "Opportunity Bank's unique banking platform is able to meet consumer needs in an easy-to-use way for any SME and individual. Opportunity Bank continues to develop its multi-functional platform, helping our local markets grow one business at a time. The innovative banking solutions that a small business owner will need to grow their business is extensive. We knew that a unique approach was needed, and we have moved to tailor our products and services specifically to meet our client's needs."
Executive Director-Supervision at Bank of Uganda Dr. Tumubweine Twinemanzi who officiated at the launch said that increased confidence in banking benefits will see the move of the 'unbanked funds' from under the mattress to commercial banks. Opportunity Bank's new branding further enables the bank to stand out, not only within the expansive financial sector industry, but also within the ever-growing mobile money banking sector technology ecosystem. Small business owners will enjoy the ease-of-use of Opportunity Bank's sophisticated technology, along with the human touch that is delivered through superior customer service.
The New Opportunity Bank logo brings a sharp new visual identity, characterising the brand as bold, smart, effective, and original. Opportunity Bank's emphasis on providing a full suite of products and services to the local market is reflected in the company's new tagline, – "Empower yourself, empower your business, empower your future." This language speaks to the core belief that in a vast, ever-changing, and evolving financial sector, Opportunity Bank can fully cater to each and every business to establish and secure a thriving banking solution.
(Visited 66 time, 1 visit today)
dfcu Bank moves to consolidate its partnership with Non-Governmental Organizations
In a move to grow the entrepreneurial outlook of Non-Governmental Organizations (NGOs), dfcu Bank hosted a breakfast meeting with over 150 current and prospective NGOs at the Imperial Royale Hotel, Kampala.
The meeting provided a platform for Non-Governmental Organisation's to hear from subject experts and share insights on how to develop an entrepreneurial mindset if they are to remain relevant and sustainable.
According to William Sekabembe, the Chief of Business & Executive Director this calls for putting beneficiaries at the center of programme development; more structure, transparency, accountability and innovation.
"With shrinking donor funding and increasing competition, it is important that NGO's realign their operations to transition from reliance on grants to becoming social enterprises. This change in mindset and ultimately operations will drive sustainability and make them more attractive to financial institutions and give them leverage in negotiating for better financial solutions," says William Sekabembe.
dfcu Bank introduced its NGO account in 2013 and has revamped its offering to give NGO's more so they can carry out their operations with ease. The current customer value proposition includes among others: free account maintenance & activity fees; interest rates of up to 4% p.a on UGX accounts & 1.25% p.a on USD accounts; free internet banking; free access to a third-party & Bulk payments solution and dedicated services points at selected branches across the 66-branch nationwide network.
This is in line with dfcu's brand promise of making more possible for the sectors it serves and attain its aspiration of becoming a Universal Bank.
(Visited 66 time, 1 visit today)
Airtel announces sponsorship of the 2018 Kabaka Run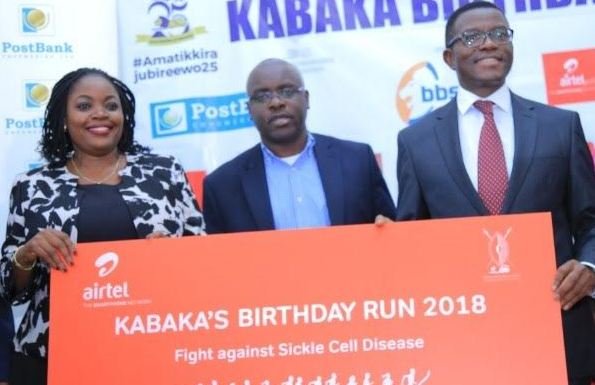 Airtel Uganda has announced its sponsorship of the 2018 Kabaka Birthday Run that will be held on Sunday, 8th April 2018.
In line with the three year theme announced last year, Fight against Sickle Cells, proceeds from the run will also be directed towards fighting the sickle cells disease in Uganda.
Last year, Airtel Uganda, in partnership with the Buganda Kingdom, handed over 60,000 sickle cell testing kits, bought from the proceeds of the Kabaka Birthday Run 2017, to the administration of The Uganda National Health Laboratory Services to enable them carry out conclusive testing for the prevalent disease. The kits would allow over 120,000 people to test for the sickle cells disease free of charge.
Commenting about the sponsorship, Airtel Uganda Managing Director Mr. V.G. Somasekhar noted that Corporate Social Responsibility is very central to Airtel and is an integral pillar of the business.
"Through our partnership with the Buganda Kingdom, we have been able to change the lives individuals and communities in Uganda. This year, we intend to continue this life changing work by collecting funds that will be used to educate Ugandans about sickle cells, enable proper treatment of patients and fund research into how best we can contain it," he stated.
The Katikkiro of Buganda, Owek. Charles Peter Mayigga thanked Airtel Uganda and other partners; such as the Ministry of Health in the Central Government and Uganda Sickle Cell Foundation, for their sponsorship, which has brought awareness and funding to illnesses that have dominated Uganda for many years.
"First, we worked together to tackle fistula and now we are focusing on sickle cells. With strategic and consistent partners such as Airtel Uganda, we shall win the fight against these sicknesses that are claiming lives of very many Ugandans," he commented.
The Kabaka run – an annual event celebrated to mark the King's birthday – is part of a partnership that the telecommunications giant has with the Buganda Kingdom to sponsor four of their most important activities; the Kabaka's birthday Run, Kabaka's birthday celebration, the Kabaka's coronation as well as Eid El Fitri. Airtel Uganda also sponsors the Masaza Cup – the Buganda kingdom football tournament.
The run will be held on 8th April 2018 and participants will be flagged off in Lubiri Mengo by His Majesty the Kabaka for the 5km, 10kms and 21km routes.
(Visited 66 time, 1 visit today)