MTN announces 2nd Apps developers challenge

MTN Uganda, in partnership with tech and incubation hub; Outbox Hub and Garage48 has launched the 2017 edition of the MTN App Challenge – an event that brings local innovators from Uganda, both Students and Non Students, together to create innovative mobile apps for the better good of the community.
The MTN App Challenge has over years gathered over 100 innovators and is the birth place of the 'Yoza app'; a service application that helps users find someone in their area to do for them laundry. Other applications that got their break at the MTN App Challenge include; 'Run For Your Life'; a 3D mobile game built to create awareness about HIV and other chronic diseases, 'Common Sense'; a mobile app that challenges you by getting you to answer questions and you win points for all correct answers, 'MamboPay'; a mobile phone payment solution that enables individuals or organizations to send funds to various beneficiaries using e-coupons and 'Dawa'; an app that provides access to patient's medical information on the go while allowing a patient to dial a health professional at any time and from anywhere.
The MTN App Challenge 2017 is the second edition, the first having been held in 2015. The 3 days Hackathon style challenge will pit talent from all over the country to innovate and create mobile based apps in the categories of; Health, Media & Entertainment, Education, Finance and Agriculture.
Commenting on the challenge, MTN Chief Marketing Officer, Mapula Bodibe said, "Digital innovations are at the heart of true transformation around the world and through programs like this challenge, we are able to create entrepreneurship opportunities especially for the young brilliant minds behind the digital revolution."
She further noted that, "The ideas and prototypes, in many cases, already do exist. However, opportunities like the MTN App Challenge enable developers to show case and court public interest and that of potential partners to commercialize their applications."
The Hackathon is part of a series of initiatives that will drive MTN Uganda's innovation ambitions and through which the brand lives its mission to deliver a bold, new digital world to customers.
In an interesting twist this year, each team will be expected to register a team of at-least four (4) individuals and a maximum of five (5) with skill-sets/roles: UI/UX creative designer, software developer, marketer and project manager.
 A maximum of up-to twenty (20) teams to will be selected to participate in this year's MTN App Challenge.
How the winners will be chosen:
1. Best M-Health App: an original concept to address the need for accessing health services in Uganda through the phone.
2. Best M-Education: the App with the most potential to extend consumption of education using the phone.
3. Best M-Media & Entertainment: the most original concept that enables Entertainment on the phone.
4. Best M-Finance: an original concept that can extend financial services to low income segment of the population via the phone.
5. Best M-Agriculture: an original concept that aims to support the Agricultural industry via the phone.
6. Overall Winner: Out of the winning Apps in the categories above, this is an Application identified as most aligned to MTN's current objectives in Enterprise, Consumer, Financial and Digital services.
7. Audience's Favorite: This application will be chosen by the audience as their favorite.
All Awards will be chosen and given out on 14th May 2017 as per the event program.
Awards and Prizes:
The Overall Winning app will get; a certificate of recognition for each team member, USD$2500, commercialization support through MTN, 1GB internet to all team members for 3 months, and a smartphone for each team member. The best M-Health App, M-Education, M-Media &Entertainment, M-Finance, and M-Agriculture apps will each receive USD$1,000, a certificate of recognition for each team member, commercialization support through MTN, 1GB internet to all team members for 3 months, and a smartphone for each team member.
The app that is chosen as the Audience's Favorite will get; a certificate of recognition for each team member, 1GB internet to all team members for 3 months, commercialization support through MTN, and a smartphone for each team member.
How to Register:
Interested innovators can register their teams free of charge here.
Registration closes on 28th April, 2017. All successful entrants shall be notified by 4th May, 2017 via e-mail or through a phone call.
(Visited 86 time, 1 visit today)
aYo Uganda celebrates one million customers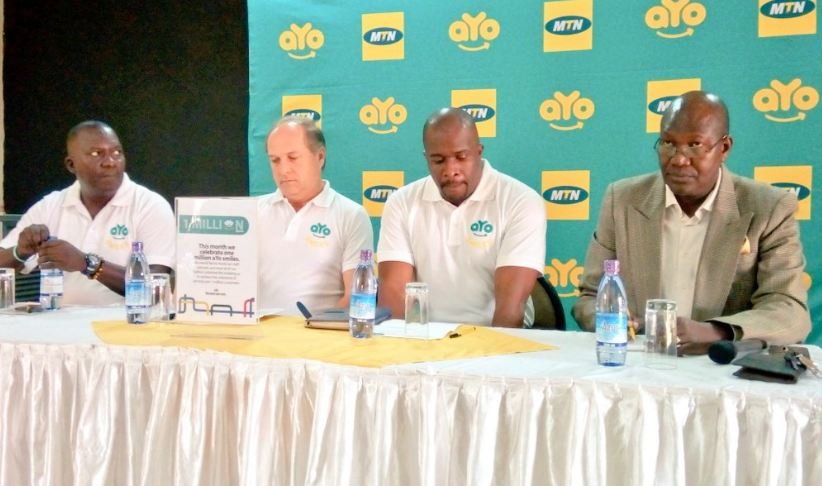 aYo Uganda has hit one million customers in less than 2 years of existence in Uganda. With a joint venture between MTN and MMI Holdings, aYo was formulated to have a strong focus on delivering micro-insurance solutions across the African continent.
While addressing the media at Kati- kati Restaurant, the Chief Executive Officer aYo Uganda, Edwin Kwesiga, noted that this milestone cements the fact that aYo is the fastest growing micro-insurance company in the country today.
"We are happy to announce that our customer base has grown to 1 million. This means we have been able to build trust in our valued customers, we have always been committed to serve and provide our customers with innovative products" he said.
"I would like to thank our Customers, the Government and the Regulator, as well as partners for their loyalty and contribution to the growth of the aYo brand over this one year." Kwesiga further noted.
aYo Uganda plans to make insurance relevant, accessible and easy to use thereby adding value to improve the lives of all Ugandans.
aYo Uganda, opened its doors to the Ugandan market in January 2017 with 2 products namely aYo Recharge with care and aYo Send with care. aYo Recharge with Care offers MTN pre-paid customers an easy way to get FREE hospital or life cover whenever you load MTN airtime. Adding aYo Send with Care to the MTN Mobile Money transfers means that, in the unfortunate event of your passing or should you be hospitalized for a night or more due to an accident, aYo will pay triple the amount you sent to your recipients into you MTN Mobile Money account in form of cover.
(Visited 86 time, 1 visit today)
Airtel Uganda, Kwese TV partner to launch mobile TV

Airtel Uganda has partnered with Kwese TV, a provider of decoder TV services in Uganda, to launch Mobile TV services.
Dubbed Kwese Iflix, it offers subscribers a chance to watch TV on-the-go regardless of location, time or whether or not they have an active TV package.
Commenting about the partnership, Airtel Uganda Managing Director Mr. V.G. Somasekhar noted that with a stable and reliable internet connection, anything is possible. "With countrywide 3G broadband, reliable 4G connection and affordable data bundles, we are bringing opportunities and passions closer to Ugandans. Thanks to our partnership with Kweseiflix Ugandans can have full time access to football during the exciting World Cup season," he noted.
Airtel Uganda is providing a unique proposition to its customers, where one subscription gives them access to both Airtel's discounted data bundles as well as content from Kwese Iflix (Two in one subscription through airtel money).
Kwese Iflix's amazing content offers include; live coverage for the 2018 FIFA World Cup Russia – and much more on Kwese Iflix's world class platform with the best international, regional and local content programs, to stream or even download.
(Visited 86 time, 1 visit today)
UBA unveils solution to allow customers access bank services via Facebook

By Our Reporter
United Bank for Africa (UBA) has unveiled a digital solution dubbed Leo, a chatbot that enables customers use their Facebook accounts to carry out key banking transactions. This was during a ceremony held at their Head Offices on Tuesday.
According to Johnson Agoreyo, Managing Director/CEO, UBA Uganda, this product offering was developed to match customer's lifestyles since more people are spending more time on social media.
"The formulation of this product is consistent with the bank's customer-first philosophy, where we are doing things not the way we like but exactly what the customers want, where they want it, and in the exact platform they want. Therefore, we at UBA have collaborated with Facebook to come up with this. In future, Leo will show up on other platforms," he said.
He further explained that Leo is a very interactive and easy to use  platform which will offer more convenience in how customers interact with the bank.
With Leo, customers are able to open new accounts, carry out money transfers and airtime top-up among others right on their mobile phones.
Gloriaus Byaruhanga, the Head, Digital Banking, UBA Uganda, emphasized that the platform is secure, noting that "the security with this platform is that for every transaction, an OTP (One Time Password) is generated to the phone number that is registered on the account."
She also explained that to use the chat banking platform, a customer just needs to log in to Facebook Messenger and open up chat with Leo, who then takes over the conversation by telling the customer what steps to take.
The bank is continuously innovating and developing strategies aimed at making banking seamless and effortless for millions of its existing and potential customers, while also ensuring utmost safety of their transactions.
(Visited 86 time, 1 visit today)