Meet Hanson Baliruno, one of the fresh music talents in Uganda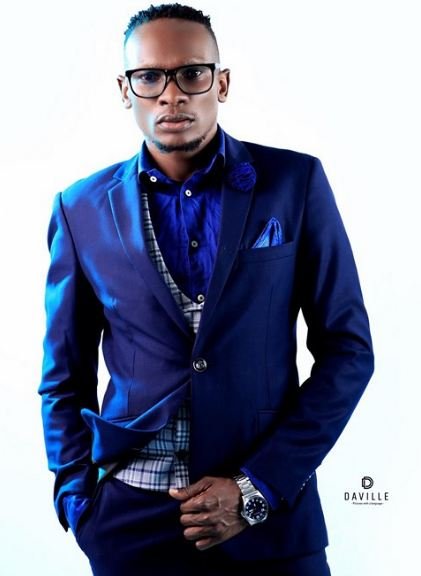 By Stuart G-Khast
Musician Hanson Baliruno is one of the fresh and promising talents on the local music scene. He has so far released songs like Follow follow, Yes Yes, Okay, Kikute among others that have hit charts.
Who is Hanson Baliruno?
Hanson Baliruno is a 29 year-old Ugandan musician. He was born in Nsambya but was raised up at Kasubi, Kampala, Uganda. He is a Songwriter, a performing and a recording artiste. Hanson's present success is all based on two main factor, being born in a Ugandan musical family and formed by the Christian church.
At 12 years of age Hanson's first song was recorded. His first song paved his gospel musical path. He got in connections to a top prominent Ugandan gospel singer called Judith Babirye. He spotted Hanson's singing and performing talent and she wanted him under her wings. She at last signed Hanson in her band from November 2009 to 2013. Judith Babirye's gospel band helped to form, nourish and boost Hanson's music artist career. He got the eyes to be involved and to discover the inside and outside success principles of world music industry. After massive success with Babirye's gospel musical band and with his gospel solo acts and projects. He visioned a larger vision of working towards an international music career.
In 2013, Hanson took on his dream of being an international music artiste, he immigrated to Europe and settled in Sweden. During the same year, he wrote a hit song called "Love letter ". In 2015, Hanson came up with another new hit song called "Follow Follow". In that new song he featured The ghetto kids of Uganda to dance in his music video. Hanson's Follow Follow song has got over 2 million views on YouTube and has turned this small music chap from Uganda a new Youtube music star. His songs are gaining massive attention on the entire web.
Meanwhile, Hanson is loading up his music career towards the international scene as a new Afro pop / Afro Beat music star. Hanson has so far performed on big and small stages and in different countries including Uganda, Kenya Tanzania, Rwanda, Germany, Denmark, Netherlands, Austria, Finland, Norway, Nepal and Sweden.  Hanson has so far released two full music albums and 10 music singles.
Hanson has been nominated for several gospel music awards in the Scandinavian thus 2014 as artist of the year by African Crown International Music Award.
(Visited 266 time, 1 visit today)
Toniks signs under Gifted Music Group
By Staff Writer
The latest news reaching our desk indicates that singer Allan Toniks is officially part of Uganda's ever growing music label, Gifted Music group
The singer who has been quiet for a while is set to do a musical comeback with huge pojects under his new home GMG. Sources close to the record label revealed to us that everything was finalised and within a short period of time, Allan will be officially announced as a GMG member
Toniks is the second artist to be signed under the label after signing sensational singer Smart Djaba earlier this year. Allan's first song under GMG, Romance is set to be out this Saturday 24th February 2018
We will keep you posted
(Visited 266 time, 1 visit today)
Spice Diana breaks silence on allegedly wearing artificial hips.
Embattled singer Spice Diana may fall prey to all the mushrooming bad rumors about her but she will not let one thing go un-explained. The singer who has in the recent past had very rough days has broken the silence on allegations that she wore hips on her concert day and perhaps still wears then. The singer who previously has had bad interview days on BBS and NTV will let all that pass but not the lies that she wore hips.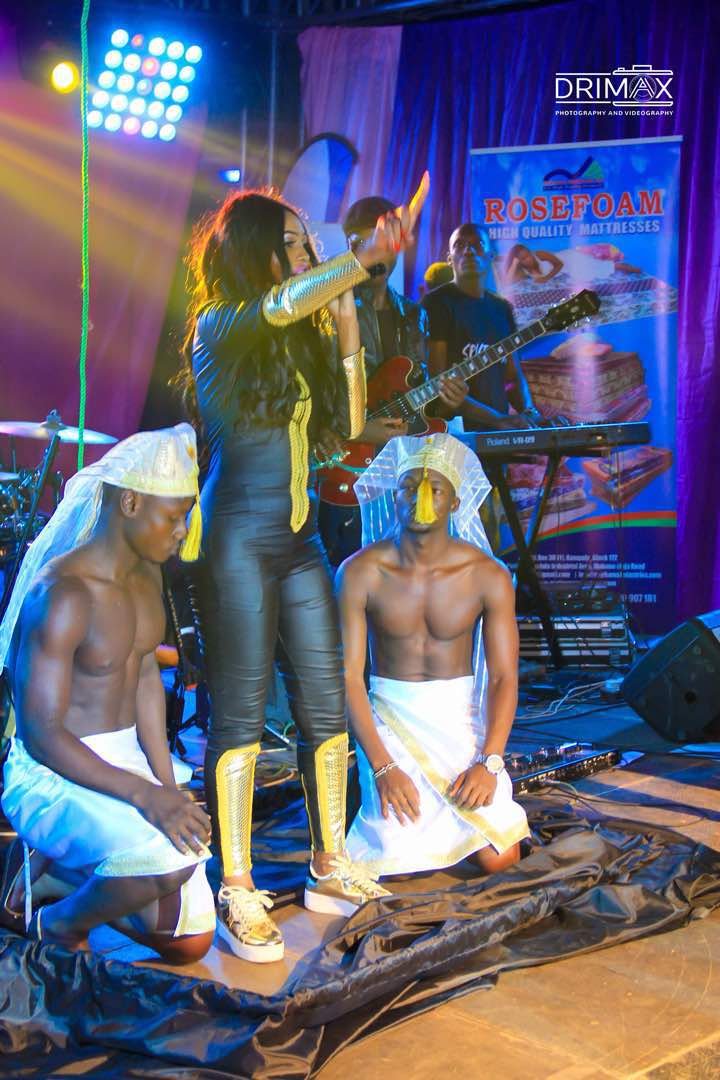 According to Spice Diana, on her concert day she had a costume for the day and was expected to make a grand entrance, to fly in like an angel. "Spice was to come on stage flying like an angel and obviously she had to wear support right from her thighs. Inside her costume she had material from which the ropes that support her were tied and that explains the alleged hip extensions that people are implying." Her manager explained. The singer further confirmed and admitted that had other clothings inside her costume but they were not hip extensions but rather part of her support to her flying entrance.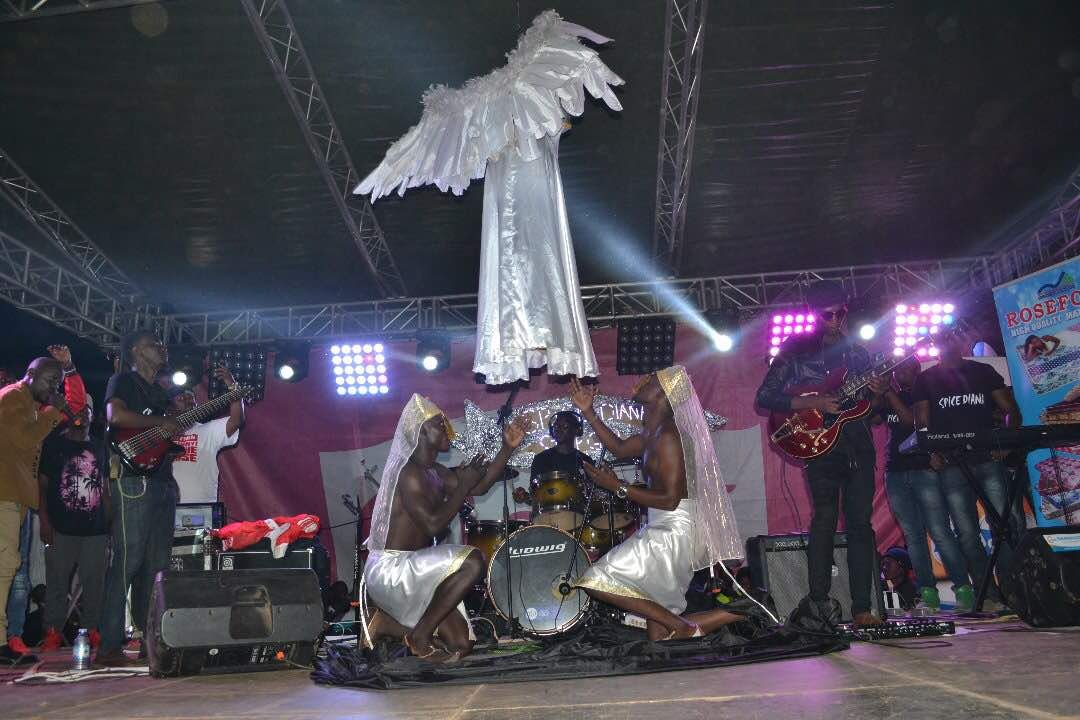 Spice Diana is with no doubt one of the very beautiful female singers we have and we agree she doesn't need hip extensions to rock us.
(Visited 266 time, 1 visit today)
I am a music Dynamo, Jose Chameleone challenges Bebe Cool to a battle of champions.
By Stuart G-Khast.
Singer Jose Chameleone has come out clear and commented on the fast spreading word about his much anticipated battle with Bebe Cool. Chameleone has not declined on any chances that the battle could actually take place.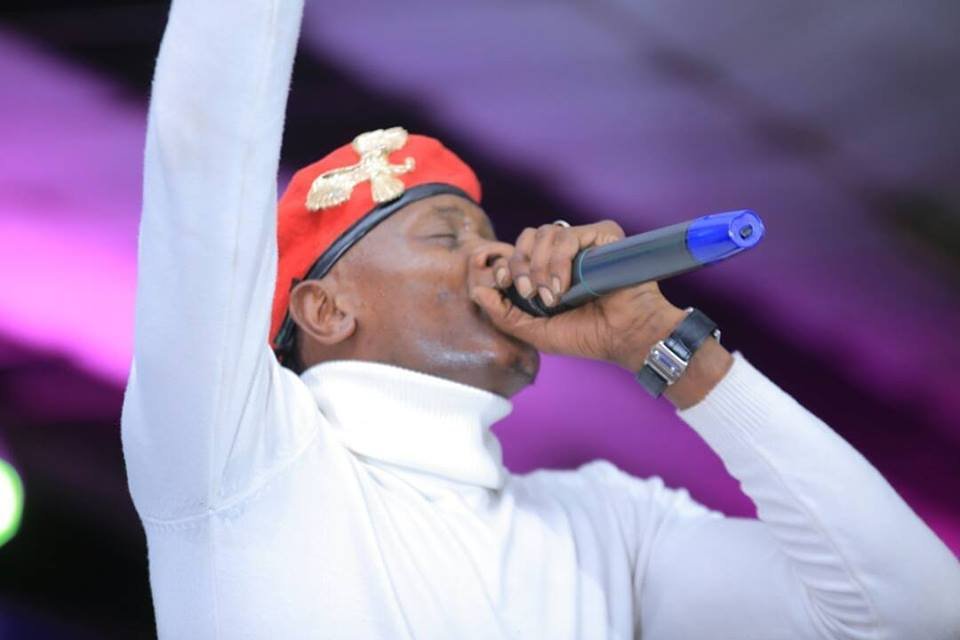 In a long stamen he noted "… I remain the undisputed. I have heard of the battle with my big brother though no one has come forward to put the deal on table. I am a music Dynamo and who so ever wants to battle should know that that's the day you are going to be buried before your disciples!!
And I will put a cross on your grave as I engrave R.I.P. I WILL ONLY ENTER THAT ANTICIPATED SHOWDOWN IF THE KCCA WILL AGREE TO LET IT BE NO TIME LIMIT. He who runs out of music, Goes home.
Jose Chameleone seems ready for what could be the biggest artiste battle of the decade.
(Visited 266 time, 1 visit today)