Masters Music gets new management

Masters Music, a local audio & video production house, is now under new management.
According to inside sources, Ivan LP has been appointed the new Chief Operating Officer. He replaces Michael Owori, aka DJ Bush Baby, who recently stepped down as the company's Chief Operating Officer to concentrate and focus on Raising the Bar (VUQA).
The new Chief Operating Officer will now oversee rebranding, service diversification and daily operation of the company, moving forward.
"I've always wanted to be in the right position and state of mind to make a real and lasting impact on the entertainment industry, and business at large. I think this is it," said LP.
Meanwhile, the company has also rebranded and will henceforth operate as MASTERS as it now prepares to also venture into visual production.
Staff Writer
(Visited 1 time, 1 visit today)
Legendary Zimbabwean musician Oliver Mtukudzi to headline inaugural "Sounds of the Nile" cultural festival

By Our Reporter
Legendary Zimbabwean musician Oliver Mtukudzi is coming to Uganda. He has been announced as the headlining act at the inaugural Mizizi Sounds of the Nile cultural festival which will take place this November.
Oliver Mtukudzi, who is considered Zimbabwe's most recognized cultural icon, will perform alongside other African musicians including Hoba Hoba Spirit from Morocco and Habib Koite from Mali.
Mtukudzi who has been performing since the 1970's has over 30 full-length albums and several compilations to his name. He incorporates elements of different musical traditions, giving his music a distinctive style, known to fans as Tuku Music. With his husky voice, the songwriter and guitarist, is also well-known for his graceful onstage dance moves.
Organised by the Mizizi Ensemble, a local cultural dance group company, the Mizizi Sounds of the Nile cultural festival is aimed at promoting prosperity through arts and cultural tourism. "This is an avenue to promote Uganda's rich cultural heritage and uplift our local artists to the next level by enabling them share the same stage with iconic international artists," a team member from Mizizi Ensemble explained.
The Mizizi Sounds of the Nile festival will be a 3-day festival to be hosted at the Mizizi cultural hub in Kiryandongo district. It will run from Friday, 16th until Sunday, 18th November. It will also feature Uganda's Myko Ouma and Ykee Benda as well as local cultural troupes.
(Visited 1 time, 1 visit today)
Abryanz to hold first ever fashionpreneur summit

By Our Reporter
Fashion enthusiasts will have a chance to learn from some of the biggest names in the fashion industry at the first ever fashionpreneur summit which is being organised as part of the activities leading up to the annual Abryanz Style & Fashion Awards (ASFAs). The one-day event will be held on October 27 at Naguru Skyz Hotel in Kampala.
The summit's main focus will be on the role of fashion, and the creative industry in shaping the future of the country's economy. Given the increasing number of small fashion start-ups, attendees will receive expert tips and insights on how to monetize their projects, seek funding, market their brands, manage finances and lots more.
The organisers confirmed that the Ciroc-sponsored summit will feature the accomplished South African fashion designer David Tlale, who has made it big in the industry with works showcased in South Africa and on some of the hottest runways like at the Paris Fashion Week and the New York Fashion Week among others. He will be speaking about the perks of the industry and what one needs to do to make it big in the fashion world.
Tlale, will speak alongside Santa Anzo, a renowned Ugandan fashion designer who has managed to grow her fashion house 'Arapapa by Santa Anzo' into a globally respected brand. She will be sharing her journey of trials and triumphs, plus expert tips on how to sustain a fashion brand in Uganda.
The event shall also feature make-up guru Mona Umutoni of Mona Faces, media personality Flavia Tumsiime and last but not least Bernard Mukasa, a senior associate at ENS Africa and a specialist in corporate commercial law, intellectual property and employment law.
"The fashion industry in Africa has immense possibilities. However, to unlock all this potential, we need our youth to be empowered with at least some basic business skills to earn from their creative projects," said Brian Ahumuza, proprietor and founder of the Abryanz Style and Fashion Awards.
"We've brought together experts who are excited to share their knowledge and practical skills on how to turn creative projects into income-generating businesses," he added.
The event will run from 2pm to 5pm and will wind up with a nominees unveiling cocktail engagement starting at 6pm until late. In addition to the events nominees, sponsors shall also be unveiled. Entry to the summit is strictly by registration.
(Visited 1 time, 1 visit today)
Video alert: Voltage music releases their Byafayo video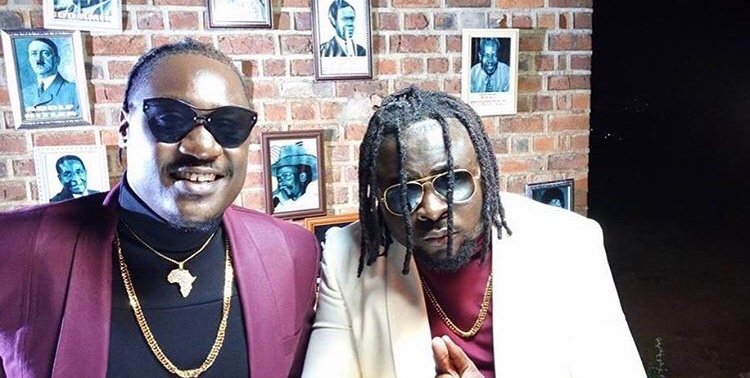 Kent and Flosso more popular for doing uptown music have in this one come with a favorite for their slightly less urbanized audience. Byafaayo is another master piece that you all will fall in love with.
Watch video here: https://youtu.be/5XeVMrGhPV0
(Visited 1 time, 1 visit today)