Masaka vendor wins 5 million in "Takula Cash" lottery

By Our Reporter
Tugumisirize Jalia, a vendor in Masaka town has today received Ugx 5 million she won in the "Takula Cash" lottery. She received her prize money at an event held at Mega Standard supermarket in downtown Kampala, one of the in-trade locations for the Takula Cash lottery.
While receiving her cash prize, she revealed that she is going to invest the winnings in her business and boost her capital base.
The prize money was handed over by a team from Lidtech Uganda, the lottery operator, lead by their general manger Aaron Kasozi who encouraged Ugandans to participate in the lottery.
"We are excited to hand over this Ugx 5 million cash prize to Jalia Tugumisirize. Her win is testimony that Takula Cash is a real lottery and will give all legitimate winning numbers their cash. The lottery is countrywide and we encourage the public to participate," Aaron Kasozi stated.
"The games to participate in Takula Cash include Treasure (win up to 5 million), Matatu (win up to 10 million) and soccer (win up to 20 million)." He added.
Takula Cash is a scratch and win lottery that was launched on December 11, 2017 and has registered numerous winners who have redeemed their prizes through the mobile money platform. Winnings below Ugx 4 million are instantly redeemable by mobile money while those over Ugx 4 million are paid by Lidtech Uganda.
(Visited 1 time, 1 visit today)
GOtv's Albert Nga appointed MultiChoice Uganda Marketing boss

Albert Nga has been appointed the Head of Marketing, MultiChoice Uganda. He previously served the position of GOtv Marketing Manager and has worked at MultiChoice for over 6 years.
He will be responsible for developing and sustaining MultiChoice Uganda's Marketing strategy in line with the companies purpose to enrich lives using the power of entertainment through the company's cutting edge technology on the DStv & GOtv platforms while sustaining the pay TV's position as market leader.
Albert has 18 years of marketing experience, 14 of which he has spent in Management positions. He began as the Marketing Manager MultiChoice in 2012 and for the last 4 years, Albert served as Marketing Manager for GOtv. His new position requires him to manage strategies for both DStv and GOtv brands.
Albert in the past has worked with Diageo (East African Breweries Ltd) and was the custodian for commercial planning for Bell and the Cold Department. He joined the brewery from Coca Cola where he spent 6 years working in various marketing roles from Trade Marketing Manager to Country Marketing Manager / Head of Marketing.
Albert holds a Bachelor of Business Administration degree, majoring in Marketing and Accounting from Bugema University and a Master's Degree in International Business Administration from Paris, ESLSCA Business School (France).
(Visited 1 time, 1 visit today)
Emirates appoints new Country Manager in Uganda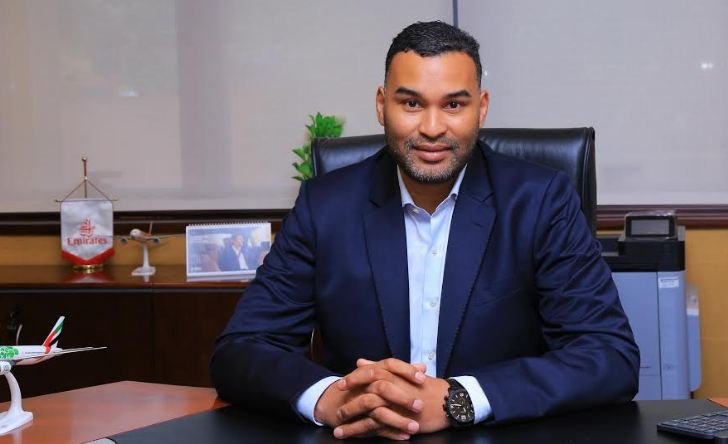 Emirates has appointed John Gemin as its new Country Manager for Uganda.
Mr John, whose appointment was effective from December 17, 2018, is now responsible for Emirates' overall business in Uganda, overseeing sales and service functions for the airline's passenger, cargo, management and airport operations and reports directly to Orhan Abbas, Emirates' Senior Vice President, Commercial Operations Africa.
Mr John holds a bachelor's degree in International Business and Management Studies obtained from the Amsterdam University of Applied Sciences in Amsterdam. He has worked with Emirates for four years, during which time he served as Business Analysis Manager within the Commercial Operations covering mainly the Latin American markets.
Commenting on his appointment, Mr John said: "I am honoured and very excited to be leading the Emirates operations in Uganda. I look forward to working with our local team of dedicated and talented staff to ensure Emirates growth and continued success in the market."
Customers travelling on Emirates can look forward to world class service and hospitality from the airline's multi-national cabin crew, including Ugandan nationals, while enjoying complimentary gourmet meals and beverages. Emirates also offers over 4,000 channels of on-demand audio and visual entertainment on its award-winning ice system, from the latest movies, music and games.
(Visited 1 time, 1 visit today)
Civil engineer wins 39,449,025 UGX with 1,000 UGX stake to become betPawa Uganda's first BIG winner of 2019

By Staff Writer
Iganga district civil engineer, Mugaya Rogers Sosi has been crowned betPawa Uganda's very first BIG winner of 2019 after walking away 39,449,025 UGX richer from a 1,000 UGX stake on a 5 leg bet. Mugaya saw his initial returns increased, after he activated betPawa's 10% win bonus for correctly predicting 5 games or more.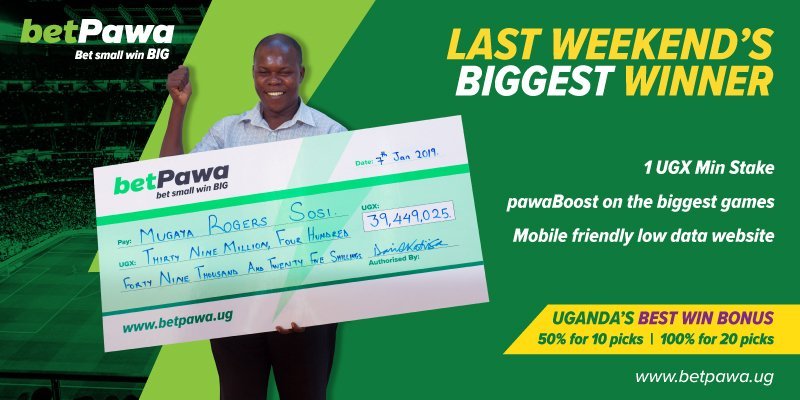 betPawa gives its customers the chance to win more by automatically applying win bonuses, seeing bettors activate a 50% win bonus for 10 or more legs and 100% for 20 or more. Although Mugaya didn't activate a large win bonus with 5 games, he still achieved a BIG win by backing several teams who were outsiders to win!
Can you win BIG like Mugaya? Claim your betPawa FREEBET today:
How Mugaya won 39,449,025 UGX with a 1,000 UGX stake on 5 games
The civil engineer took a risk with his bets, betting on one draw and four teams to win who went into their games as underdogs. Mugaya backed fourth-tier side Andrezieux to beat Ligue 1 favourites Marseille, Rennes and Brest to draw, English conference team Barnet to beat Sheffield United, Oldham Athletic to beat Premier League side Fulham and finally Jordan to beat Australia.
Mugaya expressed that he first found out about betPawa online, saying "I was doing engineering research on the internet and had heard someone talking about betPawa being the best and most trustworthy betting company, and yes, it is true. You can always count on betPawa."
How his BIG win will help to support his future plans
The Iganga district resident plans to use his BIG win to pay for his education, support his business and assist with building work at home, saying "I am currently doing my masters degree, so this money will help me to complete my education. I will also use my win to boost my business and complete work on my house."
When he was asked about what others should do, Mugaya said "Come and join betPawa and become a winner like me. I am the lucky winner of today but you too can try your luck by betting small and winning BIG! betPawa are transparent, trustworthy and give excellent customer support."
betPawa would like to congratulate Mugaya on his win! We hope that you enjoy your winnings.
What is betPawa's no minimum stake? betPawa offers its customers with the genuine chance to bet small win BIG by allowing users to bet as little as 1 UGX.
What is betPawa's win bonus? betPawa offers the best win bonus in Uganda, allowing users to win up to 100% extra. With 50% for 10 correct picks and 100% for 20 correct picks or more, meaning you get much more in return!
betPawa is the easiest way to bet online securely. Not only do they offer the best odds on the market but they provide their customers with the opportunity to bet small win BIG using a no minimum odds service of just 1 UGX, they also offer win bonuses to increase betting returns and they provide 24hr support to customers that need it.
New to betPawa? Claim your FREEBET now! Visit: www.betpawa.ug/freebet
Disclaimer;
Bet responsibly. Not allowed to minors. Betting may be addictive and psychologically harmful. betPawa is licensed and regulated by the National Gaming Board.
Lic# 24
(Visited 1 time, 1 visit today)