Marcus Anderson, Yola Semedo promise memorable show at Jazz & Soul Safari
By Our Reporter
American Saxophonist Marcus Anderson and Angolan Kizomba star Yola Semedo are in the country ahead of their much anticipated performances at the 10th edition of Johnnie Walker Jazz & Soul Safari.
Jazz lovers and enthusiasts can look forward to a groovy night at the event scheduled to take place on Saturday September 2, at the Lugogo Cricket Oval, which is aptly themed "Wear your dancing shoes."
Addressing a press conference held at the Kampala Serena Hotel on Thursday, Anderson and Semedo promised to leave their Ugandan fans and jazz lovers wanting more.
"Kizomba is party music, so come ready to party," Semedo said while addressing journalists.
With the world renowned whisky Johnnie Walker on board as the title sponsor, UBL's Head Whisky Portfolio, Annette Nakiyaga had this to say; "On behalf of Uganda Breweries, I formally welcome our guests to Uganda. We are very much geared up ahead of your performance on Saturday. For those who will be attending, expect nothing less than an exquisite hospitality and whisky experience synonymous with Johnnie Walker."
Gates to the Jazz, Soul and Kizomba music celebration open at 4:00pm with Uganda's Myko Ouma and Micheal Kitanda kicking off the evening's performances at 7:00pm.
Meanwhile, continuing their tradition of giving back, Jazz Safari has partnered with the Rotary Club of Kampala North to start a music programme at the Kampala School for the Physically Handicapped.
Kampala School for the physically handicapped (KSPH) is a primary school that was started in 1968, catering for the educational needs of the disabled children in Uganda. The school that has an enrollment of over 100 pupils offers vocational subjects like tailoring, screen printing, craft, tie and dye and computer training to all the children that cannot continue with further education.
(Visited 1 time, 1 visit today)
New Movie: The story of a man that changed the destiny of his people, showing on Record TV
This incredibly successful soap opera tells the epic saga of Moses, from his birth to the arrival of the Hebrews to the Promised Land, including the escape from Egypt through the Red Sea and his encounter with God on Mount Sinai.
Filmed partially on location in Israel, Egypt, and in the Atacama Desert of Chile, authenticity in film sets, scenery, costumes and historical accounts, and a deep respect for the Bible are paramount. A big production filled with amazing special effects unfolds more than a century of history.
Broadcasting through Star Times 221, Gotv 828, FTA platforms, it's rapidly becoming a great choice for TV viewers due to its highly diversified daily content that meets different tastes and interests. It aims to encourage viewers to seek an alternative television experience.
Supported by a great selection of programs, that cover everything from fashion and world news to music, inspirational programs, soap operas, mini-series, reality TV and sports, Record TV is relevant to a wide-ranging audience.
(Visited 1 time, 1 visit today)
Vinka shows off bartender skills. [Photos]
By Our Reporter
Friday night at Guvnor was not business as usual in the drinks department that saw party animals treated to a different type of night as musician Vinka was not only the night's main performer but also the bartender.
The Dancehall star who was the guest entertainer at event dubbed Ciroc Pop Night showed fans that she is indeed a multi-talented woman with skills that go far beyond her performances on stage.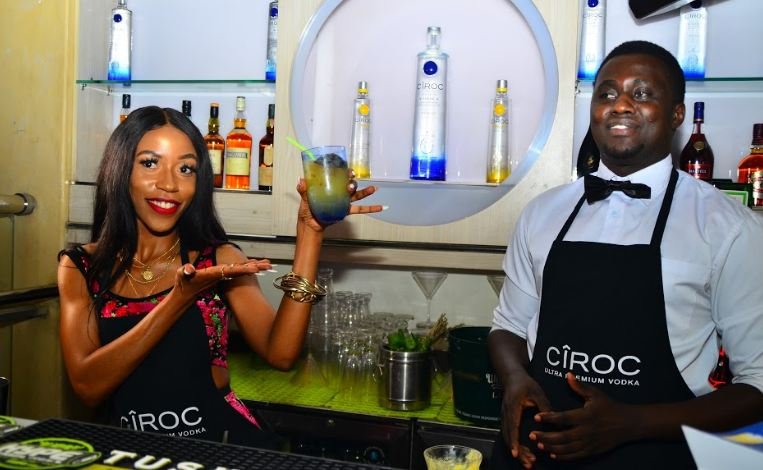 Revellers watched the artist take over the bar with such effortless grace like she had been practicing the art of 'mixology' for a long time, leaving many impressed and labouring to get a hold of the creative cocktail she had made.
The night was also complimented with epic DJ mixes from Guvnor's very own senior party troops like DJ Dash and DJ Baby Luv who rallied up their party animals and had the crowds dancing in tune to the beat of the music all night long.
The Ciroc Pop Night is a monthly event where party folk are treated to a night of different and fresh new signature cocktails. 
(Visited 1 time, 1 visit today)
Nigerian star Patoranking coming to Uganda
By Our Reporter
Nigerian star Patoranking is coming to Uganda.
This was revealed by the singer's management team led by Maduforo Chidinma Didi during a press briefing held at Xanadu Suites on Friday.
"The concert preparations are still in their initial stages, but I can guarantee that Patoranking will be coming to Uganda this year," Didi said.
According to the team, Patoranking will be in the country to promote his recently released album, "Wilmer". Named after his daughter, it is his sophomore album and features 12 tracks with collaborations from several musicians across the continent including Kenya's Nyashinski, South Africa's Busiswa, and Nigeria's Davido among others.
"Africa to the world is not just through words but actions. And Uganda being one of the biggest consumers of Patoranking's music, we felt it right to bring his new album here and also meet the faces who play the music as well interact with the fans." Didi added.
Although they remained tight-lipped about concert details, we have learnt it will be held sometime in October this year.
Meanwhile, this comes after his failed concert that had been slated for December 2018. The concert is said to have been dealt a huge blow after the local organizer failed to meet the logistical demands needed to pull it off successfully.
(Visited 1 time, 1 visit today)