The festive season brings a wonderful opportunity to celebrate our old traditions with our family and friends. We need to shop gifts and lot of other useful things, but we're always short on cash or have a limited budget for this. Well! Well! Kilimall Uganda has an exciting offer for you to cut on your spending while shopping online – so your holiday season doesn't have to be a total budget-buster.
After outing mouth watering discount deals during the Black Friday, Kilimall Uganda is bringing to you more deals to help online shoppers (and potentials) save money on Christmas shopping this season.
Win a UGX 10,000 worth of Shopping Voucher
Kilimall Uganda is giving you a head start of UGX 10,000 worth in a shopping voucher and all you have to do is follow these simple steps:
1. Take a picture of any taxi you see with the Kilimall Back Cover or sticker inside the taxi (as seen below).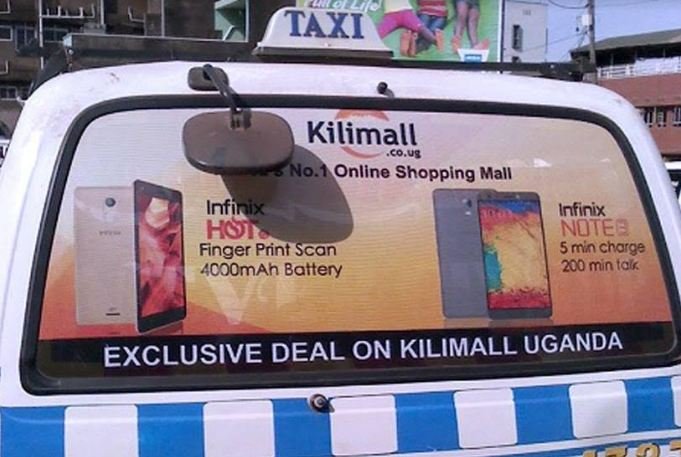 2. Post the photo on your Timeline (Facebook or Twitter) and tag Kilimall – Online Shopping in Uganda and Infinix Mobile Uganda.
3. Simple as that!
You will be contacted by Kilimall Uganda and your UGX 10,000 shopping voucher activated for your online shopping on Kilimall website.
Make a Christmas Wishlist, Share & Win
Here's a chance to win some goodies from Kilimall.
Steps
1. Visit this link and add up to 5 items to your wish list.
2. Share the link on your Facebook or Twitter Timeline and ask your friends and followers to like it. Don't forget to tag Kilimall. The person with most likes stands a chance to win.
3. Sign in on the Kilimall website or app every day to prove your our true loyal customer.
Happy Holidays!
Staff Writer
(Visited 135 time, 1 visit today)