Local fashion blogger, Samson Baranga features on CNN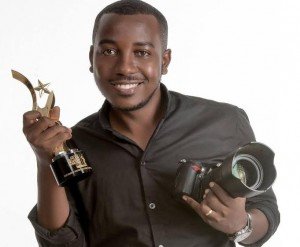 By Our Reporter
Samson Baranga, a Ugandan fashion blogger, photographer and journalist is making news internationally following his appearance on CNN African Voices which highlights the continent's most dazzling people who create their own subcultures in areas such as travel, fashion, art, music, technology and architecture.
Baranga was highlighted for his role as the leading promoter of the fashion industry through his fashion blog and newspaper columns. He has been at it since 2011 when he discovered that fashion articles had limited space in mainstream media hence opening one of the first fashion blogs in the country.
"Starting out was all about providing a platform for the budding fashion industry where I could feature events and personalities that are working so hard to put Uganda on the fashion map," he said.
He has since scaled the heights including nominations in various fashion awards like Abryanz Style and Fashion Awards (ASFAs), Pearl of Africa Fashion Awards and Swahili Fashion Week East African Fashion Journalist of the year category. In 2015, he was crowned fashion blogger of the year at the ASFAs.
Baranga has covered fashion events in Uganda, Kenya, Tanzania, Rwanda and South African. In the interview, he shares his dream about making it to New York Fashion Week.
(Visited 130 time, 1 visit today)
Malaika Nyanzi to sponsor fan for makeup master class

By Nila Faisal
KFM radio presenter Malaika Nyanzi is offering to sponsor a makeup enthusiast to the Mona Makeup Master class that has been organized by makeup artist Monafaces.
The multi-talented media personality has announced via her Instagram that interested parties should send her a message via inbox explaining why they think they should be the lucky winner before a September 5, deadline.
Malaika who is one of the sponsors of the prestigious master class that will be running from September 6th to 8th says her decision to take part in the event was informed by her love and respect for what Monafaces is doing.
(Visited 130 time, 1 visit today)
Abryanz Style and Fashion Awards 6th edition announced

By Our Reporter
The Abryanz Style and Fashion Awards (ASFAs) are back. Returning for their 6th edition, they will be held at the Kampala Serena hotel on 7th December.
To be held under the theme, "Fashion is Power", this year's edition will highlight how fashion is integral to identity and also provide different avenues and opportunities that are key to the growth of Africa's economy by tackling unemployment.
"The ASFAs will also highlight the transition of the fashion industry over the years with Celebrity red carpet appearances, showcases from Africa's top Designers and Models, blended with remarkable performances from both local and international Artistes," Brian Ahumuza alias Abryanz, the proprietor of the ASFAS further noted.
The awards will celebrate stakeholders in the African fashion industry across 13 categories such as; Designers, Fashion Photographers, Makeup and Hair Stylists, Models, Fashionable Artistes, Music Video and Celebrities among others.
In line with the ASFA 2018 theme, 'Fashion is Power', this year's show will feature a special category Fashion entrepreneur that will honour in a special category an entrepreneur for their outstanding commercial success of their fashion business or personal brand in relation to fashion as a solution to the current unemployment problem among the youth. Other honorary categories include the Lifetime/Fashion Icon Achievement Award and The Humanitarian Award for Work in Fashion.
"As a build up to ASFA 2018, the Awards will encompass events such as the FashionPrenuer Expo with the objective of empowering and inspiring people in the fashion business as well as equipping them with much needed business skills. We will also have the ASFAs Nominees release brunch, The Meet and Greet Pre-Show Party and The After Party," Abryanz added.
(Visited 130 time, 1 visit today)
8-Year-old crowned best dressed at CBA Uganda Vintage & Classic Auto show

By Our Reporter
The 7th edition of the annual CBA Uganda Vintage & Classic Auto show went down on Saturday at the Sheraton gardens. The event saw car and bike enthusiasts throng the gardens on the sunny afternoon to marvel at the different vintage cars and bikes that were exhibited. There was also a collectibles area where old items like gramophones, monochrome TV sets and phonographs were displayed.
Away from the automobiles, revelers turned up in fashionable outfits with most bringing to life styles from the 70's and 80's. For this year's edition, revelers were encouraged to adhere a retro dress code in accordance with this year's theme, "Beauty and the Beast", for which the best dressed would be awarded.
As the event finally came to an end, 8-year-old Gary Gavina Ahabwe emerged as the best dressed male. He impressed the judges with his Bell-bottoms paired with a matching waistcoat and completed with an Afro-wig. He beat several contenders to the award who included exhibitioner Kakooza Weziire (who came in second place) and Social media influencer Arthur Musinguzi.
In the ladies category, Shadia Ustaaz emerged winner after impressing the judges with her vintage High Waisted Pleated Maxi Skirt. Atim Charlote came in second place.
The winners were rewarded with goodies from Sheraton Hotel.
(Visited 130 time, 1 visit today)