LIVE VIDEO: UCE Results out
MPs start campaign to make Uganda's highways safer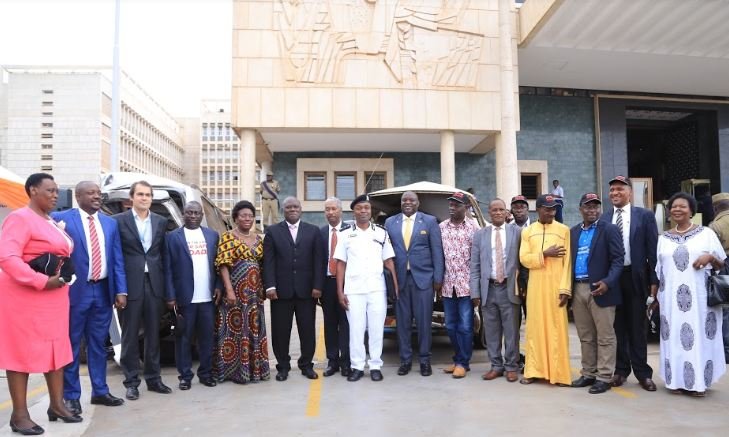 The Parliamentary Forum For Road Safety with support from the World Bank's Global Road Safety Facility and in partnership with the Ministry of Work and Transport and Safe Way Right Way have launched the implementation of the road safety legislative action plan as an effort to address legislative issues regarding the institutionalized management of road safety, safer roads and mobility, safer vehicles and road users, and post-crash response
In Uganda, fatal crashes rose from 500 in 1991 to 3,503 in 2016, representing a seven-fold increment over period of 25 years. a new World Bank study finds that reducing road traffic deaths and injuries could result in substantial long-term income gains for low- and middle-income countries.
Using detailed data on deaths and economic indicators from 135 countries, the study estimates that, on average, a 10% reduction in road traffic deaths raises per capita real GDP by 3.6% over a 24-year horizon. the study finds that countries that do not invest in road safety could miss out on anywhere between 7 and 22% in potential per capita GDP growth over a 24-year period.
This justification requires policymakers to prioritize proven investments in road safety and provides the bedrock for the World Bank intervention through the Global Road Safety Facility. Established in 2006, the global road safety facility is a global partnership program administered by the world bank with the mission to help address the growing crisis of road traffic deaths and injuries in low and middle-income countries through funding, knowledge transfer, technical assistance and advocacy.
The who global road safety status report – 2015 puts annual road traffic fatalities in Uganda at over 10,000, it is abundantly clear that road safety is a significant and rapidly growing public health and socio-economic burden… the health management information system data indicates that the public health system is overwhelmed with road traffic crashes which are listed among the 10 top leading causes of hospital deaths in the country.
It was this alarming rate of road accidents that led Safe Way Right Way and Members of Parliament to establish the PARLIAMENTARY FORUM ON ROAD SAFETY (PAFROS) and the subsequent development of a legislative action plan based on a gap analysis of the traffic and road safety act as well as recommended best practice across an array of policies and legislation cutting across several government ministries, departments and agencies".
The emphasis for the success of this project will be the ability for staekholders to ensure sustained policy development and implementation across several government agencies with a mandate to support road safety improvement.
"The most critical output following the establishment of the forum is the development of a legislative action plan informed by the 5 pillars of road safety as recommended under the United Nations decade of action for road safety to which Uganda is a signatory".
"Our action plan seeks to address legislative action: policy development, enactment, implementation and evaluation across several sectors", to create national awareness, debate and attention towards improvement of road safety in Uganda.
PAFROS intends to deliver legislation that will support government agencies to develop and implement policies that will ensure a systematic approach to road safety improvement in uganda.
(Visited 1 time, 1 visit today)
J.K Holdings drags CMA's Kiryabwire to Law Council.

J.K Holdings has petitioned the Uganda Law Council over Capital Markets Authority's Angella Kiryabwire for bleaching the professional ethics and the non discourse agreement.
In the letter dated May 18. 2018 from Tumukunde & Luwaga Co. Advocates and signed by Tumukunde N, J.K Holding accuses Angella Kiryabwire for leaking their confidential information to their competitors.
According to the letter, Ref/ 18/TL/05, J.K Holdings Limited sought to establish a Collective Investment Scheme through CMA, upon which Kiryabwire requested the company lawyer to furnish the authority with a checklist of all documents needed before approval.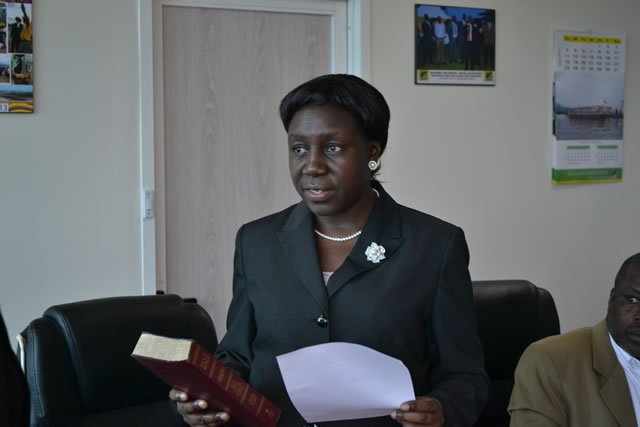 The letter says that though Kiryabwire and JK. Holdings signed a Non-Disclosure of Information Agreement to third parties before the elapse of six years unless ordered by a competent court, she went ahead and shared the information with Stanlib Uganda Limited who runs a collective investment scheme called Money Markets Fund and IRSTA Limited.
JK. Holdings' lawyer explained that they had mail correspondences between Kiryabwire, the Chief Executive Officer of Standlib Limited Mrs. Annette Rumanyika Mulira and Lydia Muleembe of IRTSA Limited.
"On August 12, 2018 at 11am, Mrs. Angella Kiryabwire sent all our documents we shared with her to kirabwiretrevor@gmail.com after a few minutes kiryabwiretrevor@gmail.com forwarded all the documents received to Imuleembe@gmail.com this is the personal email of Lydia Muleembe the CEO of IRSTA Limited,"
As a result to sharing this information our software servers have been hacked into, several messages have been sent to our prospecting investors discouraging them from investing with us. "Our prospecting agents in Uganda who had agreed to work with us have been contacted and told not to work with us because we are a fraudster. This has greatly damaged the reputation of the company and its prospecting business," the letter adds.
"The location of our intended premises which was among our Trade secrets disclosed to Mrs. Kiryabwire has been taken over by our competitor IRSTA Limited."
According to J.K Holdings, the application to operate a Collective Investment Scheme by IRTSA was granted within one week. The company claims that though they had filed their application over one year ago, they had received no explanation from CMA as to why their application had taken that long.
"The actions of Kiryabwire contravene Rule 7 of the Advocates Professional conduct regulations SI-267-2."The letter states.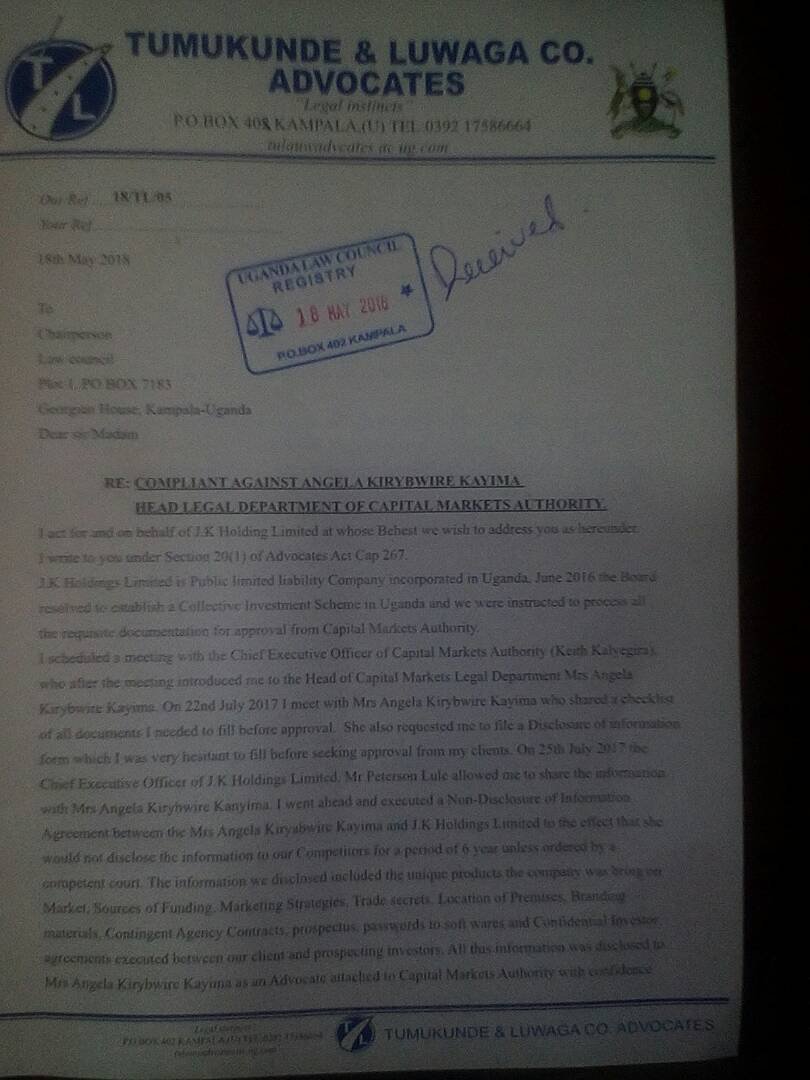 "We disclosed this information to Mrs. Kiryabwire trusting that she is an advocate of the High court who respects Advocates Professional conduct regulations. The information we disclosed included; the unique products the company was to bring on the market, sources of funding, marketing strategies, trade secrets, branding materials, contingent agency contracts, prospectus and passwords to soft wares executed between our client and prospecting investors."The letter explains.
Now that Tumukunde &Luwaga CO. Advocates on behalf J.K Holding Limited has filed a complaint against Angela Kiryabwire head legal department Capital Markets Authority, shows that Angela Kiryabwire Kanyima is no stranger to controversies.
Angela Kiryabwire superintended over the money bonanza in the 74 Km Katosi road scandals where Shs24billion was dished out to a non existing US firm without a bank guarantee.
Kiryabwire as Chairperson of the Uganda National Roads Authority (UNRA) Board failed in her oversight role and tax payers' money was lost.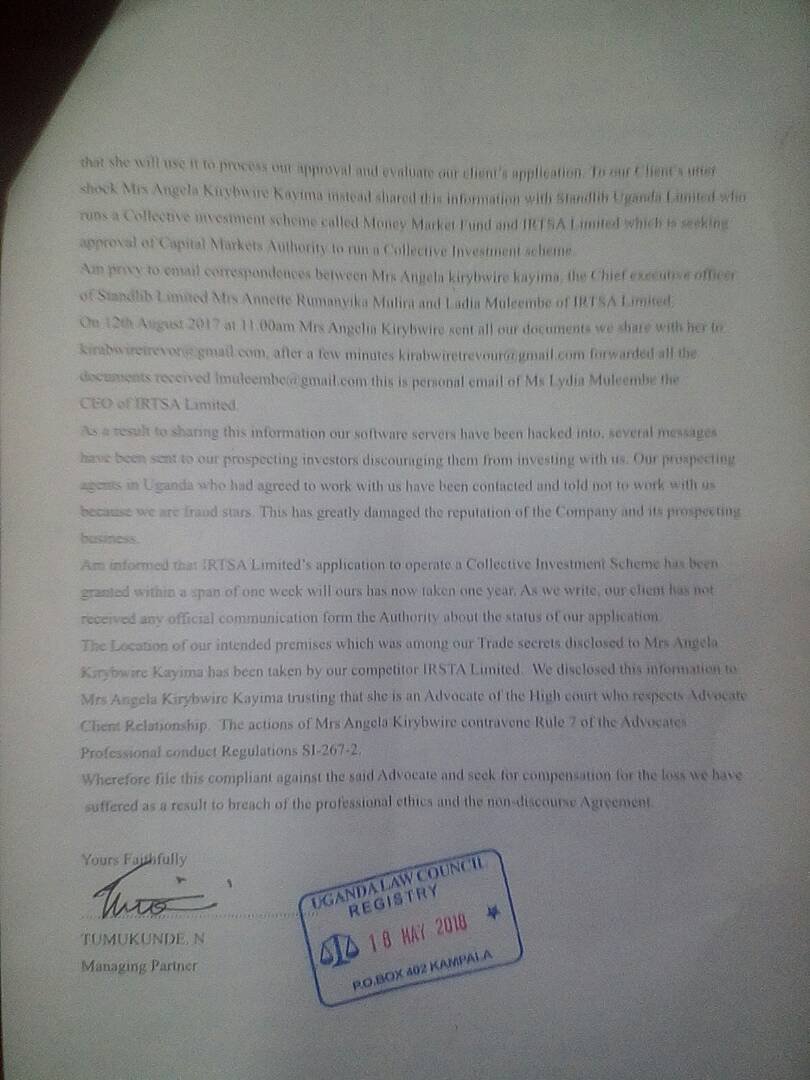 The story was first published by Uganda's leading daily; the New Vision how UNRA through the Housing Finance Bank paid sh24.7b to a 'ghost' firm without a bank guarantee.
Kiryabwire moved and sacked UNRA managers except herself. The Minister for Works and Transport later sacked Kiryabwire and her entire board from overseeing UNRA and replaced her with an efficient and confident former State Minister for Finance; Fred Jachan Omach.
(Visited 1 time, 1 visit today)
Frank Gashumba forgives NBS TV, working on new inspirational show

BigEyeUg Team
Top motivational speaker, Frank M.Gashumba has had his ups and downs with Kamwokya based, NBS TV.
The social entrepreneur whose show was discontinued on the station unceremoniously filled a lawsuit against the station's management not so long ago.
Yesterday, NBS TV released a formal apology to Gashumba seeking forgiveness for what happened. Being the good man that he is, Gashumba has decided to forgive and reveal that a new inspirational TV show is coming up soon. Here is what he wrote.
As a social enterpreneur & motivational speaker, my life rotates on changing people's lives and those close to me know it well that Politics is a by the way. Early last year, 2017, I started a talk show on NBS TV called "The Eagle" that was meant to be a must watch show for family which was the case in the few weeks I was on air. As time went by, NBS Management decided to change the format of the show to which I disagreed, notable about the final decision was the fact that I wasn't consulted on what decision was being taken yet I was the brain behind the show. For that reason, I decided to step aside from the show.
A few days later, NBS released and posted a letter on their Facebook page alleging that they had received complaints of people alleging that I had "conned" them. On reading the letter for the first time, I couldn't believe that it was from the writers.
Immediately, I instructed my lawyers M/s Mushabe, Munungu & Co Advocates and M/s Denis Nyombi and Co Advocates to institute a law suit against NBS TV and Pamela Adong, the station's Chief Marketing Officer for defamation & Maligning. Following this notice, Civil Suit No 149 of 2017 was opened up against the two defendants. As part of court procedures, civil cases go through mediation to try and settle some matters out of court.
So far, we have appeared before the chief mediator who was instructed by a Judge three times with the NBS team being represented by their lawyer Muhamad Ali Kajubi, Ramathan Mbago, Company's Chief Operating Officer and Joel Kigozi, Deputy CEO. After a number of mediations,the company's representatives owned up to the fact that they acted on false allegations & Malice and they opted for case settlement out of court. In all this, I was ready to push hard for this case up to the supreme court.
Yesterday, NBS released a statement retracting the false allegations and admitting that they acted on false information. "The purpose of this press release is to retract those statements conveyed in that letter and apologise for the inconvenience and/or embarrassment the letter caused Mr Frank Gashumba, his family, friends and associates, " read part of the statement released by NBS.
Yesterday, I decided to forgive and let go of all this. This is not because they apologised but because as a christian, I believe in forgiving in anyone that owns up to their mistake or recklessness However, I believe an apology makes more sense if it is moved from paper to actions.
This slideshow requires JavaScript.
And to you my followers, a New and massive inspiration TV show will come your way soon so look forward to what I have in stock for you.
(Visited 1 time, 1 visit today)