LIVE VIDEO: UCE Results out
Ride Cashless with SafeBoda! You can top up your SafeBoda credit through the app using either MTN or Airtel Money OR Come by the SafeBoda offices on Bukoto street between 10am to 4pm to directly pay cash for credit!Click here to download the app
(Visited 1 time, 1 visit today)
AAR Insurance to help one year old girl receive heart surgery in India
By Our Reporter
Ride Cashless with SafeBoda! You can top up your SafeBoda credit through the app using either MTN or Airtel Money OR Come by the SafeBoda offices on Bukoto street between 10am to 4pm to directly pay cash for credit!Click here to download the app
AAR Insurance, an insurance company providing insurance cover for corporate, NGO and individual medical cover for its clients is going beyond their call of duty in a humane, corporate-centric and compassionate support drive.
The insurance company is extending financial assistance to the family of Aria Kirabo Migadde, 1, who is suffering from mitral valve disease to enable her receive a life-saving operation in India. This comes after receiving treatment at AAR Entebbe for the past 6 months without improving.
"Many people with mitral valve disease experience no symptoms. However, if left untreated, mitral valve disease can lead to serious, life-threatening complications such as heart failure or irregular heartbeats, called arrhythmias," explained Dr Nazziwa Rose, AAR Entebbe Clinic.
Mitral valve disease occurs when the mitral valve doesn't work properly, allowing blood to flow backward into the left atrium. As a result, the heart does not pump enough blood out of the left ventricular chamber to supply thebody with oxygen-filled blood.
AAR Insurance is contributing Ugx 15 million towards Aria's treatment in India. The money was handed over to Aria's parents on Wednesday.
"For any parent, having to watch their child, irrespective of age, go through a grueling order is no easy feat. As AAR Insurance, we are not only friends to the Migadde's but have grown a closer bond with Aria. Our thoughts and prayers remain with you while in Aria and we are looking forward to your healthy return," stated Christine Nassuna, GM AAR Insurance.
Fred Migadde, the father to Aria, expressed his gratitude to AAR Insurance saying that, "We are eternally grateful- not only for the financial contribution from AAR Insurance but also to their medical teams, continued supervision, updating and oversight of our daughters condition."
(Visited 1 time, 1 visit today)
Shine with the perfect selfie smile with the Infinix S3X
By Staff Writer
Ride Cashless with SafeBoda! You can top up your SafeBoda credit through the app using either MTN or Airtel Money OR Come by the SafeBoda offices on Bukoto street between 10am to 4pm to directly pay cash for credit!Click here to download the app
We have all owned smartphones but none is like the brand new InflniX S3X from Ifinix.
The smartphone that comes in three colours, Blue, Gray and black will surely take care of all your colour needs. How you like it is how you get it.
Specially designed to keep your phone safe yet good looking and shiny, the Infinix S3X comes with a Metal print GLOSSY all over, Metal print all over the side and back cover, Shiny and transparent like a mirror, hard and wear resistant like a metal.
Now what is a 2018 smartphone without a full view display? With this brand new phone, you get to see everything as nature intended it to be seen from video quality to the sharpness and so much more. You can also go wild and break the limits with the Notch screen.
A wide 6.2 inch  HD+  19:9 aspect ratio full view display with 500 nit brightness, making the screen almost bezel-less plus a notch giving a immersive and perfect viewing experience especially for movies and gaming.
With smart gesture you get to hide the navigation bar and operate by gesture, so you can always enjoy a full view, nothing covered by the navigation.
Speaking of the mega camera. This is what you have been waiting for all your life. The InfinixS3X comes with 16MP 4 in 1 low-light AI selfie and 13+2MP Dual camera all to make your photography experience a worthwhile.
The front camera is a 16MP FF f2.0. This means that 4 in 1 low-light selfie…Hot S3X 16MP low light camera captures every detail, even in low light with its advanced ultra-pixels, bring out beauty in its most.
AI selfie is the way to go given that we are in 2018. This feature allows a front flash with Low-light from the front camera featuring a 16MP ultra sensors with better pixels & AI technology that enables the camera to detect your gender, age and your facial expressions and packages a beauty solution that gives you the perfect selfie that you desire.
 The Infinix 3×3 The rear camera is the mother of all cameras. It comes fully equipped with 13MP+2MP PDAF. 5P lens f2.0.  Dual flash
     Dual rear camera for portrait mode of 13MP+2MP, fully capturing the depths of your surroundings and the 2MP focusing on the distance to balance the image quality to effect the best portrait.
Now what is a 21s century top smartphone without all the security you need to stay on top of the game. The Infinix 3X3 comes fully equipped with the following security features;
Dual unlock
Qualcomm 430
4000mAh-2A quick charge
XOS 3.3 on Android TM 8.1
 HOT S3X with Qualcomm Snapdragon  Octa-Core processor supports high  quality graphics  for better gaming without jam, it also has a powerful satellite signal reception all over the globe with better GPS accuracy
What is a smartphone without a super battery that can take you days without while doing what you love. The Infnix 3X2 comes with a 4000mAh-2A quick charge, 4000mAh high capacity battery combined with the energy-efficient XOS, providing at least 2 day usage for an average user.
Now foe travelers and those who love to see the world, when going on a long trip, you can be assured that your device would last you well through the day and into the next
(Visited 1 time, 1 visit today)
UNYPA awarded for their efforts in fight against discrimination of people living with HIV/AIDS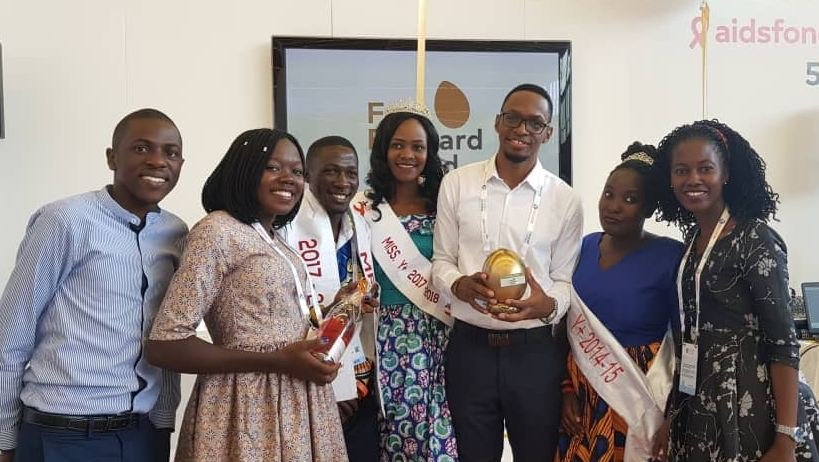 Ride Cashless with SafeBoda! You can top up your SafeBoda credit through the app using either MTN or Airtel Money OR Come by the SafeBoda offices on Bukoto street between 10am to 4pm to directly pay cash for credit!Click here to download the app
By Our Reporter
The Uganda Network Of Young People Living With HIV/AIDS (UNYPA) has been awarded for their efforts in the fight against discrimination and stigmatization of people living with HIV/AIDS. This was during the 22nd International AIDS Conference which concluded last Friday in Amsterdam, Netherlands.
UNYPA who had been nominated for their Y+ Beauty Pageant initiative beat four others to take home the Fast Forward Golden Egg award.
UNYPA has been organising the Y+ beauty pageant for years now and it will be returning for the 5th edition this year. The Beauty Pageant is a platform to disseminate information, form networks with community leaders, empower young people living with HIV with knowledge as well as advocate for their rights in a bid to end the stigma and discrimination they face because of their status.
Presented by Aidsfonds, a global foundation working towards end of AIDS, the Fast Forward Award seeks out innovative interventions organised by and for the community with the aim of linking these local solutions with donors to increase funding for communities and scale-up successful approaches.
This was the second consecutive time UNYPA was winning the Fast Forward Golden Egg award.
(Visited 1 time, 1 visit today)