Ladies Running The East African Region

Every year during the week of 8th March, the world celebrates women and some of their biggest accomplishments. In some countries that day is marked with a public holiday and celebrated with awards ceremonies as well as women themed events throughout the week.
In East Africa as we celebrate this wonderful week, it is important that we point out some of the top leading ladies that are putting their individual countries and the region on the map. In no particular order or sector of expertise, here are some of the ladies running East Africa.
Jennifer Semakula Musisi
There was a time when people thought that women were not strong enough to be put into positions of power and authority till ladies like Jennifer were given such positions. She has debunked the myths and fought tooth and nail to bring give Kampala the glow it has acquired. Mrs. Musisi is a force to be reckoned with, a lawyer by profession. Jennifer is an advocate of the high court of Uganda with training in administration and taxation from universities such as George Washington and Harvard. She is the Executive Director of the Kampala City Council Authority, a position she has held and won accolades for since 2011.
Lucy Mbabazi
Even if her story starts as it does with so many Rwandans who were born in Uganda because of the senseless slaughter which led to them being displaced. Lucy is a technopreneur who was resourceful in helping the World Food Program incorporate technology in their relief distribution to refugees in the DRC. She is currently spearheading the mVisa partnership between the Rwandan Government and Visa. Lucy attended the Harvard University's Kennedy School of Public Policy.
Mwamvita Makamba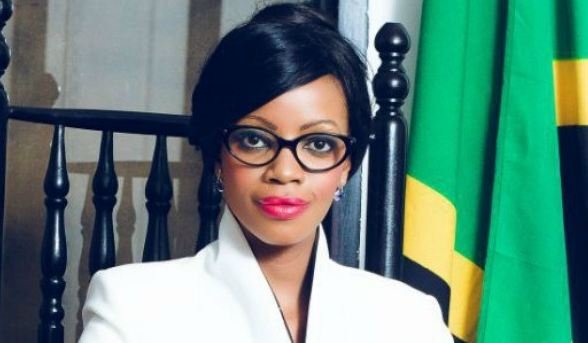 One of the most known leading ladies in Tanzania, Mwamvita has worked her way up with a searing passion after graduating with an MA in International Relations at the University of Dar Es Salaam. She has been working with Vodacom since 2009 and has had several positions till now. Currently, she is the Head of Pan Africa Business Development for Vodacom Business Africa and Vodacom Enterprise Unit for Vodacom Group. Still in Vodacom International Markets, Mwamvita oversees the implementation of Corporate Social Investments and Stakeholder International Relations.
Helen Njoroge
As the founder of Tenders Kenya, Helen is passionate about creating opportunities for women especially with startups as well as employment for the Kenyan youth. Prior to Tenders, Helen was the Coordinator for the Federation of Women Entrepreneur Associations which fueled her fire to work hard and elevate fellow women while at it.
Margaret Blick Kigozi
One of the most influential women in Uganda standing strong for over the years is this doctor, mother and business lady. Dr. Maggie Kigozi as she is commonly known has inspired girls to know that they can always have it all without a lot of work and commitment. She has a degree in Medicine from Makerere University, served as the Managing Director of Crown Beverages then later as the first female Executive Director of the Uganda Investment Authority. The mother of three aspires to improve the lives of women entrepreneurs in the region.
Esther Mbabazi
At 28, Esther is famously known for being the first commercial female pilot in Rwanda. Her dream came to be when she was sponsored by RwandAir to go study in Miami Florida after training at the Soroti Flying School Uganda.
Nancy Kacungira
Her name rings power through the media world and her TEDx talk has been watched by thousands of people whom she has inspired. Nancy has a Bachelor of Arts (BA), Design and Visual Communications and a Master of Arts (M.A.), Communication & Media Studies from Leeds University. She has worked with some of the best media houses in the region including NTV Uganda, Power FM and currently is an anchor at KTN in Kenya. In 2015, Nancy won the first BBC World News Komla Dumor Award.
There are many more women in the region that deserve to be recognised for all the work they do and their achievements which all can't fit on a page. Keep celebrating all of them no matter what sector it is they are in.
Credit: Travel.jumia.com
(Visited 229 time, 1 visit today)
J.K Holdings drags CMA's Kiryabwire to Law Council.

J.K Holdings has petitioned the Uganda Law Council over Capital Markets Authority's Angella Kiryabwire for bleaching the professional ethics and the non discourse agreement.
In the letter dated May 18. 2018 from Tumukunde & Luwaga Co. Advocates and signed by Tumukunde N, J.K Holding accuses Angella Kiryabwire for leaking their confidential information to their competitors.
According to the letter, Ref/ 18/TL/05, J.K Holdings Limited sought to establish a Collective Investment Scheme through CMA, upon which Kiryabwire requested the company lawyer to furnish the authority with a checklist of all documents needed before approval.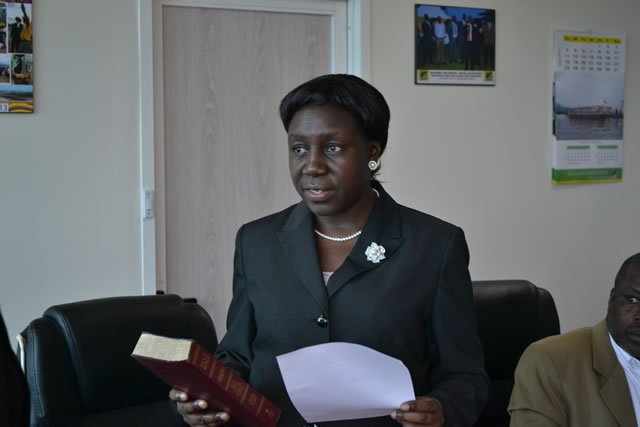 The letter says that though Kiryabwire and JK. Holdings signed a Non-Disclosure of Information Agreement to third parties before the elapse of six years unless ordered by a competent court, she went ahead and shared the information with Stanlib Uganda Limited who runs a collective investment scheme called Money Markets Fund and IRSTA Limited.
JK. Holdings' lawyer explained that they had mail correspondences between Kiryabwire, the Chief Executive Officer of Standlib Limited Mrs. Annette Rumanyika Mulira and Lydia Muleembe of IRTSA Limited.
"On August 12, 2018 at 11am, Mrs. Angella Kiryabwire sent all our documents we shared with her to kirabwiretrevor@gmail.com after a few minutes kiryabwiretrevor@gmail.com forwarded all the documents received to Imuleembe@gmail.com this is the personal email of Lydia Muleembe the CEO of IRSTA Limited,"
As a result to sharing this information our software servers have been hacked into, several messages have been sent to our prospecting investors discouraging them from investing with us. "Our prospecting agents in Uganda who had agreed to work with us have been contacted and told not to work with us because we are a fraudster. This has greatly damaged the reputation of the company and its prospecting business," the letter adds.
"The location of our intended premises which was among our Trade secrets disclosed to Mrs. Kiryabwire has been taken over by our competitor IRSTA Limited."
According to J.K Holdings, the application to operate a Collective Investment Scheme by IRTSA was granted within one week. The company claims that though they had filed their application over one year ago, they had received no explanation from CMA as to why their application had taken that long.
"The actions of Kiryabwire contravene Rule 7 of the Advocates Professional conduct regulations SI-267-2."The letter states.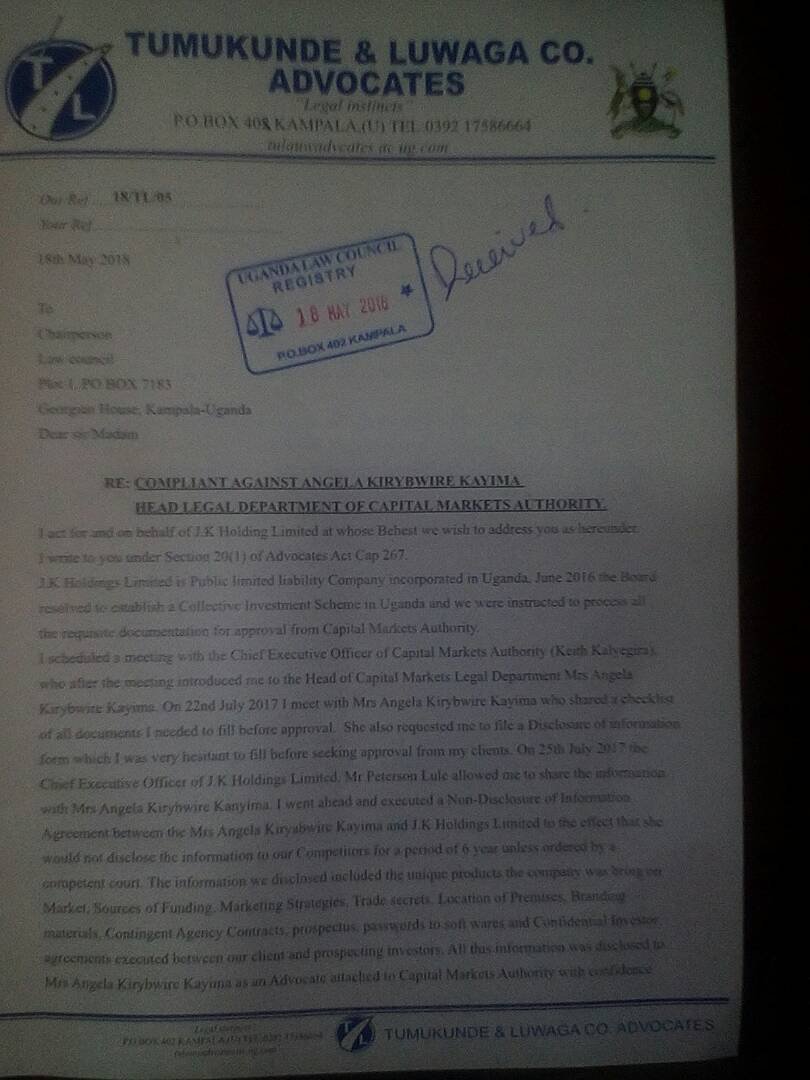 "We disclosed this information to Mrs. Kiryabwire trusting that she is an advocate of the High court who respects Advocates Professional conduct regulations. The information we disclosed included; the unique products the company was to bring on the market, sources of funding, marketing strategies, trade secrets, branding materials, contingent agency contracts, prospectus and passwords to soft wares executed between our client and prospecting investors."The letter explains.
Now that Tumukunde &Luwaga CO. Advocates on behalf J.K Holding Limited has filed a complaint against Angela Kiryabwire head legal department Capital Markets Authority, shows that Angela Kiryabwire Kanyima is no stranger to controversies.
Angela Kiryabwire superintended over the money bonanza in the 74 Km Katosi road scandals where Shs24billion was dished out to a non existing US firm without a bank guarantee.
Kiryabwire as Chairperson of the Uganda National Roads Authority (UNRA) Board failed in her oversight role and tax payers' money was lost.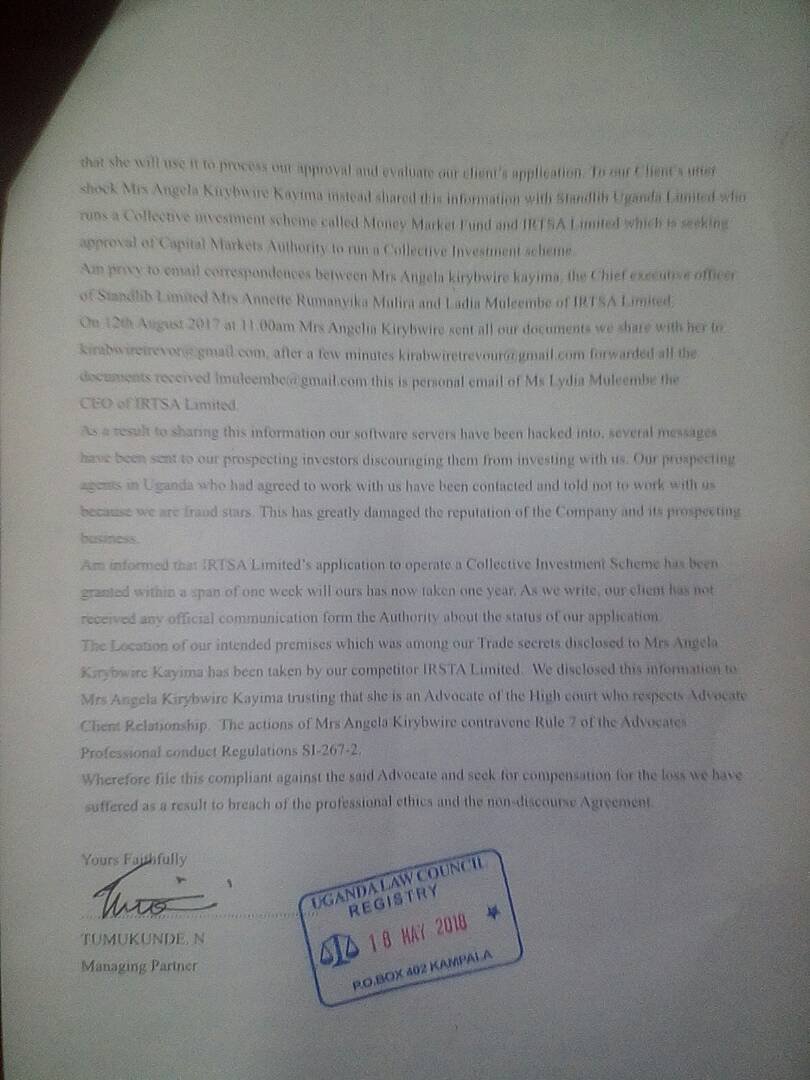 The story was first published by Uganda's leading daily; the New Vision how UNRA through the Housing Finance Bank paid sh24.7b to a 'ghost' firm without a bank guarantee.
Kiryabwire moved and sacked UNRA managers except herself. The Minister for Works and Transport later sacked Kiryabwire and her entire board from overseeing UNRA and replaced her with an efficient and confident former State Minister for Finance; Fred Jachan Omach.
(Visited 229 time, 1 visit today)
Frank Gashumba forgives NBS TV, working on new inspirational show

BigEyeUg Team
Top motivational speaker, Frank M.Gashumba has had his ups and downs with Kamwokya based, NBS TV.
The social entrepreneur whose show was discontinued on the station unceremoniously filled a lawsuit against the station's management not so long ago.
Yesterday, NBS TV released a formal apology to Gashumba seeking forgiveness for what happened. Being the good man that he is, Gashumba has decided to forgive and reveal that a new inspirational TV show is coming up soon. Here is what he wrote.
As a social enterpreneur & motivational speaker, my life rotates on changing people's lives and those close to me know it well that Politics is a by the way. Early last year, 2017, I started a talk show on NBS TV called "The Eagle" that was meant to be a must watch show for family which was the case in the few weeks I was on air. As time went by, NBS Management decided to change the format of the show to which I disagreed, notable about the final decision was the fact that I wasn't consulted on what decision was being taken yet I was the brain behind the show. For that reason, I decided to step aside from the show.
A few days later, NBS released and posted a letter on their Facebook page alleging that they had received complaints of people alleging that I had "conned" them. On reading the letter for the first time, I couldn't believe that it was from the writers.
Immediately, I instructed my lawyers M/s Mushabe, Munungu & Co Advocates and M/s Denis Nyombi and Co Advocates to institute a law suit against NBS TV and Pamela Adong, the station's Chief Marketing Officer for defamation & Maligning. Following this notice, Civil Suit No 149 of 2017 was opened up against the two defendants. As part of court procedures, civil cases go through mediation to try and settle some matters out of court.
So far, we have appeared before the chief mediator who was instructed by a Judge three times with the NBS team being represented by their lawyer Muhamad Ali Kajubi, Ramathan Mbago, Company's Chief Operating Officer and Joel Kigozi, Deputy CEO. After a number of mediations,the company's representatives owned up to the fact that they acted on false allegations & Malice and they opted for case settlement out of court. In all this, I was ready to push hard for this case up to the supreme court.
Yesterday, NBS released a statement retracting the false allegations and admitting that they acted on false information. "The purpose of this press release is to retract those statements conveyed in that letter and apologise for the inconvenience and/or embarrassment the letter caused Mr Frank Gashumba, his family, friends and associates, " read part of the statement released by NBS.
Yesterday, I decided to forgive and let go of all this. This is not because they apologised but because as a christian, I believe in forgiving in anyone that owns up to their mistake or recklessness However, I believe an apology makes more sense if it is moved from paper to actions.
This slideshow requires JavaScript.
And to you my followers, a New and massive inspiration TV show will come your way soon so look forward to what I have in stock for you.
(Visited 229 time, 1 visit today)
Celebrating Singer Paulo Kafeero's Legacy

TODAY MARKS 11 YEARS SINCE HE WENT TO HEAVEN.
By DJ Erycom. 
Suprisingly, Paulo Kafeero died on Thursday 17th May 2007, and today is Thursday 17 May 2018. Below is what you din't know about the fallen legend. Please SHARE after reading.
Kafeero was born 12 July 1970 to Vicencio Nanganga and Phiromera Nannozi of Kirembe, Nkokonjeru in Buikwe District. This region is also known as Kyaggwe County.
In 1977, Kafeero began school at Nkokonjeru Demonstration Primary School, and went on to Ngogwe Baskerville secondary school, walking the four kilometres there each day. In the same year he began school, his father left the family. Because of his mother's opposition to his interest in music, he went to stay in the nearby village of Masaba with his older sister Grace and her husband. Grace's husband intermittently paid his school fees after his father's abandonment. With no secure source of school fees, Kafeero did not finish secondary school. He earned money by making bricks, cultivating beans, selling used clothes, and tailoring. Kafeero's father gave no further support and had no contact with his son until he became famous
As a child in the village, Kafeero was interested in music. He joined the primary school choir, but was dismissed by the choir director for being too quiet. When Kafeero learned of a neighbour in Masaba who owned a guitar, he became a regular visitor and learned to play. His mother was virulently opposed to his passion for Kadongo Kamu, afraid he would waste his life in useless pursuit. He would gather the stems and fibres from banana plants to create stringed instruments, which his mother would destroy. He eventually pooled resources with his sister's son to buy a four-stringed guitar from the neighbour who taught him to play. He would interrupt his work in bean gardens to listen to Radio Uganda's Kadongo Kamu show, featuring the stars Dan Mugula, Fred Ssebatta, Christopher Ssebaduka, Fred Masagazi, and Matia Luyima, most of whom eventually came to work with or for Kafeero.
In 1987, when he was sixteen and still in Masaba village, he founded his first musical group, the Pluto Boys. In 1988, he travelled to Kampala in hopes of joining a Kadongo Kamu group. By 1989, he was singing with Makula Guitar Singers with young stars Livingstone Kasozi and Herman Basudde. Kafeero wanted to lead his own group. He formed Kabuladda Dramactors, which he dissolved to start Kulabako Guitar Singers in 1992 with his sister Nantongo, his wife Nasuuna Mariam, Ssekate Charles, Nasanga, Bukko Brite, Namata Immaculate, Kizigo Sarah, Musange, and Kizito Misambwa. He led Kulabako Guitar Singers until his death.
Kafeero became a household name in 1989 when he released his first album, Muvubuka Munange. This immediate hit was followed by: Abatunda eby'Okulya in 1990; Ekijjankunene III in 1991; Temukyagasa in 1992; Kiwenenya Amazina in 1993; Ebintu by'Omuko in 1993; Tulera Bilerya in 1993; Walumbe Zaaya in 1994; Obutamatira in 1995; Ekyali Ekintu Kyange in 1996; Gwe Musika in 1996; Dunia Weraba in 1997; Eduma ly'Embaga in 1997; Omwana w'Omuzungu in 1998; Baabo Bagambe in 1999; Nantabulirirwa in 2000; Kampala mu Kooti in 2001; Dippo Naziggala in 2003; Bamutalira in 2005; Olulimi Lwange in 2005; and Nsonda Nnya released posthumously in 2007.
While still very young, he achieved a place among Kadongo Kamu icons Kasozi, Jimmy Katumba, and Elly Wamala. In the tradition of Ssebadukka and Basudde, Kafeero remained loyal to the essentials of Kadongo Kamu. After the early deaths of most Kadongo Kamu stars, he battled Fred Ssebatta for the kingship of contemporary Kadongo Kamu. He declared himself "Prince" at the height of his rivalry with Ssebatta who had declared himself "Lord."
He was respected by colleagues as a favourite of Ugandans who appreciate grassroots, original, message-driven music. With his deep understanding of rich and ancient Luganda, his songs maturely and innovatively address social issues. His lyrics are marked by unexpected contrast and humour, often laid over characteristically Kiganda rhythms. He constructed his narrative songs around the quotidian problems of ordinary people, weaving into his long epics the traditions and lessons of his culture.
Popular Ugandan music promoter and top disco jockey – DJ Erycom explains that, Paulo Kafeero was unique among Kadongo Kamu musicians in that he composed, sang, played guitar and dramatised his music on stage. Kafeero was a multi-talented versatile musician whose music touched every generation upto date. Keeping himself thin and smartly dressed, he successfully maintained the image of the young boy who had appeared on the musical scene at age eighteen. His melodic voice, charming stage presence and vivid costumes, combined with his meaning-laden narrative songs crafted in his beloved Luganda, endeared the star to most Ugandans in whose hearts he remains. His song Olulimi Lwange, which explained how people across the world embrace their culture, is loved throughout Buganda and Uganda. He composed this song to educate youth on how to build their future.
Early 2006, DJ Erycom remixed most of Paulo Kafeero's songs so as to ensure that they could be played in most happening places such as Clubs, Bars, Beaches and places where people gathered in big numbers.
At his death just before his thirty-seventh birthday, in Mulago Hospital in Kampala, the out-pouring of grief from across Uganda, and from Ugandans around the world, confirmed his esteem. In the weeks after he died, stories about his life and death doubled the sales of Bukedde, Uganda's only Luganda daily newspaper; Bukedde's sales were the highest since its founding in 1994, beating the New Vision, the leading English daily paper. Hundreds of thousands gathered in Kampala for his requiem mass at Christ the King Church and his viewing at the National Theatre. Music shops, vendors, and radio stations played his songs almost exclusively for weeks. Police and military unsuccessfully tried to control the throngs and traffic at his village funeral in Masaba. On 19 May 2007, officials from both the Ugandan national government and the Buganda Kingdom witnessed his burial, with his guitar, a few yards downhill from his first, tiny, three-roomed, cement house.[4] It should be noted that Paul Kafeero never formed Kabuladda because right from Makula Guitar Singers he formed Kulabako.
Just as Kafeero established himself as an artist dedicated to the traditions of Kadongo Kamu, his lyrics and lifestyle established him as a man grounded firmly in the family and community traditions of the Buganda Kingdom. While he spoke fluent English, he composed and sang only in Luganda, the language of the Baganda people, which is spoken predominantly in Buganda (central Uganda). His great love and respect for his language is evident in his song Olulimi Lwange. His songs reveal his social cosmology and unabashed promotion of his heritage. Like many traditional Ugandan men, Kafeero had deep and permanent roots in his village, where he insisted his children be reared, while maintaining a lively business life in the capital city Kampala. In 1987, when he was sixteen, he used the earnings from three years of odd jobs to buy a plot of land in Masaba, on which he built a thatched house. He bought this land with the currency of the government of Milton Obote because, while Yoweri Museveni overthrew the Tito Okello regime in 1986, Museveni did not replace Obote's currency until February 1987.
Kafeero had his first child when he was eighteen. In 1989, Simon Peter Kafeero was born in his mother's home in Mbiko in Mukono District, but when he was eight years old, he came to Masaba to live in his father's first cement house. In 1990 his second child, Nagawa Elizabeth, was born in Masaba to Nambi Josephine. In 1994, the couple had another child, Kafeero Benedict Dube. In 1992 his third child Thomas Kafeero Schwarzeneggar was born in Nkokonjeru to Kulabako singer Nasuuna Miriam, with whom he lived while in the city. Immediately after his death, other women claimed other children as his. This number of children, unclaimed by a man fiercely proud of children and unafraid of children outside of legal marriage, is probably more a marker of his fame than of his fertility. But he does seem to have acknowledged only the children whose mothers released them to be raised by him. Well known in the city were his childless wives Grace Mukanga and Robinah Namatovu. The public remains curious about Kafeero's marriage to American Kathryn Barrett-Gaines, immortalised in his song Omwana w'Omuzungu, written before he met her, and in their duet Baabo Bagambe. Barrett-Gaines still lives in the home they shared outside of Kampala, and looks after his sons. She has translated and published his entire body of work in a book published by Fountain Publishers in Uganda: One Little Guitar: The Words of Paul Job Kafeero. True to his traditional beliefs, he married only one wife, Nasuuna Mariam, in a traditional ceremony, and he married no wife legally.
On Thursday, 17th May 2007, this Legend was announced dead after undergoing treatment in London for over 4 months. During those four months, the Late Paulo Kafeero managed to record his last album titled "Nsonda Nnya" that includes songs like Olulimi Lwange, Kudayo Bukunja, Ebisigala Byabaffu, Tukole Mpola amongt others. This album was 80% recorded in London by one Sam Kad, who happened to be one of Kafeero's best guitarists of all times.
You can get this full album by clicking on this link https://goo.gl/QYNxSy
During his time, Kafeero won himself international awards from South Africa, Egypt and USA. In 2004, The government of Egypt rewarded Kafeero with honors and later in 2005, the Government started using Kafeero music as a simpler way to teach students about the BANTU SPEAKING PEOPLE.
Before he died, Kafeero was awarded an international award for the GOLDEN BOY OF AFRICA beating many African legends.
Some of Kafeero's greatest HITS of all time include:
Muvubuka Munnange
Abatunda Ebyokulya
Ekijjankunene, part III
Temukyasaga
Kiwenenya Amazina
Ebintu Byomuko
Tulera Birerya
Walumbe Zzaaya
Obutamatira
Ekyali Ekintu Kyange
Gwe Musika
Dunia Weeraba
Edduma Lye'mbaga
Omwana W'omuzungu
Baabo Bagambe
Nantabulirirwa
Kampala Mu Kooti
Dipo Naziggala
Bamutalira
Olulimi Lwange
Nsonda Nnya
Emomboze
Eyali Amanyi Okupanga
Galenzi Mmwe
Musaayi Gwange
Lucia
Singa Nalinze
Bisirikirwa
(Visited 229 time, 1 visit today)