KIU crowned Beer Olympics champions

Kampala International University (KIU) shrugged off a late surge from Kyambogo University to emerge champions of the inaugural Black Bell Beer Olympics that concluded on Saturday.
Having earlier on humbled Makerere University (MUK) at their own turf, the Kansanga based boys were at it again; this time giving the Kyambogo team a lecture on beer pong, checkers and target shooting.
Playing before their fans, the Kyambogo team gave it their all and almost won the tournament save for a few unforced errors. In the end, second place was good enough for them and with it a cash prize of UGX700,000 as well as an assortment of Black Bell freebies.
The Mukono based Uganda Christian University (UCU) also put in a spirited performance but had to settle for third place and a cash prize of UGX500,000 along with Black Bell goodies.
KIU who took charge of the inaugural tournament right from the onset were almost flawless. Their team of five, accompanied by a few fans never at one time gave into any form of intimidation from the home fans.
As the games concluded and the table showed KIU had cemented its position as the toast of the inaugural Beer Olympics, the team erupted into jubilations as the home team looked on with envy. They were rewarded with UGX1million and will also be given a mega Black Bell party at a venue of their choice.
Makerere University Business School (MUBS) maintained its position at the bottom of the table while MUK only just managed to finish above them.
(Visited 75 time, 1 visit today)
National Medical Stores launches new drug for Nodding Syndrome Victims

As it celebrates 25 years of procuring, storing and distributing essential drugs and supplies for the people of Uganda, National Medical Stores (NMS) has joined the fight to curb the effects of Nodding Syndrome amongst those afflicted and affected by the ailment.
Nodding Disease is a neurodegenerative condition whose exact cause is yet to be established. This debilitating ailment affects only children, and has manifested in seven districts in Northern Uganda. What is known is that malnutrition plays a significant role in making a child susceptible to the illness, and also goes on to make their care difficult once they are affected.
And thus NMS, in partnership with the Ugandan firm Doctor's Choice, has acquired and donated 3-months stock worth of a new drug/supplement called 'Replenish'. Replenish is a powerful immune-booster, and is specially designed to counter the deficiencies of selenium and Vitamin B6 that are seen in the sufferers of Nodding Syndrome. The drug has been certified by the National Drug Authority.
The global launch of Replenish occurred at Hope for Humans Care Center in Odek sub-county, Omoro District, on 8th November, 2018. The Chief Guest was the Right Honourable Deputy Speaker and Member of Parliament for Omoro District, Jacob Oulanyah. He thanked NMS for going a step above their usual mandate, and directing energy towards providing care and generating awareness about the ailment.
Both the NMS Board Chairperson, Dr. Jotham Musinguzi, and the General Manager/CEO, Moses Kamabare, thanked the Deputy Speaker for inviting NMS to be part of the initiative. They promised that the corporation shall do even more.
NMS also donated 200 blankets and 200 mattresses to the families of those affected by Nodding Syndrome in the area.
(Visited 75 time, 1 visit today)
Preparations for Tecno Heroes in Color run in high gear

By Staff Writer
Tecno Mobile together with their partners Infinix Mobility, Fresh Dairy, Trevor Investments, Capital FM and BEAT FM have organized a mini marathon dubbed 'Tecno Heroes in Color run' and preparations are in high gear.
The charity event that is slated to take place on 18th November 2018 at Kyadondo Rugby Grounds has been organized with the sole aim of collecting funds to purchase Re-Usable Sanitary Pads for a Girl Child in Kamuli District.
The Color RUN is a mini-marathon event where participants play with Color for Fun.
It's quite a new experience in Uganda but has been existing in the developed countries like UK and China.
The Girl-Child in Kamuli between 8 – 15yrs miss school during their menstrual days due to lack of Sanitary Pads. Some use unhygienic means like old cloths and sponge which leaves them at a big health risk. Proceeds from the event will go a long way in helping the girl child in Kamuli.
To be part of the event, the general public can simply pay for an ordinary ticket is at 20,000shs or a VIP ticket at 50,000shs. There is a special offer for children below 13 years. They will get tickets at 10,000shs only.
Another special offer which has been set up is the couple early bird tickets which are being sold at 30,000shs ordinary and VIP at 80,000shs.
Speaking about the event, Lindah Nakityo Kasasa, who is on the organizing committee said that there will be a lot of fun, music performances from Lydia Jazmine, Fille, DJs Slick Stuart & Roja and MC Kats who will be the official MC of the day among others. For the children, bouncing castles have also been included.
Prizes have also been set aside. Infinix and TECNO smartphones along a grand prize of a voucher worth one Million shillings for a lucky winner are up for grabs.
Getting a ticket to the event is very easy. You can purchase yours today from any TECNO or Infinix branded shop in Kampala or at TECNO offices, Kampala Road, The Prism level 6.
There is a hero in each one of us. Let us come and run for the girl child in Kamuli.
(Visited 75 time, 1 visit today)
MTN Foundation donates, visits Bududa landslide victims

By Staff Writer
The MTN Foundation has today, following its donation of Shs50m towards the relief efforts of the landslide affected people in Bududa, delivered some relief items to the community. MTN contributed to the Uganda Red Cross drive to raise Shs1.2bn to help the people of Bukalasi Subcounty, Bududa District that were affected by landslides. MTN contributed Shs50m to the cause. More to that, the MTN staff also contributed an assortment of items. Bryan Mbasa, the MTN Foundation Manager handed over these items to the Uganda Red Cross society in Bududa.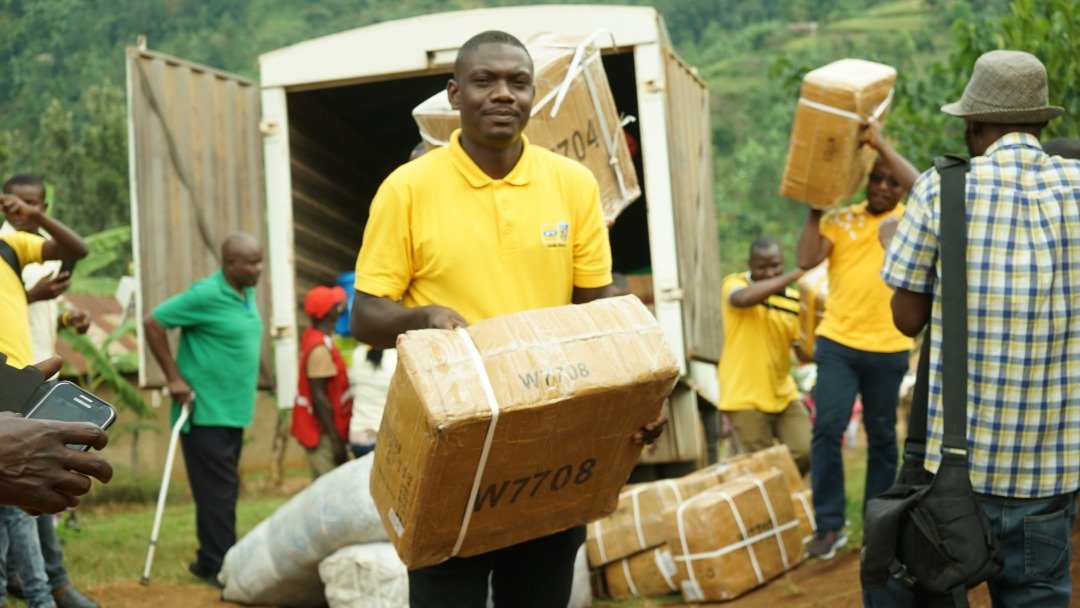 "It is a tragedy what happened to the people of Bukalasi sub-county. Our role as a foundation is to ensure that we contribute towards improvement of livelihoods of people. Some of the people affected by the landslides have lost almost everything. It is important that as a company that operates in Uganda, we get to assist in the relief efforts as a good corporate citizen. We do hope that what we have contributed adds to the already existing efforts being done by the URS and the government," Mbasa said.
The MTN Uganda staff on realising what had happened in Bududa launched an internal campaign, #StandWithBududa where they collected an assortment of clothing and other non-food items towards the welfare of the affected persons. Some of the MTN staff also attended the handover of these items in Bududa. The mobilization of these items is in addition to what the MTN Foundation contributed to URS.
"It is only fair that the welfare of the affected people improves. At this stage there is a combination of grief and pain that they are going through. We call upon Ugandans who can contribute towards this cause to do so because the people of Bukalasi in Bududa need all the help available," Mbasa further noted.
Approximately over 139 households were affected after their houses were washed away and others severely damaged after River Suume burst its banks. Sadly, 43 people lost their lives in this tragic incident.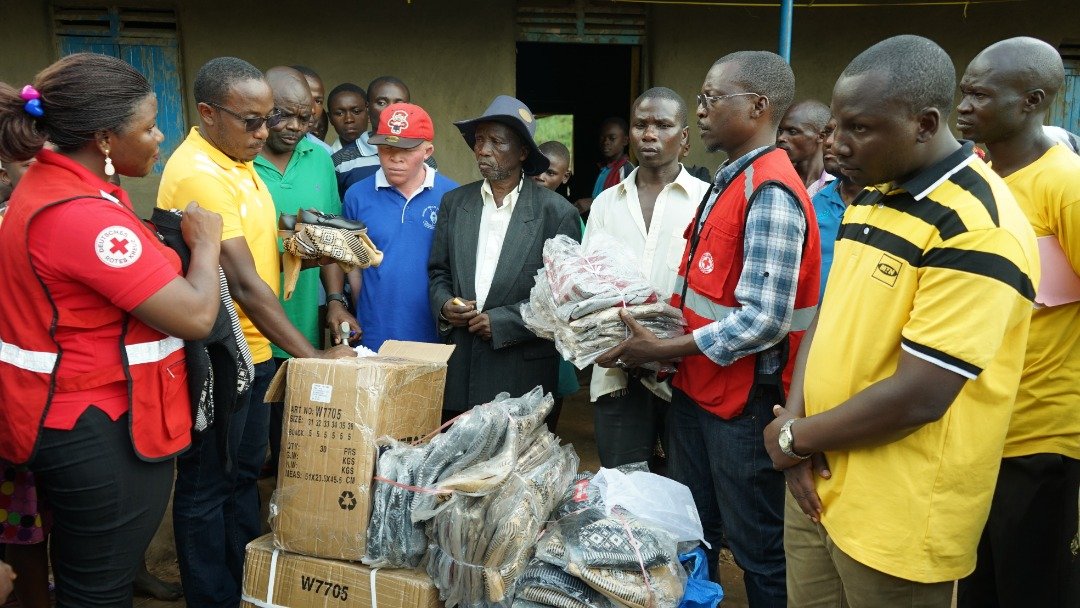 The MTN Uganda Foundation is a non-profit entity that was inaugurated in July 2007 as a vehicle through which MTN Uganda implements its corporate social investments (CSI). The main objective of the foundation is to improve the quality of life in communities across the country by supporting and implementing sustainable projects in education, health, art and sciences, sports and other national priorities.
(Visited 75 time, 1 visit today)