Kaz Kasozi, Maria Goretti Kyomuhendo and Sanaa Gateja to receive the 1st Bayimba Honours

By Staff Writer
The Bayimba Honours recognizes private individuals, artists, families, institutions and companies with a consistent record of philanthropy in support of the arts and culture in Uganda.
Uganda is presently marked by the lack of a significant local financial support base, yet mapped by profound outside support to the different creative multi-disciplinary initiatives across the country.
The Bayimba Honours seeks to gradually encourage and increase the level of giving and contribution to the arts and cultural sector in Uganda by propagating a culture of gratitude through the promotion of those already selflessly supporting the sector while they are still alive, hence establishing a culture of philanthropy in Uganda.
"We are most grateful and congratulate our first three Honourees. We welcome you all to join us in honouring them on the 17th December 2016 as we celebrate their endless efforts," says Faisal KIWEWA, Director at Bayimba CulturalFoundation.
The event will be graced and headlined by international acclaimed Ugandan musician GEOFFREY ORYEMA who is also celebrating his homecoming after 40 years in exile. EXILE, the first album out of Oryema's six exclusive albums to date, outed him as a significant African singer/songwriter.
LAND OF ANAKA and YE YE YE are two songs out of this ten-track album that were both hit singles in France. For 8 years, YE YE YE served as a signature tune for a cultural talk show on FRANCE 2, one of the biggest TV channels in France. Up to this day, the song is on the set list and for the first time in history audiences in Kampala will be enjoying the song by the master himself.
Other performances for the night will include:
• Babaluku, born Silas Babaluku Balabyekkubo, a Ugandan rapper, musician, and producer in collaboration with Kampala Symphony Orchestra, orchestrated and to be conducted by Carmela Sinco who also added her own composition of Kampala Scenes, originally composed for piano, now re-arranged for the orchestra.
• Julius Lugaaya, founder of Dance Week Uganda, in a dance performance piece, Giovanni Kremer Kiyingi on the Akogo, Derrick Komakech on guitar, Rashida Namulondo in a poetic performance, and Jude Mugerwa with a musical arrangement production.
(Visited 103 time, 1 visit today)
Youth gangs start rehabilitation life under Bryan White Foundation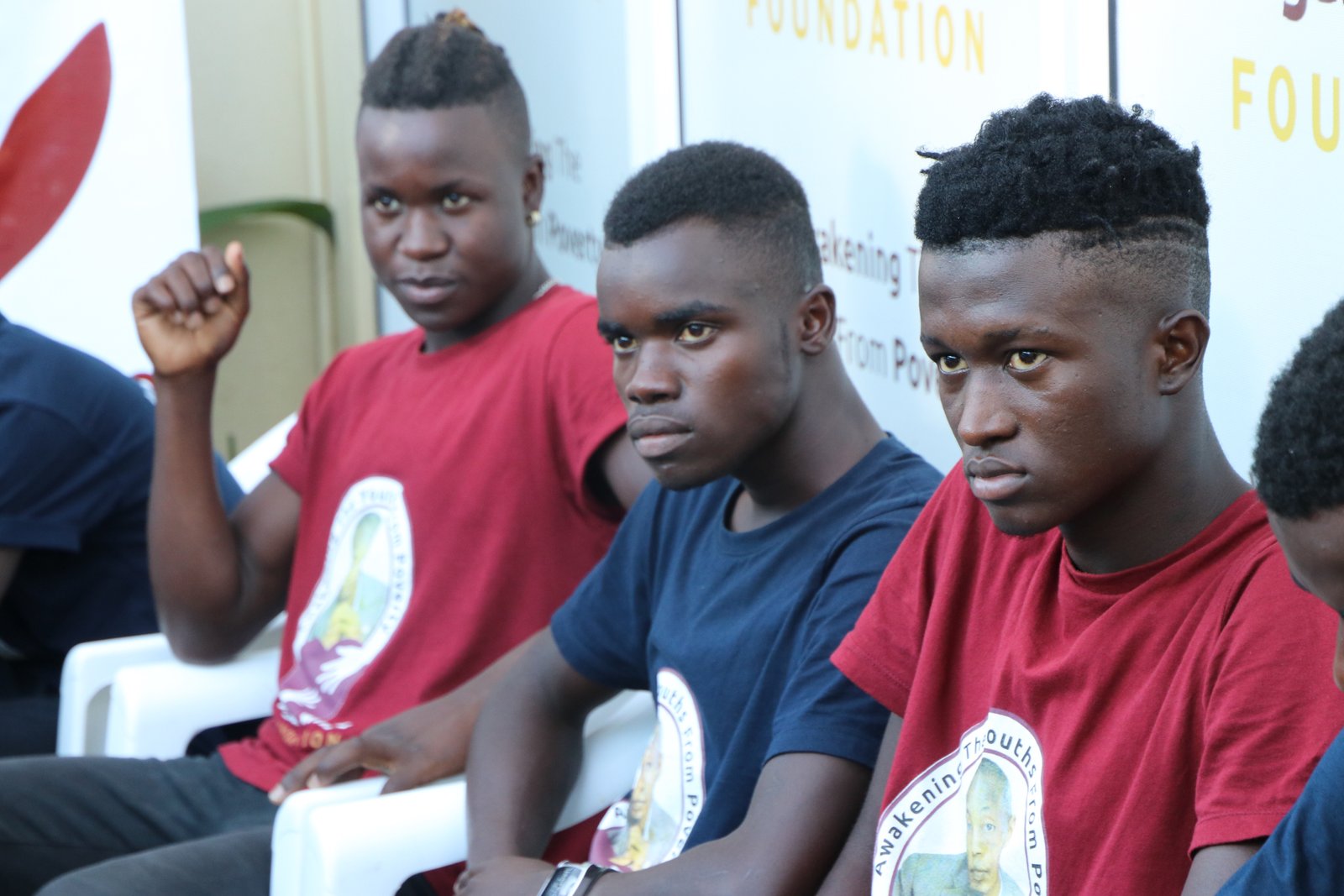 As Bryan White Foundation under its architect Bryan White continue to change lives of street gang affected members, seven members who recently denounced the criminal activities have started a new life under the guidance of Bryan White Foundation (BWF).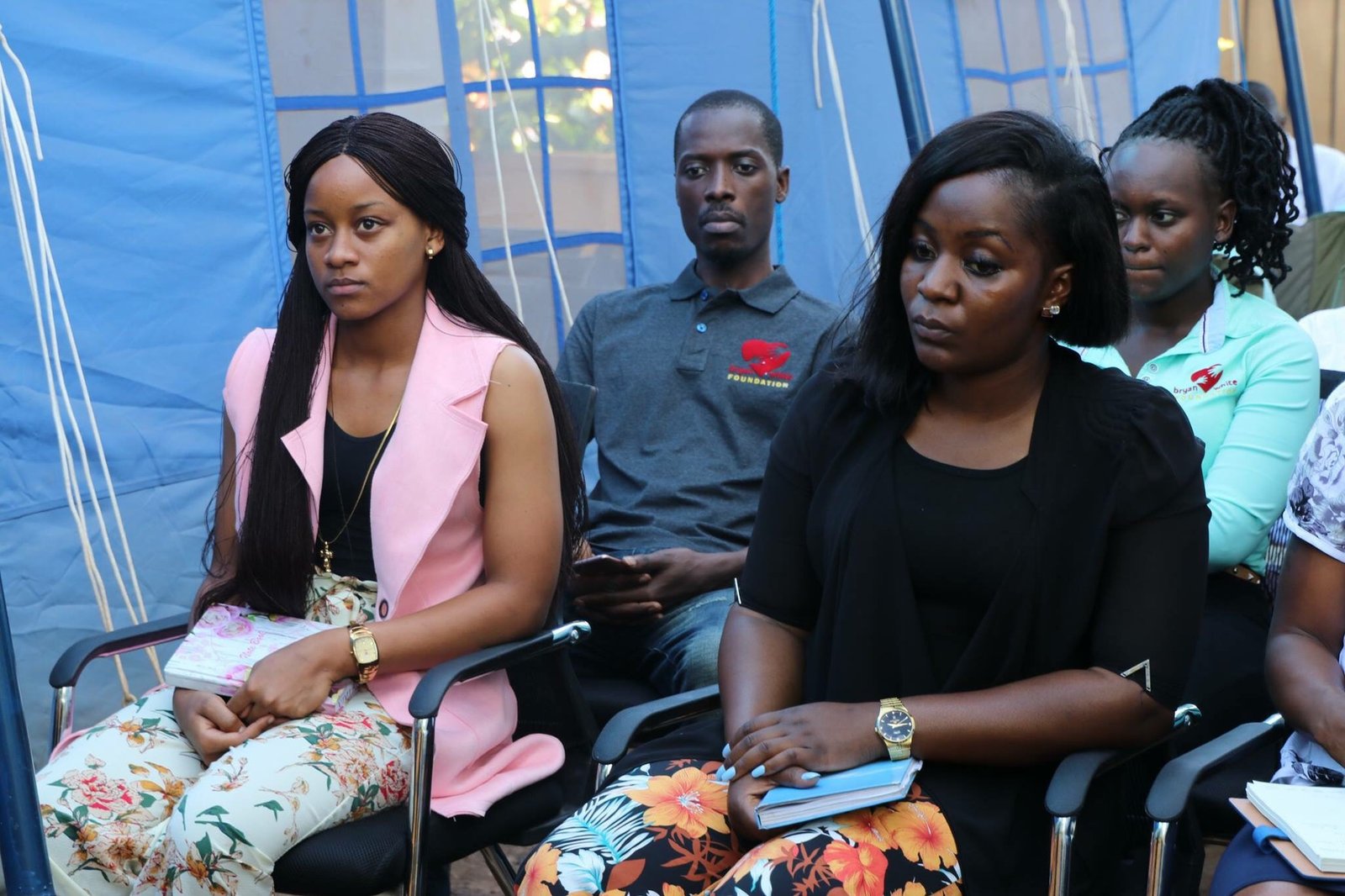 On Monday, Bryan White welcomed seven members who told appalling stories of grabbing and stealing of people's property along Kampala streets and surrounding towns.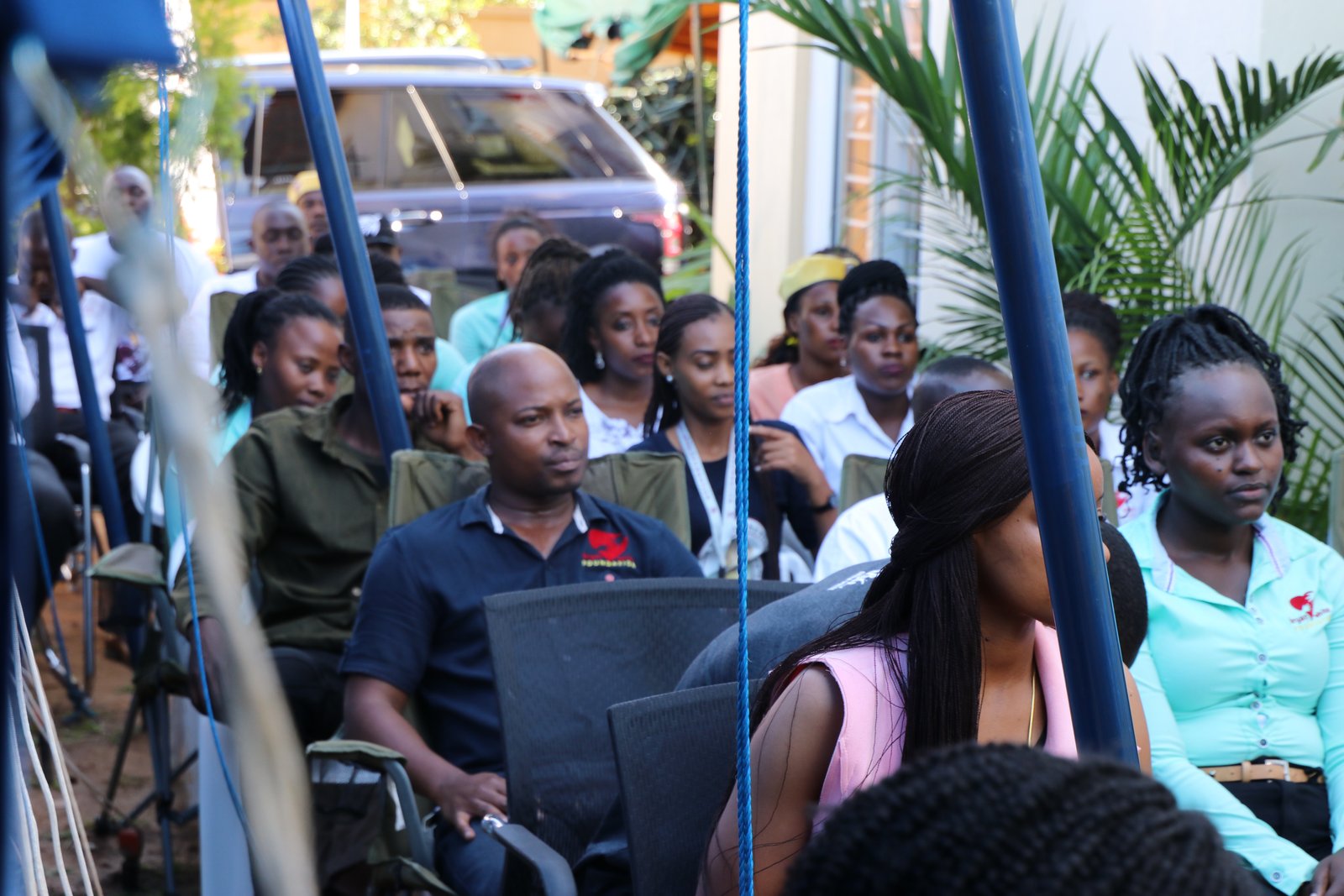 The members said they have started a fresh life free from criminal and were pleased with the help Bryan White and his foundation are giving them.
Bryan White while receiving the youths at his foundation makeshift offices, said there is need for people with authorities and platform to engage the young generation into proper direction.
"I call upon every Ugandan who has the authority or platform to talk to the youth to change their ways of living. They lack direction and need help for sure, we must change their mindset and instill hope in them that there is life after street gangs," Bryan White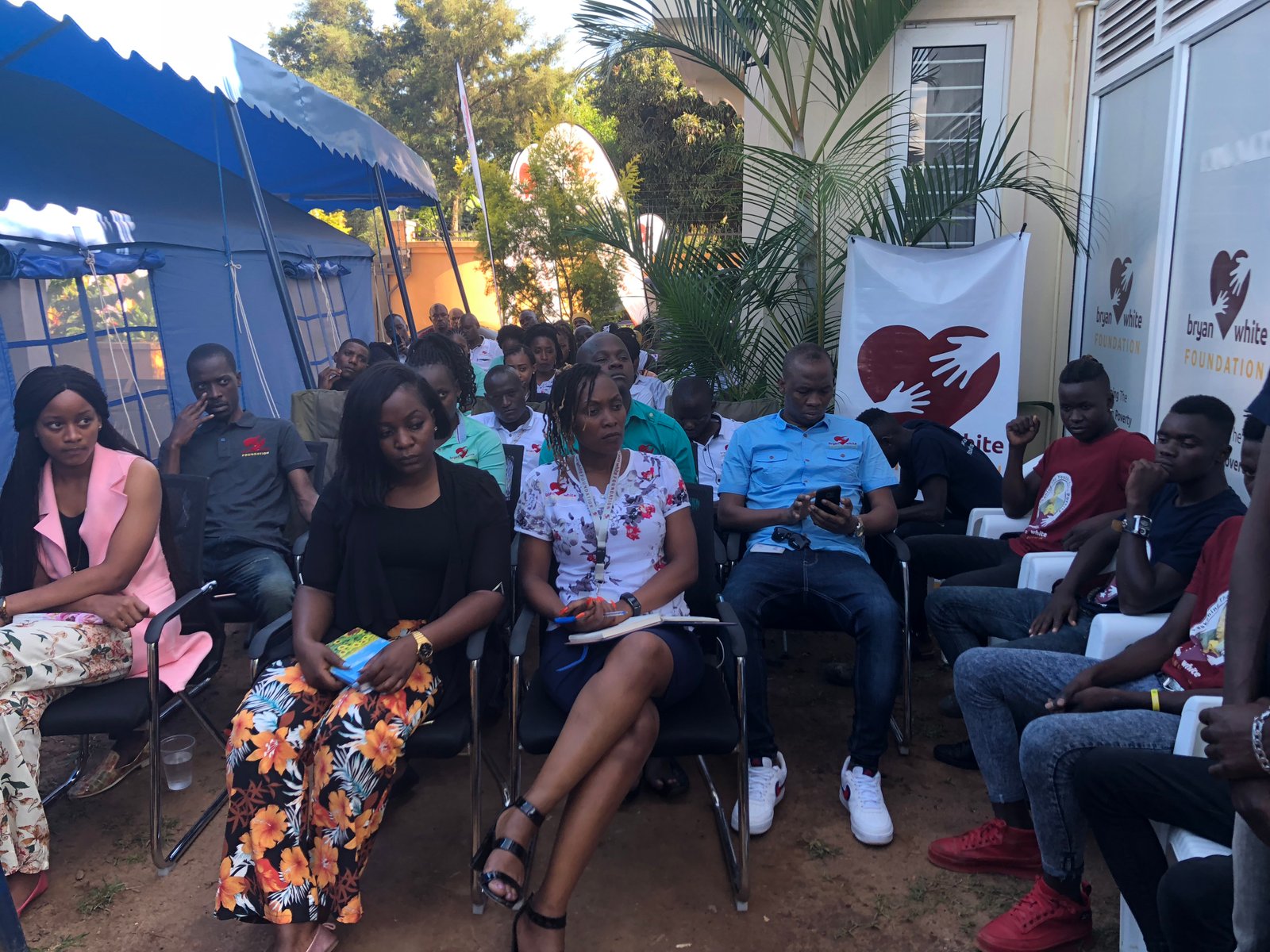 "These youths don't want to know and all they are looking for is life… we need to talk them and explain what is on the ground by giving them proper direction. Our children need a sorted future free from criminals and if we don't talk to these street kids then we won't have a secure future for them (children)," he added.
(Visited 103 time, 1 visit today)

By Consolate Namyalo
Ugandan music trio,B2C soldiers have sent out an official communication to media and fans ,letting them know that the person who has been their manager since they started making music, Mugerwa  Andrew is no longer in charge of the group.
In an official communication notice released this morning , they go ahead to appreciate him for the work he has done, helping them win a couple of awards, release a debut album and making over 15 amazing music videos under his management. It goes ahead to say that their now ex manager, has very many pressing issues at the moment that he is dealing with and cannot balance them with managing  the group.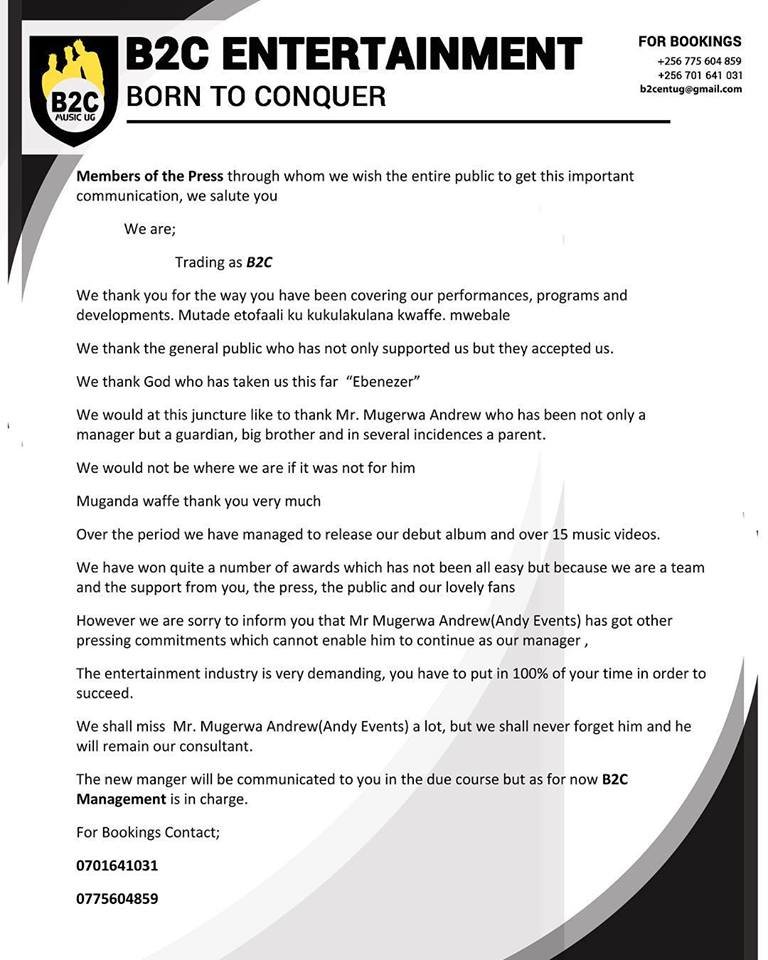 The music trio now looks forward to working with new management, as they let press, fans and friends know that they will be unveiling a new manager in the shortest time possible, and currently managing themselves under B2C Management.
(Visited 103 time, 1 visit today)
A Pass wipes his Instagram of all posts

By Nila Faisal

Controversial singer A Pass has shocked fans after he wiped his Instagram page of all posts.
The official social media account of the singer on the photo sharing platform that boasts of over 220,000 followers, now has only three videos, promoting his latest songs.
It remains unclear what made the "Oruso" singer take the drastic action.

A Pass recently raised eye brows after he announced that he will be running for presidency in 2021, reasoning that he is what Uganda needs in a president. However, his announcement was met with so much ridicule and many fans accused him of using it to promote his music.
(Visited 103 time, 1 visit today)