Kahinda Otafiire Quotes (Compilation)

Compiled by Ian Ortega
He is known as a fire-releasing politician, most of his quotes are quotable. So we bring you a compilation of all his quotes. Kahinda Otafiire is currently the Minister of Justice.
1. "Tamale Mirundi should leave issues of the generals to the generals." Commenting on Tamale's verbal attack.
2. "I am 85kg, do you think I have become big because of corruption?"
3. "what was a wetland doing in the middle of a city?" questioning the Nakumatt vs Nema saga
4. "Even Museveni Knows I am fire."
5. "I don't like this nonsense. That is my private life, it has nothing 2 do with my public life as Minister. Whether I am taking my family out or not is none of your business. You fellow can u concentrate on what concerns u and leave Otafiire's family alone." In response to Daily Monitor concerning his Christmas plans.
(Visited 1 time, 1 visit today)
Naalya Fundraising For Its First Anglican Church

By Staff Writer
Enough is enough, the residents of Naalya are finally waking up from their slumber.
After years of not having a place to call home, the Anglican residents of Naalya have now vowed to build a Church of their own.
We can reliably confirm that they have set a big agenda of purchasing an acre of land in Naalya and build a Church of Uganda.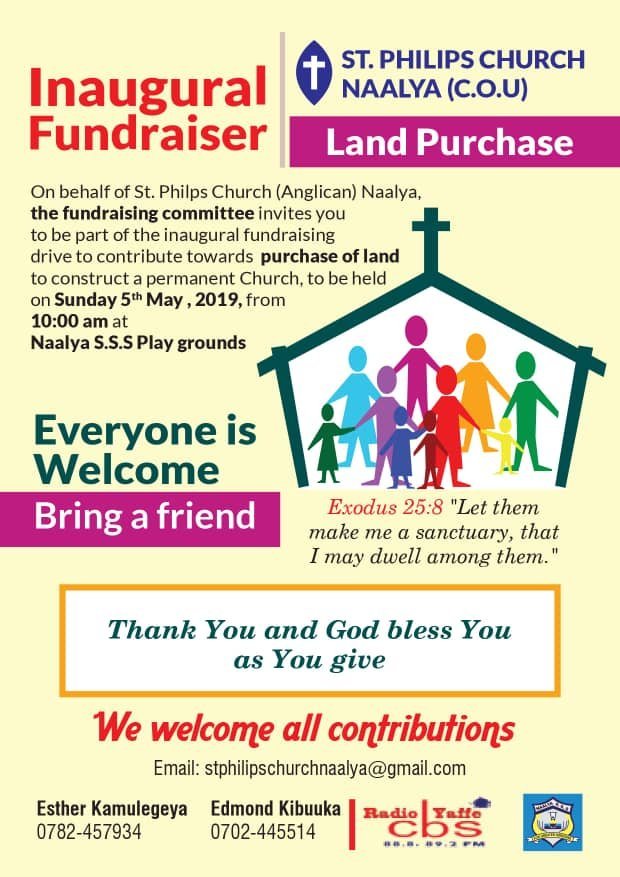 Now these are residents with a vision…
(Visited 1 time, 1 visit today)
Why the Drugs Trend is Growing in Uganda?

By Staff Writer
I was talking to a group of friends and I told them; "drugs is the most underrated trend at the moment. It is just a matter of time before they become the norm and have businesses and all forms of products around them."
One of the easiest things to get in this country for example is marijuana. What if it gets legalized and becomes something you could buy over the pharmacy counter? Maybe just a matter of time before you find a marijuana flavoured juice or milk on your supermarket shelf.
The other market that will soon be exploding is the psychedelic space. These are drugs that produce altered states of consciousness. We are talking DMT, we are talking mushrooms, we are talking LSD. As people become more lonely in the big world, as they achieve their material goals, they will be looking for escapes, for more meaning out of life. Basically put, they will want to awaken or self-actualize in some space.
So getaways are going to be a growing concern. Basically trips that give people a 3 day immersion. Just a matter of time before one evening concerts become outdated. The search for more means people will be trying out different things. So you will see an explosion of yoga, and all things meditation. And at that point psychedelics will come in.
The third wave of drugs is in the academic and work space. At Harvard and Stanford, students made a discovery about smart drugs. Originally you have drugs that are prescribed for people with attention deficit disorder aka ADD. Now it turns out that when a normal person takes the same drugs, they just get smarter. You are talking nootropics such as Adderall and Modafinil.
With the rise in depression, anti-depressants will just boom. Again people will default to marijuana in some form. Maybe in cookies, maybe in cupcakes. Or they will get more anti-depressants off the counter.
Finally comes the body-building movement. So steroids are gonna be a big thing. Things such as creatine will be top of mind. There is a whole lot of business to be built around the muscular generation.
Bottom line is you cannot underestimate this field. Drugs are going to build their own serious industry and value chains. You can watch the space. I suspect they will soon offer drug farming licenses.
(Visited 1 time, 1 visit today)
Why Is Nakasero Blood Bank Denying Ugandans Blood When they Need it?

By Buni Dri
The inhumanly inconsiderate, insincere Uganda blood bank Nakasero, how I lost my niece and why am never donating blood.
Yesterday at about 4pm, I received a call to donate blood to save the life of my niece at the new Mulago neonatal hospital. The doctor had called the Nakasero blood bank & had been told they didnt have blood A+ and if we had a donor, we could donate on site before 6pm. The doctor quickly wrote my sister in law a note to head to the blood bank as I was equally enroute. Upon arrival at the blood bank (5:30pm), we were told they had blood A+ (contrary to what they had told the doctor on phone) and that we couldnt get it unless we had a doctor's request. Even upon presentation of the doctor's note, we were told if it was that, then we needed to come with a lab attendant from Mulago. After many trials explaining, we left the blood bank, my sister in law in tears.
This morning, I woke to a phone call at 5:30am notifying me that my niece had died. The pain, emptiness & guilt is immeasurable. I keep asking myself…
Why didnt nakasero blood bank give us blood?
If they didnt have it, why couldn't they draw it from me?
Why should we need a lab attendant from out?
Aren't there emergency situations they can handle?
…etc
My other pain is… we donate blood, willingly, freely and for free.
Why is it so hard to get blood?
Maybe if Nakaseo blood bank had just been human, my niece would be alive.
(Visited 1 time, 1 visit today)