Juliana Proves She's Uganda's Music Queen in "Twalina Omukwano"
By Ian Ortega 
I have a special adoration for Juliana Kanyomozi, yet with that special adoration, come high expectations. Rarely have I found a Ugandan musician who consistently surpasses every musical target (quality-wise) that I set for her, I am glad to say Juliana Kanyomozi has consistently done that.
Juliana whether knowingly or unknowingly pours out her soul, spirit and consciousness in this "Twalina Omukwano" song sending ripple effects of emotions to we, her humble listeners. Twalina Omukwano proves one thing that music is the truth, but those who sing that truth are the most truthful creatures we have.
As you listen to "Twalina Omukwano" you can't help but catch your imagination going off into the lands of nostalgia, painting images of your own personal love experiences, that random ex, that first love who gave you the first kiss. It is like a visit to a musical counselor, chit-chatting away about the heart's deepest secrets, the things that make us human at the end of the day.
The beats soothe the pain, the anxiety, they bring back memories, but not bear memories, they are memories that come packaged with healing. I find Juliana Kanyomozi's "Twalina Omukwano" a musically therapeutic experience for the listener.
Twalina Omukwano ripples like the water on a sandy lake as a breeze fills the air, shimmering or even raging on the mighty seas. It is a soul grooving ballad, an epicenter of ultra-coolness, it's not a song of Juliana for the listeners rather it is a song of Juliana in which the listener plays part in the experience. It's hypnotic, in the sense that its effects are subconsciously felt from this intangible form of beats, words and rhythms. 
Twalina Omukwano makes you drift into different time spaces, to the past, to the future and back to the present. It brings melodic introspection and retrospection. I am especially in love with the beginning of the song, that intro-beat; it feels so much like a transition from the sixties into the nineties.
So I grant a new heuristic, the person who comes to your mind while listening to this song, is your soul-mate, your one true love. That name that makes an appearance as Juliana sings the different verses, that one person is yours truly, go look out for him or her.
To really get the perfect picture of Twalina Omukwano, I want you to remember Hajjati Madina's Bibuuza song. Now get that song, and revamp it with a touch of excellence. Wait a minute, no way. Get the Bibuuza song, and picture the superbly original version of that, add up a million Bibuuza songs and you get Juliana's Twalina Omukwano.
Juliana Kanyomozi successfully proves she's Uganda's musical queen and she's not about to abdicate her throne. At least not when I can gamble and write the lyrics of the chorus because I am addicted to the song.
"Twalina Omukwano Sweetie Gwaali Gwa'amanyi
Wankola Buubi Mukwano wagyaayo Amanyi
Nandibadde yenze akwagala
Wandibadde yegwe omwagalwa…"
Listen to the song below.
(Visited 1 time, 1 visit today)
New Movie: The story of a man that changed the destiny of his people, showing on Record TV
This incredibly successful soap opera tells the epic saga of Moses, from his birth to the arrival of the Hebrews to the Promised Land, including the escape from Egypt through the Red Sea and his encounter with God on Mount Sinai.
Filmed partially on location in Israel, Egypt, and in the Atacama Desert of Chile, authenticity in film sets, scenery, costumes and historical accounts, and a deep respect for the Bible are paramount. A big production filled with amazing special effects unfolds more than a century of history.
Broadcasting through Star Times 221, Gotv 828, FTA platforms, it's rapidly becoming a great choice for TV viewers due to its highly diversified daily content that meets different tastes and interests. It aims to encourage viewers to seek an alternative television experience.
Supported by a great selection of programs, that cover everything from fashion and world news to music, inspirational programs, soap operas, mini-series, reality TV and sports, Record TV is relevant to a wide-ranging audience.
(Visited 1 time, 1 visit today)
Photos: Nutty Neithan lights up Yumbe
By Staff Writer
Musician Nutty Neithan is good at what he does. And when it came to entertaining his fans in Yumbe last night, he left no stone unturned.
The singer who is on the long list of artistes lined up for the Pulse Jam Fest slated for June 29th at Sheraton Gardens, was in Yumbe for a Reach a Hand Uganda gig. At the event, he gave more than the music, he also went ahead to educate the locals on family planning.
An epic edutainment session from several local artistes from West Nile and across the country ensued after. Through music Reach a hand is able to interest young people in consuming SRHR information and services.
(Visited 1 time, 1 visit today)
Vinka shows off bartender skills. [Photos]
By Our Reporter
Friday night at Guvnor was not business as usual in the drinks department that saw party animals treated to a different type of night as musician Vinka was not only the night's main performer but also the bartender.
The Dancehall star who was the guest entertainer at event dubbed Ciroc Pop Night showed fans that she is indeed a multi-talented woman with skills that go far beyond her performances on stage.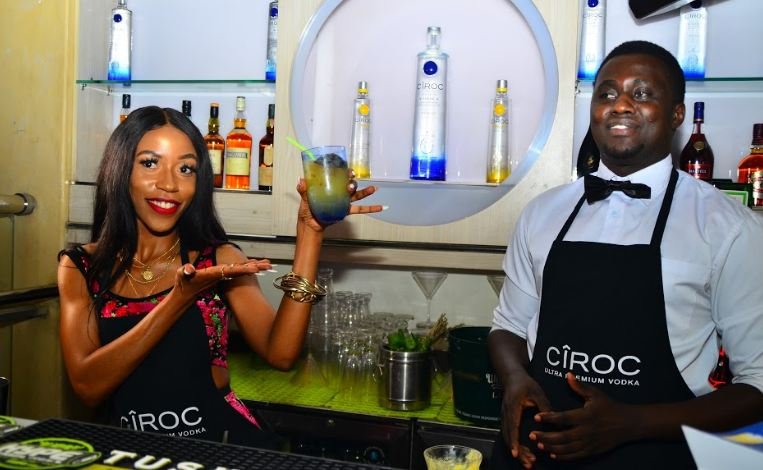 Revellers watched the artist take over the bar with such effortless grace like she had been practicing the art of 'mixology' for a long time, leaving many impressed and labouring to get a hold of the creative cocktail she had made.
The night was also complimented with epic DJ mixes from Guvnor's very own senior party troops like DJ Dash and DJ Baby Luv who rallied up their party animals and had the crowds dancing in tune to the beat of the music all night long.
The Ciroc Pop Night is a monthly event where party folk are treated to a night of different and fresh new signature cocktails. 
(Visited 1 time, 1 visit today)