Isaiah Katumwa, Hugh Masekela leave revelers yearning for more at Jazz concert. [Photos]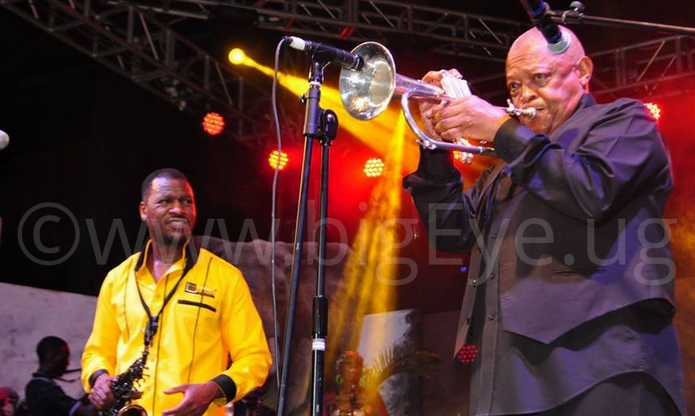 By Edwin Junior
Uganda's Jazz and saxophone maestro Isaiah Katumwa could not have celebrated his 20 years in the music industry any better.  He put up an electric performance that left revelers yearning for more at his Jazz Concert.
The concert kicked off with a brief performance from Talanta group, mentored by the man of the evening Isaiah Katumwa, to warm up the audience that was still settling in at the Serena Victoria hall and also welcome Katumwa onto the stage.
When Isaiah stepped on stage, the audience went wild with cheers. Clad in a yellow shirt and black pants with a saxophone anchored in his hands, he proceeded to serenade the audience with his music.
Mid his performance, he invited his 12-year-old son Mitchel Katumwa onto the stage that wowed the revelers with his mastery of the piano, receiving a well-deserved applause from the audience after his act.
Hugh Masekela joined Isaiah Katumwa as he performed "Maama Africa", and the two went on to thrill the audience. Masekela is not just good with his trumpet but a very good performer too. He effortlessly got the crowd onto their feet and dancing to his tunes. His African-flavoured songs like "She Got", "Khawuleza", "Mandela" and "Coal Train" had everyone revved up.
When Isaiah finally stepped off stage, the crowd that was visibly still having a great time could not believe the show had finally come to an end as portrayed in their reluctance to leave their seats.
The concert that ended at 11:00pm, sponsored by Airtel, Pepsi, and others, was crowned with a cake cutting.
Here are some photos from the concert:
(Visited 1 time, 1 visit today)
Reggae on the Nile returns in 4 th edition
By Staff Writer
Raggae on the nile is back for the 4th edition and is slated for 21st, 22nd and 23rd of November this year at the Nile Nest in JINJA. The event will majorly entertain revellers wih Music, Culture and Tourism.
According to organisers, Reggae on the Nile is focussed on giving people outlets to lift their consciousness so that they can practice living in harmony with themselves lifting eachother regardless of race, age and gender.
"Reggae on the Nile will attract entertainers from Kenya, USA, Germany, France, Ghana an Jamaica" organisers stressed.
The event is sponsored by prominent brands like NBS, Coca Cola, Nile Nestand Pilsner.
Tickets will go for 50K, 80K and 100K on the first, second and third day starting 29th October 2019.
(Visited 1 time, 1 visit today)
Manager Francis Signs New Talent, Jowy Landa
After discovering Fresh Kid almost a year ago and making him one of the most sought after young talents in Uganda, Manager Francis is at it again as he has landed a signature of another talented singer Jowy Landa
Jowy Landa born Namugerwa Joan is a talented 19 year old female singer who is already causing threats to the industry because of her powerful vocals that caught listeners attention and since she has joined Da Texas one of the best Record label she is anticipated for greatness
Jowy Landa is known for her songs like Saba Saba, Mulabe Duka ft Pallaso and the fans favorite Tewelumya Mutwe Remix ft John Blaq and Dj Shiru
Upon signing to the record label, Jowy praised her new home and promised to make history with them
"I'm so excited I have joined one of the best labels in the industry and I am looking forward to giving all my best and with them I'm destined for greatness" she said
We will keep you posted
(Visited 1 time, 1 visit today)
Photos: Max Lounge boss treated to surprise birthday party
By Our Reporter
Max Lounge Kyaliwajjala boss, James Agaba is a year older. To usher in the new age, we have learnt that Agaba was treated to a surprise birthday party.
According to sources close to the bar owner, he celebrated his birthday with close family and associates at Nyange Resort Entebbe last weekend.
The day was marked with a big feast and bottle popping as they enjoyed a boat cruise on the waters of lake Victoria.
Sources further revealed that the surprise party was organized and facilitated by his family members.
Cheers to the new age, Agaba!
Here are some photos from the boat cruise.
(Visited 1 time, 1 visit today)