Interview With Crispy Kaheru, Coordinator Citizens' Coalition For Electoral Democracy In Uganda On The Recently Launched Votability Campaign

1. Tell us about the Citizen's Coalition for Electoral Democracy in Uganda (CCEDU)
The Citizens' Coalition for Electoral Democracy in Uganda (CCEDU) is a civil society coalition founded in 2009 with membership of over 800 civil society organisations and representative of the various interest groups that advocate for comprehensive electoral democracy in Uganda. The overriding agenda of this coalition is to advocate and promote integrity, transparency and active citizen participation in Uganda's electoral process.
2. The Citizen's Coalition for Electoral Democracy in Uganda (CCEDU) recently launched a campaign called "Votability". Tell us more about it?
The Citizens' Coalition for Electoral Democracy in Uganda (CCEDU) which is a Civil Society platform with over 800 members recently launched a voter mobilization campaign dubbed Votability, to boost participation in the ongoing Electoral Commission Voter Register Update exercise that is taking place from 7th to 30th April 2015.
CCEDU is accredited by the Electoral Commission to conduct voter education across the country with a mandate to mobilize all eligible Ugandans aged eighteen (18) years and above to peacefully and actively participate in the general Voter Register Update.
3. What does the term 'Votability' really mean?
The Votability slogan is a combination of the words "vote" and "ability", which basically refers to eligibility, preparedness and ability of one to exercise their right to vote. The Votability campaign is meant to popularize the Voter
Register Update Exercise and ultimately positively change attitudes of the electorate to embrace the entire electoral process.
4. What does the Votability campaign entail?
The Votability campaign entails various activities aimed at reaching out to all eligible voters across Uganda to go and verify their personal details on the Voters Register. And for those Ugandans who have not registered yet, to do so. These activities include: Experiential road shows, Advertising, Radio and Television messaging, social media and online updates and promotional material among others.
5. Why is there need for the Voter Register Update exercise?
The purpose of the general Voter Register Update exercise is to register eligible Ugandan citizens of eighteen (18) years and above who are not yet registered as voters. However, all persons who registered during the mass enrollment for issuance of the National Identity Cards, and were successfully verified as Ugandan citizens, will not be required to register again during this update exercise because the Electoral Commission has already extracted their particulars from the National Identification Register. Further still, the exercise is aimed at enabling eligible voters to scrutinize and confirm that their particulars appear on the Voters' Register at the voting locations of their choice and also seeks to prevent or at least minimize the exclusion of eligible voters.
6. When and where will the Voter's Register update exercise be conducted?
The general update of the Voter's Register is taking place between Tuesday 7th April 2015 through Thursday 30th April 2015. The update exercise starts at 8:00am to 6:00pm, on each of the appointed dates, including weekends (Saturday, Sunday and public holidays). The general update will be conducted at the Parish level by the update teams throughout Uganda.
7. Do I need to be a Ugandan Citizen in order to register to vote?
Only Ugandan nationals are eligible to vote.
8. What is your advice to all eligible voters in Uganda regarding the Voters Register update?
Quality of life depends on the leaders one chooses. I therefore urge all eligible Ugandan voters to go verify their details on the Voters' Register at their respective Voter Register Display centers located in their parishes or wards and make sure that their details are accurate.
9. During the 2011 elections, only 59% voter turn up was recorded and of the recorded turnout, 4% of the votes were invalid. What do you have to say about these statistics?
Yes, the statistics are true. However, it does not have to be the same in 2016. All eligible voters should seek to be on the register this time, so that when the time for voting comes, they are able to participate in the vote.
10. Any last remarks?
The most fundamental form of participation in governance issues is through participation in regular, free and fair elections. Therefore, I urge all eligible voters in Uganda to participate in the Update exercise between now and30th of April 2015 – the deadline. This way we will have all secured our Votability!
(Visited 303 time, 1 visit today)
Interview: Edwin Musiime reveals what to expect at the Young Entrepreneurship Summit

By Our Reporter
Ahead of the Young Entrepreneurship Summit 2018 slated for early April, we had a chat with Edwin Musiime, the President of Chamber of Young Entrepreneurs (CYE) who are the organsiers of the two-day event. He shares the genesis of the summit, expectations and more.
Read the interview excerpts below:
1. Hello Edwin, you recently launched the Chamber of Young Entrepreneurs (CYE), what motivated this? What are the objectives of CYE? What is the long term vision?
First I would say it's love for my country and, secondly, the potential I believe the young people have. But even more importantly, I'm uncomfortable with the high unemployment rates and short life span of many our start ups.
Our vision is to inspire a new spirit of entrepreneurship — empower 10,000 entrepreneurs by 2020 and create 500,000 jobs.
2. The Young Entrepreneurs Summit is happening in April, what should we expect?
Like our theme: "Inspiring a Sustainable Entrepreneurship Culture", the summit is meant to challenge Uganda's millennials in a new revolution of advancing our economic levels to new heights.
3. In your experience, what are the biggest challenges to youth entrepreneurship in the country?
The first challenge many front is the lack of capital and almost all new ventures require seed capital — money that is available to see them through those first rocky months or even years before they turn a profit.
However, I will add that intellectual capital is even in shorter supply. Many start ups collapse as they lack capacity or competitive skills to run them is insufficient.
4. Will the Summit and CYE address these challenges? What next after the summit?
Yes, the Summit in many ways will address theme especially the intellectual capital area. The financial capital area is one we are engaging numerous stake holders including government agencies, Angel investors, Global Pan African investors that can provide cheaper capital.
After the Summit we unveil our monthly town hall business engagements. Then we launch the District Business councils which will have district business models with collaborating training and market opportunities.
5. Who gets to attend the summit? How does one attend? Are there any special requirements?
We expect to host established business owners, individuals intending to start business and apprentices. One can acquire at ticket for the 2 days at the Kampala Serena for 25,0000/=, but for BigEyeUG readers, the first 30 people to like the Chamber of Young Entrepreneurs Facebook page and inbox their name and Contact will win a free ticket.
6. For two days, you are gathering these entrepreneurs, what will be the outcomes?
We expect all those attending to leave with a different mindset on how we can transform ourselves economically. We shall have a room points at the close of each day where we intend to actualize our new narrative of Entrepreneurship. Delegates will be equipped with awareness on the opportunities at our disposal to succeed in our entrepreneurship pursuit.
7. Which thought leaders in the entrepreneurship space are making an appearance? How did you choose these figures?
Our panel of CYE resident judges selected from a sample space of about 50 young entrepreneurs. Among those making appearances include; Anita Beryl, Anthony Natif, Bettina Kavuma, Maxima Ninsimenta, Dickson Mushabe and Ian Ortega among others.
8. Who are you partnering with on the summit and on CYE? How does one come on board?
We are working with UCC as they celebrate 20 years, DFCU bank, Victoria University, KHM, Roofings, Crest Group and ofcourse the Chamber of Young Entrepreneurs Uganda.
9. Anything that you think someone should know about CYE and the Summit?
The Chamber of Young Entrepreneurs Uganda is an initiative meant play a collaborative role between the Young people, their business and opportunities available both locally and globally. The Summit, one our 20 multi level engagement, is meant to get us re-thinking our paths to a successful entrepreneurship environment.
10. Your last words to all young entrepreneurs out there?
There is a revolution beckoning. It's young people taking economic power in their hands and will power. I believe that the next decade would witness a revolution in entrepreneurship never before witnessed in our country.
So the new businesses that would emerge would not be thinking of mere subsistence and cuteness, but would be concerning themselves with how many jobs hey are creating, opportunties they are creating, clients they are reaching, how many sales points they have, much more.
I close with a question to the BigEyeUG readers: If your life were an economic movie, what will the title be?
(Visited 303 time, 1 visit today)
Interview: Sauti Sol reveal their 2018 plans, secret to their success, best Ugandan songs and much more

By Our Reporter
Kenyan music group Sauti Sol was recently in Uganda and the BigEyeUG team managed to catch up with them for an interview. During the interview, the singers revealed their music plans for 2018 among other things. Here are excerpts:
1. How did you settle on the name Sauti Sol? And why?
We used to be called "Sauti" back in our singing days in high school. But there were many "Sautis" in the industry and when were recording our first album, our manager advised us to find a unique name and that is when we added "Sol" to our name to become "Sauti Sol".
2. How did you guys meet? What is that history behind the formation of Sauti Sol?
The three of us (Bien-Aimé Baraza, Willis Chimano and Savara Mudigi) were in the same high school and there was a group called "Voices in the light". It was a generation of a capella bands and the best were chosen to be in that group. We used to perform in this group in high school. And after high school I (Polycarp Otieno) joined them to form the group, Sauti.
3. How have you managed to stay together for so long? Groups tend to be tricky you know?
Friendship has been the foundation of our group all the way from high school. And the friendship became even tighter after high school. We are the best of friends until now and this has greatly contributed to us sticking together for 14 years now.
4. What would each of you rank as your best Sauti Sol song?
The best Sauti Sol song is the song of the moment; the one that we have just released.  "Melanin", which we just released, is our best song for now.
5. There was backlash from feminists when you released Nerea, how did it feel? How did you handle that moment?
We believe everyone is entitled to their opinion and so how different people take the message is not in our control. Although we appreciate and understand their concerns, that's not where we were coming from. We made it very clear from the beginning that the song was mostly just about how as a man you should take responsibility for your actions. We even released a statement and we made it clear to where our position was. Our content cant always be taken the way we want it to be taken so we work with it as it comes.
6. You have fallen in love with Uganda. Who are your 3 best Ugandan musicians and why?
It is hard to tell the best Ugandan artiste because there is a lot of good musicians and we fall in love with Ugandan music everyday. Uganda has always had top musicians like Chameleone, Bebe cool who inspired us. There is also a lot of  fresh talent on the market who are killing it like Irene Ntale and Sheebah. There are also other talented musicians like Radio & Weasel,  Maurice Kirya (we have been friends for quite a long time), and then Navio.
7. What are your best 3 Ugandan Songs?
Stamina Daddy by Irene Ntale is making rounds in Kenya. Nkwatako by Sheebah is also good, and definitely Mbozi Za Malwa.
8. How did you and Bebe Cool come up with Mbozi Za Malwa?
We had been talking to Bebe Cool for a long time because we often meet at the award ceremonies outside our countries. So when he sent us the track, "Mboozi Za Malwa" and explained to us what it means adding that the song would go deep with in Uganda, which it surely did, we trusted him and jumped on to it. You know he is so experienced and we always look up to him.
9. What do you have in plan for 2018? What should your fans expect?
We have a project called "African Source" where we are working with different African artistes on the continent and in the next 12 months or so we are going to be releasing a new single every month. Actually we started with Uganda's Bebe Cool, and then C4 Pedro from Angola and later Nigeria's Patoranking whose songs are all already out. We are continuing to work with different African artists like Tiwa Savage, Wizkid, Davido, Toofan, Mani Martin, Burna Boy, and Vanessa Mdee among others and the projects are all done and ready to be released.
10. Is there any artiste in Africa that you would wish to work with but you haven't?
The artists we haven't worked with, uh, some are dead. But if lucky Dube was alive, we would have loved to record a song with him. And maybe Brenda Fassie too. Nonetheless, there are many artistes in Africa that we would love to work with. And I think our next stop could be North Africa.
11. Which musicians have had the greatest influence on your style and genre?
It evolves with time and, even us as artistes we evolve and at each stage we have new influences. We started as an a capella acoustic band and then we had inspirations from some African artists like Salif Keita among others. And when we diversified into pop music we got new influences such as P-Square, South African music, and iconic music groups from the west as well.
12. How is the creative process for each new song you release? How do you decide which song to release?
We don't decide on which song to release, it just happens. Our song ideas usually come from our different experiences. So we don't really sit down and say we are writing a hit song. It all comes from all kinds of experiences.
We write together, and then practice the song with the band first. Most people first go to the studio and they are given a track and then write a song, but for us it is the other way round — write the music, then play it with the band, and if it sounds nice, we go ahead and record it.
Music is a business as well so we need a strategy and this also determines when we are releasing the particular songs.
13. What do you people do when you are not doing music? If you didn't do music, where would each of you have probaly ended up?
We do not know where we would if not for singing. Anyway, when we are not doing music, we are just mostly resting. However, we all do have hobbies; we love things that all other normal people love, like playing soccer, play station, and hanging out with friends.
14. What would call your greatest achievement?
Sticking together for 14 years is our greatest achievement. Most groups don't usually stick together this long.
(Visited 303 time, 1 visit today)
Rising singer Ashie talks about her music journey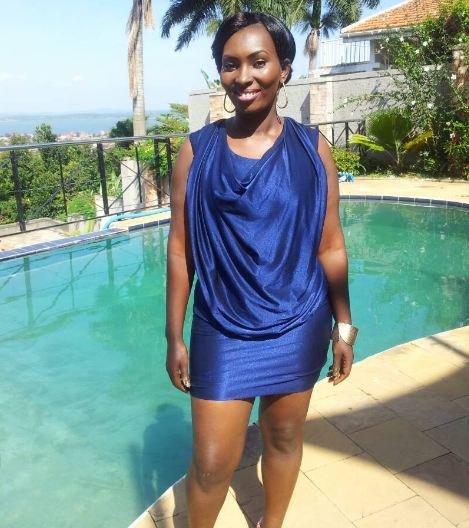 Our reporter had a chat with rising singer Ashie and here are the excerpts:
Who is Ashie?
My name is Sandra Ashaba, hence the 'Ashie'. I am a simple, free spirited and fun loving lady. I love making friends and by this, I purpose to make one every day, or at least an acquaintance.
When did you join the music industry and what have been some of your projects?
I started singing back in O level when I majored in music as a subject, but I started recording songs in 2011. Some of my projects include; Dance, Let it rain, Hold me, and Mukundwa among others.
What has been your best and worst experience in the music industry?
One of my best and thrilling experiences was my first video shoot for the song 'Mukundwa', I couldn't believe I had been missing out on such adventure. My worst experiences are the rejection moments by people who I needed help from to make it to the next step but I must say they have made me resilient.
Are you in a relationship?
No
Tell us about your latest video project
My latest video project which happens to be my first too was a very exciting moment. I worked with a very enthusiastic and supportive team from Egotastic (EMG) on the song titled 'Mukundwa' which means 'lover' in Runyankore. It is an 'RnB' song which was produced by Nase Avatar at Portbell Drive Music.
Where do you see Sandra a few years from now
Well, I see myself in a place where I can be able to do a peculiar kind of music for the Ugandan audience. The kind that isn't often sung here.
Many musicians have found it hard to make money from their works because of the copyright law in Uganda, what are your views on a workaround on this?
To be honest, it is a bit harder in this day and era considering that social media isn't censored or restricted, yet it's the easiest way to market the music. However, once a musician is established, I believe that with better management, this can be improved, gradually.
Who do you admire musically internationally and why?
I admire Mariah Carey. I learnt to sing on her CDs, I would always want to copy her notes and style and eventually I was able to sing a whole song. She is also one of those old wines of the music industry that have really stood the test of time.
Do you see yourself taking on the international scene?
With music, anything is possible, because you never know where your best audience may come from. So, definitely yes.
Any word of encouragement for those would like to join the industry?
Music is a passion; it cannot be done consistently if it's just for trial. A lot of patience is required to just finally join and definitely hard work when you do. Just follow your heart to your dream.
(Visited 303 time, 1 visit today)