INTERVIEW: Uganda's Award Winning Film Maker Stanley Nsamba Lands M-net Deal, Talks About UCU Sex Tape

By Moses Abeka
Award winning film maker, Nsamba George alias "Battle Mc Nes- G" is a man born for movie industry. The script writer is surely going places after his script "Drug Drag" was picked by M-NET for production beating over 30,000 movie scripts handed in for the contest. M-NET will sponsor the production of the movie and give it honorable screen play!
At Bigeye.ug, we applaud the creativity so yours truly caught up with the man of the moment for an exclusive interview which was conducted through facebook chat! We changing rules! Check the interview!
"The #SamsungTwitterParty is back! Get ready to party the night away come 19th December at Zone 7 with fellow tweeps. Entrance is 15,000shs. Call 0775439894 for details. Great music and drinks."
CONGRATULATIONS! LET US DIVE INTO THE MOVIE PROJECT. WHAT IS THE MOVIE SCRIPT ABOUT?
Hello, by name I'm called Nsamba George Stanley. I'm a filmmaker and mentor, CEO Nes Motion Media and founder The Ghetto Film Project.
The film script THE DRUG DRAG is a movie about a teenager living in the ghetto associating with a bad peer group doing drugs and theft in the night. What makes him different is that he has a dream of being a poet but being of a poor background, he can't find a way out of this out clean and so he hustles his way through a gang of robbers. All changes the day his best friend is shot dead during a robbery and he can't let his death go free.
Days after he commits his first murder in revenge, he learns that his girlfriend is pregnant and realizes he has to change the life he is living. He pursues a career in writing with the little savings he made and one day lands his dream launching a book and that's the day he gets arrested for the murder he committed 2 years ago and convicted to life in prison leaving behind a 2 year old son and a wife.
Briefly that's the story I submitted and landed me the M-net deal out of over 30,000 scripts that were submitted in June this year. I got to know about the competition from Moses Serugo's blog . I'm humbled.
YOUR PASSION IS TAKING YOU PLACES, TOAST TO THAT! WILL IT HAVE A UGANDAN CAST?
Thanks buddy.
I'm yet to discuss that with the multi choice team that I'm meeting on Thursday but for what I know is that they have given me a choice to choose the protagonist (main actor), his bestfriend and the antagonist( the rival gang leader) all who are Ugandan. We shall be discussing the rest including location which is most likely to be Uganda.
WOW! WHAT INSPIRED THE STORY?
Actually the story is my story.
Its about my experience as a teen doing drugs and associating with bad groups of which out of the 9 guys we were, only 4 of us are alive,the rest died due to mob justice.
So I sat down and imagined where I would have ended up today if I had not left that gang life in my early teen life and the imagination is the movie.
YOU STUDIED FILM AND CINEMATOGRAPHY YET UGANDANS STRIVE TO BE LAWYERS, ENGINEERS, DOCTORS AND MANAGERS. WHERE DO YOU DERIVE THAT PASSION?
Funny, I composed my first movie called "Blue Table" when I was just six, my mum Aryenyo Vicky and other family members would be my witnesses. So since I was a child I wanted to either be a plumber, filmmaker, wr­iter, painter/artist or journalist.
When I join bad gangs in Naguru I lost all my dreams and wanted to be a rapper. In my form 4 when trying to fight my drug addiction, I found myself writing more to relieve me of the guilt, stress and keep me off the thought of drugs and that's when I decided I wanted to tell my stories on screen some day.
In my second year at MUK last year, doing a bachelors in Industrial Art, I decided to drop out and chase my dream in film. I had started my cinematography and editing practice in my form 6 vac so I needed to leave school and concentrate on building my dream.
When I dropped out, its around that time I got a scholarship in film with Fullsail University in Winterpark, Florida but never took it due to some problems here and there but regardless I still kept going.
WOW!! WHAT IS YOUR MESSAGE TO THE YOUTH OUT THERE?
You can be anything and anyone you dreamt of being despite your current situation only if you focus, work hard and believe in who you are. I once was a street kid, today I'm an award winning film-maker. Trust in God!
DO YOU THINK THE VIRAL UCU SEX TAPE PROVED THAT UGANDANS ARE YEARNING LOCAL MOVIE ENTERTAINMENT?
As a film maker, I look at the artistic impression and expression through the lens. The fact that the sextape went viral showed how a little romance in a movie could take it places. There is lots of worse porn on net, why did that sextape go viral? Its because it was Ugandan. I believe its time Ugandan film makers incorporate scenes such as romance and kissing in their movies and stop doing drama.
QUICK FIRE:
Would You Allow Your Lover Act In A Sexual Movie Scene, Kissing And Caressing. Yes Or No?
Absolutely NO, cant have my lover do an X rated scene in a movie(but why would I love an actress? Lol)
Favourite Quote
"What God can do,No man can do" – Pr. Happy David Ngabo
"Where the mind goes,the body follows" – Joyce Meyer
"In every negative situation,there is a seed of positivity " – Albert Einstein
FAVOURITE MOVIE OF ALL TIME?
Wow that's a hard one, favorite movie will be Blank Cheque but my short film will be Struck and African movie will be Viva Riva.
"[katogoaward]"
(Visited 197 time, 1 visit today)
Davido set for '30 Billion Concert' in Kenya

By Consolate Namyalo
One of Nigeria's biggest music acts, David Adedeji Adeleke aka Davido might have made more news this year for his new love interest, Chioma than his music career.
The "Fia" singer has now returned to the entertainment scene in East Africa, making headlines as he gets ready to put on a huge concert in Kenya this month.
Dubbed,"30 Billion Concert", it promises to be one to remember with a massive line up of performing acts including, the Kansoul and P-Unit alongside celebrated top DJ's : DJ Joe Mfalme, DJ Protege, DJ Ace King and DJ Seme.
The concert is slated for 24th Novemeber, kicking off at Uhuru gardens,with regular tickets going for Ksh3, 000 advance and Ksh3, 500 at the gate, while the VIP section is Ksh10,000 including 4 vouchers for drinks. The VVIP section will go Kshs25,000 and will include an open bar, where concert goers will get to enjoy limitless drinks.
(Visited 197 time, 1 visit today)
Photos: Mr. Eazi thrills fans at album listening party

By Our Reporter
It was a fun filled experience for Kampala fans of popular Nigerian artiste Mr. Eazi, as he on Thursday night, treated them to a wonderful listening party for his third studio album tilted 'Lagos to London'.
The exclusive listening party which was held at Cayenne bar in Bukoto was hosted by Smirnoff Vodka, which is also promoting his album.
The unique music experience gave fans a special opportunity to listen to the new album with Mr. Eazi as well as be treated to a special performance by the artist.
He performed songs like Pour Me Water and Property as well as collaborations with artists such as Simi, Burna Boy, Chronixx and Maleek Berry.
Mr. Eazi also announced the launch of his emPawa Program, meant to empower Africa's young and undiscovered music talent to global success. The accelerator program will empower 100 African musicians annually drawing from a USD300,000 fund.
Here are some photos from the party.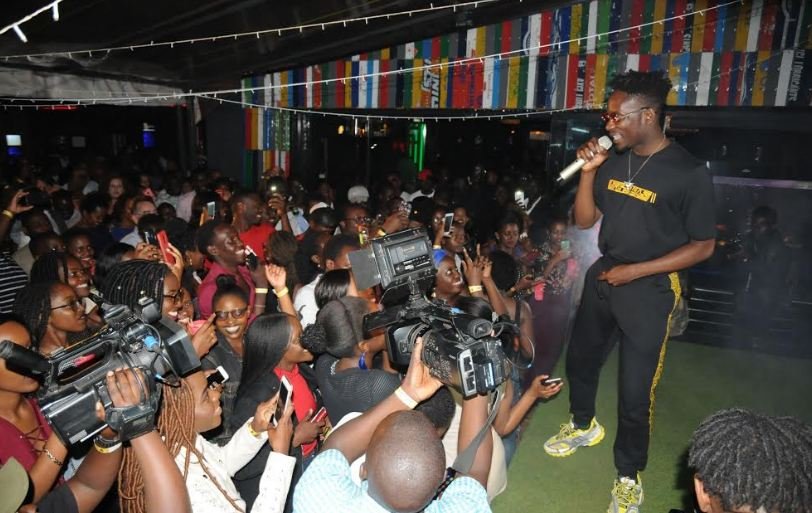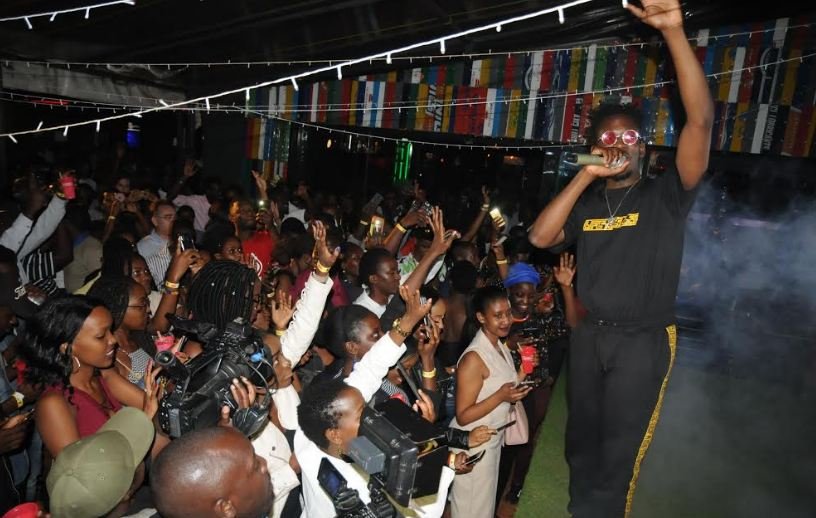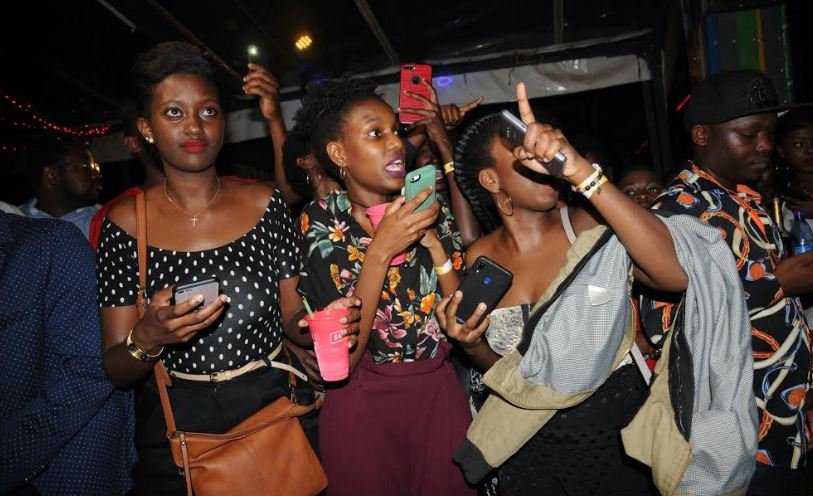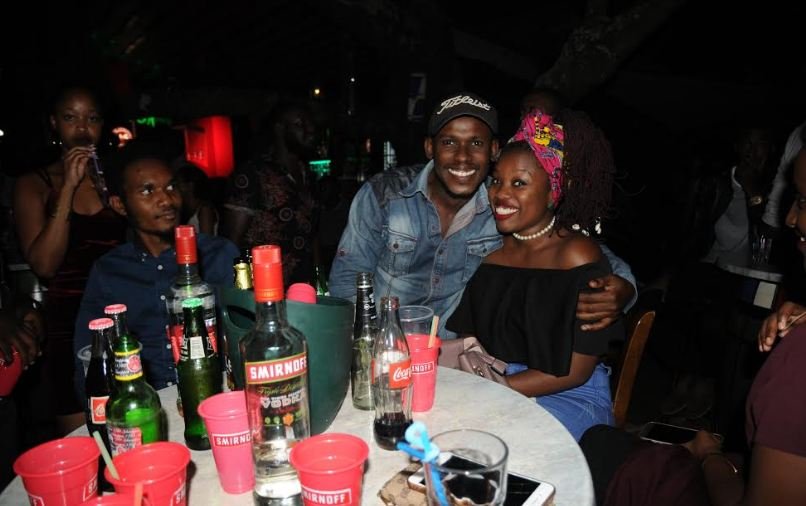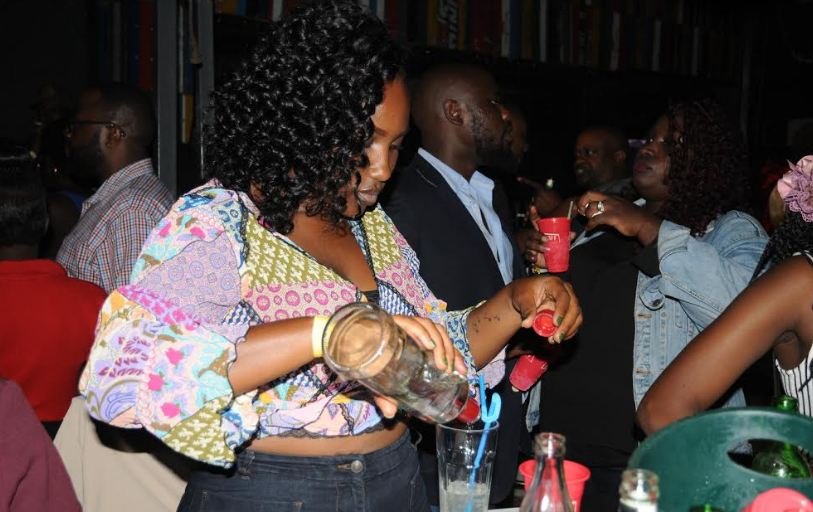 (Visited 197 time, 1 visit today)
Nigerian star Mr. Eazi launches program to empower emerging Ugandan musicians

By Our Reporter
Nigerian star, Mr. Eazi has launched a program aimed at empowering Uganda's emerging and undiscovered music talent to global success. Dubbed "emPawa", the accelerator program was launched at Skyz hotel in Kampala on Thursday and will altogether empower 100 musicians on the continent annually drawing from a USD300,000 fund.
Speaking during the press briefing, the "Leg Over" hitmaker revealed that he came up with this initiative following  overwhelming response to his call for songs from emerging artistes for a chance to bankroll their next music project.
"Early this year, I put out a tweet saying I wanted to help emerging artistes and attached an email where they could send their songs," he explained. "In under 30 minutes, I had already received 4000 emails from various talented individuals across Africa who were sending in their songs. These were just too many and I could not go through all these emails, and that is how this program came up."
To participate, artists will be required to upload a video showcasing their talent on their Instagram account and tag it — #emPawa100. Each artists' submission will be reviewed by top industry experts from across Africa. From all entries, 100 artists will be selected to move onto the next stage of the programme and share a $300,000 fund.
Each of the 100 hand-picked artists will receive $3000, with $1000 being invested to create a high quality music video of their submission track. Each of the artists' videos will be placed on Mr. Eazi's YouTube channel 'Detty TV' along with the emPawa social media platforms, creating further exposure for the artist.
From the 100 artists, 10 will be specially selected to undergo mentorship in an incubator program enlightening them on how to grow their brands, export and monetize their music.
The emPawa program, features an all-star team of acclaimed artists and music producers including Mr. Eazi, Diplo and Raye who will participate in grooming and mentoring the young talent.
(Visited 197 time, 1 visit today)