Interview: Model Mbuga Moses opens up about his career, fitness, music and fashion

By Our Reporter
Moses Mbuga is a rising fitness model and body builder. The 24-year-old has been on the modeling scene for sometime now and recently participated in the Mr Ideal Uganda 2016 pageant.
Born in Nsambya, Kampala, Moses went to Kitebi SS, Jec High School, and Jeppe Bloemfontein College. We caught up with him and he tells us about his career and love for fitness and fashion.
Who is Mbuga Moses?
I am a rising fitness model who has been in the fashion industry before and I am a body builder but I describe myself as Shredded Mowzy because of my body transformation.
What is your typical day like?
My typical day there must be a candy which is Snickers and it must be an "X2" and with gym, I have the best day ever.
Why did you join Modeling?
I joined modeling because I had love for it initially and I was inspired by a few figures in the industry that I felt I wanted to be like.
Do you eat nutritiously and what is your typical meal made of?
I do eat nutritiously because first of all I am a fitness and diet trainer, my best meal is Matooke and chicken. I can never go without it.
How often do you exercise or go to the gym?
I normally go to the gym four days in a week. When I have a very busy week, then I cut it down to three days.
We recently spotted you at the MTN Marathon, which race did you run and how was the experience for you?
I ran the 10KM race, it was really challenging. At first I thought, because of my history of running, I would pace through but it was not as easy. Some people upgraded the game. It was fun because I met a lot of people that I knew on the way. Some people wanted to shake hands. It was fun.
Which models on the international scene inspire you and why?
The first model that inspires me is Ullyses Jr. He is in the fitness world and he is so hardworking, he is practical, his whole energy is invested in hard work. He inspires me a lot.
The next is Simeon Panda, he is also a hardworking parson I love him and he inspires me too.
You have an army of fans under the "Shredded Army" umbrella, how do you keep in touch with them amid your tight schedule?
"Shredded Army" wasn't my making; it was created by my fans. Initially, I never thought I needed an entourage of people but I got so surprised that people were so in love with my work and created the "Shredded Army" clique. I save time to chat with them. I give them tasks or jobs to finish up and they are doing so well. I love them and I am inspired by them.
You recently opened up a fitness program for people in Kampala? What inspired you and what is it all about?
First of all, the program is called "Shredded Fitness". It is not a business venture to me. I look at it as an outreach program to the community because a lot of people out there don't see the essence of living fit and healthy. I want to change their mentality that being fit is not all about being a gym rat. People are welcoming it and I love it.
You have a fitness application that you are developing at the moment, how will this help your fans and clients to live healthier lives?
With current tech trends the whole working system has changed into mobility and tech and I thought of an app that can reach out to people without moving about but something that they can have right in their hands. They will be able to use it to access information about fitness diet and have the ability to order personal trainers. They can also have the opportunity to glance good looking people on the app and be inspired to transform their bodies.
What kind of outfits do you feel comfortable in?
I normally love jumpers. I love stretching pants because they feel so much comfortable. I also love skinny jeans because they look good on me. On top of this, I love vests and shoes so much.
Do you travel often? Which countries have you visited and what have you learnt about fashion from these countries?
I have been to South Africa, Canada and Kenya but all these countries always have different standards and style.
People in the western world dress up according to trend they are fashionable according to seasons and the current situation either political or economic etc.
You participated in the Mr. Ideal Uganda pageant early this year, what were your key learnings that you'd like to pass on to our readers?
Pageants are always challenging for whoever has been in them. My experience was about knowing what to do and I met a number of people who are still important in my life up to now. I got to learn a lot about photography. I also got to know people who love me. That is part of the reason I carry on because they made me feel special and loved.
We have it on good authority that you are into acting as well, how has this been going for you? Are there any upcoming film projects?
I have passion for acting in the first place. I have been acting on the grounds of learning and searching for knowledge throughout the movie industry. No movies at the moment. I plan to engage in the movie industry sometime in June next year. I have worked with a few TV commercials and they fall in the same line. I have a TV show that I am working on called The Cat walker it will be airing sometime around next year. It is fun and people should wait for it.
Who is your best local musician and which specific songs make your day?
My best local musician is Dr. Jose Chameleone. It's too unfortunate that most of the people lately don't even remember his songs but I really love the lyrics of 'Jamila', 'Shida za Dunia' that is a nice song that I have ever heard from him and I believe that he is still doing some good work out there.
Another one who does inspirational music to me I call her a goodness is Naava Grey. I crush on her every day because she does magic and wonders, her music is love and everything you can talk about.
Are you seeing someone at the moment? What are your plans for her?
It is unfortunate that at the moment I am not seeing anyone. I have been in a relationship but things didn't work out the way I thought. I am single and I am open to loving someone out there.
Where do you see yourself in 5 years from now?
I plan to own most of the things that I fantasize about. First of all, business-wise I plan to own my own fitness company.
I plan to have my brand name going international, that is the "Shredded Fitness" and the "Shredded Army". I would love to have a clothing line that is a vest line. I plan to be an international model who is competing on the international stage.
Any words of encouragement to people who want to be like you out there?
They should first discover themselves in the first place and if you know you want something then you go for it. For the people who see me or see us, they should stop fantasizing about the kinds of lives we live. You are living way better than us it's just that you need to find the right things to do.
Live every single moment that you have because you never know what is going to happen the next day. Work hard as tomorrow is your final pay and struggle for the rest of your life until you have all you ever wanted.
(Visited 563 time, 1 visit today)
My Hard work has paid off says Abryanz After winning Buzz Teeniez Award

Our Reporter
Ugandan fashion icon, Brian Ahumuza aka Abryanz keeps winning awards like he is collecting leaves from a tree. For the fashionista and owner of Abryanz Fashion Awards, it is all because of hardwork.
Brian who won the award for Teeniez Hottest Celebrity Stylist today at the Buzz Teeniez Awards has revealed to us that he now feels like Greatest Fashion Icon of our time thanks to his hard work. This is the second year in a row that he is bagging a Buzz Teeniez Award.
'I feel like the Greatest Fashion Icon of our time. The Greatest Fashion Inspiration. Thanks @BuzzMagazineUG for the honor. Hard work Never stops,' Abryanz said after winning the award.
Abryanz beat Sylvia Awori, Tazibone Solomon and Fyona Kirabo to the award.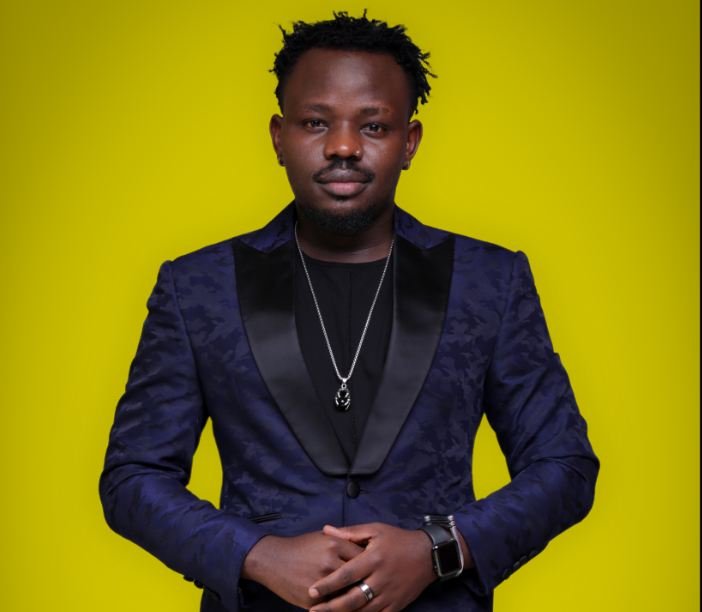 He is not new to winning, just a few weeks ago, he was nominated in the MUBS Hospitality and Entertainment awards where he came on top on the Best trend setter category bagging another accolade from the campusers.
(Visited 563 time, 1 visit today)
Local fashion blogger, Samson Baranga features on CNN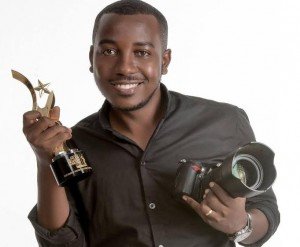 By Our Reporter
Samson Baranga, a Ugandan fashion blogger, photographer and journalist is making news internationally following his appearance on CNN African Voices which highlights the continent's most dazzling people who create their own subcultures in areas such as travel, fashion, art, music, technology and architecture.
Baranga was highlighted for his role as the leading promoter of the fashion industry through his fashion blog and newspaper columns. He has been at it since 2011 when he discovered that fashion articles had limited space in mainstream media hence opening one of the first fashion blogs in the country.
"Starting out was all about providing a platform for the budding fashion industry where I could feature events and personalities that are working so hard to put Uganda on the fashion map," he said.
He has since scaled the heights including nominations in various fashion awards like Abryanz Style and Fashion Awards (ASFAs), Pearl of Africa Fashion Awards and Swahili Fashion Week East African Fashion Journalist of the year category. In 2015, he was crowned fashion blogger of the year at the ASFAs.
Baranga has covered fashion events in Uganda, Kenya, Tanzania, Rwanda and South African. In the interview, he shares his dream about making it to New York Fashion Week.
(Visited 563 time, 1 visit today)
Makeup artist Imani spices up Ciroc Ultra Night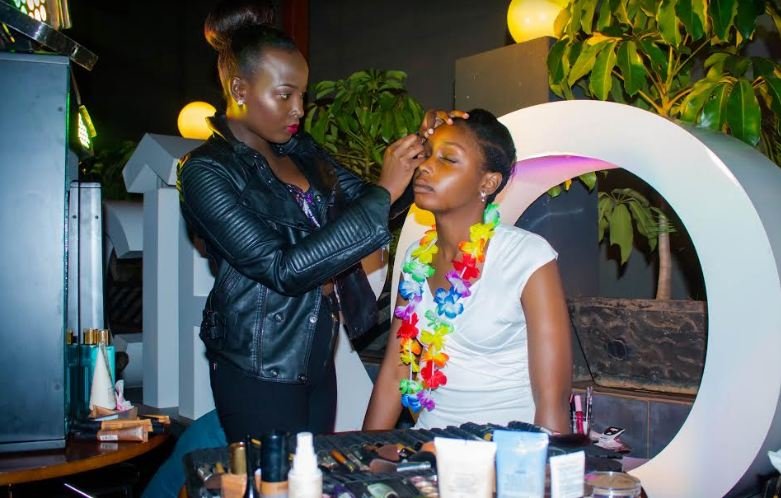 By Our Reporter
With the changing face of Kampala's night life, revelers are feeding well when it comes to theme nights that are spicing up the mood in the city.
It was a change of color and face at the Ciroc Ultra night as revelers were taken through live make up training sessions by Faith Imani of Imani Make-Up studios.
Imani is one of the make-up artistes that was nominated in the Ciroc sponsored Abryans Style and fashion awards (ASFAS), in the category of best make-up artiste in Uganda. She was nominated together with Deryk Saycarmatte, Fayth Presh, Nahya Shero and Mona faces.
The Ciroc Ultra Nights are held every Wednesday at Sky Lounge.
(Visited 563 time, 1 visit today)