IMBABAZI: THE PARDON, Showing TODAY.

IMBABAZI, THE PARDON will be showing today at the Euro-African Kampala Film Festival at 4.30PM at Theatre la Bonita.
Here is the plot, In Rwanda 1994 Manzi and Karemera are best friends who seem to be inseparable. That's until the inexorable forces of history and violence tear them apart.
After the death of Rwanda's Hutu President plunges the country into ethnic civil war, Manzi must choose between friendship and family, and Karemera pays the horrific price.
Fifteen years later, news of Manzi's release from prison throws Karemera's life into chaos. Karemera attempts to return his childhood friend to prison, while Manzi struggles with his own guilt.
As the former friends search for justice and absolution, they both find themselves at odds with a society eager to forget the trauma of the past. Can Manzi and Karemera remain true to themselves and also come to terms with their past?
Don't miss it.
(Visited 1 time, 1 visit today)
Rubaga North Mp aspirant Victor Kamenyo crowns wife in "OFFICIAL"

Victor Kamenyo recently announced he would be standing for Rubaga North parliamentary seat come 2021. Another development is that Kamenyo intends to unveil his official wife and prior to that he has done a song to praise her.
In his latest release "Official" Victor Kamenyo advises fellow men to get official partners and also promises to show is his better half.
Watch Official here: https://youtu.be/iOOT9nX4F_4
(Visited 1 time, 1 visit today)
Socialite Kez Shillo inspires school going girls at St. Michael

City socialite aka Shillo Kenzimbira aka Kez Shillo over the weekend took her gospel to St Peters in Sonde Wakiso district where she talked to the girl child. The city business lady who also is founder of Shillo Foundation talked and encouraged girls at the school to live purposefully.
She encouraged school going children to remaim focussed, learn to save and also dream big.
Shillo is an accountant, business woman and also proprietor Shillo enterprises.
Kez Shillo's Shillo foundation houses upto 80 childen who are catered for with basic needs and is aimed at empowering them gain skills to survive in society. The foundation also privides shelter for elderly and neglected mothers.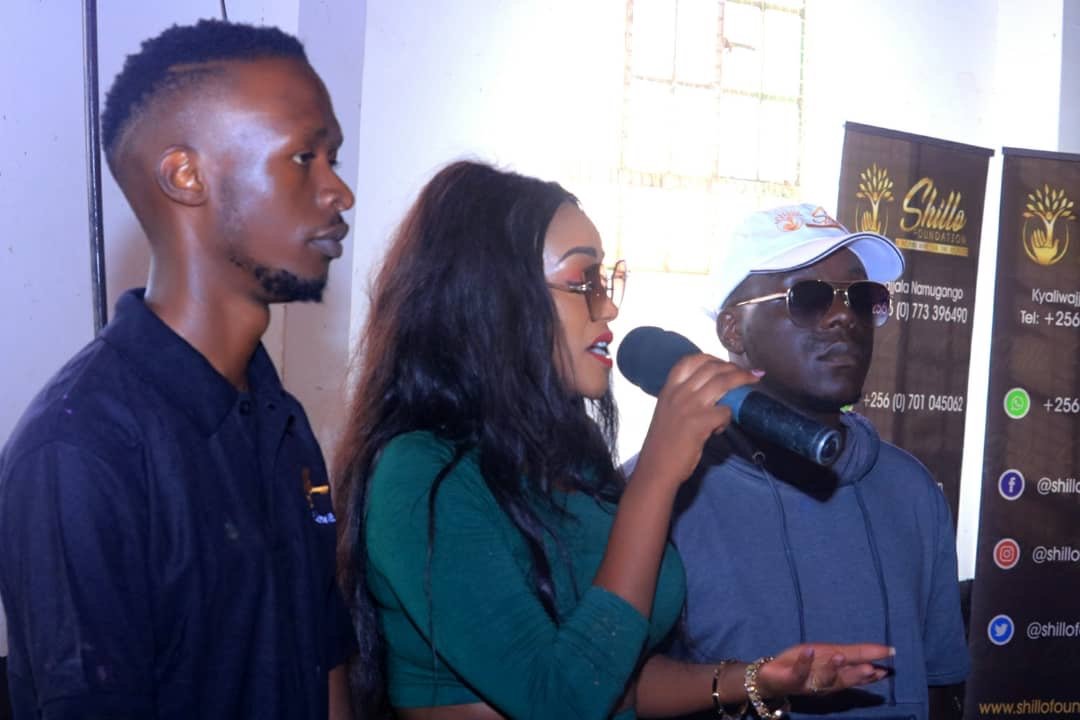 Shillo at the end of her speech pledged support to the children at the school and also provided scholastic material.
Shillo will also be visiting other schools in the coming weeks with the same cause.
(Visited 1 time, 1 visit today)
Victor Kamenyo signs Chozen Becky back up singer Lydia Bless

After Chozen Becky threw in the towel at her first manager Victor Kamenyo to join anothet management, Kamenyo has re-invented another talent. We can reliably reveal to to you that Kamenyo has discovered talent in a one Lydia Bless who was formerly Chozen Becky's back up singer and receny performed even at het concert.
Lydia Bless is now signed to Kamenyo's crew Nick Production
Lydia has released her first single Beera Nange that even has a video which fans already love.
Could Lydia be our new Chozen Becky?
Watch Beera Nange here: https://youtu.be/gyE4qVM3NHo
(Visited 1 time, 1 visit today)