iDROID Africa launches Royal V5 & V4 in Uganda.
By BigEyeUg Team
iDROID USA is making history tonight, holding a world Smartphone premiere in Kampala, releasing the newest Smartphone models, the iDROID Royal V5 and Royal V4, at Guvnor Night Club. This is phenomenal for Smartphone users in Uganda and the next generation technology Smartphone and mini-computer company; having started only a few years ago and operated here in Uganda for only 130 days now.
The development is a result of the overwhelming reception for their first two products, the sleek and clever iDROID Royal V7 and chic Tango A5 that have become a loved flavor among Ugandans, for their thrilling technology and life-friendly features.
The new Royal V4 is a rare breed coming with a 5.0 inch solid guerilla screen for the careless user, pre-installed apps including NTV Mobi for the TV lover, Hello Food for the busy office person, Galaxy FM for radio, Jumia.ug among others downloadable from Google Play.
The Royal V5, which is like an identical twin to the Royal V7 comes super sleek in black and white, with extra covers in different colours to suit the style of an urban fashionista, an 8MP auto-focus primary camera and selfie with a flash to catch the best visage. It also comes with pre-installed apps including a heart-rate monitor. The V4 and V5 also incorporate the rest of the iDROID specials including the superfast quadcore, hand and air gesture technology, voice recognition, 3D technology (3D interface and 3D gaming), iDRO-Beast Sound Technology, iDROID Hub for 24/7 customer help, and the best of Android OS- it's Lollipop this time!
To appeal to the target user, that's the youths that won't stop at nothing to get a next-gen Smartphone, iDROID has signed superstar musicians Mun*G, Rema, Sheebah and Nutty Neithan and hottest TV Personality, Carol Flower, as the ambassadors. The five have fitted in properly and gone ahead to record an athem titled "iDROID Town, Leggo"– a club banger with a hip-hop, RnB and raga fusion.
The V4 and V5 will be available at leading smartphone stores all over the country including Africell, Airtel, Simba Telecom, MTN, UTL and online at Kaymu and Jumia, with immediate effect.

(Visited 1 time, 1 visit today)
Movit donates Ugx 150 million worth of hand wash and sanitizer towards fight against COVID-19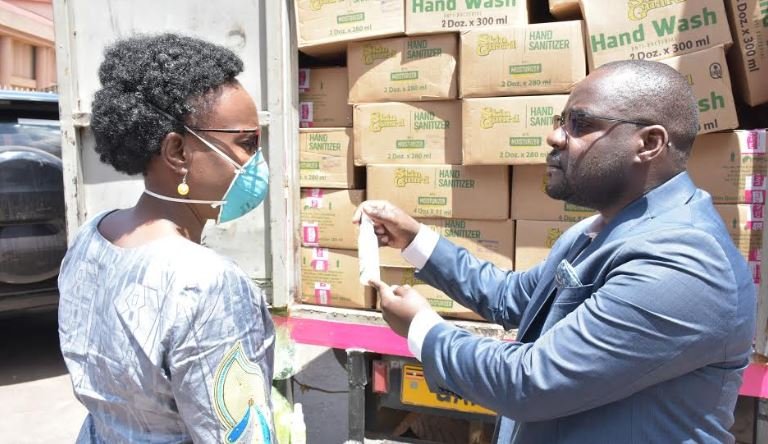 By Our Reporter
Movit Products Limited has contributed 500 cartons of Skin Guard Anti-Bacterial products worth UGX 150M to the Government through the Ministry of Health as support towards the fight against COVID-19.
The donation was made by the CEO Movit Products Limited Mr. Bruce Mpamizo to the Minister of Health Ruth Achen at the Ministry of Health head offices.
The Skin Guard Products that were given are 200 cartons of Skin Guard Hand wash, 200 cartons of Skin Guard Soap and 100 cartons of Sanitizer gel.
The Skin Guard products will be donated to the hospitals for healthcare workers caring for patients on the frontlines of the current COVID-19 public health crisis.
The CEO Movit products Limited Mr. Bruce Mpamizo giving away the products said "As Movit Products Limited, we stand with our customers in all situations. Today we are here to support the ministry of health because we were enabled by our customers to do so. We believe that this is the beginning of a long-standing partnership with the ministry of health and we expect to provide even more support as we continue the fight of the spread of Covid-19 together."
The Minister of Health Ruth Achen on behalf of government thanked Movit Products Limited for the generous contribution and support. "Movit has donated Hand Wash and Sanitizer which has 70% alcohol which is the right content that we desire and Soap to wash our hands to ensure that we do not infect our selves and friends with Covid-19." She said.
In addition to the donation, Movit Products Limited has implemented other measures to ensure the companies most crucial operations are not stifled as the company still needs to deliver much more need hygiene products solutions and keep the employees safe.
Movit Products Limited has also partnered with KCCA to install hand washing units in markets and around the city center with Skin Guard hand wash to encourage washing hands and staying safe from the corona virus.
The company has introduced a new product, Skin guard Hand Sanitizer Gel and spray at discounted market prices with an aim of ensuring the product is affordable to more people within the public.

(Visited 1 time, 1 visit today)