iDROID Africa launches Royal V5 & V4 in Uganda.
You could win big cash with FortBet. Click here for more
By BigEyeUg Team
iDROID USA is making history tonight, holding a world Smartphone premiere in Kampala, releasing the newest Smartphone models, the iDROID Royal V5 and Royal V4, at Guvnor Night Club. This is phenomenal for Smartphone users in Uganda and the next generation technology Smartphone and mini-computer company; having started only a few years ago and operated here in Uganda for only 130 days now.
The development is a result of the overwhelming reception for their first two products, the sleek and clever iDROID Royal V7 and chic Tango A5 that have become a loved flavor among Ugandans, for their thrilling technology and life-friendly features.
The new Royal V4 is a rare breed coming with a 5.0 inch solid guerilla screen for the careless user, pre-installed apps including NTV Mobi for the TV lover, Hello Food for the busy office person, Galaxy FM for radio, Jumia.ug among others downloadable from Google Play.
The Royal V5, which is like an identical twin to the Royal V7 comes super sleek in black and white, with extra covers in different colours to suit the style of an urban fashionista, an 8MP auto-focus primary camera and selfie with a flash to catch the best visage. It also comes with pre-installed apps including a heart-rate monitor. The V4 and V5 also incorporate the rest of the iDROID specials including the superfast quadcore, hand and air gesture technology, voice recognition, 3D technology (3D interface and 3D gaming), iDRO-Beast Sound Technology, iDROID Hub for 24/7 customer help, and the best of Android OS- it's Lollipop this time!
To appeal to the target user, that's the youths that won't stop at nothing to get a next-gen Smartphone, iDROID has signed superstar musicians Mun*G, Rema, Sheebah and Nutty Neithan and hottest TV Personality, Carol Flower, as the ambassadors. The five have fitted in properly and gone ahead to record an athem titled "iDROID Town, Leggo"– a club banger with a hip-hop, RnB and raga fusion.
The V4 and V5 will be available at leading smartphone stores all over the country including Africell, Airtel, Simba Telecom, MTN, UTL and online at Kaymu and Jumia, with immediate effect.
(Visited 1 time, 1 visit today)
Shell customers win big in 10 weeks of Cheer promotion
You could win big cash with FortBet. Click here for more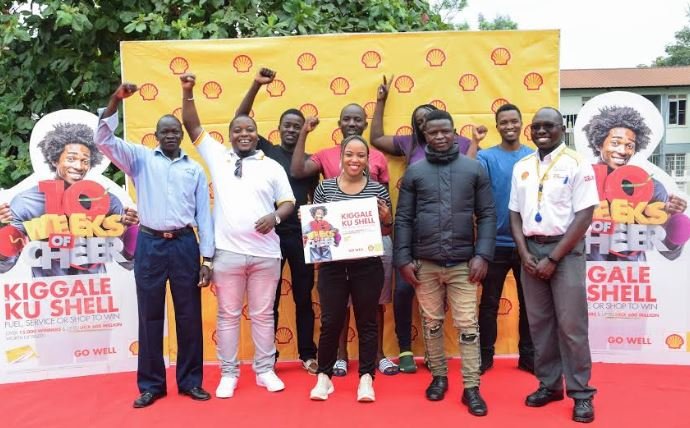 By Our Reporter
Over 2,000 customers have so far been rewarded with fuel worth over UGX 80 million in the ongoing 10 weeks of Cheer promotion by Vivo Energy Uganda, the company that distributes and markets Shell branded fuels and lubricants in Uganda.
The national promotion which is targeted at all motorists including boda riders, taxi drivers, private motorists and truck drivers was announced in December to reward customers for their loyalty during the festive season.
"For the past 3 weeks, we have been running daily draws at participating Shell stations generating over 2,000 winners who have received various prizes which include fuel worth UGX50,000 for general motorists, UGX15,000 for riders and household groceries. Weekly jackpot winners have received UGX500,000 worth of fuel for general motorists and UGX50,000 for riders," said Mark Mutungi, the Fuels Brand Manager at Vivo Energy Uganda.
For every UGX 50,000 spent on Shell fuels, lubricants or shop services, customers receive a draw entry coupon at any of the participating Shell service stations.
Thereafter, customers are required to scratch their draw entry coupon to reveal a unique code and SMS both the code and their vehicle registration plate number to 8008 for a chance to win.
Through weekly draws, 10 lucky jackpot winners walk away with UGX 500,000 worth of fuel each.
Marvin Genza, a customer who purchased fuel worth UGX50,000 could not believe his luck upon receiving the UGX500,000 fuel jackpot prize. "This is a great start to the year and I thank Shell for this prize that will sustain me through the rough January blues. I encourage all customers to participate and win."
"The promotion is ongoing and will run until 16 February with activations spread countrywide at 105 Shell stations. I encourage our customers to participate to stand a chance to win over UGX500 million worth of prizes left," Mutungi added.
(Visited 1 time, 1 visit today)
Vivo Energy Uganda awarded for its child helmet safety campaign 
You could win big cash with FortBet. Click here for more
By Our Reporter
Vivo Energy Uganda, the company that distributes and markets Shell branded fuels and lubricants in Uganda, has been awarded Vivo Energy Group's Reputation Builders Award for its behavioural change campaign titled, 'Heads Up!'
Vivo Energy's Reputation Builders Award is awarded to a project or team that has made a significant contribution to improving the reputation of Vivo Energy with external stakeholders.
'Heads Up!' was launched in 2019 with an aim of creating awareness about the probable dangers that school children using public motorcycle transportation, commonly referred to as 'boda bodas', face during their daily commute to and from school ; mostly without the required safety helmets.
The partnership between Vivo Energy Uganda and Safe Boda Uganda saw both companies donate child helmets to 12 public schools in high traffic areas of Kampala.
School heads distributed and managed their use among their respective pupils that use motorcycle transportation to attend school.
Announcing the award at the Group's annual Leadership Conference, the Vivo Energy Group Head of Communications, Rob Foyle said, "The annual Vivo Awards are important as they allow us the chance to both celebrate success, and also recognise and reward some of the best work that's completed all across our company. Congratulations to team Uganda for winning this award."
Vivo Energy Uganda Managing Director, Gilbert Assi said, "This is a great honour for our company and for our Corporate Communications team, which is in charge of managing Vivo Energy Uganda's reputation with all stakeholders through socially impactful community initiatives in education, environment and road safety."
"Creating safe road users also requires that we increase public awareness about their role in enhancing their own safety. We hope that this campaign will continue to inspire the introduction and enforcement of policy to address regulation of safe transportation of children using motorcycle transportation to and from schools,'' he added.
(Visited 1 time, 1 visit today)
MTN Uganda Rewards the First Winners of new campaign "MoMoPay Trolley Dash"
You could win big cash with FortBet. Click here for more
By Reporter
MTN Uganda today started its MoMo Pay trolley dash campaign rewarding it's first three winners each with 1 million worth of goodies at Ntinda based Fraine supermarket. The telecom giant last week announced it will reward 20 customers who are paying for their goods/services using MTN MoMoPay.
Wycliff Bamulanzeki, John Masembe, Ayiko Rogers, Sharon Tumusime, and Florence Amoit were the first winners of the new campaign however only Masembe, Tumusime, and Amoit were present today.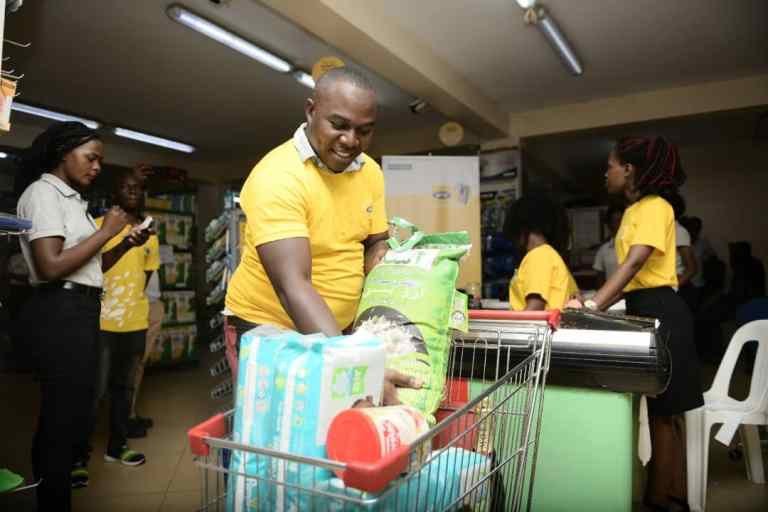 The trio participated in a UGX1 million trolley dash at Fraine Supermarket. Each took turn to shop their interest in a time period of 1 minute with conditions not to break anything or exceed UGX1 million.
On their thoughts of cashless payment, the trio commended MTN for introducing that ease payments. Quote, "this easy, fast and convenient." For Mr. John Masembe he further stated that nearly 90% of his payments are through MoMoPay.
MoMoPay is a year old since its introduction in Uganda. And so far have over 80,000+ merchants from supermarkets, pharmacies, restaurants, hardware shops, fuel stations, among others registered.
MomoPay is to combat the pain experience by customers while making transactions – especially when it comes to customer's change. Therefore, the telco through MomoPay is simplifying financial transactions by enabling people transact comfortably and conveniently using their mobile phones.
The Transaction
To be in position to use the MomoPay system, one has to be registered to MTN mobile money. Because you will have to pay for the product/service using mobile money at no extra cost. The customers sends money straight to the merchant's code and all is done instantly.
Using Point of Sale (POS) systems
In supermarket for instance, you can use MoMoPay on POS. Using the scenario of Shoprite, from the POS machine. One selects option to pay using MomoPay. Inserts their mobile phone number, and confirm payment from the phone using mobile money pin.
(Visited 1 time, 1 visit today)