I can NEVER make a song for the President – Eddy Kenzo reacts to "Tubonga Nawe" video.

Musician Eddy Kenzo has also come out to add his voice to the hundreds of citizenry that have reacted to the recently released all-star song dubbed "Tubonga Nawe" that praises the President.
Kenzo says that he has no problem with fellow artistes singing for the president but they should not have only praised him when there is apparently a lot  that is not right in our society. He added that its for this very reason that he would never record a song for the President.
Here's what he posted:
"To have a dinner with Mr president is not a problem to me, even okumuyimbiramu awo nasanyuka bambi sikibi. Naye mwandimubulidde nga mufukamidde nga bwemwakoze. Inti Taata walayi..police eyambula abakazi engoye. I swear to God kibinyo okulaba maama w'abaana nga bamwambudde in public. Enkyo kinuma ate nyo
Nze sirina tabu na Mr president naye for that case I can't record a song and video that is gona stay forever. Nga ndaga esanyu at least mugamba Taata waliwo ebitateredde ku ground.
Nga bwemwebaza neby'atukoledde kuba webiri bingi nyo. Thank you for the song guys naye mwanditaddemu obugambo like tusima taata naye waliwo issues ezataga okutunulamu.
Akimanye nti however much my people support me. Naye era they are not 100% happy. Nayongeramu kumanyi.
Naye oluyimba lugamba nti everything is ok a you kidding me?
Ebyobyebyange: FOR GOD AND MY COUNTRY. Thank you"
BigEyeUg Staff
(Visited 1 time, 1 visit today)
Sheilah Gashumba and God's Plan Set Introduction Date

By Staff Writer
If all goes as planned, God's Plan will be visiting Sheilah Gashumba's parents before the end of September.
According to information received from friends of the couple, efforts are underway to reach out to Frank Gashumba, the only blocker at the moment.
"Sheilah Gashumba's mother is aligned and is ready to take God's Plan as her son in law. The only hitch-up is with Papa Frank who is still cold towards the couple," Vanessa a friend tells us.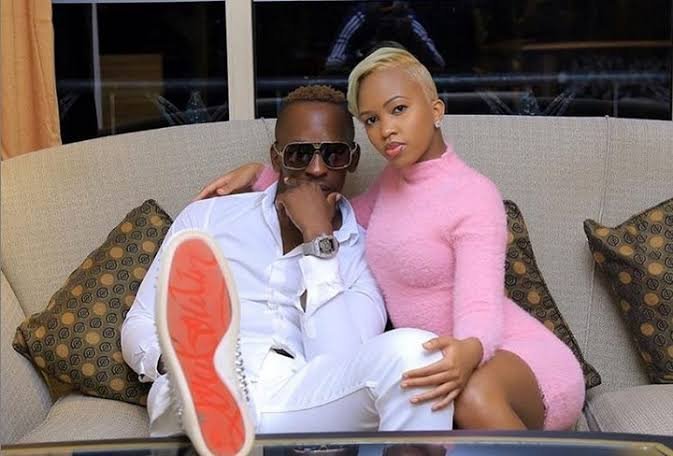 It is rumoured that by end of September, God's Plan will have delivered the required number of cows to Sheilah's family and later on have the wedding in December.
We shall keep you updated about this development…
(Visited 1 time, 1 visit today)
Beenie Gunter strikes again in double releases

Gun Talk singer Beenie Gunter seems to habe started a new serie of his career. Going by his new momentum, the singer is on a music release rampage. Beenie Gunter has released two songs and also pledges that will be his way of releaseing music "Double release"
Beenie Gunter in his two releases has a single and a collabo featuring Lydia Jazmine. In No Letting go is another of the song song where fellow singer Jazmine is featured while Oliwa Dala is a solo project.
Both projects are doing well and enjoying massive play. Talking to the singer, he said "Been working on this for years and I am ready to go now. Both videos will be shot next week"
(Visited 1 time, 1 visit today)
Bebe Cool Calls Off Kiwatule Show in Solidarity with Bobi Wine
According to sources Bebe Cool decided to call off his usual Easter proggie as a way of identifying with someone he mentored in the music industry.

By Staff Writer
We have now established the actual reason why there won't be an Easter show in Kiwatule this Monday.
According to sources Bebe Cool decided to call off his usual Easter proggie as a way of identifying with someone he mentored in the music industry.
"Bebe Cool doesn't want unfair competition. He wants to hold shows again after Bobi Wine has been allowed to resume his concerts. So he decided not to have an Easter Monday in Kiwatule," says a source.
If this indeed the reason why Bebe Cool didn't organize this show then wonders are not about to stop.
Meanwhile Uganda Police says it is not yet in position to provide security at Bobi Wine's concert. "How can you abuse the police and claim the country is unstable yet still want to have a concert in an unstable country?" a police officer wondered.
(Visited 1 time, 1 visit today)