I can NEVER make a song for the President – Eddy Kenzo reacts to "Tubonga Nawe" video.
Musician Eddy Kenzo has also come out to add his voice to the hundreds of citizenry that have reacted to the recently released all-star song dubbed "Tubonga Nawe" that praises the President.
Kenzo says that he has no problem with fellow artistes singing for the president but they should not have only praised him when there is apparently a lot  that is not right in our society. He added that its for this very reason that he would never record a song for the President.
Here's what he posted:
"To have a dinner with Mr president is not a problem to me, even okumuyimbiramu awo nasanyuka bambi sikibi. Naye mwandimubulidde nga mufukamidde nga bwemwakoze. Inti Taata walayi..police eyambula abakazi engoye. I swear to God kibinyo okulaba maama w'abaana nga bamwambudde in public. Enkyo kinuma ate nyo
Nze sirina tabu na Mr president naye for that case I can't record a song and video that is gona stay forever. Nga ndaga esanyu at least mugamba Taata waliwo ebitateredde ku ground.
Nga bwemwebaza neby'atukoledde kuba webiri bingi nyo. Thank you for the song guys naye mwanditaddemu obugambo like tusima taata naye waliwo issues ezataga okutunulamu.
Akimanye nti however much my people support me. Naye era they are not 100% happy. Nayongeramu kumanyi.
Naye oluyimba lugamba nti everything is ok a you kidding me?
Ebyobyebyange: FOR GOD AND MY COUNTRY. Thank you"
BigEyeUg Staff
(Visited 1 time, 1 visit today)
Video: DJ Shiru releases Tewelumya mutwe featuring John Blaq
By Staff
On form young talent John Blaq has teamed up with celebrated DJ Shiru in a new club banger. Shiru has teamed up with John Blaq and added Jowy Landa to their new incredible tune @Tewelumya Mutwe" remix
Watch it here
(Visited 1 time, 1 visit today)
Tanzanian singer Tito Philemon and DJ Ally B set for Club Dome this Saturday
By Reporter
As Club Dome returns in another edition, Tanzanian duo Tito and DJ Ally B this Saturday headline the Club Dome in Kampala at the MTN Warehouse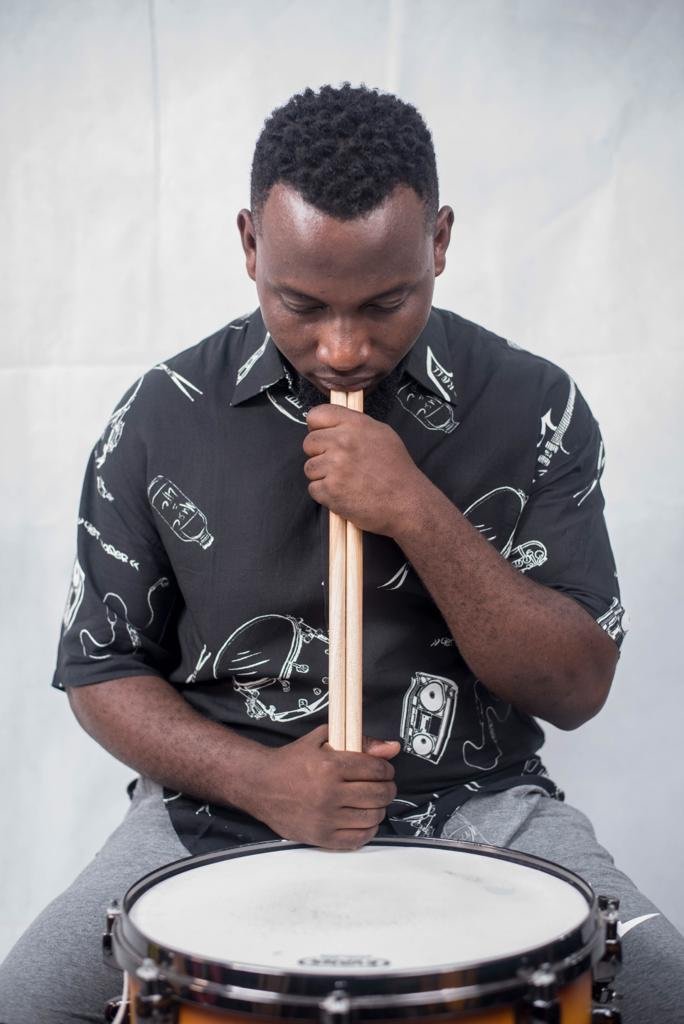 Who is TITO PHILEMON?
A drummer with over 5 years' experience of performing with live bands, drum and dj, studio sessions, solo drum performances and ability to sight-read.
Professional Experience • Teaching drums at music mayday 2015 – 2017 • Teaching drums and Rhythmic reading and writing at Action Music
Academy 2019 -Present • Performed in various Festivals and Concert with different artist's i.e. playing for Mim Suleiman at Sauti za busara Zanzibar, playing for Arcenio & Anichka Karibu festival Bagamoyo, Vannessa Mdee and also Weusi at Castle lite unlock concert in Dar es salaam 2017, playing for Mzungu Kichaa at Couleur Café in Copenhagen. • Performed a drum solo as a guest drummer at Drum Jam concert in Nairobi. • Currently Performing with Mopao Swahili jazz band a jazz fusion band in Tanzania. Educational Experience• Studying music theory through Global Music Academy program for music teachers in Africa Additional Skills• Putting up together a band for session performances/studio sessions• Coordinator for Action Music Organization in Tanzania
(Visited 1 time, 1 visit today)
Abryanz Awards open for nominations today
By Reporter
Days after announcing the return of the famous Abryan Style and Fashion Awards, ASFA CEO Brian Ahumuza and Talent Africa boss Alli Alibhai have today announced nominations for the ASFA 2019 are open.
"This year's ASFAs feature 14 categories, 4 categories are honorary and will be awarded by the ASFA 2019 panel while the remaining 10 categories are up for nominations. Nominations start today on 23rd August and end on 8th October. We encourage masses to get engaged in the activity so we do not have their stars left out" Abryanz commented during the announcement.
SEE FULL LIST OF ASFA2019 CATEGORIES
Honorees (To be selected by the Asfa 2019 panel)
1. Icon Award
2. Lifetime Achievement Award
3. Positive Change
4. Special recognition Award for Innovation
Competitive Categories
Fashion Designer
Model of the Year (Uganda and Africa)
Fashion Stylists (Uganda and Africa)
Hair stylist (Uganda and Africa)
Fashion Photographer (Uganda and Africa)
Make up Artist (Uganda and Africa)
Most Stylish Artist (Uganda and Africa)
Music Video Award (Uganda and Africa)
Fashion Media Excellence (Uganda and Africa)
Fashionista of the Year (Uganda and Africa)
HOW TO NOMINATE:
Via email:
STEP 1: Give a brief description of yourself or the person you would like to
nominate under a specific category.
STEP 2: Attach a portfolio (work) of the nominee
STEP 3: Send email to nomination@abryanzstyleandfashionawards.com
A confirmation of receipt will be sent for received submissions.
Via website:
STEP 1: Visit
STEP 2: Fill in the nomination form on the website about yourself or the person
you would like to nominate under a specific category.
STEP 3: Attach a portfolio with the nominee's work in the fashion industry.
STEP 4: Submit.
Via Social Media
Using your active twitter, Facebook and Instagram
Post a picture of your nominee
Caption the image with the name of the category and nominee you wish to
nominate.
Don't forget to use the hashtags #ASFA2019 #TheSTARZ
A confirmation of receipt will be sent for received submissions.
(Visited 1 time, 1 visit today)