Hima Cement Scoops Platinum Honour At Export Awards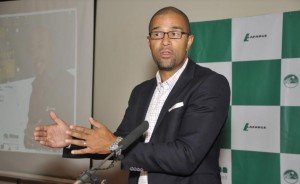 Building solutions firm, Hima Cement has been recognized as the exporter of the year at the annual Presidential Exporters Awards gala held at Grand Imperial Hotel on January 18, 2018.
The awards, organized by the Uganda Export Promotions Bard (UEBP) are meant to recognize manufacturers that have earned the country a great deal of foreign exchange through exporting some of their locally made products.
Allan Ssemakula, the Acting Country CEO, Hima Cement says that the cement maker's continued focus on providing customers with innovative propositions combined with effective cost management have enabled the firm cater to the diverse needs of the markets that they serve.
"We are very honored to receive this award from the exports board; a sign of recognition for the service we are offering the nation. As Hima Cement, we are committed to being the preferred provider of cement and concrete based building solutions in East Africa with a strong focus on customer experience," he stated.
Ssemakula also added that Hima Cement clients benefit from the technical expertise and product innovation that are the hallmark of LafargeHolcim Group, the world leader in the building materials industry.
Hima Cement received the Platinum Award, making the cement maker the overall winner after exporting products worth USD56million in the regional markets.
A total of 50 companies were evaluated by UEPB, Ministry of Trade, Industry and Coopratives, the Private Sector Foundation Uganda and the Uganda Investment Authority in 18 product lines. The companies were assessed based on export performance, contribution towards Uganda's socioeconomic development, product diversification and Corporate Social Responsibility.
Dr. Ruhakana Rugunda, Uganda's Prime Minister who officiated at the awards on behalf of the President, lauded the companies involved in the exports sector which he said was a sure way to earn the country much needed foreign exchange, jobs as well as improving the quality of lives.
He also encouraged exporters to work in groups and cooperatives in order to consolidate international trade gains such as sustainability of quality, quantity and timely delivery to international markets and also to continue investing in value addition.
Hima Cement offers a range of innovative and high-performance products that are highly adaptable. The cement firm lends itself to all kinds of projects like the Bujagali Hydro Power Project, Kampala-Entebbe Expressway, Karuma Dam, the new Jinja Nile Bridge among others. It currently serves its core markets of Uganda and Rwanda and exports to Eastern DRC and South Sudan.
East Africa is one of the fastest growing regions in the world with an average GDP growth of c7%; the construction sector is growing at a higher pace of over 10% per annum. Cement demand in Uganda and in the region is projected to remain strong supported by the resurgence in infrastructure development and key Mega Projects.
"We are very positive about the long-term prospects of the cement industry in Uganda and the region, and LafargeHolcim is keen to solidify its position in the region as the leading producer of building solutions providing its customers with innovative value adding propositions," he explained.
The Platinum Award given to Hima Cement followed a thorough evaluation exercise held towards the close of 2017 that required firms to submit information on their export activities including revenue, marketing activities, innovations, among others.
(Visited 1 time, 1 visit today)
Coca-Cola, REHORE sign MoU to empower women in refugee settlements
Coca-Cola Beverages Africa (CCBA) Uganda has signed an MOU with REHORE, a local NGO that will see over 10,000 women refugees in Bidi bidi, Kiryandongo and Nakivale camps empowered for improved livelihoods. This initiative is one of the several that Century Bottling Company in Uganda has embarked on under the global 5by20 Coca-Cola pronouncement over the years.
5by20 is the Coca-Cola Company`s global commitment to enable the economic empowerment of 5 Million women entrepreneurs across the Company`s value chain by the year 2020. "Women around the World are already pillars of our business system and as part of our Women Economic Empowerment Program; we shall this time round empower refugees in camps in partnership with REHORE which will be the NGO that will actually do the day to day running of the project in the camps. By doing this, we affirm our need to build both our business and the communities in which we operate". Conrad Van Niekerk, Managing Director, Coca-Cola Beverages Africa Uganda.
"In Uganda, running successful businesses is mainly a male domain. Through 5by20, we address the most common barriers women face when doing business which include; Lack of basic business skills, Lack of financial services or assets and lack of access to peer networks and mentorship. This initiative offers women access to business skills training, linkages to financial services and connections with peers and Mentors, along with the confidence that comes along with building a successful business. I am glad that we are able to support women through this initiative and our value chain." Conrad added.
This program through REHORE will identify women refugees in Kiryandongo, Nakivale and Bidi Bidi Settlement Camps who will be beneficiaries of a skilling program using locally available resources within the camps in addition to retailing Coca-Cola products and establishing plastic collection initiatives in the camps. The activities will include bee keeping, backyard gardening, echo bag production, candle making, hair and beauty skills, catering, sewing and tailoring, soap making, colouring and painting as well as art and craft.
"We are pleased that together with our partner the Coca-Cola Beverages Africa, we are making an important contribution towards realization of the government vision 2020," Joseph Rwamihigo, the Founder of REHORE stated.
(Visited 1 time, 1 visit today)
MTN Uganda to unveil Sponsorship of the Nyege Nyege Festival
MTN Uganda is expected to announce sponsorship of the Nyege Nyege Festival, an annual non-stop musical extravaganza that takes place along the shores of the River Nile.
Nyege Nyege Festival, which means "The irresistible urge to dance", brings the most cutting-edge musical acts from around Africa and beyond in a magical setting on the shores of the river Nile in Jinja Uganda. This year it is set to take place from Thursday 6th September to Sunday 9th September 2018.
Speaking ahead of the official launch the MTN Chief Marketing Officer Mr. Olivier Prentout was ecstatic about the partnership and the role the festival plays in the hearts of Ugandans.
"Since its inception, the Nyege Nyege Festival has been revered for its work in exploring, producing and releasing outsider music from around the region and beyond. Ugandan artistes will enjoy a unique opportunity to showcase their music and arts on the same stage with other 100 foreign artists and thousands of audiences attending the event and viewing it online. Through this partnership, we look forward to celebrating culture, booting tourism and creating a platform for people from all walks of life to enjoy and celebrate all kinds of music; as you know, music is food for the soul!", Prentout said.
Details of the sponsorship will be announced today, Wednesday 21st February 2017 at The Square, Industrial Area.
Last year, a host of artists from Uganda, East Africa, Africa and Europe descended in Jinja along the banks of River Nile for a three-day festival of music and dance. So successful that the rain couldn't take away the enjoyment of the attendees.
(Visited 1 time, 1 visit today)
MTN announces new data rates
MTN Uganda has revised data rates to continue the drive towards ensuring offering affordable internet to Ugandans. The reduction in data is expected to drive further internet connectivity, facilitate business growth and enable communication through internet-based channels.
The rate reduction, according to Wim Vanhelleputte the MTN Uganda CEO is an indication that as uptake and internet usage continues to grow, the internet rates will also continue to fall. "What we are currently witnessing is data revolution coming into full swing. The reduction in pricing is by over 100%, indicating our commitment towards internet connectivity and affordability for all," he said.
The revised data bundles are not just price based but also include increased volumes for a lower price. For instance, the lower data bundle threshold has been increased to 15MBs from 10MB at a price of Shs250. For Shs5000, a customer would get 325MB but with the new rates, a customer gets 1GB for that price. This is more value for the customer at the same price.
For Shs100,000, you can now get Shs30GB for a month. In the old rates, a customer had to pay Shs285,000 to get 30GB.
"It is important that our customers not only get lower rates, but also experience a good quality network – where we are keen to continuously invest; everywhere. MTN Uganda over a two year period of 2017 and 2018 has budgeted over Ugshs 400 Billion invested in network upgrades in order to improve customer experience. This will increase our 3G sites and 4G/LTE sites to deliver a bold digital world to our customers," he added.
According to Wim, MTN Uganda's planned investment will upgrade the network in order to ensuring quality, good coverage and better experience. Further investment in the network also means the internet speeds continue to improve, which will facilitate business growth and innovation.
"In the world right now, the internet is driving innovation to unprecedented levels. We are seeing this in our numbers and data continues to be one of the fastest growing sources of revenue and subscriptions for MTN Uganda. We expect this trend to continue," Wim pointed out.
(Visited 1 time, 1 visit today)