Here is what Chameleone's "AGATAKO" song is about
By BigEyeUg Team
Days after he revealed that he was shooting a video for his Agatako song in Rwanda, social media went ablaze over the name of the video. The name to many sounded obscene for those who speak Luganda or other bantu languages in Uganda.
While clearing the air, a crew from Rwanda who are here for the Uganda Rwanda night (Pius Charlie, Nina Jodi Phibie and Byg fizo) revealed the exact meaning of the song.
They said; "Agatako is a Rwandan word which means something spontaneous. It has nothing to do with obscenity that we have heard some people attaching it to. In Rwanda the types of words differ and the meaning of the word is different. Actually it has something to do with love. It is very far from what Ugandans think it means. When pronouncing it, you have to prolong the 'g' to get it right."
The video will come out soon.
(Visited 1 time, 1 visit today)
Afrigo Band set to launch their 22nd album
By Our Reporter
Afrigo Band are set to launch a new music album. Titled "Teri Mubi", the 11-track album will be their 22nd in a career that spans over 40 years.
The new album which comes 10 years after they last released a new single saw them collaborate with Jose Chameleone, the only collaboration on the album. Chameleone features on the title song, Teri Mubi, in which they acknowledge that every individual will always have some one that finds them attractive.
Produced by Nairobi-based Vincent Othieno, the album is composed of other songs like, Emiziro, Kitokota, Gira Oyige, Olulimi Lwange and Ham Jambo among others.
According to Moses Matovu, the band lead, they have taken close to 4 years working on this album and it was specially made to quench their fans thirst for new music. "Our fans have been demanding for new music and we decided to make this album as a special gift for them," he said.
The new album will be officially launched in a mega concert slated for October 5th at Hotel Africana. "We promise to give you the best production and you should expect to have a wonderful time," Rude Boy, one of the band members, noted while speaking about the upcoming concert.
Meanwhile, the new album is already available for streaming on Tidal and will soon be available on other platforms as well as in physical copies.
(Visited 1 time, 1 visit today)
Photos: Lily Kadima Restores Hope in Buwenge Parents School through Charity
By Reporter
Singer Lily Kadima has given out charity to Buwenge Parents school going kids with the aim of raising hope for them, "Banabaidho" to stay in school.
We have learnt that she is on the move to restoring hope in different kids allover the country who give up on education and move out of school yet they can get a good life through education that is why she decided to give back to the community.
Being a Busoga born musician, the "Ndi Mugumu" singer, Lily Kadima decided to move way back to Buwenge Parents Primary School, which is a day and boarding found school in Jinja District – Buwenge town council in Kagoma county.
She took a lot of scholastic and hygiene improvement equipments like: Books, pads for girls, pens, and other things needed for them to stay In school.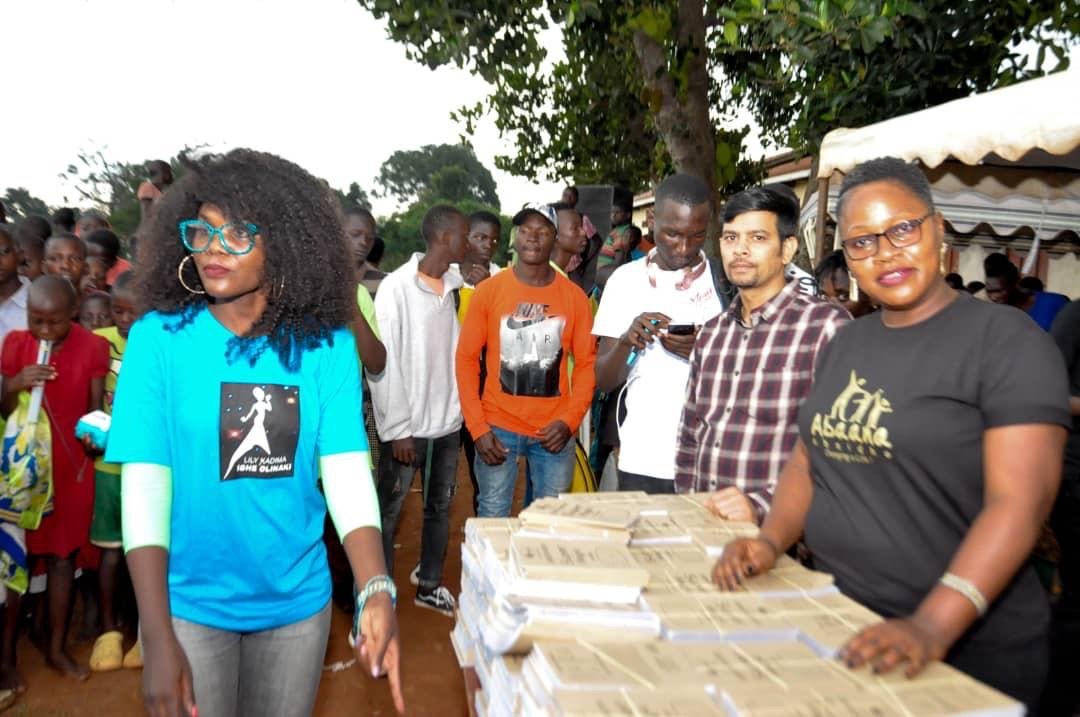 (Visited 1 time, 1 visit today)
Alikiba lands in Uganda ahead of showcase this evening
By Reporter
Tanzanian singer Ali Kiba yesterday landed in Uganda ahead of concert tonight at Hockey grounds. The show tonight will feature Ugandan artistes Weasel, Sheebah Karungi and John Blaq.
Ali Kiba is a singer/songwriter, born on November 26, 1986 in Tanzania. He is one of the most liked personalities in Tanzania. His song Mwana was a massive hit and garnered great reviews.
(Visited 1 time, 1 visit today)