"Gwe Kapo" campaign launched to make motorbike riders' lives easier
Vivo Energy Uganda has launched a motorbike rider campaign dubbed "Owa Boda Gwe Kapo". The campaign unveils a wide offering for the rider at Shell service stations as well as a promotional and reward platform – the Shell Boda Club.
The Boda-Boda industry is a significant segment of the transport industry in Uganda, yet only a few organisations have developed targeted products for this community. Vivo Energy has respect and appreciation of all its customers, as demonstrated by this specialised offering for Boda-Boda riders.
Speaking at the Gwe Kapo campaign launch in Namirembe, Vivo Energy Marketing Manager Jean Mugisha said, "At Vivo Energy we take time to understand our customers and their needs and work hard to provide convenient solutions for them, that are accessible across the country at all our sites."
Boda-Boda riders are key to the Ugandan economy as they move thousands of people daily and keep people and businesses mobile. Whilst they play this critical role, they don't necessarily have speedy, convenient and accessible services.
Mugisha further highlighted the rider offer at Shell: "Motorcyclists have dedicated fuelling points at selected service stations with high biker traffic, they can enjoy quick and free oil change services at 60 stations and we offer Shell Advance, an engine oil specifically designed for different types of bikes and riding styles to allow riders to get the most out of every ride."
"Because the riders' needs are not limited to oil and fuel, Vivo Energy has set up value added services to enrich the offer and meet all needs of the riders. The riders have access to cash change, whether they purchase or not at the Shell service stations. We are also excited to partner with key suppliers and providers of motorcycle related products and services. Simba Automotive has provided technical expertise and trained all our motorbike-dedicated mechanics; and ThinVoid, through its Tambula initiative, extends short term credit to riders." she added.
Under the "Gwe Kapo" campaign Vivo Energy has also unveiled a reward and loyalty program called the Shell Boda Club, targeted at the Boda-Boda riders who use Shell Advance motor oils. Under the Shell Boda Club, registered members will get rewarded for using Shell Advance motorbike oil and servicing at Shell service stations with various prizes including helmets, free fuel, reflective jackets, t-shirts, key rings and brand new motorcycles.
To join the Shell Boda club, a rider should service at a Shell service station and be registered in the Shell Boda Club book. Each registered rider will also receive a Shell Boda Club card. With each service and purchase of Shell Advance motorbike oil, service record details will be indicated in the Shell Boda Club book and on the rider's club card. Riders that purchase more stand a chance to win more.
The Shell Boda Club is a part of a bigger service offering to the Boda-Boda rider, under the Gwe Kapo campaign.
(Visited 96 time, 1 visit today)
Airtel Uganda donates goats to girls in Karamoja region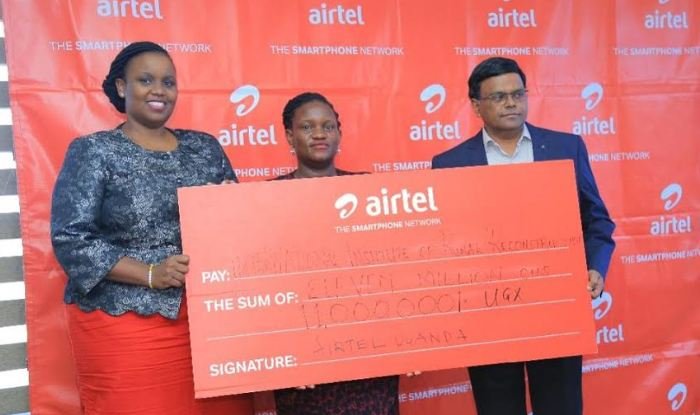 Airtel Uganda has announced a partnership with the International Institute of Rural Reconstruction (IIRR) to join in their fundraising campaign dubbed "Goats For Girls" that aims at keeping young girls in the Karamoja region in school.
As part of the partnership, the telecom company handed over UGX11,000,000 for the purchase of 100 goats that will be handed over to girls in Moroto and Napak districts. Each girl will be handed two goats from which she will obtain income to pay school fees and purchase scholastic materials. Upon reproduction, she will be required to give the first two kids to another girl for the process to continue and benefit other girls within the community.
Speaking during the handover, Airtel Uganda Managing Director Mr. V.G Somasekhar pledged Airtel Uganda's support to ensure that school-going children in local disadvantaged communities have access to quality education, which will benefit them, their families and their communities.
"Girl child education is not a priority in many local communities across Uganda. At Airtel Uganda, we believe that it is critical for the empowerment of women and are therefore committed to ensuring that girls in the most disadvantaged communities get equal opportunities to access quality education and realize their potential," he noted.
On why they have chosen to donate goats, Mr. Somasekhar noted that the initiative is not only supportive of ensuring that the girls stay in school but also ensures economic empowerment that is much needed to bridge the socioeconomic gaps witnessed across the country.
According to United Nations' Girls Education Initiative statistics, literacy rates for young females still lag behind that of young boys by five percent, and nearly half of all girls in Uganda are married before the age of 18. In Northern Uganda – Karamoja region, girls take on women roles faster because they cannot afford to go to or stay in school due to economic challenges.
Commenting on behalf of IIRR, Pamela B. Nyamutoka Katooro, the IIRR Uganda Country Director, appreciated the partnership with Airtel and stated that this would go a long way in improving education outcomes for disadvantaged girls especially in pastoral communities.
"Since 2015, IIRR's "Goats 4 Girls" model has successfully been used to support over 2000 girls to enroll and stay in school. The initiative inhibits the practice of forced early marriage and empowers girls with not only educational benefits but also economic independence that enhances their self-worth, dignity and confidence," she commented.
(Visited 96 time, 1 visit today)
LG expands retail chain in Uganda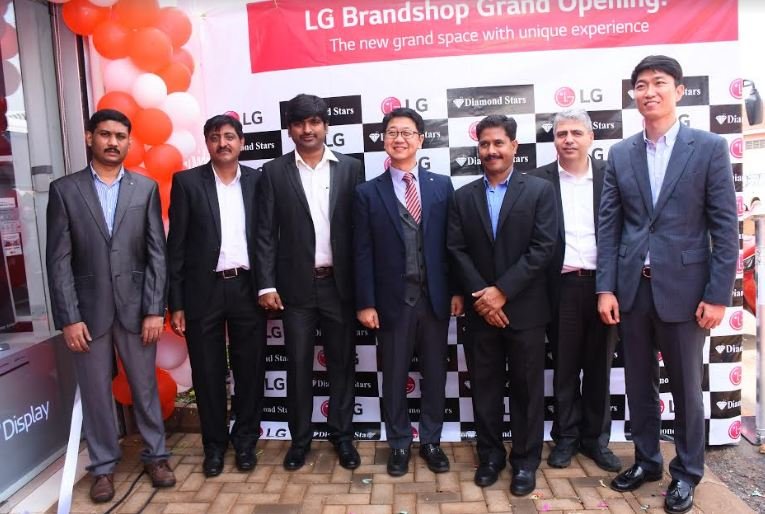 LG Electronics has launched a new brand shop in Kampala's industrial Area that will see the consumer reach doubled in the country.
The 70,000 USD (257 million UGX) investment comes after LG successfully engaged the distributor Diamond Star who will be managing the store, bringing the total number of LG outlets to three in Uganda.
LG has also simultaneously opened a parallel service center in Kampala to cater to the rising number of consumers using LG products.
"We are responding to the rising demand of LG products in the Ugandan market. This expansion will improve the availability of our innovative products to our growing client base. We project that the new store will serve more than 200,000 new customers every month," said Mr. Moses Marji, Marketing Director, East and Central Africa.
LG is a leading supplier of home electronics and appliances to the region and has stores in Kenya, Uganda, Tanzania, Ethiopia, Sudan, Zambia and Rwanda.
Today's launch brings LG's retail store count in the Eastern African region to 98. Four new stores were opened in the region in 2017. Additionally, the company will also refurbish and upgrade some of the major existing outlets to meet the global LG Electronics' shop standards.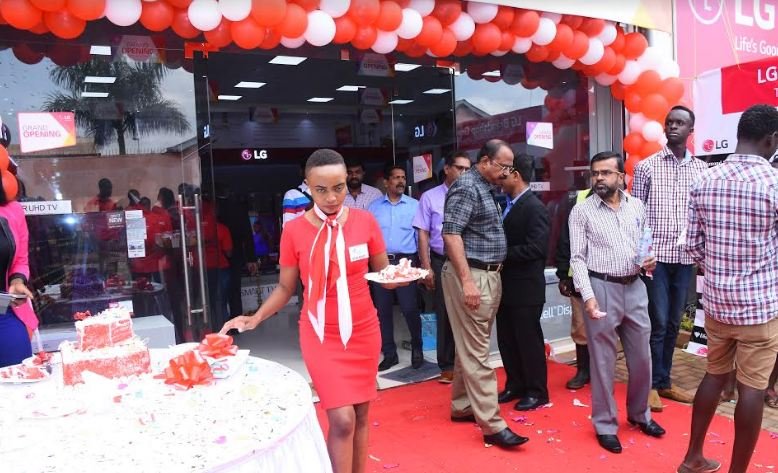 LG Electronics Managing Director in charge of East and Central Africa Janghoon Chung said the company is committed to delivering high quality products that bring convenience to the lives of consumers.
"At LG, quality is our priority and we take the time to make sure that our customers are satisfied with the products that they buy. This is also part of our contribution to the growth of Uganda's economy by delivering outstanding value to customers every day," said Mr Chung.
Some of LG's headlining home appliances such as the LG TWIN Wash will first hit the Ugandan market through the new shop. The TWIN Wash has the capacity to handle two separate loads simultaneously, allowing users to wash different types of clothes seamlessly.
The new brand shop will also stock LG's new range of Super UHD TVs that use Nano Cell technology to deliver accurate colors and high picture quality even when viewed from wide angles.
(Visited 96 time, 1 visit today)
MTN UGANDA LAUNCHES MTN SHORTZ.
MTN Shortz allows subscribers to post video content
There is an opportunity for content created to generate revenue
Video content of up to 10 minutes can be uploaded
To subscribe and upload, visit www.mtnplay.co.ug/shortz
MTN Uganda in a continuous drive to become a digital company has today launched MTN Shortz, a short video streaming platform. MTN Shortz is a mobile-only service that allows subscribers to upload videos of no more than 10 minutes. MTN Shortz is available through mobile phones only on www.mtnplay.co.ug/shortz.
The streaming service allows subscribers to directly post video content from their mobile devices.
"MTN is creating an opportunity for its subscribers to create video content and earn from it. As the leading tech brand in Africa, we are always looking for ways to use technology to provide services that uplift the quality of life in the markets where we operate and so MTN Shortz," said Olivier Prentout, the Chief Marketing Officer.
MTN Shortz has several channels that subscribers can pick to upload content of their choice. It consists of channels belonging to different content owners, which users can access to view a variety of content. For subscribers to view the content on MTN Shortz, there is a daily charge of between Ugx200 and Ugx1000.
For a video viewed, the content owner will be able to earn some money from the visits.
"The MTN Shortz channels will have local content videos, meaning that for the Ugandan content producers, there is an opportunity for views and extra income. MTN believes that MTN Shortz will be able to drive local content video production," Prentout notes.
Adding "There is also an opportunity for those that want to be seen by professional content creators. There are several professional content creators that will be using MTN Shortz and will be able to identify the untapped talent. You won't have to wait for the opportunity to come to you, you can create it."
For the MTN Pulse community, MTN Shortz is empowering the lifestyle of creating an opportunity. There are several platforms where people can post videos, however on MTN Shortz, the fact is that there is an opportunity to make money. The MTN Pulse community, there will be several exclusive offers in order to access and use MTN Shortz.
(Visited 96 time, 1 visit today)