Golden Jubilee: Uganda Martyrs Namugongo Old Students Hand Over 10 Million To Rebuild School Gate

By Our Reporter
It was all joy as Uganda Martyrs SSS Namugongo Old students handed over a 10 million dummy cheque to the school as part of the school gate rebuilding project. The ceremony that kicked off at 2pm was spearheaded by the Old Students Association (UMOSAN). The ground-breaking moment happened at the school premises in Namugongo next to the Martyrs Shrine.
Speaking at the ceremony, the UMOSAN President, Aaron Ssemakula noted that this was a start of even greater things as Old Students come together to uphold the greatness of the school. An over-joyed Reverend Father Henry Kasasa received the Old Students contribution among cheers from some members of staff and other old students.
The Gate Reconstruction Project will cost 40 million shillings to completion. The Old Students now have a challenge to raise the remaining 30 million Shillings ahead of the School's 50th anniversary celebrations in June this year. Asked why the old students chose the gate, an unidentified old student noted that "a gate is symbolic in a sense that it's the first thing you see as you join a school and it's the last thing that meets your eyes as the school releases you into the world. We want all the people who've gone through the gates of Namugongo to always look at this symbol as the platform where their greatness was first brewed."
The School was founded in 1967, 50 years later, the school has positioned itself as one of the most successful and best performing Ugandan Secondary Schools of all time. Surely, it's been perseverance to reach the peak of success.
As part of its expansion programme, the school has also started a Day Care and Nursery School for the Namugongo Parish in an exchange program for farm land just above the Namugongo Football pitch. This will enable Agriculture students conduct hands on Lessons.
(Visited 155 time, 1 visit today)
Trendz Lounge to host East African DJ show down.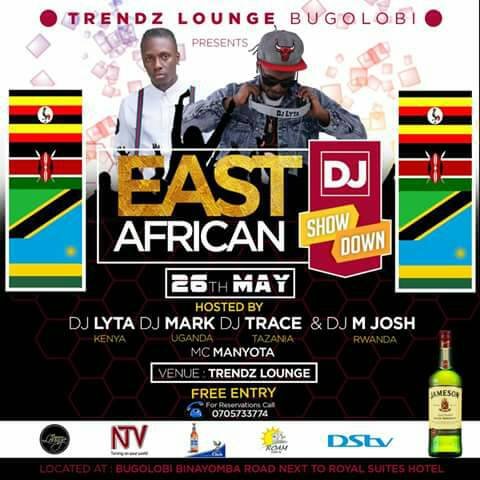 Top East African DJs are set for a musical battle at Trendz Lounge this Saturday on May 26th 2018. East African top DJs from Uganda, Kenya and many others are set to rock parties at the Bugolobi based hangout. DJs Mark (Uganda), Lyta Kenya), Trace, Josh and MC Manyota will combine their music efforts this Saturday to entertain partiers.
You can also catch live Champions League final game live on giant screens as you enjoy the music.
"26th  May 2018 this Saturday Trendz Lounge Bugolobi presents the biggest East African DJ showdown featuring DJ Lyta from Kenya, DJ Mark from Uganda, DJ Trace, DJ M Josh and MC Manyota. Get your lighters ready because we gonna light up the place," Trendz Lounge posted.
(Visited 155 time, 1 visit today)
MPs start campaign to make Uganda's highways safer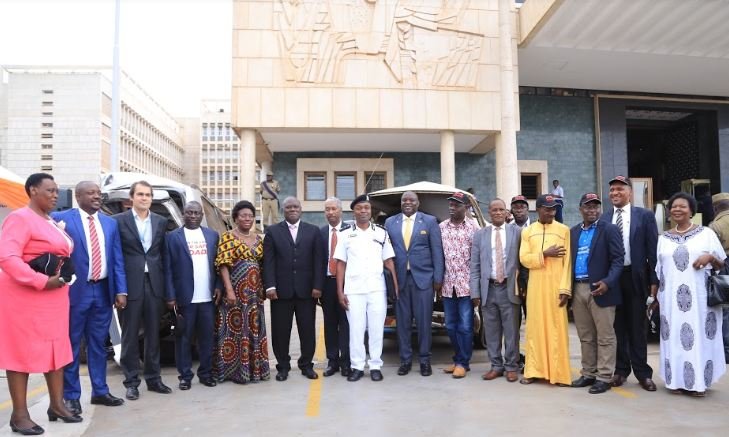 The Parliamentary Forum For Road Safety with support from the World Bank's Global Road Safety Facility and in partnership with the Ministry of Work and Transport and Safe Way Right Way have launched the implementation of the road safety legislative action plan as an effort to address legislative issues regarding the institutionalized management of road safety, safer roads and mobility, safer vehicles and road users, and post-crash response
In Uganda, fatal crashes rose from 500 in 1991 to 3,503 in 2016, representing a seven-fold increment over period of 25 years. a new World Bank study finds that reducing road traffic deaths and injuries could result in substantial long-term income gains for low- and middle-income countries.
Using detailed data on deaths and economic indicators from 135 countries, the study estimates that, on average, a 10% reduction in road traffic deaths raises per capita real GDP by 3.6% over a 24-year horizon. the study finds that countries that do not invest in road safety could miss out on anywhere between 7 and 22% in potential per capita GDP growth over a 24-year period.
This justification requires policymakers to prioritize proven investments in road safety and provides the bedrock for the World Bank intervention through the Global Road Safety Facility. Established in 2006, the global road safety facility is a global partnership program administered by the world bank with the mission to help address the growing crisis of road traffic deaths and injuries in low and middle-income countries through funding, knowledge transfer, technical assistance and advocacy.
The who global road safety status report – 2015 puts annual road traffic fatalities in Uganda at over 10,000, it is abundantly clear that road safety is a significant and rapidly growing public health and socio-economic burden… the health management information system data indicates that the public health system is overwhelmed with road traffic crashes which are listed among the 10 top leading causes of hospital deaths in the country.
It was this alarming rate of road accidents that led Safe Way Right Way and Members of Parliament to establish the PARLIAMENTARY FORUM ON ROAD SAFETY (PAFROS) and the subsequent development of a legislative action plan based on a gap analysis of the traffic and road safety act as well as recommended best practice across an array of policies and legislation cutting across several government ministries, departments and agencies".
The emphasis for the success of this project will be the ability for staekholders to ensure sustained policy development and implementation across several government agencies with a mandate to support road safety improvement.
"The most critical output following the establishment of the forum is the development of a legislative action plan informed by the 5 pillars of road safety as recommended under the United Nations decade of action for road safety to which Uganda is a signatory".
"Our action plan seeks to address legislative action: policy development, enactment, implementation and evaluation across several sectors", to create national awareness, debate and attention towards improvement of road safety in Uganda.
PAFROS intends to deliver legislation that will support government agencies to develop and implement policies that will ensure a systematic approach to road safety improvement in uganda.
(Visited 155 time, 1 visit today)
J.K Holdings drags CMA's Kiryabwire to Law Council.

J.K Holdings has petitioned the Uganda Law Council over Capital Markets Authority's Angella Kiryabwire for bleaching the professional ethics and the non discourse agreement.
In the letter dated May 18. 2018 from Tumukunde & Luwaga Co. Advocates and signed by Tumukunde N, J.K Holding accuses Angella Kiryabwire for leaking their confidential information to their competitors.
According to the letter, Ref/ 18/TL/05, J.K Holdings Limited sought to establish a Collective Investment Scheme through CMA, upon which Kiryabwire requested the company lawyer to furnish the authority with a checklist of all documents needed before approval.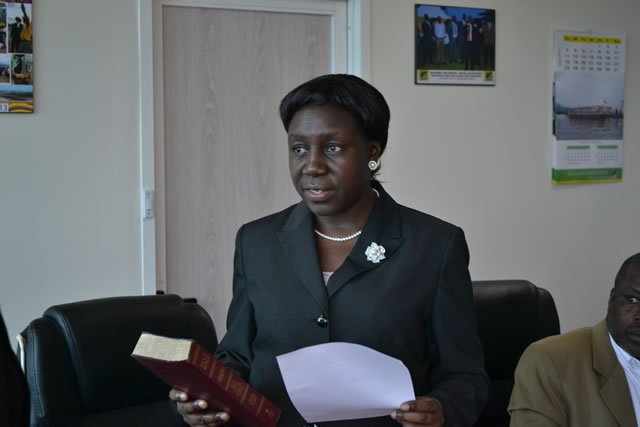 The letter says that though Kiryabwire and JK. Holdings signed a Non-Disclosure of Information Agreement to third parties before the elapse of six years unless ordered by a competent court, she went ahead and shared the information with Stanlib Uganda Limited who runs a collective investment scheme called Money Markets Fund and IRSTA Limited.
JK. Holdings' lawyer explained that they had mail correspondences between Kiryabwire, the Chief Executive Officer of Standlib Limited Mrs. Annette Rumanyika Mulira and Lydia Muleembe of IRTSA Limited.
"On August 12, 2018 at 11am, Mrs. Angella Kiryabwire sent all our documents we shared with her to kirabwiretrevor@gmail.com after a few minutes kiryabwiretrevor@gmail.com forwarded all the documents received to Imuleembe@gmail.com this is the personal email of Lydia Muleembe the CEO of IRSTA Limited,"
As a result to sharing this information our software servers have been hacked into, several messages have been sent to our prospecting investors discouraging them from investing with us. "Our prospecting agents in Uganda who had agreed to work with us have been contacted and told not to work with us because we are a fraudster. This has greatly damaged the reputation of the company and its prospecting business," the letter adds.
"The location of our intended premises which was among our Trade secrets disclosed to Mrs. Kiryabwire has been taken over by our competitor IRSTA Limited."
According to J.K Holdings, the application to operate a Collective Investment Scheme by IRTSA was granted within one week. The company claims that though they had filed their application over one year ago, they had received no explanation from CMA as to why their application had taken that long.
"The actions of Kiryabwire contravene Rule 7 of the Advocates Professional conduct regulations SI-267-2."The letter states.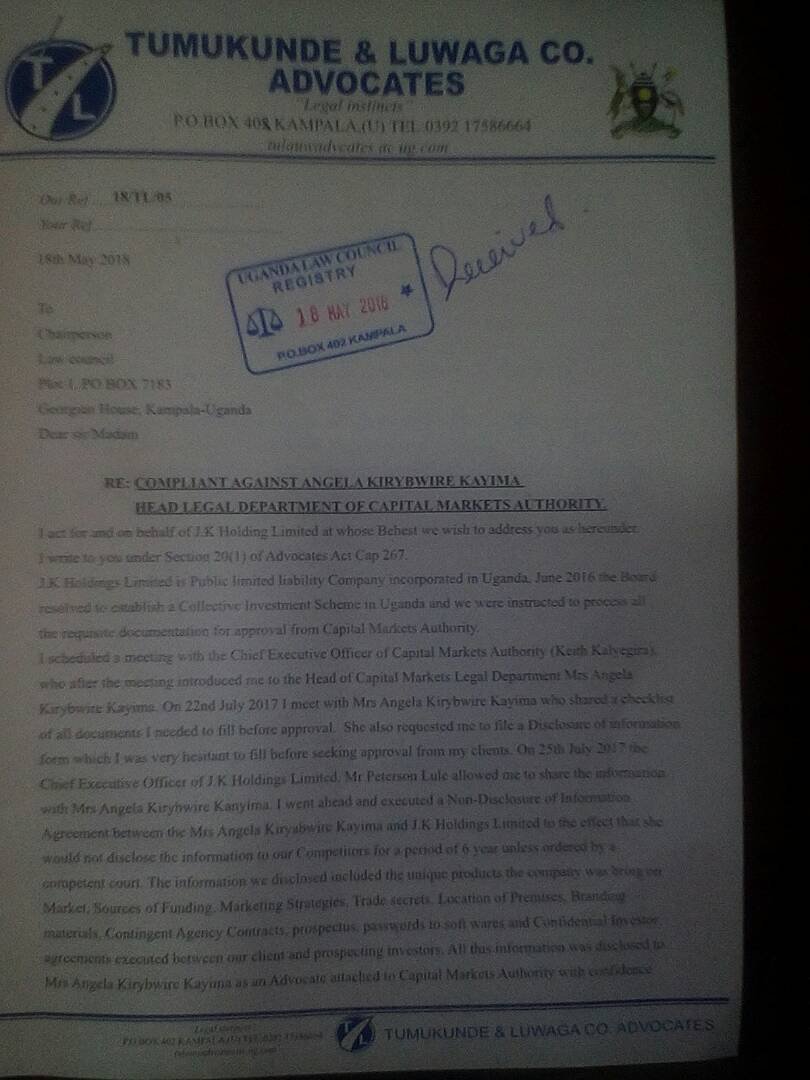 "We disclosed this information to Mrs. Kiryabwire trusting that she is an advocate of the High court who respects Advocates Professional conduct regulations. The information we disclosed included; the unique products the company was to bring on the market, sources of funding, marketing strategies, trade secrets, branding materials, contingent agency contracts, prospectus and passwords to soft wares executed between our client and prospecting investors."The letter explains.
Now that Tumukunde &Luwaga CO. Advocates on behalf J.K Holding Limited has filed a complaint against Angela Kiryabwire head legal department Capital Markets Authority, shows that Angela Kiryabwire Kanyima is no stranger to controversies.
Angela Kiryabwire superintended over the money bonanza in the 74 Km Katosi road scandals where Shs24billion was dished out to a non existing US firm without a bank guarantee.
Kiryabwire as Chairperson of the Uganda National Roads Authority (UNRA) Board failed in her oversight role and tax payers' money was lost.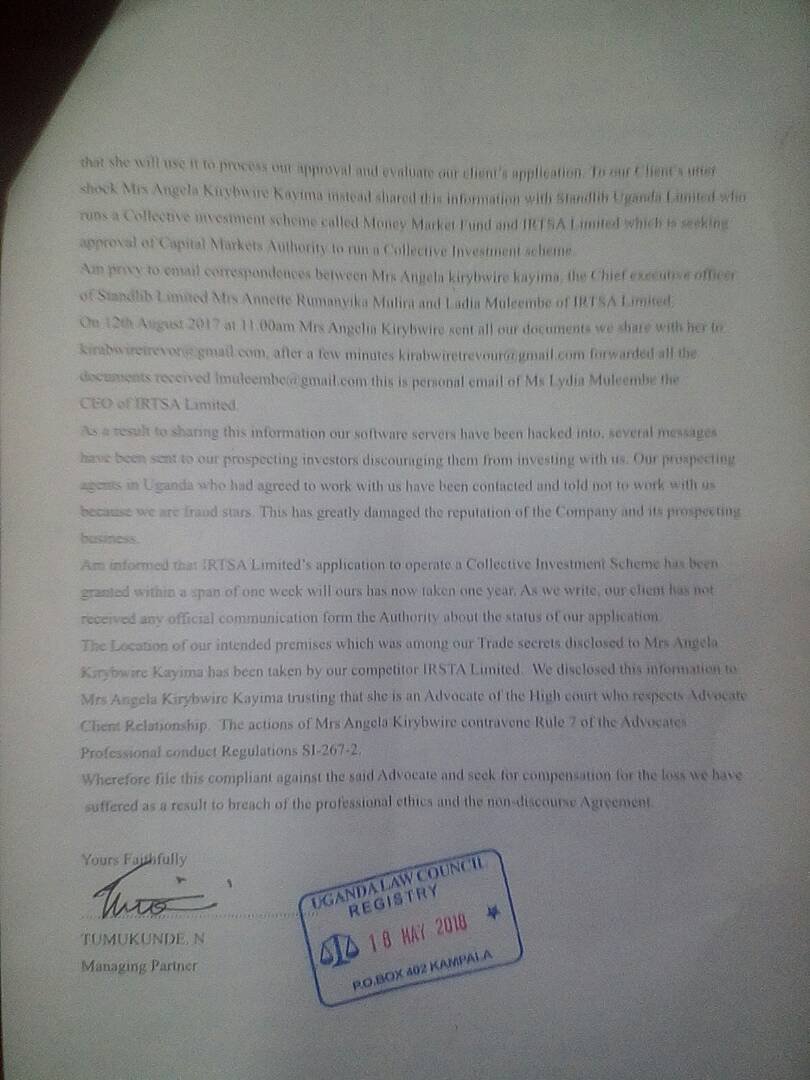 The story was first published by Uganda's leading daily; the New Vision how UNRA through the Housing Finance Bank paid sh24.7b to a 'ghost' firm without a bank guarantee.
Kiryabwire moved and sacked UNRA managers except herself. The Minister for Works and Transport later sacked Kiryabwire and her entire board from overseeing UNRA and replaced her with an efficient and confident former State Minister for Finance; Fred Jachan Omach.
(Visited 155 time, 1 visit today)