Geneber Outspan Organic Farmers wins the dfcu Bank Savings and Investment challenge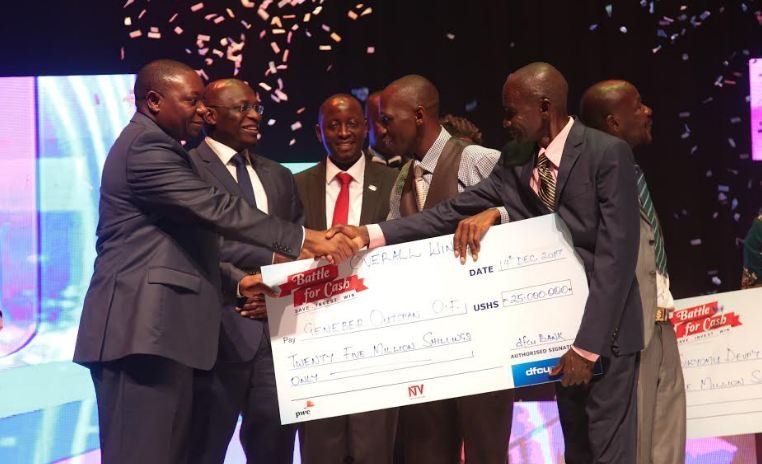 dfcu Bank, in partnership with NTV Uganda and Price Waterhouse Coopers (PwC) have just concluded a nationwide campaign targeted at driving a savings and investment culture in Uganda. The campaign, which has been running over the last three months, was a TV show competition dubbed 'Battle for Cash'.
Between June and August, dfcu Bank had teams going round the country carrying out regional saving and financial literacy workshops. Some of the topics covered included; Why and how to save; where to invest money so it can grow, things to think about when thinking of investing and so much more. This was aimed at changing the perceptions and attitudes about money, savings and investments.
dfcu Bank received applications from close to 200 Investment clubs across the country. The applications were independently vetted by PwC who were able to zero down to 20 clubs that entered the TV competition.
As part of the application process, clubs were tasked to develop a Business plan for an innovative investment project. So at the start of the show all shortlisted 20 clubs had to defend the business plan they wrote to a panel of judges to make it to the next show. The clubs were trained in different aspects and assigned weekly tasks to demonstrate their ability to put into practice what they had been taught.
"We are grateful to dfcu Bank for championing this cause as part of financial literacy in Uganda. An enlightened community will always invest wisely so we encourage all able men and women should come together and form savings clubs to guarantee their future," said Ag. Managing Director, NTV Uganda Johnson Omolo.
Geneber Outspan Organic Farmers who are the overall winners walked away with UGX 25 million and coming in second, The Peak Investment Club won UGX 15 Million. The third winner Sikyomu Development Organisation got UGX 10 Million while the fourth and fifth clubs both got UGX 5 Million each.
In recognition of the role of women and youth in development there was a special category for women and youth. The best youth club price was scooped by Plus Save Group and Soroti Women Cooperative Union were awarded in the best women club category. Both clubs walked away with UGX 7.5 Million each.
Speaking during the Battle for Cash grand finale and awards gala, the dfcu Bank Executive Director and Chief of Business William Sekabembe said; "In terms of changing culture, you will appreciate that it takes some time. What we have seen though, over the last six months, is growth in the number of investment clubs opened with dfcu Bank across the country. Even more important we have seen several Clubs reorganizing themselves and becoming more focused in terms of developing ideas for investment."
dfcu Bank introduced the Investment Clubs program in 2007 providing a conducive platform to foster group savings. The dfcu Bank program has since grown with over 10,000 Investment Clubs that cut across all segments including students, the professionals, women and youth holding a savings turnover in hundreds of billions of shillings.
"It is not enough to simply save money if it is not growing so the Investment Club challenge was also about challenging the investments clubs and the public to think through how to grow & multiply their savings," Sekabembe added.
"We have had a lot of learning from specialists in different areas of business. The exposure that we have got has been very important and it has helped improve the running of our businesses. It has been a great opportunity to get ideas on how to handle different business challenges." Said Geneber Outspan Organic Farmers the winner of the Battle for Cash finale.
According to the Ambassador of France to Uganda, Stephanie Rivoal, chief guest at the grand finale and awards gala, Uganda's young population presents an incredible opportunity to spur growth and achieve Vision 2040 of a transformed, modern and prosperous country.
"Government together with the private sector can make this dream a reality through policies and ventures that favour entrepreneurship, innovation, sustainable investments and a savings culture among the population. dfcu Bank's Investments Clubs initiative deserves an applause." she added.
During the Battle for Cash challenge, emphasis was put on two special groups of women and youth. Clubs with 100% composition of these special groups applied to enter the competition and were added into a special category for Women and Youth clubs, increasing their chances of winning. This was in belief that these two categories play a major role in the development of communities and Uganda as a whole.
An amount totaling to UGX 100 million in prize money was set aside for the Investment Club challenge including regional draws carried out in different parts of the country. Additionally, one delegate from each of the 20 selected clubs that entered the competition is to be sponsored to attend a study tour in Nairobi in January 2018. This as the top seven clubs will receive free advisory services for a period of one year courtesy of PwC.
(Visited 83 time, 1 visit today)
dfcu Bank granted USD 30 Million to support SMEs in Uganda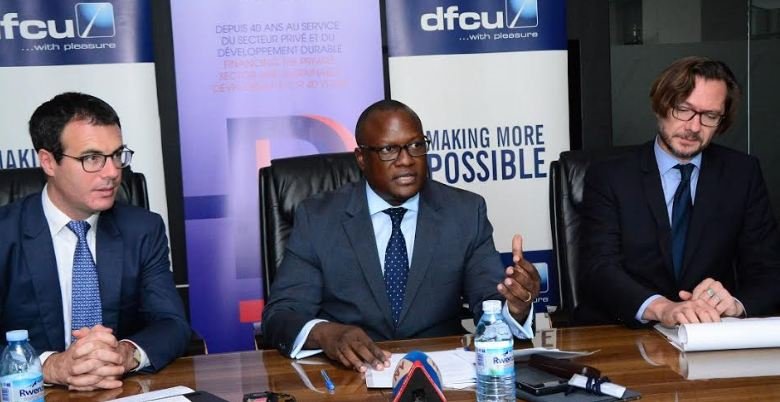 French Development Finance Institution, Proparco has arranged a USD 30 Million senior debt facility to support dfcu bank's efforts to bridge the long-term financing gap for SMEs.
Proparco has extended financing of USD 15m alongside USD 15m from FMO (the Dutch Development Bank) to dfcu Bank. The facility is primarily earmarked for financing of small and medium-size businesses in line with the bank's SME-oriented strategy.
This facility was announced during a signature ceremony attended by Proparco's Head of Financial Institutions in Africa, Mr. Emmanuel Haye, who stated that "Proparco is pleased to once again partner with dfcu. This new credit line reflects the commitment of both institutions to support an inclusive and sustainable growth in Uganda."
This Line of Credit builds on the long-term relationship between FMO, Proparco and dfcu Bank which spans two decades since 1999 when FMO's maiden facility of EUR 2,000,000 was extended to dfcu Limited. Over the two decades, the partnership has extended more than USD 170m to dfcu Bank which is equivalent to Uganda Shillings 639 Billion. The facilities have been used to finance various SMEs in sectors including Education, Health, Manufacturing, Agriculture, Transport, Construction, Hotel and Tourism.
Proparco and dfcu Bank have had a long-term partnership that has seen Proparco extend a series of facilities to the bank since 2005. The current facility is the 5th transaction with the bank. This testifies to Proparco's long term commitment to supporting SMEs in developing countries and to the deepening of the financial sector in Uganda.
The USD 30m fund will go towards financing SMEs in similar sectors with emphasis on businesses with foreign currency earnings potential, with the aim of boosting the country's export earnings.
"The operations of SMEs occupy an admirable position in the Uganda's economic landscape. Despite being a key driver of economic growth, long term development finance remains a huge challenge. This line of credit will facilitate dfcu in providing a range of financing instruments to SMEs in order to enable them to continue to play their role in growth, innovation and employment. This facility will further strengthen the Bank's capacity to grow its business and subsequently consolidate our position as a leading provider of long term development finance," said Mathias Katamba, Incoming Chief Executive Officer, dfcu Bank.
"FMO is proud to partner with dfcu Bank, a bank that supports productive SMEs in Uganda. Supporting local enterprises through trusted partners like dfcu Bank is core to FMO's mission", said Linda Broekhuizen, Chief Investment Officer of FMO.
(Visited 83 time, 1 visit today)
National Medical Stores engages with different stakeholders in silver jubilee celebrations

By Our Reporter
"I want to assure you that the work you are doing is ordained by God and is a blessing." That was the message delivered by the Archbishop of the Church of Uganda, His Grace Stanley Ntagali, as he officiated at the National Medical Stores (NMS) Prayer Breakfast on Wednesday. The occasion was part of the NMS Silver Jubilee celebrations, and was the culmination of 3-days of the corporation engaging various stakeholders, having started with Women and Youth leaders on Monday, followed by members of the medical fraternity on Tuesday. Religious leaders were the invitees on Wednesday, and the Archbishop was part of the entourage of officials from various faiths who honoured the invitation.
NMS is a statutory body, mandated to procure, store and distribute essential medicines and medical supplies to government health facilities, including those that belong to the Police, Prisons and Military facilities.
A recent innovation had also seen NMS become the first medical logistics body worldwide to integrate the distribution of vaccines with those of ordinary medicines, a milestone for which it received international accolades and also contributed to a dramatic increase in immunisation coverage in Uganda. That, and other achievements, were highlighted by the NMS General Manager/CEO, Moses Kamabare, as he addressed the attendees. He also touched on the various challenges the corporation is facing, stressing on the need for those responsible at health facilities to deliver their procurement plans in a timely manner in order for NMS to quickly process their orders.
Also majorly featured was an update on the ongoing construction of the new NMS Warehouse and Office complex in Kajjansi, slated for completion by mid-2019. "It shall be one of the biggest warehouses of its kind in the world," Kamabare noted. Its pallet capacity of over 30000 shall surpass NMS' present storage at least four-fold.
Archbishop Ntagali lauded NMS for its efforts to cater for the health of Ugandans. And he also agreed with Kamabare on the need for Ugandans to take greater responsibility with regard to their health. "God is the healer, but before we need medicine, we need to take care of our bodies. We can prevent disease where possible, so go for regular health checks, because prevention is better than cure."
He also decried the theft of medicines and essential supplies from government health facilities, and the regular occurrence of having to bribe medical workers to receive treatment in the first place. "It is our collective responsibility to fight corruption and stop this theft," Ntagali added.
The religious leaders were also given a guided tour of the NMS stores and cold-rooms, as they got further insight into the corporation's operations.
(Visited 83 time, 1 visit today)
TECNO CAMON 11 and CAMON 11 PRO launched at special Christmas Price

By Staff Writer
Christmas is around the corner and so are all the juicy deals from top brands in Uganda. Today, TECNO Mobile Uganda has launched two new smart smartphones called the CAMON 11 and CAMON 11 PRO at a special Christmas price. The new phones have been described as the drivers for the future of selfies by some thanks to the ability to take bright and clear selfies with high quality powered by the new AI Technology.
The CAMON 11 duo exploits improved AI technology for selfie photography among many more AI- powered operational features like AI Bokeh effect, AI HDR, and AI automatic scene detection. Together with the super Notch Screen of 6.2inches and upgraded multi-tasking software, CAMON 11 and CAMON 11 PRO offers consumers a better user experience.
Artificial intelligence (AI) algorithms in-built in the CAMON 11 and CAMON 11 PRO is capable of doing a lot more than what previously seemed to be impossible by smartphones.
The revolutionary AI technology embedded in the CAMON 11 PRO and CAMON 11's camera elevates the smartphone selfie experience.
For the Selfie-lovers, the high-end 24 or 16-megapixel front camera gives a whole new dimension of selfie experience. AI-technology smartly allows customers to create high-quality self-portraits with natural skin colour by optimizing the image, thereby achieving brighter colours and sharp contours.
The new CAMON 11 and CAMON 11 PRO does not pride only in the new AI technology but also showcases its ability to give customers an impeccable experience right from the slick beautiful diamond fire design to the space and many more fantastic specs.
The new phones comes sealed fully accessorized with new headsets, charger, tempered glass, (screen guard) and pin.
CAMON 11 and CAMON 11 PRO have been favourably priced to not only enable customers access it but it's also time for giving and celebration, therefore the price is to give customers a reason to celebrate their festivities in style with a new super smart gadget. The new phones will be at a Recommended Retail Price of CAMON 11 UGX 578,000 and CAMON 11 PRO UGX 899,000.
The new CAMON 11 and Camon 11 PRO will be available country wide in all TECNO exclusive shops starting today 10th December 2018.
Below are the some of the spectacular features of to look out for;
AI Technology Captures More Beauty of You
New AI technology advances include more accurate facial recognition capability. CAMON 11 and CAMON 11 PRO cameras are able to improve self-portraits with the help of AI Beauty by recognizing up to 240points on the face of the subject, delivering better beautification effects no matter the gender or age, and enabling self-learning capabilities based on user preferences, plus other added fun features. It also supports Face Unlock option and is equipped with its own powerful AI adjustable front LED flashlights, which allows to get beautiful and realistic photos with a certain flash level customized for you.
Taking selfies has never been better, thanks to the advanced 16 MP front camera for the CAMON 11 and 24 MP for the CAMON 11 PRO. These front cameras have the widest dynamic range due to the AI feature in HDR mode, guaranteeing perfect shots in any light. In low light conditions, the camera takes several pictures at once, combining them into one clear shot, which guarantees accurate detail processing and eliminates the problem of image blur. AI is also able to automatically recognize scenes and adapt to shooting conditions, as well as select the optimal parameters for a wide variety of shooting modes from sports to portrait.
The dual camera is designed for impressive shots to gain popularity in social networks. Night shooting mode is also based on AI-technology and provides high detail photos, even in conditions of limited lighting.
The storage- 6GBRAM + 64GB ROM
Set the pace with the new CAMON 11 PRO, powered by a ground-breaking 6GB RAM and 2.0 GHz Octa-Core processor, taking your "speed" to the next level. Feel free to watch your favourite videos, download content, play games, and with the help of machine learning technology, CAMON 11 and CAMON 11 PRO are able to accelerate the game and put the phone into anti-disturb mode for users, which will bring a more immersive gaming experience.
More Fun with Animoji
Animoji combines human expressions with 3D virtual expressions through Augmented Reality (AR) technologies and creates dynamic cartoon images in keyboard, which is embedded in the typewriting and allows for usage in all major instant messengers and social networks – Facebook Messenger, Twitter, Google+, Hangouts, WhatsApp, Telegram, Skype, etc. Animated emoji reads facial movements and recreates them, making chatting with friends so much more fun!
Advanced HiOS Software – Favorite Apps at Your Fingertips
The HiOS software is intelligent enough to recognize your favourite apps and have them open in just 0.3s through your different fingerprints. One can set up "Google + Facebook + YouTube" to open using your forefinger print or access "Instagram + Google Map + Snapchat"via your mid-finger print, all at your personalized convenience.
Call Recording by Fingerprint
Conversations embody our relationships, fuel career growth, offer evidence for justice, and more. From helping us keep alive the memory of loved ones, to keeping records of legal discussions, conducting interviews or even making customer service calls, the CAMON 11 or CAMON 11 PRO makes recording calls a breeze. By just a simple tap of the fingerprint scanner, the call will be recorded immediately.
Follow @TECNOMobileUganda on Facebook for more information.
(Visited 83 time, 1 visit today)