Geneber Outspan Organic Farmers wins the dfcu Bank Savings and Investment challenge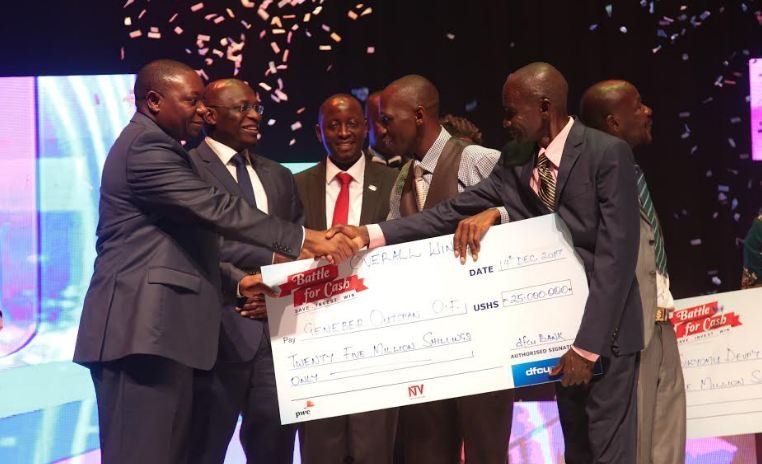 dfcu Bank, in partnership with NTV Uganda and Price Waterhouse Coopers (PwC) have just concluded a nationwide campaign targeted at driving a savings and investment culture in Uganda. The campaign, which has been running over the last three months, was a TV show competition dubbed 'Battle for Cash'.
Between June and August, dfcu Bank had teams going round the country carrying out regional saving and financial literacy workshops. Some of the topics covered included; Why and how to save; where to invest money so it can grow, things to think about when thinking of investing and so much more. This was aimed at changing the perceptions and attitudes about money, savings and investments.
dfcu Bank received applications from close to 200 Investment clubs across the country. The applications were independently vetted by PwC who were able to zero down to 20 clubs that entered the TV competition.
As part of the application process, clubs were tasked to develop a Business plan for an innovative investment project. So at the start of the show all shortlisted 20 clubs had to defend the business plan they wrote to a panel of judges to make it to the next show. The clubs were trained in different aspects and assigned weekly tasks to demonstrate their ability to put into practice what they had been taught.
"We are grateful to dfcu Bank for championing this cause as part of financial literacy in Uganda. An enlightened community will always invest wisely so we encourage all able men and women should come together and form savings clubs to guarantee their future," said Ag. Managing Director, NTV Uganda Johnson Omolo.
Geneber Outspan Organic Farmers who are the overall winners walked away with UGX 25 million and coming in second, The Peak Investment Club won UGX 15 Million. The third winner Sikyomu Development Organisation got UGX 10 Million while the fourth and fifth clubs both got UGX 5 Million each.
In recognition of the role of women and youth in development there was a special category for women and youth. The best youth club price was scooped by Plus Save Group and Soroti Women Cooperative Union were awarded in the best women club category. Both clubs walked away with UGX 7.5 Million each.
Speaking during the Battle for Cash grand finale and awards gala, the dfcu Bank Executive Director and Chief of Business William Sekabembe said; "In terms of changing culture, you will appreciate that it takes some time. What we have seen though, over the last six months, is growth in the number of investment clubs opened with dfcu Bank across the country. Even more important we have seen several Clubs reorganizing themselves and becoming more focused in terms of developing ideas for investment."
dfcu Bank introduced the Investment Clubs program in 2007 providing a conducive platform to foster group savings. The dfcu Bank program has since grown with over 10,000 Investment Clubs that cut across all segments including students, the professionals, women and youth holding a savings turnover in hundreds of billions of shillings.
"It is not enough to simply save money if it is not growing so the Investment Club challenge was also about challenging the investments clubs and the public to think through how to grow & multiply their savings," Sekabembe added.
"We have had a lot of learning from specialists in different areas of business. The exposure that we have got has been very important and it has helped improve the running of our businesses. It has been a great opportunity to get ideas on how to handle different business challenges." Said Geneber Outspan Organic Farmers the winner of the Battle for Cash finale.
According to the Ambassador of France to Uganda, Stephanie Rivoal, chief guest at the grand finale and awards gala, Uganda's young population presents an incredible opportunity to spur growth and achieve Vision 2040 of a transformed, modern and prosperous country.
"Government together with the private sector can make this dream a reality through policies and ventures that favour entrepreneurship, innovation, sustainable investments and a savings culture among the population. dfcu Bank's Investments Clubs initiative deserves an applause." she added.
During the Battle for Cash challenge, emphasis was put on two special groups of women and youth. Clubs with 100% composition of these special groups applied to enter the competition and were added into a special category for Women and Youth clubs, increasing their chances of winning. This was in belief that these two categories play a major role in the development of communities and Uganda as a whole.
An amount totaling to UGX 100 million in prize money was set aside for the Investment Club challenge including regional draws carried out in different parts of the country. Additionally, one delegate from each of the 20 selected clubs that entered the competition is to be sponsored to attend a study tour in Nairobi in January 2018. This as the top seven clubs will receive free advisory services for a period of one year courtesy of PwC.
(Visited 83 time, 1 visit today)
Mbarara resident hits Ugx 200 million jackpot in Supa 3 lottery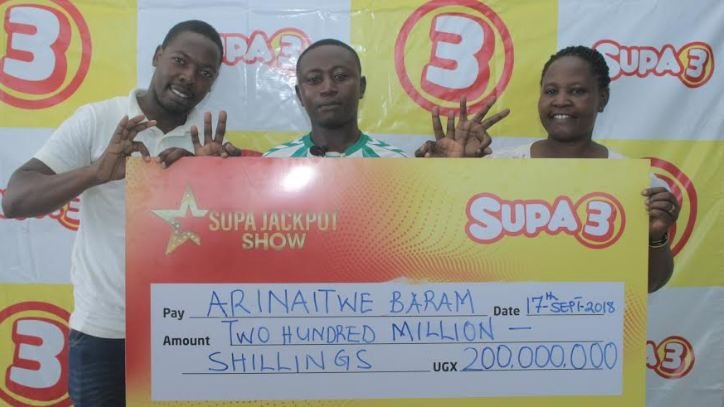 By Our Reporter
Mbarara based electrician Arinaitwe Baram is the lucky winner of the supa3 jackpot that totaled to 200 million shilling.
Baram who was announced winner on Sunday night on the Supa3 live show, says that he played using only 4000 shillings, but he managed to win the 200 million. He told journalists upon receiving his cheque that he will spend his winnings on constructing a house and expanding his business.
Baram joins other winners such as John Sekaggya who won 50 million shillings, Denis Ssemanda a 7 Million winner, Stella Acor a 6 Million winner and other multiple winners.
Meanwhile, Supa3 Jackpot will now return to 50 million shillings this weekend.
Every entry into the 10-minute draws gets a corresponding free entry into the weekly Supa Jackpot Draw which offers the chance to become a multimillionaire. Supa 3 players qualify for one entry into the Jackpot for every UGX. 1,000 they play.
Every Supa 3 ticket comes with a unique code consisting of 6 letters of the alphabet which comprise the entry into the Jackpot draw
(Visited 83 time, 1 visit today)
Museveni meets President of StarTimes Group during FOCAC Summit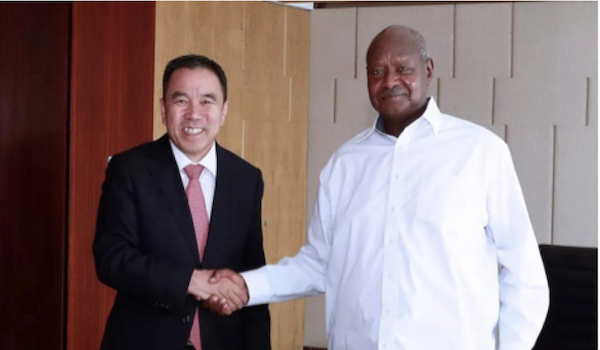 Ugandan President Yoweri Museveni met with the President of StarTimes Group Pang Xinxing on Wednesday when he was attending the Summit of the Forum on China-Africa Cooperation in Beijing. Mr Pang Xinxing introduced that StarTimes created more than 6000 job opportunities since it started investment in Uganda in 2009 and StarTimes digital TV transmission platforms have enabled Ugandan people to watch rich international and local television programs with an affordable price. Pang said: "We look forward to expanding further bilateral cooperation with our advantageous technology and media resources." President Museveni appreciated StarTimes' contribution in Uganda's digital migration progress and the project of "Access to Satellite TV for 10,000 African Villages".
He said that the national digital migration is a very important fundamental project for Ugandan people and it wouldn't be achieved without StarTimes' involvement. Museveni also invited Pang to visit Uganda with hoping that StarTimes can have more investment in the country.
StarTimes now is the biggest digital TV operator in Uganda with holding 75% market because of affordabl prices and rich content services. In August, StarTimes just unveiled the biggest ever single sponsorship in the history of Uganda www.startimestv.com sport after remarkably securing the Uganda Premier League and FUFA Big League "Title and Broadcasting Rights" from FUFA for a staggering US$ 7,240,000 for 10 years starting with the
2018/2019 season. The Vice President of StarTimes Uganda company, Mr Aldrine Nsubuga said: "We however don't just want to entertain football fans with foreign football, we want to be relevant to local football fans. We want them to appreciate their local football and support it with a greater passion which is why we want to bring the local league in every household through our broadcast platforms." The project of "Access to Satellite TV for 10,000 African Villages" is a China-Africa Cooperation program, which was announced by Chinese President Xi Jinping on December 4th, 2015 when he was present at the Johannesburg Summit of the Forum on China-Africa Cooperation. The project is aimed at enabling African families in rural areas to have access to the digital signal with high-quality images and rich TV programs. There will be around 10,000 villages in more than 20 African countries benefiting from the project of "Access to Satellite TV for 10,000 African Villages". For Uganda, 500 villages are
included in this China-Africa cooperation project. As Africa's leading digital TV operator, StarTimes is undertaking the whole project. On 20th July, StarTimes launched the project of "Access to Satellite TV for 10,000 African Villages" in Uganda.
(Visited 83 time, 1 visit today)
Emirates offers Ugandan travelers attractive offers to Dubai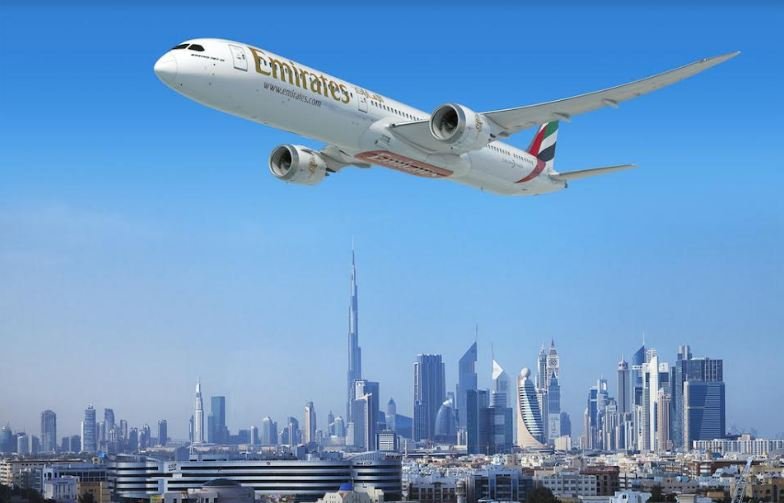 Emirates is offering Ugandan travelers the opportunity to visit Dubai, available at a very special offer for Economy and Business Class roundtrip, a free third piece of luggage of up to 23 kg and a month's tourist visa included in the offer.
Under the special offer, an Economy Class ticket from Entebbe to Dubai costs $359 and Business Class $1,309. The special offer is for a limited time only and tickets must be booked between 13th September 2018 and 27th September 2018, while travel must take place between 13th September 2018 and 31st March 2019. The cost of the ticket includes airport taxes.
Emirates is also offering a 3rd piece of luggage of up to 23kg for Economy Class and up to 32kg for Business Class, with a one-month tourist visa included.
Dubai provides a great escape for visitors. Its year-round sunshine, world-class shopping and restaurants, stunning beaches and iconic buildings offers something for the whole family. Visitors to Dubai can enjoy some of the city's must-see places like Global Village – multi-cultural festival park and shopping destination – as well as theme parks such as Wild Wadi Waterpark and IMG World of Adventures. The city also offers a wide range of accommodation to suit all budgets.
On all Emirates' flights, customers can look forward to hours of entertainment on the award-winning inflight entertainment system, ice, which offers over 3,000 channels of on demand audio and visual entertainment, from the latest movies, music, audio books and games, as well as family friendly products and services for children, including complimentary toys, kids' meals and movies, priority boarding for families and the use of free strollers at Dubai International Airport.
In addition to the on-board comforts and products, customers will experience the world famous hospitality from Emirates' multinational cabin crew who come from 135 nationalities and speak over 60 languages, while enjoying chef prepared regional and international cuisine, using the freshest ingredients, accompanied by a wide range of complimentary wines and beverages.
Emirates flies daily from Entebbe to Dubai.
(Visited 83 time, 1 visit today)