Free Entry at the National Cross Country

Jinja Town and the surrounding community have been provided yet another rare opportunity to watch the country's world stars in action at the National Cross Country Championships due this weekend, Saturday February 10, 2018 at the Jinja Central Division Recreation Park.J
The Uganda Athletics Federation (UAF) in conjunction with main sponsors MTN (U) Ltd have also offered the general public free entrance to the park to watch the competition as a corporate social responsibility and also to thank the public who thronged Kololo Independence Grounds massively to support Uganda team during the 2017 World Cross Country Championships.
Because of the value UAF attached to the world event, Jinja was honored and overwhelmingly voted to host the 2018 National Cross Country Championship, a major event on the UAF calendar. The stage is already set for the championships which UAF will use to select the national cross country team to represent Uganda at the 5th edition of the Africa Cross Country Championships due March 17, 2018 in Algeria.
The competition scene is expected to be electric like last year for the World but this time fighting for national colours and slots for Africa continental championship.
Uganda's top distance runners led by Olympic marathon Champion Stephen Kiprotich, Commonwealth Games double gold medalist Moses Kipsiro, World Championship silver medalist Joshua Cheptegei, World Junior Cross Country Champion, Jacob Kiplimo, World University Games golden girl, Dorcus Ajok, National Cross Country defending champions Mercyline Chelangat and Peruth Chemutai, among others will be in action at the Jinja National Cross Country Championships.
Also in action will several World Mountain race stars like Fred Musobo, Stella Chesang, Robert Chemonges, Victor Kiplagat and others.
NATIONAL CROSS COUNTRY CHAMPIONSHIPS 2017
RESULTS AT KOLOLO
Senior Men (10km)
1 Joshua Cheptegei 29:02
2 Phillip Kipyeko 29:24
3 Abdallah Kibet Mande 29:40
4 Timothy Toroitich 29:42
5 Stephen Kiprotich 29:46
6 Stephen Kiisa 29:53
7 Fred Musobo 29:55
8 Mande Bushendich 30:04
9 Peter Kibet 30:13
10 Filex Chemonges 30:18
Senior Women (10km)
1 Mercyline Chelangat 34:41
2 Rachael Chebet 35:16
3 Dorcus Ajok 35:46
4 Doreen Chesang 35:54
5 Doreen Chemutai 35:56
6 Annet Chebet 36:16
7 Juliet Chekwel 36:38
8 Stella Chesang 36:46
9 Prim Twikirize 37:00
10 Sarah Akiror 37:03
U20 Men
1 Jacob Kiplimo 23:25
2 Titus Kwemoi 23:53
3 Victor Kiplangat 23:54
4 Elisha Chemutai 24:03
5 Kevin Kibet 24:04
U20 Women
1 Peruth Chemutai 20:20
2 Janat Chemusto 20:39
3 Esther Chekwemoi 21:08
4 Sarah Chelangat 21:20
5 Scarlett Chemos 22:00
Namayo Mawerere
PUBLICITY SECRETARY
(Visited 1 time, 1 visit today)
African Lady Caught In Bangkok Airport With 1.6Kg Of Heroine in Her Stomach (Photos)

An African woman identified as Doobay Mimengaloso was arrested at Suvarnabhumi airport in Bangkok, Thailand on Sunday, after an X-ray found pellets of heroin inside her stomach.
Alert officials noticed suspicious behavior of the Zambian lady in transit to China at gate D3 on the second floor at Suvarnabhumi. A search of Mimengaloso's bag revealed nothing but an X-Ray revealed she had swallowed 88 pellets of a substance.
When she was forced to go to the toilet she was found with 1.16 kilos of heroin worth a million baht in Thailand but several times more in China.
This slideshow requires JavaScript.
The Thai authorities were sure that Thailand was just a transit point for the Zambian woman who had an onward ticket to Beijing.
She had gone to Thailand from her home country via Kenya. She has been handed over to the drug authorities for prosecution.
Gist Mania.
(Visited 1 time, 1 visit today)
B2C Throw party for their manager Andy

BigEyeUg Team
B2C music trio manager, Andy, had a good time on his birthday last week as the boys threw him a birthday to celebrate how good he is to them and their career.
Here are some photos from the party.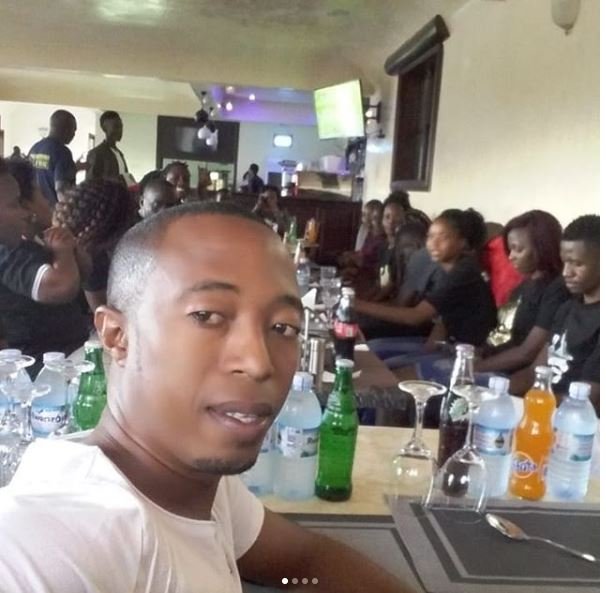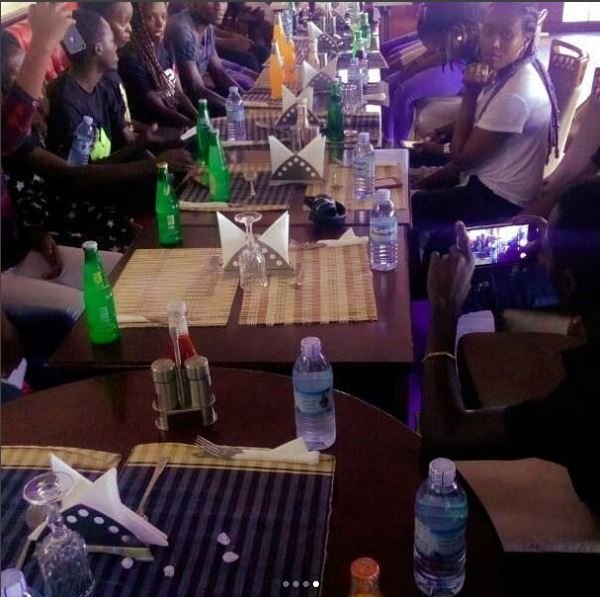 (Visited 1 time, 1 visit today)
Photo: Becky 256 shows gets sexy for the camera

BigEyeUg Team
Musician Becky 256 real names Nakirya Becky known for her song 'Obuswandi' is one who knows how to capture the attention of the fans.
The singer recently got sexy for the camera showing off her thighs to fans.
We have the photo. Let us know what you think in the comments section.
(Visited 1 time, 1 visit today)