Self-made entrepreneur and motivational speaker, Frank Gashumba has fallen out bitterly with NBS TV and is ready to drag the TV station to courts of law.
Gashumba accuses the TV station of defamation, and has since instructed his lawyers to take on NBS TV.
"I have instructed my lawyers to take on NBS!! U know sometimes when we keep quiet they think we are all fools! In my entire life, I don't fight small wars, I go in for serious battles!! The rest I am living it to my lawyers," part of his Facebook post reads.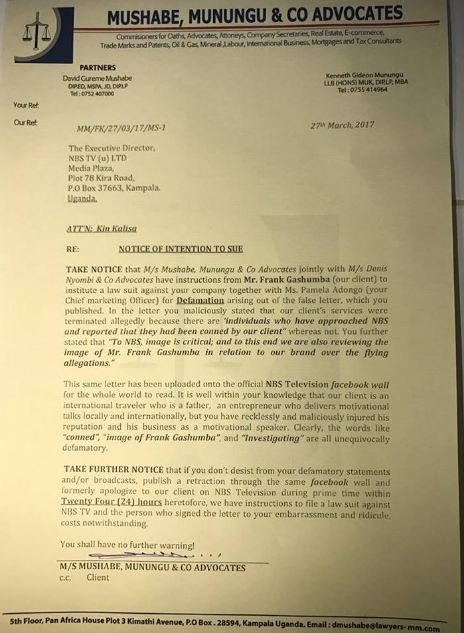 According to a letter from his lawyers, NBS TV is accused of defamation for maliciously stating that Gashumba's services were terminated  allegedly because there are individuals who have approached NBS and reported that they had been conned by Gashumba.
This comes days after he resigned from the TV station. Gashumba hosted a talk show dubbed "The Eagle Talk Show" that aired every Sunday afternoon.
According to Gashumba, he was forced to resign after management tried to run his show.
"On Friday 17th, we were invited for a content meeting in that meeting, Basajja Mivule was present, Kaliisa (CEO NBS) was present, Ramathan (Chief Operations Officer NBS) and Chris (Programs Manger NBS) were present," he explains. "To my surprise, Another strange person Simon Muyanga was presented too. Kaliisa kicks of the meeting telling us that he has received instructions and warnings from UCC that he must get someone to moderate the show. That Gashumba and Basajja Mivule are too poisonous to the public, he immediately tells me that they had a meeting the previous day and they had decided that Simon Muyanga will be the moderator." 
He added,"I immediately told him that administratively that's not how companies work!! I told him he would have called me and told us where we had gone wrong and I told him that this is not a meeting. I also told him that he was just giving us new instructions and I immediately resigned from the show."
Staff Writer
(Visited 1,239 time, 1 visit today)