Folk singer Giovanni Kiyingi talks about his music and Blankets & Wine experience

By Our Reporter
Celebrated folk singer-songwriter and Afro-fusion multi-instrumentalist, Giovanni Kiyingi, will be returning for the 15th Edition of Blankets and Wine that will take place at Lugogo Cricket Oval this Sunday, 18th December.
Considered to be the biggest quarterly event on Uganda's social calendar, the Tusker Malt Lager sponsored event and organised by House of Deejays, will be playing host to some of Uganda's top socialites as well as consumers of Tusker Malt as they're entertained by a variety of artists headlined by Tanzania's number one artist, Ali Kiba.
In an effort to deliver on their promise of 100% awesome musical experiences, and due to public demand, Tusker Malt Lager and House of Deejays will be bringing back Giovanni Kiyingi for the 15th edition of Blankets and Wine Kampala.
Giovanni who performed at the previous edition was a crowd favorite and will be returning to showcase his talent come this Sunday. We caught up with the 'Amakondeere' star for an interview ahead of this week's event.
Qn: What inspired Giovanni to start singing and playing all the various instruments?
As I was growing up, the church choir inspired me. My music journey started in Kiboga deep in the village called Vumba parish. I used go to church early in the morning and get a front row chair to enjoy the church choir which played music with traditional instruments.
Qn: What would you describe your music as?
My music is a fusion of my Ugandan roots and the influence of the worlds' music.
Qn: What inspired your 'Amakondeere' album?
My Amakondeere album was inspired by the sound I wanted to put out and also many other various rhythm patterns.
Qn: What are some of your most memorable stage performances?
The one that stands out is when I performed for the Pope in 2015 at Kololo Airstrip Grounds with a full band on the song themed "New Day". Then this year, I shared a stage with Michael kiwanuka at a festival in Belgium.
Qn: Are there any particular Ugandan artists you would wish to work with?
Yes there are quite a number of them. Cindy, Irene Ntale, Maurice Kirya, Sammy Kasule, Julian Kanyomozi, Irene Namubiru.
Qn: What is the funniest thing that has ever happened to you while performing on stage?
This one time, I did sound checking on stage and I was ready to play. On coming back to the stage, my guitar could not sound. I had left my battery running.
Qn: Are there any projects in the works that we should look out for?
Yes. The official Amakondeere release will be happening real soon and I plan to release two new albums "Mkatiko W'afirika" and "Kitengejja".
Qn: What advice would you give to a young upcoming artist?
Hard working is the song everywhere I go. But for upcoming artists in Uganda and East Africa, I would say we need to look into identity in sound now. How different you sound opens new markets all over because always the world is looking for something new! And East Africa's sound is still virgin to the world.
Qn: What memories do you hold from your debut Blankets and Wine performance?
My debut at Blankets and Wine was rather interesting and fun. I remember I performed when it was raining and the stage had some water on it. But the highlight is how my friends and revelers kept on dancing in the rain. Even though it was raining, the sound was good and we just had fun.
Qn: This will be your second performance at Blankets and Wine Kampala. What should people expect from you?
People should come and we have a good time and continue from where we stopped the other time. With me it is a groove throughout the concert. Don't miss it. Let us end the year with a bang!!!
A quarterly, picnic style music festival, Blankets and Wine is East Africa's premier music experience, designed to showcase outstanding musicians in the emerging genres of afro-based music.
Entrance fee is 100,000 UGX at the Lugogo Cricket Oval and gates open at 12:00pm.
(Visited 140 time, 1 visit today)
New Tycoon Ghetto King Promises Big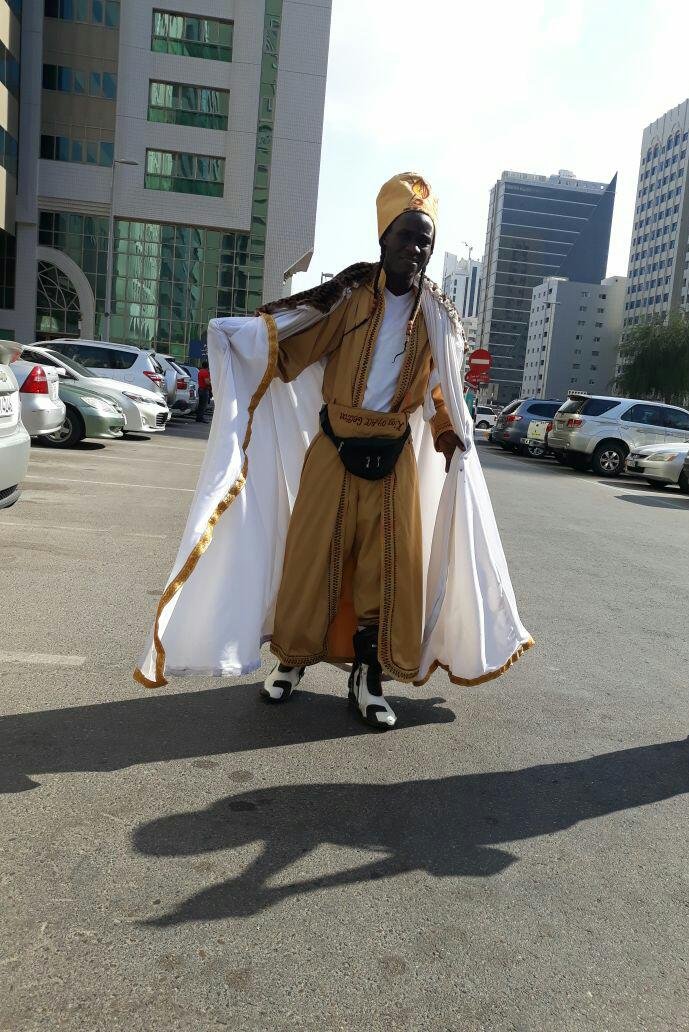 By Staff Writer
Uganda's socialite scene improves every day we happen to bump unto many people who emerge to prove to us that they can sustain the industry especially loaded people call them money bags. Forget about the days of the late Ivan Ssemwanga and the Rich Gang, this Ugandan and Kempten Allgau, Germany based Ghetto King is here and so loaded.
Who is Ghetto King?
Nick Schleyer is his real name a Ugandan tycoon and an artiste at the same time holding the stage names of Nick Rasta and his all-time crown is Ghetto King. He is the King of all ghettos because he owns a ghetto empire worldwide. He has done many things like donating to the needy especially schools, providing shelter to the needy and much more. Musically he has made world tours like the one in Nurnberg in Germany 2017, his own concert dubbed Awakening Europe which he had this year in January and many other international stages where he performs and donates at the same time.
Why in Uganda now?
He is currently in Uganda for different missions but mostly on those of helping the needy, build schools, staging free shows for Ugandans. He has done songs like Bintadde, Thriller, Ghetto, Street Boy, Mighty and many more that have also made him add value to his big name Ghetto King Nick Rasta.
"I am a humble person in that I don't take showing off things serious like others, I don't beef with anyone and I live humbly. But I can assure every Ugandan that my time is now to help the needy fully, build schools and boost people's lives." Ghetto King asserted while confirming his being here.
He added that he has a dream for Uganda being a great nation when people are helped and taught how to earn and keep money.
(Visited 140 time, 1 visit today)
Buzz Tenniez Awards 2018: Here's the full list of nominees

By Our Reporter
The 2018 Buzz Teeniez Awards nominees have been announced.
According to the organisers, the nominations were conducted in schools and online. The public will go on to vote for their favorite artistes online and winners will be crowned at a ceremony slated for Saturday, May 12th at UMA Show Grounds, Lugogo.
Check out the full list of nominees below.
Teeniez Male Artist of the Year
1. Fik Famaica
2. Bebe Cool
3. B2C
4. Ykee Benda
Teeniez Female Artist of the year
1. Sheebah
2. Vinka
3. Spice Diana
4. Fille
Teeniez Hottest Song of the year
1. Kutama
2. Guntamiza
3. OverDose
4. Pon Mi
Teeniez Hottest Dance Hall Artist
1. Beenie Gunter
2. A Pass
3. Bebe Cool
4. Sheebah Karungi
Teeniez Hottest Dance Hall Song
1. Pon MI
2. Dididada
3. Kutama
4. Want it
5. Over Dose
Teeniez Gospel Song of the Year
1. Tambula Nange by Mozey Radio
2. Turn the replay by Levixone
3. Tosumagila by Exodus
4. Wanaza by Pr Wilson Bugembe
Teeniez Gospel Artist or Group
1. Exodus
2. Levixone
3. Baby Gloria
4. Pr Wilson Bugembe
Teeniez Top Hood Rapper
1. Da Agent
2. Fik Fameica
3. Feffe Bussi
4. Gravity
Teeniez Hottest Hip Song
1. Mafia by Fik Fameica
2. Who is who by Feffe Bussi
3. Who is me by Da Agent
4. Who is Who Reply by Jim Nola MC
Teeniez Hottest Collabo of the Year
1. Guntamiza by B2C ft Radio & Weasle
2. Gwabisobola by Byaxy ft Fik Fameica
3. Pon MI by DJ Roja, Slick Stuart ft Beenie Gunter
4. Over Dose by Vinka ft Voltage
5. Weekend by Sheebah ft RunTown
Teeniez Flyest Video
1. Mafia by Fik Fameica
2. Malaika by Ykee Benda
3. Guntamiza by B2C FT Radio And Weasle
4. Pon Mi by DJ Roja, DJ Slick Stuart Ft Beenie Gunter
5. Weekend by Sheebah ft Run Town
Teeniez Break Through Artist
1. Vinka
2. Latinum
3. Nina Roz
4. Topic Kasente
Teeniez Hottest Beat Maker
1. Artin Pro
2. Eno Beats
3. Nessim
4. The Weezy
Teeniez Hottest Song Writer
1. Mozey Radio
2. A Pass
3. Yesse Oman Rafiki
4. Ykee Benda
Teeniez Wickedest DJ
1. DJ Roja & Slick Stuart
2. DJ Ali Breezy
3. DJ Mercy
4. DJ Mark
Teeniez Hottest Celebrity Stylist
1. Abryanz
2. Sylvia Awori
3. Tazibone Solomon
4. Fyona Kirabo
Teeniez Hottest makeup Artist
1. Fyona Kirabo
2. Mona Faces
3. Sta Atafo
4. Beauty By Judy
Teeniez Hottest Comedian
1. Mariach
2. Madrat & Chiko
3. Taata Ne Maama Sam
4. Anne Kansime
5. Salvador
Teeniez TV Station
1. Magic 1 HD
2. Spark TV
3. Urban TV
4. NBS TV
5. NTV
Teeniez Hottest TV Show
1. Live Wire
2. After 5
3. NTV The Beat
4. Tnation
5. Skizzy Urban TV
Teen TV Show presenter
1. Crystal Panda
2. Humphrey Wampula
3. MC Ollo
4. MC Talha
5. Allan Cruz & Momo
Teeniez Hottest TV Personality
1. Zahara Toto & Annatalia Ozze
2. Douglas Lwanga
3. MC kats
4. Tina Fierce
Teeniez Funkiest Radio Station
1. Galaxy Fm
2. XFM
3. KFM
4. Capital FM
Teeniez Hottest Radio Personality
1. Mr Mosh
2. Denzel
3. Flavia Tumusime
4. DJ Nimrod
5. Gaetano
SCHOOL CATEGORIES
Teeniez Male Team
1. Jinja SS Football Team
2. Namilyango College Rugby Team
3. St Mary Kitende Football Team
4. Kibuli SS Basketball Team
Teeniez Female Team
1. Kawempe Moslem Football Team
2. St Mary Namagunga Hockey Team
3. St Mary Kitende BasketBall Team
4. St Mary Kitende Netball Team
(Visited 140 time, 1 visit today)
Upcoming singer Had Con cautions Fik Fameika on his copy cat virus.

Singer Had Con is at loggerheads with fast rising singer Fik Fameika over his copy cat vice. According to Had Con Fameika is supposed to apologise in 2 weeks time else he is collecting signatures from other artistes with the same thinking to sink his career in a yet to be disclosed way.
He said "I hear by on behalf of the new generation warning you Sir about yo increasing destruction of our industry due to numerous copycats grabbed on fellow artists without any permission. So many complains reaching us, about your *invisible ghost hustle* (working small and gaining big) yet real original artists have no platforms. Research has it dat 90% of your music is scooped from both international and local new artists. One may say, *"Namwe mukoppe muveeyo!!",* but to be sincere that cant promote our industry. We can only diversify with Unique, Original music with modified sound not copycats. On a serious note, *We are giving Fik Fameica 2weeks to repent for his copycats*"
Watch his video here: https://youtu.be/Xepcb8Wif64
(Visited 140 time, 1 visit today)