Flex D'Paper teams up with Navio and Martha Smallz in new single – "Day Ones". Listen to it here!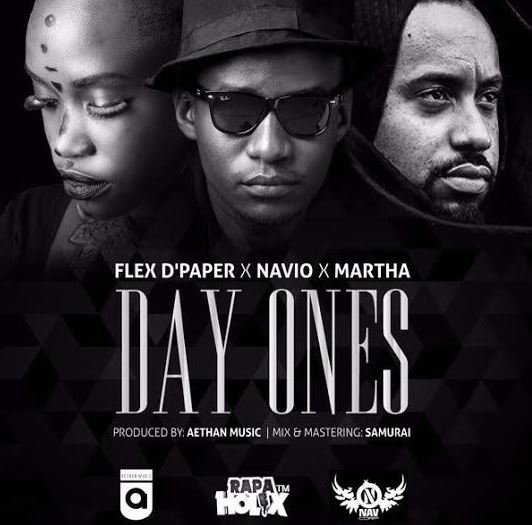 New Skool rapper Flex D'Paper has teamed up with Uganda's hip-hop king Navio and Airport Taxi first lady Martha Smallz to unleash a new single titled "Day Ones".
According to Flex D'Paper, "Day ones" means the people that have remained close to you from the start of something and have kept loyal and true during the ups and downs of the journey.
Flex D'Paper drops some killer bars to kick off the jam and Navio follows up with his buzzing lines, not forgetting the talented Martha Smallz with her soulful voice, to spice up the song.
The song is a dedication to  all those that have been supportive and loyal on their music journey.
The song was produced by Aethan Music, mixed and mastered by Sam Lamara. Listen to it below.
Staff Writer
(Visited 1 time, 1 visit today)
Jim Nola MC 'Raps Up' 2018 in Dancehall Style

By Bash Mutumba
It is typical of members of the hip hop fraternity in Uganda to release songs at the year end, rapping about the most famous and infamous events of the year. In the songs intended to wrap up the year, rappers show off their lyrical prowess and catchy flow with the usual goal of edutainment. Jim Nola MC, who rose to fame after replying to Feffe Bussi's "Who is who" diss track, has done his own — in a fashion hardcore hip hop fans(including himself) aren't usually happy with.
It should be remembered that in his diss track titled "Hip Hop Saviour", Jim aka Abedunego used the opportunity to not only poetically lash out at Feffe Bussi, the rap battle instigator, but also bash rapper Fik Fameica and Gravity Omutujju for leaning a lot towards dancehall in their hiphop songs. This earned him respect as a new rapper that had come to revive hiphop, and others even saw him as a reincarnation of GNL Zamba.
However in his Rap Up, The Son Of Najjuma leaned a lot towards the dancehall he dissed colleagues for, and even though his lyrical depth and flow is impressive like always, the unorthodox beats prove he has also been pulled towards the more commercial side.
Listen to the 2018 wrap up song below.
(Visited 1 time, 1 visit today)
A Pass, Fik Fameica in collabo with South African rapper Rouge. Listen to it here!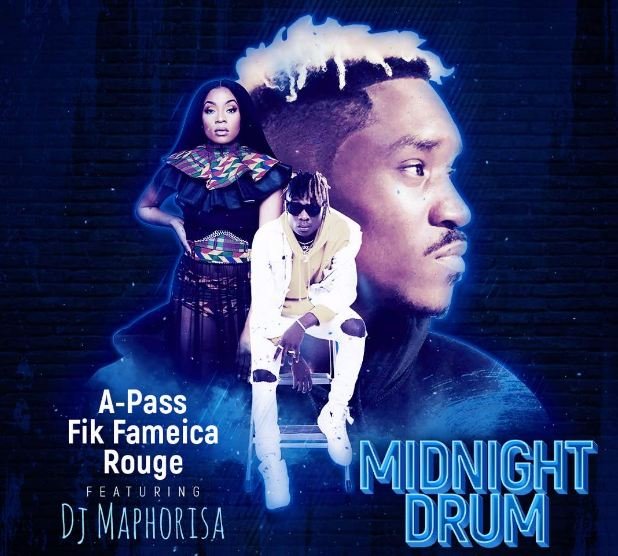 Ugandan musicians, A Pass and Fik Fameica have teamed up with South African female rapper Rouge in their new song titled "Midnight Drum".
We have learnt that the singers recorded the song at Swangz Avenue after Rouge flew into the country in April this year. The project also features renowned South African record producer DJ Maphorisa.
A Pass and Fik Fameica have expressed excitement about the project and revealed that the video will come out late October.
Meanwhile, listen to the audio below.
Staff Writer
(Visited 1 time, 1 visit today)
Pallaso releases #FreeBobiWine song. Listen to it here!

The ongoing political situation in Uganda is no secret, especially the forced detention of singer-cum-politician Robert Kyagulanyi alias Bobi Wine. The past week has seen many Ugandans and the world over rally behind the artiste, extending their support to bid for his immediate release.
And what better way to do this than through music? Ugandan singer Pallaso has today released a 4-minute track addressing the issue. In the song, he calls on government to listen to the plea of Ugandans and free Bobi Wine, for the sake of peace.
The track, produced by Eddy Dee, was released via on social media, with the lyrics stressing the need for amicable means to be devised to tackle the issue, before it's too late.
"I wrote this song because I feel the one thing we need in this nation, which is peace, is getting destabilized. Plus, I am trying to pass on a message, basing on how I feel and what I hear amongst the population. Bobi Wine is not only a husband, father and son of this nation, he is a symbol of hope for many young people. We have so much hope in him, and I believe that what he stands for isn't to go against the government, but rather to bring the much needed change in this country," Pallaso says.
Listen to the song below.
Staff Writer
(Visited 1 time, 1 visit today)