Financing options for SMEs – Alternatives to debt financing

By Mulungi Sseruwo
According to the Uganda Bureau of Statistics (UBoS), Micro Small and Midsize Enterprises (MSME) are categorised based on meeting any one of the criteria relating to the number of employees or total assets. The classification of MSMEs assesses all businesses irrespective of the legal form of the enterprise. Micro enterprises are businesses that employ less than five people and have total assets not exceeding Ugandan Shillings (UGX) 10 million. Small enterprises employ between 5-49 people and have total assets between UGX 10 million and 100 million. Medium enterprises employ between 50-100 people and have total assets between UGX 100 million and 360 million.
MSMEs employ approximately 2.5 million people and make up approximately 90% of private sector employment. They also contribute 20% of Gross Domestic Product (GDP) and produce 80% of Uganda's manufactured output.
Despite the significant contribution to GDP by the MSME component of the private sector, access to finance remains difficult. Less than 40% of SMEs in Uganda have access to bank loans and approximately 80% of the SMEs are unserved or underserved by financial institutions.
Challenges to SME financing
The primary reason for MSMEs taking loans in Uganda is for working capital with capital investment being a secondary driver. Most financing is provided only upon the provision of collateral, which the enterprise survey found the average value to be 161.8% of the loan amount. The reasons for MSMEs difficulty with respect to accessing financing relate to the high-risk perception of MSME lending by financial institutions, information asymmetry between lenders and borrowers, poor corporate governance and market linkages. Other factors that make financing MSMEs difficult include undercapitalisation, inadequate technical and management skills, and lack of market access due to poor quality and non-standardised products.
The information asymmetry arises due to inadequate financial information, which demonstrates itself in unreliable accounting, and unrealistic business plans. The unreliable accounting may possibly be due to lack of knowledge or the deliberate understatement of sales for tax purposes. Unrealistic business plans are prone to overly optimistic outlooks and failure to include additional costs as sales or production increases. This makes it difficult for banks to access and ultimately lend to SMEs as they are usually presented with incomplete, insufficient and inaccurate financial records. The problem can be partially offset by working with business advisors to improve the quality of financial information provided by MSMEs.
As a result of the possible misalignment between lenders and borrowers, lenders are forced to seek collateral and offer highly priced products. This is evident in the survey results, which indicated that 86.7% of loans issued require collateral. Additionally, at an average of 23.9% in 2016, lending rates in Uganda are the highest in East Africa.
Possible Solutions
Financial institutions are evolving to find alternative risk management techniques other than traditional collateral requirements. The use of leasing and invoice discounting are novel approaches to financing MSMEs. Leasing entails that the leasing company purchase equipment that MSMEs require and provide the MSME with the equipment for a fixed fee payable over the lease period, typically 3 years. The asset remains the property of the Lessor until the end of the Lease. This allows the Lessor to claim capital allowances and maintain their funds for working capital, while at the same time providing security to the lender. Invoice discounting occurs when a company provides a good or
service on credit and sells the receivable to a third party at a discounted price. This provides the company with cash and the purchaser with a return on capital when payment is received. These forms of security are useful where traditional forms of security such as collateral may not be available. The flexible nature of the security makes it possible for more inclusive access to financing as the collateral is tailored to the business's needs.
MSME specific loans are available from development finance institutions (DFIs) like International Finance Corporation (IFC), CDC Group African Development Bank (AfDB), and European Investment Bank (EIB) through commercial banks. The banks receive credit lines earmarked for onward lending to MSMEs'. EIB on 29 March 2017 provided a EUR 95 million credit line for onward lending in East Africa to Equity Bank and Housing Finance. EUR 19 million was earmarked for Ugandan SMEs through Equity Bank Uganda.
Peer-to- peer (P2P) financing, as a source of SME financing, is growing in the East African region. P2P lending is premised on the practice of providing funds (in form of grants, endowments, debt or equity) to businesses, mostly SMEs, through online services that match lenders with borrowers. This alternative avenue of financing seeks to circumvent traditional financial intermediaries such as commercial banks. Research on crowd funding and P2P financing showed that USD 7.5 million was raised for investments in Uganda in 2016, representing an impressive growth rate of 312% from 2015. The success of P2P lending in the SME sector will be dictated by continued financial innovation from the increased use of mobile phone technology, coupled with implementation and enforcement of
a business-friendly regulatory framework.
DFIs offer credit guarantees to MSMEs that may lack sufficient assets to obtain financing. The DFIs guarantee to pay the bank a percentage of the principal in case of default. This provides MSMEs with the ability to receive loans at lower interest rates and longer tenors than they would have initially. For instance, Swedish International Development Cooperation Agency (SIDA) and the United States Agency for International Development (USAID) jointly run a Health Program to encourage lending to companies in the health sector. The institutions guarantee loans provided by Ecobank and Centenary Bank to the health sector.
Lenders are more willing to finance companies that are well capitalised as they provide a buffer in cases where cash flow timings may be uncertain. There are however other avenues for MSMEs to receive non-debt financing through private investors who are willing to provide risk capital to businesses in the developmental stage.
Private equity is an available source of funding for larger firms as they target to invest amounts above USD 1 million and require audited accounts as well as robust corporate governance structures.
Business development grants are also another option available to SMEs. The World Bank provides a matching grant facility as a component of the Competitiveness and Enterprise Development Project (CEDP). The grants provide businesses with the ability to acquire services that will increase their competitiveness such as management training, advisory services, business plan development and financial management.
Conclusion
Other forms of finance that may work with small businesses will not necessarily be possible with midsize businesses such as financing from microfinance institutions (MFIs). The financing provided by MFIs is usually short term and may be inadequate as they typically cater to small businesses. This leaves midsize companies in a precarious situation as larger companies can go to banks for their funding needs.
As the local financial sector develops, financing products for MSMEs will increase due to competition and new innovative business models. The use of technology and alternative financing vehicles will also be driving factors for the increase in MSME financing activity going forward. Technology will evolve services such as mobile banking and risk management, with techniques that rely on transaction and client data leading to alternative credit assessment methods.
MSME financing remains a challenge to the development of the sector. However, progress is changing the landscape with new financial products such as guarantees, P2P financing, leasing and invoice discounting. MSMEs can now access different products depending on their needs.
About author:
Mulungi Sseruwo is the Senior Manager Advisory and Corporate Finance Services Deloitte (Uganda) Limited
(Visited 39 time, 1 visit today)
Raving 101: The first timer's guide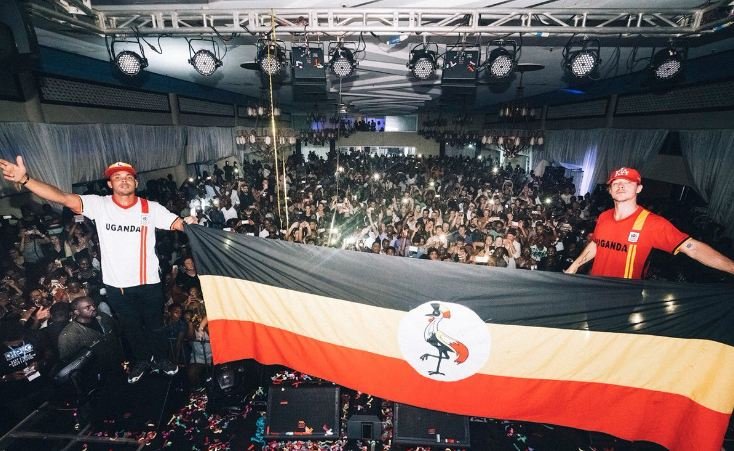 The single most important thing to note is that a rave is not your average party. If you are not promptly prepped for this, results could be tragic. Most people see party and immediately think music, drinks and dancing; what most people don't know though, is that a party thrown by Major Lazer, the most popular electronic dance music trio is epically electrifying. The party will take place on 8th October at the Sheraton gardens. So to prevent any shock effects, here are a few tips for first time ravers:
Safety first, Get yourself a fanny pack. Safely tack your ID, money and phone in the small pouch bag and secure it safely around the waist. Not only can you monitor everything easily but dance freely with absolutely no worries.
Dress code; Free and comfortable. This means no heels, no jackets, watches, handbags, generally none of that white collar fashion. What's not off limits is creative outfits, comfortable shoes, LED lights, everything neon, go crazy with the inspiration.
Roll up with the right Rave fam. Raves are about everything fun, so it's important to get the perfect crew for the job. Get yourself some happy people, Club beer loving people who are about refreshing their beat to the sound of Major Lazer beats.
Get your tickets early. Avoid all the hustle and long lines on event day. And also early bird tickets are always cheaper.
Follow the right people. Social media is the best way to "pre-rave". Get psyched with tits and bits of the show. Psych your friends out too. Tweet, Facebook, Instagram, you name it, the power of FOMO cannot be underestimated.
Staff Writer
(Visited 39 time, 1 visit today)
StarTimes acquires exclusive broadcasting rights for UEFA Europa League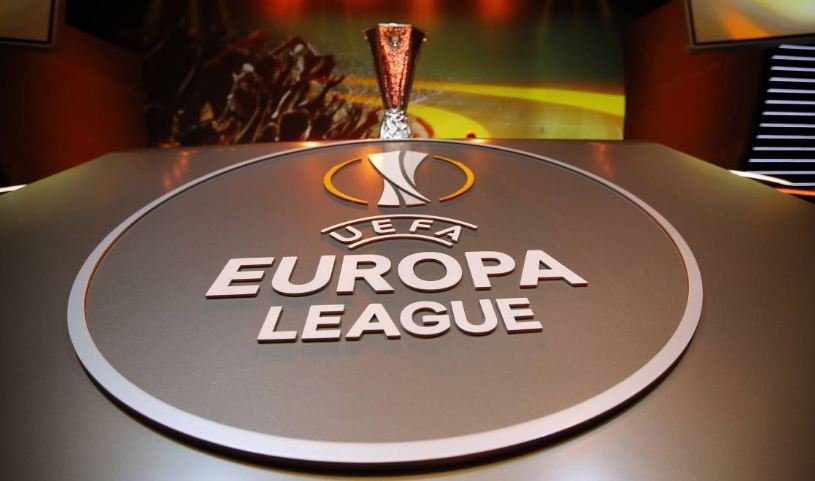 Africa's leading pay-TV operator StarTimes has acquired exclusive broadcasting rights for UEFA Europa League in Sub-Saharan Africa until 2021. The broadcast, which will begin on September 20th, will see football fans enjoy matches between the best European clubs. "We are very happy to bring UEFA Europa League to our subscribers. This summer FIFA World Cup was a success and fans really appreciated that we brought them ICC exclusive and live right after. So we thought that they would be delighted to watch another European club competition on StarTimes," explained Aldrine Nsubuga Snr, StarTimes Uganda Marketing VP. "We are working hard to bring the best sport content to our subscribers. This season will be intense for football fans with Bundesliga, French Ligue 1, FIFA Club World Cup, French & Italian Cups and now UEFA Europa League."
StarTimes will not only exclusively broadcast UEFA Europa League in Uganda but also in all Sub-Saharan Africa except South Africa, Lesotho and Swaziland. StarTimes has been awarded exclusive rights for English, Portuguese and local languages in English and Portuguese speaking areas.
(Visited 39 time, 1 visit today)
XFM Bring XFM Bash to Kampala, powered by Smirnoff

Press Release:
We're Bringing the Party to the Streets Kampala, 13th September, 2018: XFM is excited to announce that 20th October, 2018 is the date on which we shall hold the first ever XFM Street Bash. "XFM is a youth station that is all about the good music & the good vibes," said Ghislain Masamba, the XFM Station Manager. "When we looked at our need to give our listeners a good party& all these warehouse et al concepts all exhausted, doing the XFM Street Bash right next to home became such an exciting opportunity for us!"
The XFM Street Bash will be hosted at 1st Street, Industrial Area, right next to the XFM premises. It will cost revelers just UGX 10,000 to access the venue, with gates opening at 12 noon till late.
The XFM Street Bash will have revelers party with the biggest artistes, your favorite XFM & Urban TV presenters, DJs & many more.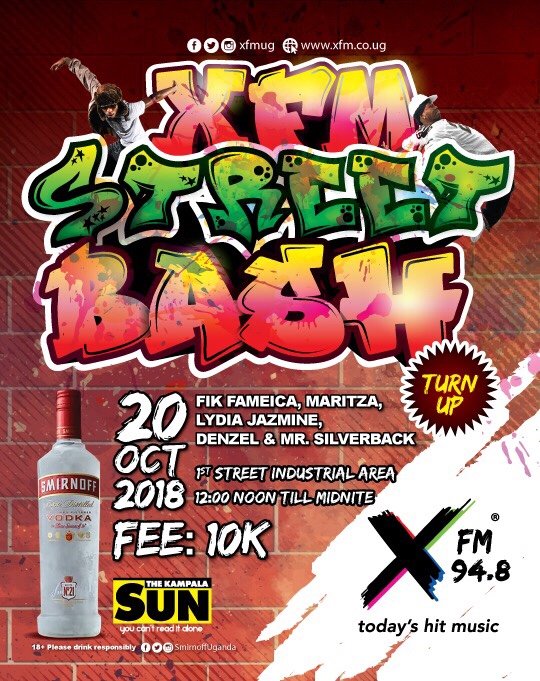 Powering the event is top vodka brand, Smirnoff. "Smirnoff is a good brand with a product that relates directly with XFM's average listener," said Vision Group's Marketing Manager in charge of Broadcast & Digital platforms, Kenneth Oduka. "Smirnoff Vodka, along with their Black & Red Ice are very popular with the youth & it made perfect sense for us to partner with them for this event."
"Smirnoff are also one of the biggest brands in as far as understanding the party scene goes. That we look to have the XFM Street Bash as one of the biggest parties in the land pretty much dictated that we partner with the best there is," added Ghislain Masamba.
For more information.
XFM is Vision Group's youth-eccentric radio station that prides itself in playing you today's hit music, located in Uganda's capital, Kampala.
(Visited 39 time, 1 visit today)