Financing options for SMEs – Alternatives to debt financing
By Mulungi Sseruwo
According to the Uganda Bureau of Statistics (UBoS), Micro Small and Midsize Enterprises (MSME) are categorised based on meeting any one of the criteria relating to the number of employees or total assets. The classification of MSMEs assesses all businesses irrespective of the legal form of the enterprise. Micro enterprises are businesses that employ less than five people and have total assets not exceeding Ugandan Shillings (UGX) 10 million. Small enterprises employ between 5-49 people and have total assets between UGX 10 million and 100 million. Medium enterprises employ between 50-100 people and have total assets between UGX 100 million and 360 million.
MSMEs employ approximately 2.5 million people and make up approximately 90% of private sector employment. They also contribute 20% of Gross Domestic Product (GDP) and produce 80% of Uganda's manufactured output.
Despite the significant contribution to GDP by the MSME component of the private sector, access to finance remains difficult. Less than 40% of SMEs in Uganda have access to bank loans and approximately 80% of the SMEs are unserved or underserved by financial institutions.
Challenges to SME financing
The primary reason for MSMEs taking loans in Uganda is for working capital with capital investment being a secondary driver. Most financing is provided only upon the provision of collateral, which the enterprise survey found the average value to be 161.8% of the loan amount. The reasons for MSMEs difficulty with respect to accessing financing relate to the high-risk perception of MSME lending by financial institutions, information asymmetry between lenders and borrowers, poor corporate governance and market linkages. Other factors that make financing MSMEs difficult include undercapitalisation, inadequate technical and management skills, and lack of market access due to poor quality and non-standardised products.
The information asymmetry arises due to inadequate financial information, which demonstrates itself in unreliable accounting, and unrealistic business plans. The unreliable accounting may possibly be due to lack of knowledge or the deliberate understatement of sales for tax purposes. Unrealistic business plans are prone to overly optimistic outlooks and failure to include additional costs as sales or production increases. This makes it difficult for banks to access and ultimately lend to SMEs as they are usually presented with incomplete, insufficient and inaccurate financial records. The problem can be partially offset by working with business advisors to improve the quality of financial information provided by MSMEs.
As a result of the possible misalignment between lenders and borrowers, lenders are forced to seek collateral and offer highly priced products. This is evident in the survey results, which indicated that 86.7% of loans issued require collateral. Additionally, at an average of 23.9% in 2016, lending rates in Uganda are the highest in East Africa.
Possible Solutions
Financial institutions are evolving to find alternative risk management techniques other than traditional collateral requirements. The use of leasing and invoice discounting are novel approaches to financing MSMEs. Leasing entails that the leasing company purchase equipment that MSMEs require and provide the MSME with the equipment for a fixed fee payable over the lease period, typically 3 years. The asset remains the property of the Lessor until the end of the Lease. This allows the Lessor to claim capital allowances and maintain their funds for working capital, while at the same time providing security to the lender. Invoice discounting occurs when a company provides a good or
service on credit and sells the receivable to a third party at a discounted price. This provides the company with cash and the purchaser with a return on capital when payment is received. These forms of security are useful where traditional forms of security such as collateral may not be available. The flexible nature of the security makes it possible for more inclusive access to financing as the collateral is tailored to the business's needs.
MSME specific loans are available from development finance institutions (DFIs) like International Finance Corporation (IFC), CDC Group African Development Bank (AfDB), and European Investment Bank (EIB) through commercial banks. The banks receive credit lines earmarked for onward lending to MSMEs'. EIB on 29 March 2017 provided a EUR 95 million credit line for onward lending in East Africa to Equity Bank and Housing Finance. EUR 19 million was earmarked for Ugandan SMEs through Equity Bank Uganda.
Peer-to- peer (P2P) financing, as a source of SME financing, is growing in the East African region. P2P lending is premised on the practice of providing funds (in form of grants, endowments, debt or equity) to businesses, mostly SMEs, through online services that match lenders with borrowers. This alternative avenue of financing seeks to circumvent traditional financial intermediaries such as commercial banks. Research on crowd funding and P2P financing showed that USD 7.5 million was raised for investments in Uganda in 2016, representing an impressive growth rate of 312% from 2015. The success of P2P lending in the SME sector will be dictated by continued financial innovation from the increased use of mobile phone technology, coupled with implementation and enforcement of
a business-friendly regulatory framework.
DFIs offer credit guarantees to MSMEs that may lack sufficient assets to obtain financing. The DFIs guarantee to pay the bank a percentage of the principal in case of default. This provides MSMEs with the ability to receive loans at lower interest rates and longer tenors than they would have initially. For instance, Swedish International Development Cooperation Agency (SIDA) and the United States Agency for International Development (USAID) jointly run a Health Program to encourage lending to companies in the health sector. The institutions guarantee loans provided by Ecobank and Centenary Bank to the health sector.
Lenders are more willing to finance companies that are well capitalised as they provide a buffer in cases where cash flow timings may be uncertain. There are however other avenues for MSMEs to receive non-debt financing through private investors who are willing to provide risk capital to businesses in the developmental stage.
Private equity is an available source of funding for larger firms as they target to invest amounts above USD 1 million and require audited accounts as well as robust corporate governance structures.
Business development grants are also another option available to SMEs. The World Bank provides a matching grant facility as a component of the Competitiveness and Enterprise Development Project (CEDP). The grants provide businesses with the ability to acquire services that will increase their competitiveness such as management training, advisory services, business plan development and financial management.
Conclusion
Other forms of finance that may work with small businesses will not necessarily be possible with midsize businesses such as financing from microfinance institutions (MFIs). The financing provided by MFIs is usually short term and may be inadequate as they typically cater to small businesses. This leaves midsize companies in a precarious situation as larger companies can go to banks for their funding needs.
As the local financial sector develops, financing products for MSMEs will increase due to competition and new innovative business models. The use of technology and alternative financing vehicles will also be driving factors for the increase in MSME financing activity going forward. Technology will evolve services such as mobile banking and risk management, with techniques that rely on transaction and client data leading to alternative credit assessment methods.
MSME financing remains a challenge to the development of the sector. However, progress is changing the landscape with new financial products such as guarantees, P2P financing, leasing and invoice discounting. MSMEs can now access different products depending on their needs.
About author:
Mulungi Sseruwo is the Senior Manager Advisory and Corporate Finance Services Deloitte (Uganda) Limited
(Visited 39 time, 1 visit today)
StarTimes geared up for World Cup live broadcast following the Trophy tour in Uganda.
With the 2018 FIFA World Cup Russia broadcast rights in Sub-Saharan Africa, Ugandans are definitely going to enjoy the world's greatest sporting showpiece on StarTimes.
StarTimes is an official broadcaster of 2018 FIFA World Cup Russia and will broadcast all the 64 matches in HD across its Satellite, Terrestrial and OTT platform. Ugandans, wherever they are shall be able to enjoy the World Cup countrywide.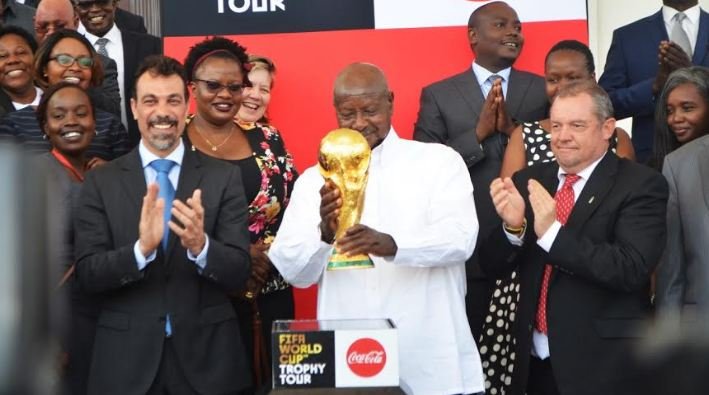 Using our World Football channel as the flagship channels, our other channels that will host live HD broadcasts will include Sports Premium, Sports Arena and Sports Focus.
As the Trophy tour is on, the World Cup fever is rising now amongst fans countrywide. StarTimes pledges nothing but the best reliable TV broadcast come June/ July 2018.
(Visited 39 time, 1 visit today)
StarTimes subscribers to enjoy free upgrade this Easter season.
As Ugandans celebrate Easter season, the leading pay TV in Uganda StarTimes is offering their customers a chance to enjoy a one month free upgrade from the current bouquet as long as they pay their monthly subscription. The promotion that started today will end on 20th April 2018.
StarTimes customers on both terrestrial and satellite platforms can make a monthly subscription for their favorite bouquet and enjoy this Easter offer. Speaking to our reporter, the StarTimes Brand and Marketing Vice President, Mr. Aldrine Nsubuga Snr, noted that the promotion is aimed at ensuring that their customers enjoy the benefits of the higher bouquet for the price of a lower bouquet in order for them to experience the variety of channels on StarTimes bouquets.
He explained for example, that if a subscriber pays for basic bouquet (18,000/=) during this period, he / she will get a full upgrade to classic bouquet (36,000/=).
The Public and Relations and Communications Manager of StarTimes, Christine Nagujja, noted that subscribers on satellite can also enjoy the same benefits when they pay for either Nova or smart bouquets. Those who pay for the premium bouquets, namely, classic or super will enjoy an extra week for free.
StarTimes is an official broadcaster of the FIFA World Cup Russia, 2018 and is treating its customers to the full range of programming and content beginning with this Easter season.
(Visited 39 time, 1 visit today)
Crown Beverages Limited marks 25 Years of Pepsi in Uganda
By Staff Writer
Crown Beverages Limited who are the official Bottlers of Pepsi brands in Uganda celebrated 25 years at a glamorous event that was attended by Chairperson and CEO of PepsiCo, Mrs. Indra K. Nooyi.
The event that took place on Thursday, February 22, 2018 and saw several PepsiCo senior executives, senior government officials, partners and other stakeholders was held at the prestigious Lake Victoria Serena Hotel- Kigo.
Speaking at the event while announcing a US$2m partnership with CARE International to enhance food security and nutrition in rural households, Chairperson and CEO of PepsiCo, Mrs. Indra K. Nooyi, said that he was thrilled to be part of Crown's 25th anniversary celebration and to launch the partnership that will help unlock opportunity and prosperity in Uganda.
She went on to say that; "PepsiCo is teaming up with one of the world's leading NGOs, CARE, to launch an effort that will enhance food security and nutrition in rural households in two districts of Uganda namely Kyenjojo and Kyegegwa with a strong emphasis on women farmers. PepsiCo will provide $2 million over the next three years to improve skills and access to productive assets, such as land, water, and finance, while also helping these women take advantage of opportunities in higher-end markets."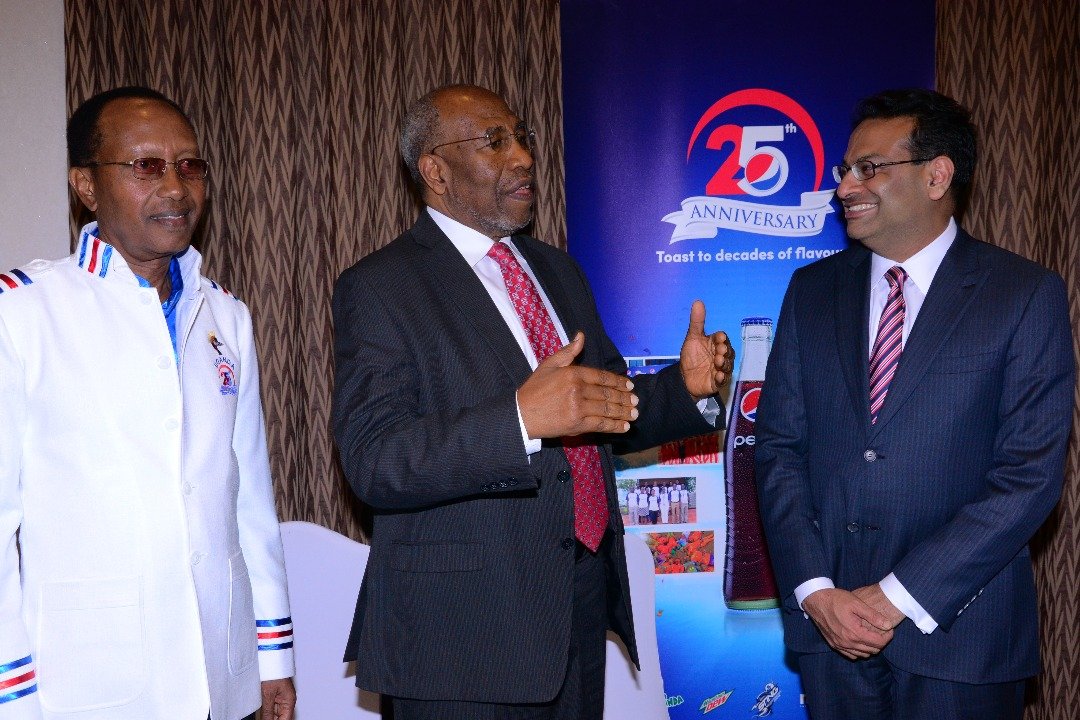 Her powerful speech was followed by the Chairman of Crown Beverages Limited, Dr. Amos Nzeyi's speech who said that Pepsi is successful in Uganda today because of the many stakeholders we serve as a company.  "It's therefore befitting for us to toast to decades of flavor with the many stakeholders who have made our success in Uganda possible," he noted in his speech.
He also reaffirmed Pepsico's investment in communities while generating domestic revenue for the governments in the region.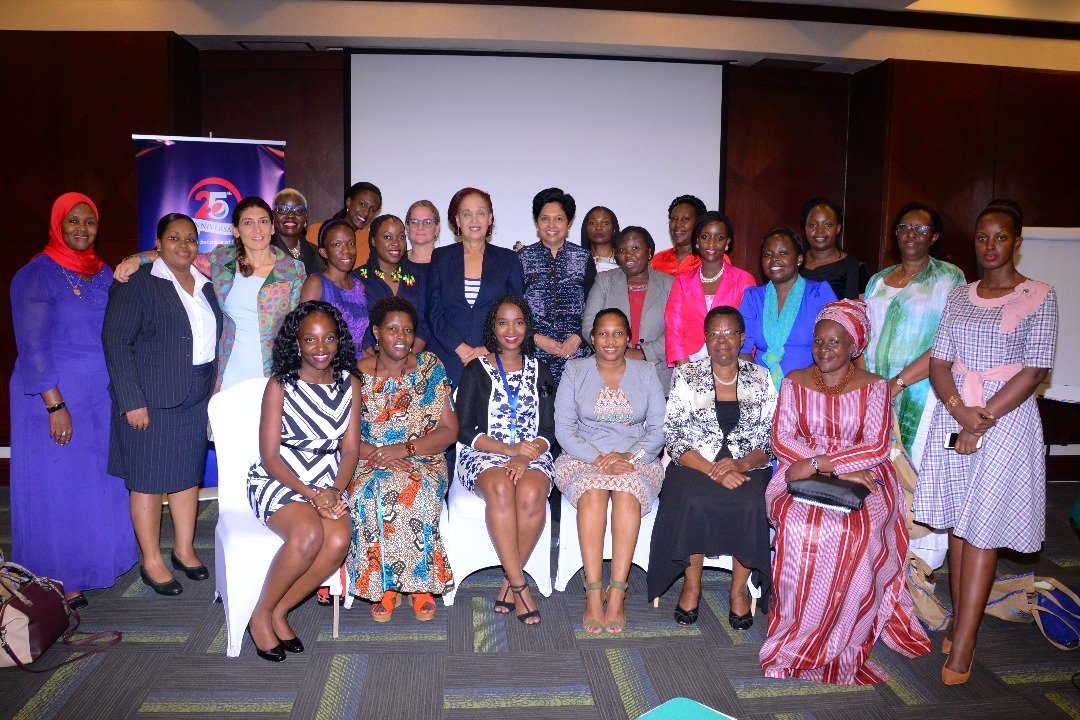 Mr. Paddy Muramiirah, CEO Crown Beverages Limited added saying, "We are pleased to celebrate 25 years in Uganda because it's a culmination of many years of investment and commitment to delighting our customers with international quality beverages. This year's celebration is another wonderful opportunity for us to appreciate the Ugandan consumer of our soft drinks for their loyalty and passion for Pepsi over the years. We celebrate with you too."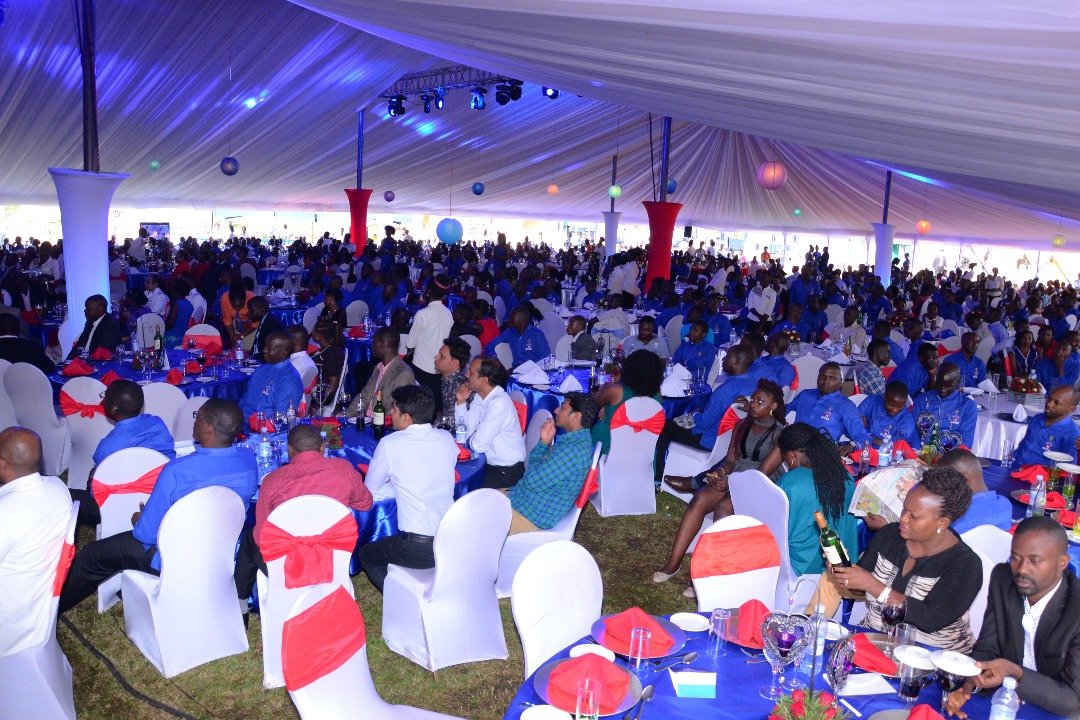 (Visited 39 time, 1 visit today)