Exim Bank Celebrates Another Milestone In East Africa's Financial Sector

Bank Of Uganda Governor, Emmanuel Tumusiime-Mutebile, has commended Exim Bank for being resilient and withstanding a possible upheaval as the bank rebranded from Imperial Bank to Exim Bank.
Addressing guests at a Cocktail Party at the Serena Kampala Hotel and Conference Centre to celebrate the Bank's new identity, Governor Mutebile commended the board, management and staff of Exim Bank for bringing additional banking services and facilities to Uganda.
Exim Bank Managing Director, Mr. R. R. Chandramouli, thanked the Governor for maintaining a steady hand on Uganda's banking sector.
"We are extremely grateful to you for staying the course with us all these years especially the times when some were uncertain. I'd like to think that your loyalty as customers is given to us in return for our loyalty to you as reliable bankers," Chandramouli said.
"We also wish to thank the Governor Bank of Uganda and the government at large for continued support you have given to us as a bank and the entire financial sector. Your steady hand at the till has ensured we all stay afloat and has given confidence to investors in the financial sectors including our own," he added.
Exim Bank Chairperson, Mrs. Sarah Nanziri Baggalaliwo, pointed out the long and venerable heritage that Exim Bank shared with Tanzania, and said Uganda was proud to be the first country in East Africa outside Tanzania that Exim Bank had chosen to expand into.
"You represent a very large number of customers that we hold in very high regard and we thank you for accepting our invitation to celebrate with us the beginning of a new era" she added.
Exim Bank Uganda began operations on March 17, 2016, taking over from Imperial Bank Uganda Limited.
The shareholders in Exim Bank Uganda are Exim Bank Tanzania with 58.6%, Mukwano Group 36.5% and Export Finance Limited 4.9%.
Exim Bank Tanzania is the largest indigenous Bank in Tanzania, and has been in operation for 19 years, with a total of 37 branches at strategic centres across Tanzania, and two overseas Subsidiaries. The Bank's Total Assets were at Tzs 1.250 trillion (USD 580 mio) as on 31st December 2015 with Shareholders Funds of nearly USD 90 Million. The bank has two banking subsidiaries in Comoros Djibouti. Uganda is the third operational country the bank has expanded to.
Exim Bank posted a stellar financial performance for the year 2015, with the bottom line (Profit after Tax) posting a record growth of 80% over previous year at Tzs30.666 billion (USD 14 mio).
"It has been a great honor to partner with 'Exim Brand' here in Uganda", said Alykhan Karmali, key promoter of the Mukwano Group.
"We are all excited to benefit from the prowess of 'Exim Group's experience on trusted and futuristic banking. Customers with operations in both the countries can now look forward to greater synergies, efficiencies and facilitations on banking services", added Mr Alykhan Exim Bank Uganda shall have the privilege of making a strong beginning with a set of five well-established branches in Kampala. The bank has more than 100 dedicated and loyal staff.
(Visited 109 time, 1 visit today)
Hima Cement introduces new product on the market

By Our Reporter
Hima Cement has today introduced a new product on the market, the Supaset 32.5R. Launched under the tagline, 'strength and speed in one bag,' Supaset is consistent in quality and is fast setting. This new development comes to reinforce the company's commitment to innovations that cater to the everyday needs of their customers.
"We are committed to developing and improving to provide high quality products that our customers can trust and rely on. Our products adhere to the stringent quality standards and undergo very strict testing procedures to ensure reliability." Said Hima Cement Marketing Director Mr. Allan Ssemakula at the launch of Supaset 32.5R at the company head offices in Kampala.
"The Supaset 32.5R answers the question of aesthetics.  Many of our customers always prefer a dark finish, and we offer that with our new product," he added. "The new brand also  sets much faster, rapidly gains strength and comes packaged in Kraft paper bag for less dust emission. "
SupaSet is suitable for high strength, medium and low strength concrete projects that include among others, flooring for both domestic and industrial purposes, making foundations, blocks and other everyday maintenance and renovation projects.
The new cement brand is already on the a market and is available at the leading hardware stores in the country.
(Visited 109 time, 1 visit today)
MTN implements reduced Mobile Money Tax

The reduction of the mobile money tax is from 1% to 0.5% on withdrawals only and takes effect on Saturday 17th November 2018
There is no more tax when sending or receiving money and making payments
Kampala, Uganda  MTN Uganda has today implemented the revised tax measures on mobile money transactions – from 1% to 0.5% on withdrawals only.
The implementation comes after the assenting of the Excise Duty (Amendment) Act (2018) into law by President Yoweri Museveni. This Act reduces the tax that went into force on 1st July 2018 and limits its application to only withdrawals from customers' mobile money wallets. The tax will not apply to other forms of mobile money transactions like payments, sending and receiving money and deposits or buying of airtime and bundles using MTN MoMo.
This is a welcome move that is applauded by the industry because the customers spoke, and they were listened to. MTN's hope is that the reduction in the tax will bring back mobile money customers who had been discouraged from using the service due to the high cost of the tax.
We believe that mobile money has greatly accelerated financial inclusion by overcoming access to money barriers. It also further promotes business, trade and commerce especially within the informal sectors of the economy and rural, hard to reach parts of Uganda which have no access to formal financial services.  
(Visited 109 time, 1 visit today)
Women entrepreneurs win big in Rising Woman Initiative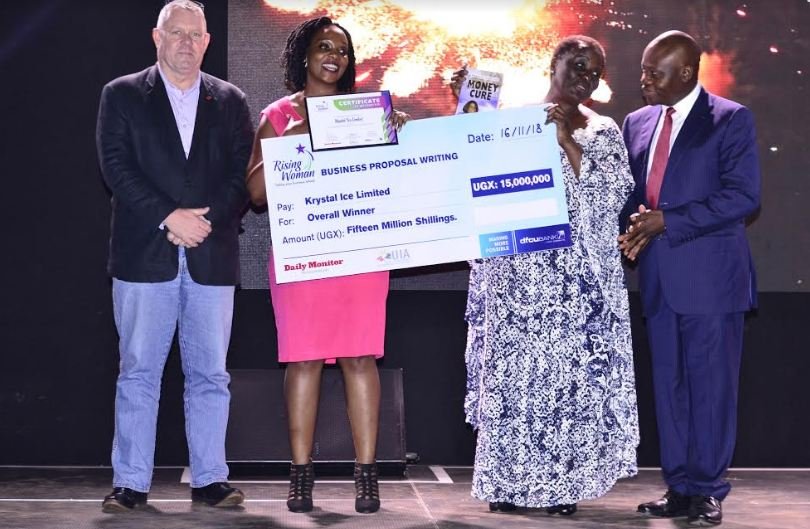 dfcu Bank in partnership with Monitor Publications Limited's (MPL) flagship brand Daily Monitor and Uganda Investment Authority-UIA, have just concluded a nationwide three-phase initiative dubbed Rising Woman under the theme 'Taking your Business Ahead'. The objective of the initiative is to recognize, celebrate and promote a culture of mentorship among women entrepreneurs in Uganda.
At least eight hundred (800) women entrepreneurs have benefited from the business training conducted in different parts of the country since July. One hundred (100) women entrepreneurs have taken part in an Exhibition intended to provide women in business a platform to show case their products and services and share knowledge with other entrepreneurs.
As part of the initiative, a call for the submission of business proposals was made. The Business proposal writing competition was aimed at giving women an opportunity to articulate their business ideas in writing and win partial funding for the same. A total of over eighty 80 business proposals were submitted and independently vetted from which twenty (20) businesses had a chance to vie for the top ten (10) spots.
On Friday evening, dfcu bank, Daily Monitor and UIA recognized and awarded three women entrepreneurs with cash prizes of up to UGX 30,000,000 million and an all-expense paid study tour trip to Nairobi after emerging victorious in the highly competitive proposal writing competition.
The overall winner Krystal Ice Limited took home UGX 15,000,000 million, Cradle Child Care Centre, the first runner up was awarded UGX 10,000,000 million and second runner up Kalaa Mugosi Women Empowerment Limited received UGX 5,000,000 million.
Additionally, one delegate from each of the 10 selected businesses that entered the competition will be sponsored to attend a study tour in Nairobi in January 2019. They will also receive free business advisory services for a period of one (1) year courtesy of the dfcu Women in Business Program.
The Award ceremony was presided over by the former Vice President of Uganda Dr. Specioza Wandira Kazibwe.
(Visited 109 time, 1 visit today)