Exim Bank Celebrates Another Milestone In East Africa's Financial Sector
Bank Of Uganda Governor, Emmanuel Tumusiime-Mutebile, has commended Exim Bank for being resilient and withstanding a possible upheaval as the bank rebranded from Imperial Bank to Exim Bank.
Addressing guests at a Cocktail Party at the Serena Kampala Hotel and Conference Centre to celebrate the Bank's new identity, Governor Mutebile commended the board, management and staff of Exim Bank for bringing additional banking services and facilities to Uganda.
Exim Bank Managing Director, Mr. R. R. Chandramouli, thanked the Governor for maintaining a steady hand on Uganda's banking sector.
"We are extremely grateful to you for staying the course with us all these years especially the times when some were uncertain. I'd like to think that your loyalty as customers is given to us in return for our loyalty to you as reliable bankers," Chandramouli said.
"We also wish to thank the Governor Bank of Uganda and the government at large for continued support you have given to us as a bank and the entire financial sector. Your steady hand at the till has ensured we all stay afloat and has given confidence to investors in the financial sectors including our own," he added.
Exim Bank Chairperson, Mrs. Sarah Nanziri Baggalaliwo, pointed out the long and venerable heritage that Exim Bank shared with Tanzania, and said Uganda was proud to be the first country in East Africa outside Tanzania that Exim Bank had chosen to expand into.
"You represent a very large number of customers that we hold in very high regard and we thank you for accepting our invitation to celebrate with us the beginning of a new era" she added.
Exim Bank Uganda began operations on March 17, 2016, taking over from Imperial Bank Uganda Limited.
The shareholders in Exim Bank Uganda are Exim Bank Tanzania with 58.6%, Mukwano Group 36.5% and Export Finance Limited 4.9%.
Exim Bank Tanzania is the largest indigenous Bank in Tanzania, and has been in operation for 19 years, with a total of 37 branches at strategic centres across Tanzania, and two overseas Subsidiaries. The Bank's Total Assets were at Tzs 1.250 trillion (USD 580 mio) as on 31st December 2015 with Shareholders Funds of nearly USD 90 Million. The bank has two banking subsidiaries in Comoros Djibouti. Uganda is the third operational country the bank has expanded to.
Exim Bank posted a stellar financial performance for the year 2015, with the bottom line (Profit after Tax) posting a record growth of 80% over previous year at Tzs30.666 billion (USD 14 mio).
"It has been a great honor to partner with 'Exim Brand' here in Uganda", said Alykhan Karmali, key promoter of the Mukwano Group.
"We are all excited to benefit from the prowess of 'Exim Group's experience on trusted and futuristic banking. Customers with operations in both the countries can now look forward to greater synergies, efficiencies and facilitations on banking services", added Mr Alykhan Exim Bank Uganda shall have the privilege of making a strong beginning with a set of five well-established branches in Kampala. The bank has more than 100 dedicated and loyal staff.
(Visited 1 time, 1 visit today)
UBL rewards youth in Northern Uganda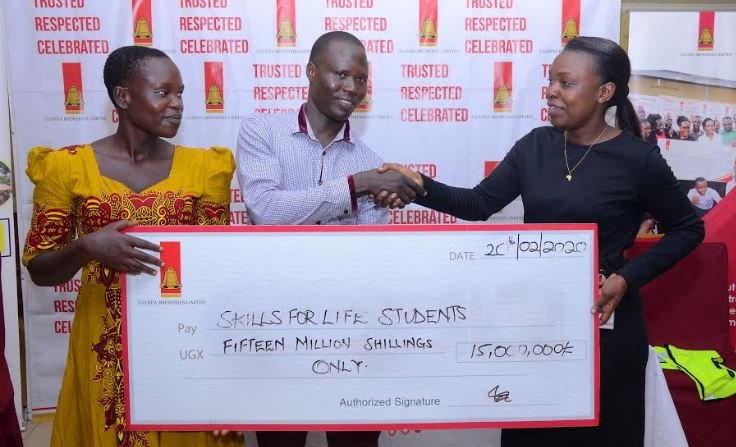 By Our Reporter
Uganda Breweries Limited (UBL) has given cash rewards to 10 youth from Northern Uganda for their startup businesses. These youths received a reward of Ugx 15 million for excelling in the UBL skills for life program.
UBL, under the skills for life scheme, in October 2018 offered 30 scholarships worth shs 116 million to young, academically talented but financially challenged students from the farming communities in Northern Uganda. Under project, UBL provided funds to cover tuition, entrepreneurship training and mentorship that enabled the students to start businesses in their communities.
"At Uganda Breweries, one of our key priority areas is skilling youth in order to secure a sustainable future. Under our Skills for Life Initiative, we continue to offer special opportunities to the nation's brightest scholars who are less fortunate. We not only offer them scholarships but also provide career guidance and mentorship on business start-ups and expansion skills which the youth can later use to increase job opportunities in their communities, improve their incomes and eradicate poverty in the long run." Charity Ekudu Kiyemba, the Uganda Breweries Legal and Corporate Relations Director said.
"From the total beneficiaries that we sponsored and skilled in 2018, we are happy to share that all have finished school and gone ahead to start businesses of their own. However the 10 youths that we are rewarding today put up exceptional and valuable businesses which we are proud to recognize." She added.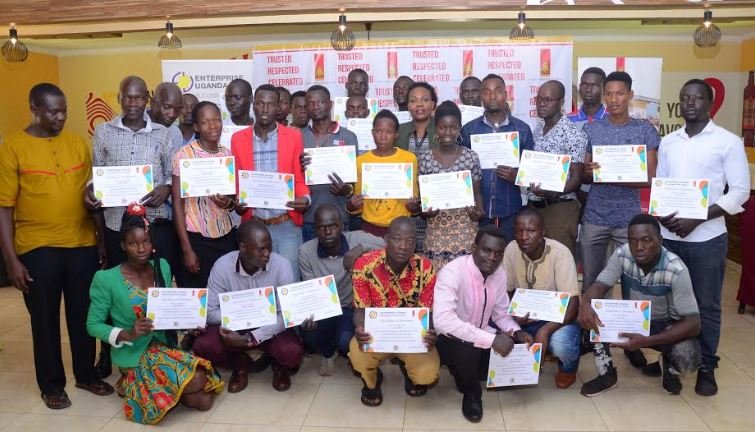 The scholarship project is managed and run on behalf of UBL by technical expert, Enterprise Uganda, who have vast experience in SME development, training and mentorship in entrepreneurship. Enterprise Uganda was in charge of skilling, mentoring and training the students as well as selecting the top performing businesses to receive the seed capital.
Explaining the criteria they used to pick the students to receive the reward money, Rosemary Mutyabule from Enterprise Uganda said, "We selected the best young entrepreneurs based on their capacity to execute and implement business projects. We also assessed the sales that were made since they started the business, the profits made, the number of employment opportunities that have been created by the business and the general contribution of the business to the neighboring community."
"For example 21 years old Betty Apoo from Kitgum technical Institute in December 2018 set up a tailoring business and a Simsim business in Rackoko, Pader district. Her initial capital was shs 98,000/= borrowed from her aunt. She made sales of Shs 1,000,000/= and a profit of shs 510,000/=. Betty is now supporting her family and paying school fees for her two children."
"Similarly, Auma Sunday Okee (22 years) set up a maize grain farm in Mucwini, Kitgum district using capital of shs 98,000/=. She earned sales of shs 1,611,000/= and a profit of shs 1,446,000/=. Ojok Christopher from St Daniel Comboni started a piggery and brick making business in February 2019 with capital of shs 150,000. He has so far made sales of shs 560,000 and currently employs 6 people in his brick laying business."
The youth that have received the seed capital are Nelson Mandela, Christopher Ojok, Innocent Wokorach, Geoffrey Opoka, Bongomin Calvin from St Daniel Comboni in Gulu, Auma Sunday Okee, Ocen David, Apoo Betty Canwak, Okema John Kelly and Ayaa Rosemary from Kitgum Technical Institute.
Since inception in 2001, the Uganda Breweries Skills for Life Initiative has awarded over 200 university scholarships to bright and needy students across East Africa, with 40 of them from Uganda.
In 2017, UBL re-focused their scholarships to focus on Technical and vocational courses in response to the cry for more practical entrepreneurial skills for the youth to reduce unemployment levels around the country. UBL has so far awarded scholarships worth UGX 230m to 70 students in vocational schools in Northern, Western and Central Uganda. Every year the company will be giving out scholarships to students from the different regions around the country.
(Visited 1 time, 1 visit today)