Etihad Airways introduces third daily flight to Riyadh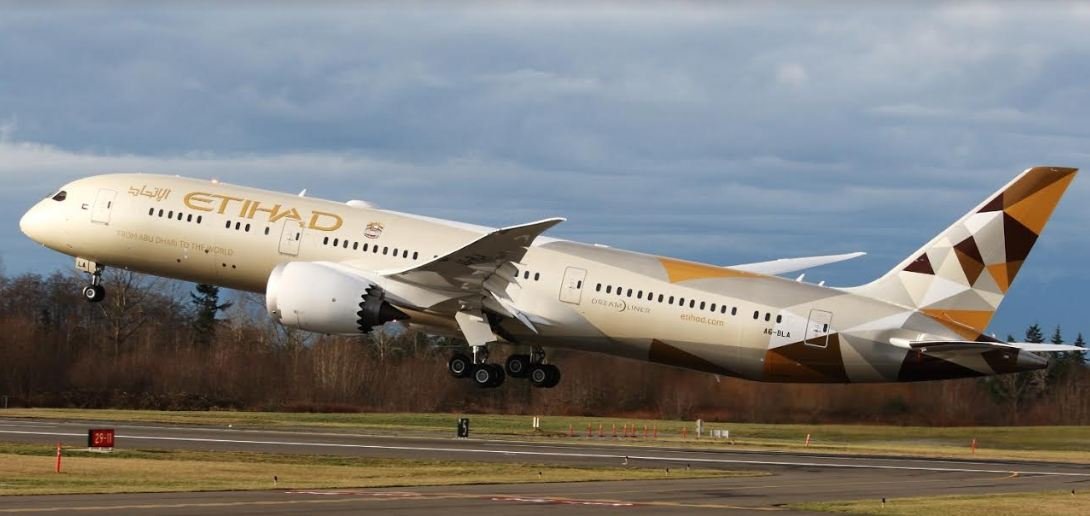 Etihad Airways is introducing a third daily flight on the Abu Dhabi – Riyadh route, effective 1 February 2017.
The extra services underscore the airline's commitment to offer guests greater choice and more travel options between the capital cities of the United Arab Emirates and the Kingdom of Saudi Arabia.
The new daily late night departures from both Abu Dhabi and Riyadh are timed to allow guests to spend full days in either city. Arrivals into Abu Dhabi International Airport provide guests with more connections to early morning services to Europe, North America and the Indian Subcontinent. These include London, Paris, Frankfurt, New York, Delhi and Mumbai.
Together with a Boeing 777 and the recently-introduced Boeing 787 on the route, the new service will increase the number of weekly seats to 10,600 between Abu Dhabi and Riyadh. Codeshare partner flynas will continue to operate a daily flight on the route.
Kevin Knight, Etihad Aviation Group Chief Strategy and Planning Officer, said: "Our expanded services between Abu Dhabi and Riyadh are in line with Etihad Airways' strategy to offer more choice, greater frequency and additional travel options when aircraft availability and market conditions permit.
"The extra flights will cater to the strong demand between the two capital cities, and bring closer our global network to Riyadh over our Abu Dhabi hub."
Etihad Airways launched scheduled flights to the Kingdom of Saudi Arabia with services to Riyadh in 2004, and has steadily grown capacity with additional frequencies and aircraft upgrades to its current double daily operation.
From February 1, the airline will operate 70 return flights each week to and from four Saudi cities. On the Riyadh route alone, Etihad Airways has flown more than 2.5 million guests since 2004.
Etihad Airways' flights to Riyadh, Jeddah, Madinah and Dammam are complemented by Saudi codeshare partner flynas, whose dedicated services between Abu Dhabi and Riyadh, Jeddah and Dammam provide travellers with even more choice.
(Visited 71 time, 1 visit today)
Airtel Uganda to handover foodstuffs to Muslim communities in Ramadan campaign

Airtel Uganda has launched an extensive Corporate Social Responsibility campaign of giving that will be held countrywide throughout the Holy Month of Ramadan. The campaign is aimed at shedding light on the true Ramadan spirit and celebrating this special time of the year with the local communities.
The CSR campaign begun with a handover of foodstuffs to the Wandegeya muslim community to assist them in preparing their Iftar meals.
Commenting during the handover, Mr. Ali Balunywa the Airtel Uganda Sales & Marketing Director said: "We would like to take this opportunity to greet you all on the blessed occasion of the Holy Month of Ramadan. This month presents a special time for our organization to communicate and interact with the community through our charitable
programs. Every year at Airtel we prove that we are a company that pioneers in the social involvement, where we play a big role to give back to the community."
Balunywa went on to explain that, just like every year, Airtel will be sharing the joys of Ramadan by distributing food stuffs every week throughout this holy month to the underprivileged in over 24 mosques across the country. The company specifically chose highly populated areas to reach out to the maximum number of people. Some of the districts earmarked for Ramadan donations include Kampala, Masaka, Mbale, Mbarara, Lira, Kamuli, Fortportal, Gulu, Iganga, Hoima, Jinja, Arua, Tororo, Kabale and many others.
Balunywa added: "Our pledge towards our customers of providing the latest and best technologies has never been broken, and today we continue our promise towards the entire community through our annual Ramadan CSR campaign."
In addition to the food stuffs, the company has launched a campaign where subscribers that recharge a minimum of 500/- through Airtel money & E-recharge will receive free 100MBs, 100SMS (Airtel to Airtel SMS) and 30Minutes (Airtel to Airtel calls). These minutes, MBs & SMS can be used between midnight & 6am daily and expire at 6am.
(Visited 71 time, 1 visit today)
Mirama Hills traffic surges after Katuna road collapse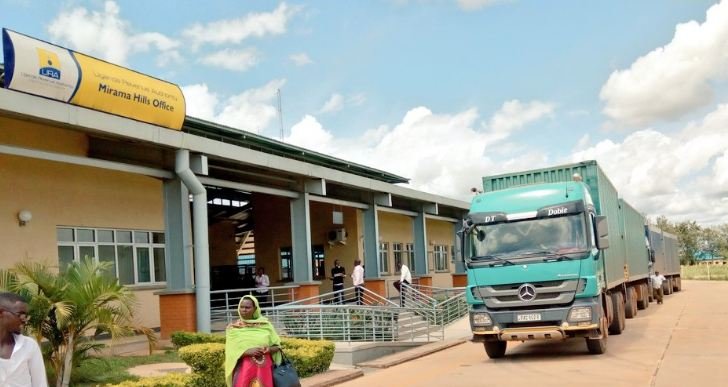 By Our Reporter
It is no longer business as usual at the Katuna border, a major link between Uganda and Rwanda. This after heavy rains on Tuesday last week damaged the road about four kilometres into the Rwandan side, disrupting business along the route.
Following the incident, customs officials at Katuna were forced to divert heavily loaded trucks to Mirama Hills one stop border post, an alternative route to Kigali, Rwanda. This move has seen traffic surge at the Mirama Hills one stop border post.
According to Ronald Kwezi Mugisha, officer in charge at the Mirama Hills customs office, traffic cleared daily has since increased exponentially. He revealed that by the 3rd day after the diversion they had gone from handling just 9 trucks daily to about 131 trucks.
"We clear vehicles very fast given joint clearance between Uganda and Rwanda customs at this border post." Mugisha noted. "We have also since increased our working hours from 6am to 10pm so as to better able to serve our clients."
Despite the alternative route, many heavy trucks still remain stranded at the Katuna border contemplating their next move as Mirama Hills lies 100Km away from Katuna.
Speaking to a group of journalists on Thursday last week, Julius Kaloki, one of the drivers who had arrived at Katuna on the unfortunate night of the road collapse, expressed his discomfort at being stuck at the border and remains worried that he might soon use up his upkeep money.
"My per diem is getting finished because I have to pay for accommodation, feeding and parking fees for the trucks with every extra day spent here." He said.
He also showed concerns over the extra costs he would have to incur in terms of fuel and other travel related expenses, if he decided to turn back.
Meanwhile, Simon Esunget, the officer in charge at the Katuna customs office, says the entry point continues to operate 24/7 but remains partially open to only buses and light motor vehicles. This has seen daily traffic cleared at Katuna plummet by over 50% from about 300 vehicles cleared daily to about 144. However, the average number of travelers using the border remains relatively the same as buses and private cars were not affected by the diversion to Mirama Hills.
While it is 30 km more to travel from Ntungamo to Kigali through Mirama Hills than through Katuna, Mirama Hills offers a superior alternative as it boasts of better roads and greater efficiency in clearance.
"Many people do not know about this border post, but it is a modern and very efficient facility. We should be a more preferable route to use." Mugisha said.
(Visited 71 time, 1 visit today)
J.K Holdings drags CMA's Kiryabwire to Law Council.

J.K Holdings has petitioned the Uganda Law Council over Capital Markets Authority's Angella Kiryabwire for bleaching the professional ethics and the non discourse agreement.
In the letter dated May 18. 2018 from Tumukunde & Luwaga Co. Advocates and signed by Tumukunde N, J.K Holding accuses Angella Kiryabwire for leaking their confidential information to their competitors.
According to the letter, Ref/ 18/TL/05, J.K Holdings Limited sought to establish a Collective Investment Scheme through CMA, upon which Kiryabwire requested the company lawyer to furnish the authority with a checklist of all documents needed before approval.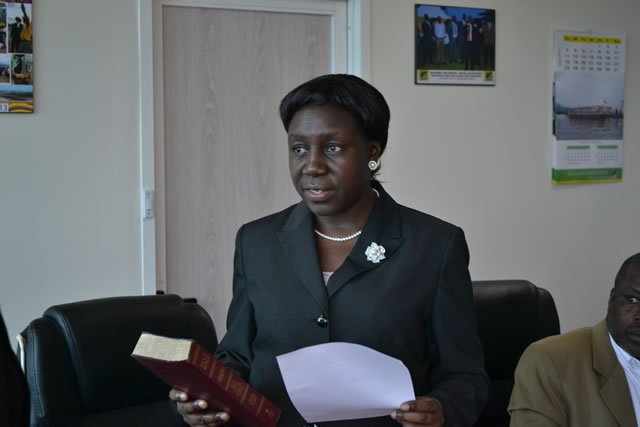 The letter says that though Kiryabwire and JK. Holdings signed a Non-Disclosure of Information Agreement to third parties before the elapse of six years unless ordered by a competent court, she went ahead and shared the information with Stanlib Uganda Limited who runs a collective investment scheme called Money Markets Fund and IRSTA Limited.
JK. Holdings' lawyer explained that they had mail correspondences between Kiryabwire, the Chief Executive Officer of Standlib Limited Mrs. Annette Rumanyika Mulira and Lydia Muleembe of IRTSA Limited.
"On August 12, 2018 at 11am, Mrs. Angella Kiryabwire sent all our documents we shared with her to kirabwiretrevor@gmail.com after a few minutes kiryabwiretrevor@gmail.com forwarded all the documents received to Imuleembe@gmail.com this is the personal email of Lydia Muleembe the CEO of IRSTA Limited,"
As a result to sharing this information our software servers have been hacked into, several messages have been sent to our prospecting investors discouraging them from investing with us. "Our prospecting agents in Uganda who had agreed to work with us have been contacted and told not to work with us because we are a fraudster. This has greatly damaged the reputation of the company and its prospecting business," the letter adds.
"The location of our intended premises which was among our Trade secrets disclosed to Mrs. Kiryabwire has been taken over by our competitor IRSTA Limited."
According to J.K Holdings, the application to operate a Collective Investment Scheme by IRTSA was granted within one week. The company claims that though they had filed their application over one year ago, they had received no explanation from CMA as to why their application had taken that long.
"The actions of Kiryabwire contravene Rule 7 of the Advocates Professional conduct regulations SI-267-2."The letter states.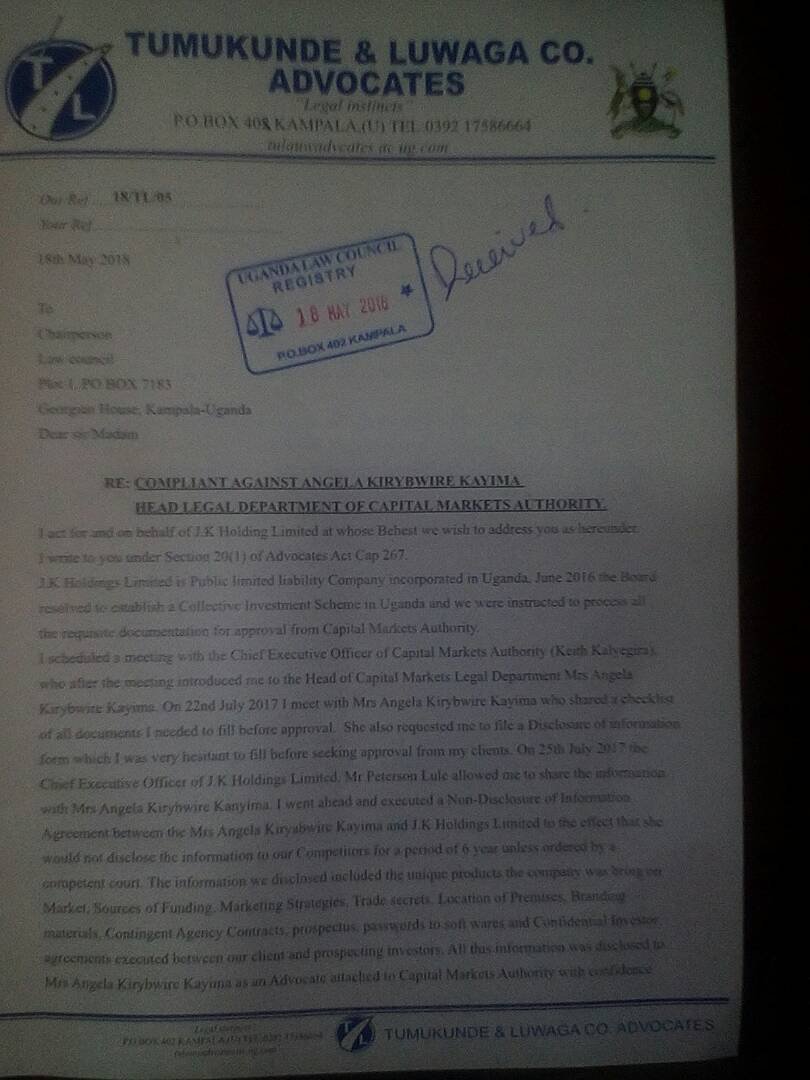 "We disclosed this information to Mrs. Kiryabwire trusting that she is an advocate of the High court who respects Advocates Professional conduct regulations. The information we disclosed included; the unique products the company was to bring on the market, sources of funding, marketing strategies, trade secrets, branding materials, contingent agency contracts, prospectus and passwords to soft wares executed between our client and prospecting investors."The letter explains.
Now that Tumukunde &Luwaga CO. Advocates on behalf J.K Holding Limited has filed a complaint against Angela Kiryabwire head legal department Capital Markets Authority, shows that Angela Kiryabwire Kanyima is no stranger to controversies.
Angela Kiryabwire superintended over the money bonanza in the 74 Km Katosi road scandals where Shs24billion was dished out to a non existing US firm without a bank guarantee.
Kiryabwire as Chairperson of the Uganda National Roads Authority (UNRA) Board failed in her oversight role and tax payers' money was lost.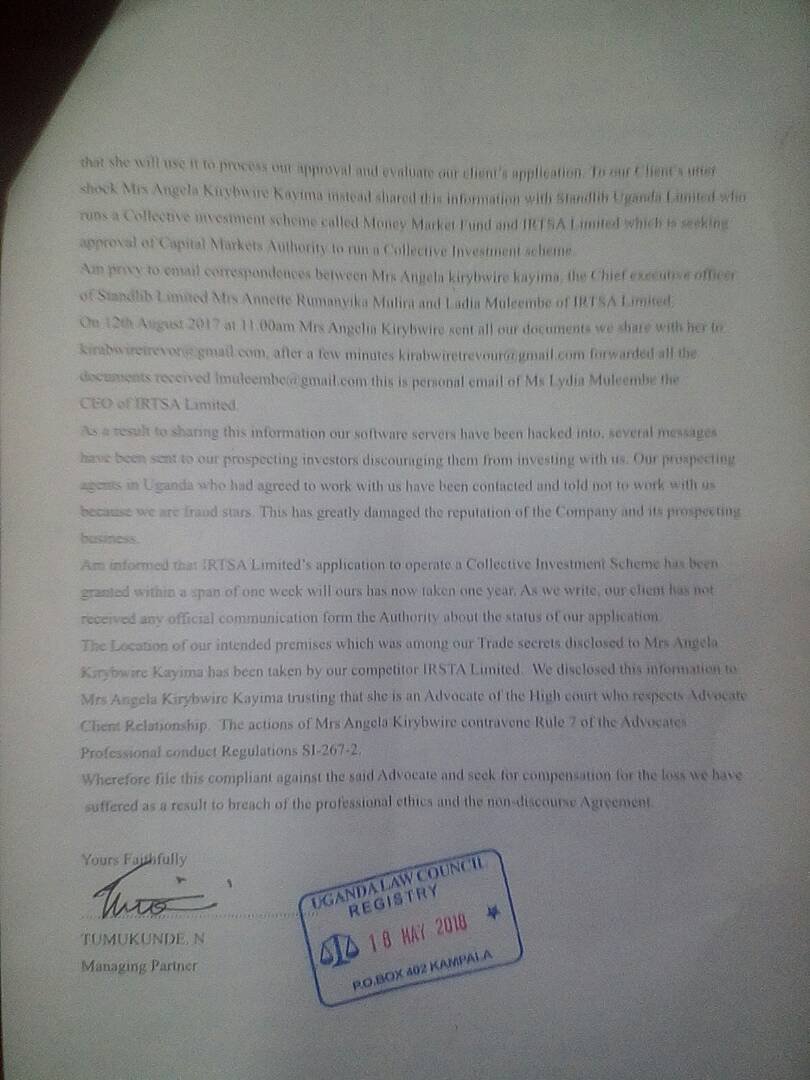 The story was first published by Uganda's leading daily; the New Vision how UNRA through the Housing Finance Bank paid sh24.7b to a 'ghost' firm without a bank guarantee.
Kiryabwire moved and sacked UNRA managers except herself. The Minister for Works and Transport later sacked Kiryabwire and her entire board from overseeing UNRA and replaced her with an efficient and confident former State Minister for Finance; Fred Jachan Omach.
(Visited 71 time, 1 visit today)