Etihad Airways Introduces New Baggage Policy

Abu Dhabi, UNITED ARAB EMIRATES (UAE) – Etihad Airways has introduced a new baggage policy tailored to varying customer requirements in the international markets it serves.
The changes allow for a simpler baggage structure as the allowance for all markets, excluding the US and Canada, is now based on total weight rather than the number of bags checked in.
Etihad Airways Executive Vice President Commercial, Mohammad Al Bulooki, said: "In line with global best practice and market trends, Etihad Airways has developed a baggage policy that best caters to the differing needs of our guests around the world. The switch to a policy based on weight rather than the number of bags simplifies our allowance system and provides greater convenience and customer benefit while enhancing the travel experience."
With the switch to a weight-based baggage policy, the majority of markets will be entitled to 23kg of checked baggage on Economy Deal fares, 30kg on Economy Saver and Classic fares, and 35kg on Economy Flex fares. Customers in all Business Class fare categories are entitled to 40kg, and First Class customers enjoy a 50kg allowance. Guests in The Residence onboard Etihad Airways' flagship Airbus A380 fleet are provided with an allowance of four bags at 32kg each.
Notable exceptions where the policy has been tailored to market requirements include all flights from Africa, where the allowance is 40kg as standard on both Economy and Business Class fares. Customers travelling between Australia and Lebanon are entitled to 40kg in both Economy Class and Business Class, and the allowance on flights from the GCC to the Indian Subcontinent starts at 30kg in Economy Class.
Etihad Guest Silver, Gold and Platinum members will continue to receive a complimentary excess baggage allowance of 32kg on US and Canada routes, and 20kg for Platinum members, 15kg for Gold members and 10kg for Silver members on all other routes.
Full details of the revised baggage policy, please visit.
About Etihad Aviation Group
Headquartered in Abu Dhabi, the Etihad Aviation Group is a diversified global aviation and travel group with a business model driven by partnership and an innovative approach to growth. Etihad Aviation Group comprises five business divisions – Etihad Airways, the national airline of the United Arab Emirates; Etihad Airways Engineering; Etihad Airport Services; Hala Group and Airline Equity Partners. For more information, please visit: theetihadaviationgroup.com.
About Etihad Airways
From its Abu Dhabi base, Etihad Airways flies to 103 international passenger and cargo destinations with its fleet of 115 Airbus and Boeing aircraft. Etihad Airways, the national airline of the United Arab Emirates, was established by Royal (Emiri) Decree in July 2003, and in 2017 carried 18.6 million passengers. For more information, please visit: etihad.com, follow @EtihadAirways on Twitter and join Etihad Airways on Facebook.
(Visited 1 time, 1 visit today)
Distell Group officially launches in Uganda

By Our Reporter
The Distell Group, a multinational beverage and liquor producer and Africa's leading producer and marketer of wines, spirits, ciders and other ready-to-drink beverages, has officially launched distribution of its high quality products in Uganda.
Distell, based in South Africa, has a diverse portfolio of brands that include the popular liquer Amarula, Nederburg and 4th Street wines, Hunter's Ciders, and Scottish Leader whisky.
Announcing its official entry into Uganda, Distell said it had appointed Rwenzori Bottling Company to manage the distribution of its drinks portfolio, leveraging on the company's nationwide logistics and sales distribution network.
Duif Ritcher, the General Manager Distell North & East Africa, said the company aims at reaching out to new consumers of diverse adult age groups in over 5,000 bars, restaurants and outlets countrywide within the first year.
Unveiling Distell brands at a grand celebration at the Kampala Serena Hotel, Ritcher said, "We are pleased to introduce more premium brands to the Ugandan market that we hope will do as well as Amarula has. Our drinks are tailored to deliver a unique and enjoyable experience, but at an affordable cost as well."
"Distell will make use of an innovative and highly efficient national distribution network into the trade, targeting local and regional distributors, supermarkets, malls, bars and restaurants countrywide. We will make our premium products available to the Ugandan adult population at better prices than before," he added.
With offices in Cognac, London, New York, São Paulo and Singapore, Distell's products can be enjoyed around the world via a network of agents in more than 80 countries. Distell has more than 40 trading and distribution outlets in South Africa, with regional offices across the African continent as well.
Following a merger on 4th December 2000 (18 years ago) Distell Group Limited can be traced back to Stellenbosch Farmers' Winery (SFW) and Distillers Corporation, Distell has gone to globally expand its reach by production of premium beverages that include Spirits, Wines, and Ciders & Ready to drink products. The plant has its headquarters in South Africa, and employs over 5,500 people, while raking in profits of up to R215 billion annually.
(Visited 1 time, 1 visit today)
MTN Introduces 'MomoPay' To Enable Cashless Payments

Customers can pay for goods using MoMoPay, the better way.

MTN already connected to

25,000 merchants

like supermarkets, restaurants, hardware shops, fuel stations and salons among others.

Service will be available by dialing *165*3# or MyMTNApp
MTN Uganda, in a bid to further Uganda's cashless economy has today introduced to customers a payments solution, MoMoPay. MoMoPay allows customers to pay for goods and services at no extra costs. Retailers like supermarkets, wholesale traders, shop keepers, pharmacies, restaurants and bars among others are now merchants that accept payments using MoMoPay. For customers, they will be making payments for the goods and services using MoMoPay at no extra cost – like sending withdrawal fees.
"When we introduced MTN Mobile Money, it revolutionized money transactions in the country. However, there is still one problem we need to solve. That is reducing cash transactions by taking out withdrawal charges, which makes it quite costly. It is the better way to pay," explains Christopher Ssali – Senior Manager Mobile Financial Services Products – MTN Uganda
For several months now, MTN Uganda has been recruiting merchants like supermarkets, garages, shops and restaurants among others. There are now in excess of 25,000 merchants that customers can use to receive payments. Upon a merchant being approved, they receive a special merchant code to indicate that they accept MoMoPay. For a customer to make a payment, they will dial *165*3# or use the MyMTNApp, enter the merchant code and pay the exact amount for the goods they have purchased.
"Currently, when customers want to make payments using mobile money, they will be asked to add withdrawal fees to the amount. With MoMoPay, the customer pays the exact amount for the goods purchased, providing that incentive not to move around with cash," Christopher Ssali added.
MTN Mobile Money, which currently has over 8.8 million customers, has transacted over Ugx30trillion since inception in 2008. What still exists are the cash transactions that put customer and merchants at risk, when moving the money.
"The risks of carrying money by both customer and merchant are high, unlike MoMoPay. The merchant will receive payment directly into their mobile money account and they will be able to use it for several other features like making salary payments, transferring it to their bank account, purchase airtime for customers – and earn a commission, among others," said Elsa Muzzolini, the General Manager Mobile Financial Services at MTN Uganda.
Merchants will be charged 1% on each transaction for an individual and 2% on a business merchant payment.
"The benefits for the merchant are many. They can earn commission for selling airtime. There will be improved financial control because they will avoid cash shortages and safety and security of the funds received, at the premises and for the merchant's employees. Furthermore, merchants can even pay their suppliers with MoMoPay. For instance, a hardware shop may want to re-stock cement. Using MoMoPay, they will transfer funds directly to the account of their supplier and the cement will be delivered," Muzzolini explains.
MoMoPay is the latest addition to Mobile Money's arsenal of tools that helps combat the pain experienced by customers when making transactions. Over the next months, MTN will be looking to recruit merchants and where the MoMoPay will be displayed means payments are now acceptable.
ENDS
About MTN Uganda: Launched in 1998, MTN Uganda is the leading communications operator in Uganda, offering Mobile & Fixed telecommunications, Mobile Money Services and Internet Service Provisioning. As at 30th June 2018, MTN Uganda recorded 10.5 million subscribers across Uganda. Visit us at www.mtn.co.ug  or follow us on www.youtube.com/mtnug and www.twitter.com/mtnug or www.twitter.com/mtnugpro for assistance.
About the MTN Group: Launched in 1994, the MTN Group is a leading emerging market operator, connecting subscribers in 22 countries in Africa and the Middle East. The MTN Group is listed on the JSE Securities Exchange in South Africa under the share code: "MTN." As of 30th June 2018, MTN recorded 223.4million subscribers with 24.1 million active Mobile Money users and 71.2 million active Data users across its operations in Afghanistan, Benin, Botswana, Cameroon, Cote d'Ivoire, Ghana, Guinea Bissau, Guinea Republic, Iran, Liberia, Nigeria, Republic of Congo (Congo-Brazzaville), Rwanda, South Africa, Sudan, South Sudan, Swaziland, Syria, Uganda, Yemen and Zambia. Visit us at, www.mtnbusiness.com, www.mtn.com and www.mtnmmo.com 
For more information, please contact:
Justina Ntabgoba on mediadesk.ug@mtn.com or +256 312 121 064
Val Okecho on mediadesk.ug@mtn.com or +256 312 125 665
Paul Mwirigi on paul.mwirigi@tbwa-uganda.com or +256 776 888 750
(Visited 1 time, 1 visit today)
Buganda Katikkiro calls upon Ugandans to embrace the new K2 telecom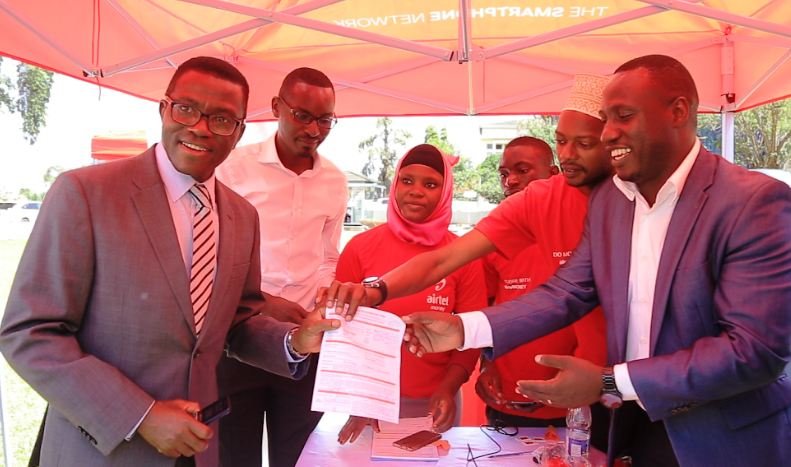 Following the recently signed Brand Endorsement agreement between Airtel Uganda and K2 telecom, the Katikkiro of Buganda Owek. Charles Peter Mayigga has called upon Ugandans to register their brand new Airtel-powered K2 SIM cards and start enjoying a stronger and more reliable K2 network.
This was at the Luwalo Lwaffe event held last week at Bulange Gardens in Mengo presided over by the Katikkiro of Buganda Owek. Charles Peter Mayigga and attended by K2 Telecom team led by CEO Godfrey Kisekka and Airtel Uganda team led by Ali Balunywa, the Sales Director.
The Luwalo Lwaffe program involves Buganda's traditional institutions to raise funds in support of the Kingdom development programs.
Addressing the guests, the Airtel Uganda Sales Director Ali Balunywa applauded the Buganda Kingdom officials for seizing opportunities that benefit the kingdom subjects and called upon everyone to subscribe to the new network and celebrate the pride of Buganda Kingdom.
"The new K2 is backed by Airtel's countrywide 3G network and high-speed internet service. Products and services such as Airtel Money, international roaming and affordable devices at any of our shops, kiosks and agents are all available to you," he noted.
As part of the event, the Katikkiro toured the K2 offices and took time to register his new SIM card at one of the SIM card registration centers set out for the customers.
"It is a new day for us at K2. We thank our partners Airtel Uganda for the harmonious working relationship that has enabled us to achieve yet another milestone. I call upon Ugandans across the country to buy a SIM card and enjoy what the new K2 has to offer," he concluded.
Airtel Uganda and Buganda Kingdom work together on a number of projects in the sectors of health and sports. These include the annual Kabaka Birthday Run, the Masaza Cup tournament, the Kabaka birthday celebrations, the Kabaka coronation, Eid El Fitri and most recently, the Airtel – K2 Brand endorsement agreement.
As part of the agreement, Ugandans will get an opportunity to buy co-branded K2-Airtel SIM cards in the 0708 series and connect onto the quality services offered by Airtel Uganda across the country such as wide coverage, high speed internet, 3G/4G network, Airtel Money, affordable packages, roaming and international services as well as all Value Added Services.
The new SIM cards can be purchased from any Airtel service center and other authorized outlets at a price of UGX2, 000 and all new SIMs will be subject to the existing KYC registration regulations.
Existing K2 customers will undergo a migration process, which will include a SIM-swap to provide them with new Airtel-K2 branded SIMs.
(Visited 1 time, 1 visit today)