Etihad Airways Introduces New Baggage Policy

Abu Dhabi, UNITED ARAB EMIRATES (UAE) – Etihad Airways has introduced a new baggage policy tailored to varying customer requirements in the international markets it serves.
The changes allow for a simpler baggage structure as the allowance for all markets, excluding the US and Canada, is now based on total weight rather than the number of bags checked in.
Etihad Airways Executive Vice President Commercial, Mohammad Al Bulooki, said: "In line with global best practice and market trends, Etihad Airways has developed a baggage policy that best caters to the differing needs of our guests around the world. The switch to a policy based on weight rather than the number of bags simplifies our allowance system and provides greater convenience and customer benefit while enhancing the travel experience."
With the switch to a weight-based baggage policy, the majority of markets will be entitled to 23kg of checked baggage on Economy Deal fares, 30kg on Economy Saver and Classic fares, and 35kg on Economy Flex fares. Customers in all Business Class fare categories are entitled to 40kg, and First Class customers enjoy a 50kg allowance. Guests in The Residence onboard Etihad Airways' flagship Airbus A380 fleet are provided with an allowance of four bags at 32kg each.
Notable exceptions where the policy has been tailored to market requirements include all flights from Africa, where the allowance is 40kg as standard on both Economy and Business Class fares. Customers travelling between Australia and Lebanon are entitled to 40kg in both Economy Class and Business Class, and the allowance on flights from the GCC to the Indian Subcontinent starts at 30kg in Economy Class.
Etihad Guest Silver, Gold and Platinum members will continue to receive a complimentary excess baggage allowance of 32kg on US and Canada routes, and 20kg for Platinum members, 15kg for Gold members and 10kg for Silver members on all other routes.
Full details of the revised baggage policy, please visit.
About Etihad Aviation Group
Headquartered in Abu Dhabi, the Etihad Aviation Group is a diversified global aviation and travel group with a business model driven by partnership and an innovative approach to growth. Etihad Aviation Group comprises five business divisions – Etihad Airways, the national airline of the United Arab Emirates; Etihad Airways Engineering; Etihad Airport Services; Hala Group and Airline Equity Partners. For more information, please visit: theetihadaviationgroup.com.
About Etihad Airways
From its Abu Dhabi base, Etihad Airways flies to 103 international passenger and cargo destinations with its fleet of 115 Airbus and Boeing aircraft. Etihad Airways, the national airline of the United Arab Emirates, was established by Royal (Emiri) Decree in July 2003, and in 2017 carried 18.6 million passengers. For more information, please visit: etihad.com, follow @EtihadAirways on Twitter and join Etihad Airways on Facebook.
(Visited 1 time, 1 visit today)
Riham showers customers with love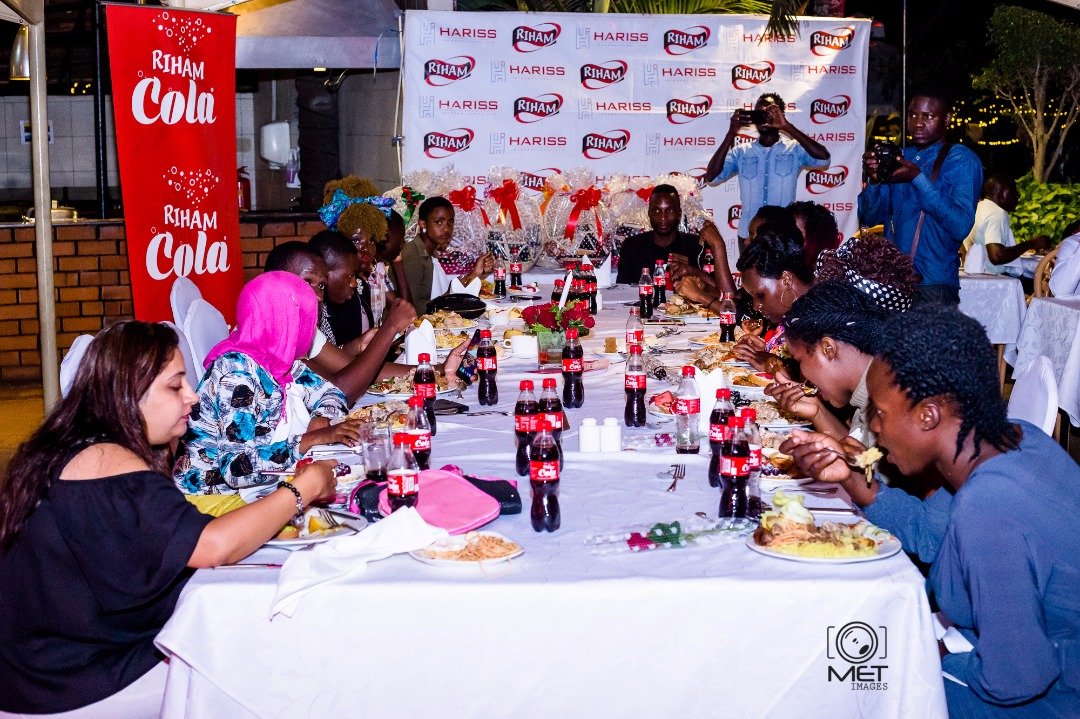 By Our Reporter
Whenever Valentine's Day is approaching, there is always pressure to find a perfect present. This year was not different as millions of people world over were seen crisscrossing streets and shopping malls in search of that perfect gift.
But some were saved from this hustle and bustle by people centred companies such as Harris International Limited, which arranged fully paid parties for them and their loved ones.
In what was dubbed the "Win Your Crush with Riham Love this Valentine's Day" promo, up to 20 lucky winners were treated to a fully paid dinner at Kampala Sheraton Hotel's Paradise Restaurant. Each left with a gift hamper thereafter.
The party was not short of pomp, and colour. The winners indulged their cravings; enjoying a full-course dinner spiced up with all sorts of dessert; Fruits, Cake, Chocolate, and Ice Cream, among others. The night's live music band never disappointed either.
"As Valentine's Day is a day to celebrate love, we feel that declaring your long standing and underlying love to another is worth the bravery! We are excited to be extending our support to the Lucky winners who shared heart-warming stories about their crushes," Ms Rachael Luwedde, the public relations officer of Harris International Limited noted, adding; "We believe in love, especially in the love for our customers! So, we are optimistic that this campaign has not only rewarded them for their continuous support to us, but also helped them find their true love this Valentine's Day."
(Visited 1 time, 1 visit today)
Hariss International Limited rewards employees, promises to invest more in Uganda

By Our Reporter
As part of its commitment to enhance cohesion, togetherness and team work among employees and the company leadership, Hariss International Limited held its annual staff party on Saturday at Kabira Country Club, Bukoto.
Dubbed "Hariss Day", the end of 2018 party was a fanfare with employees and their employers indulging themselves in remarkable display of talent while wining and dining together.
Speaking at the party, Hon Latif Ssebagala, the Member of Parliament Kawempe North admitted that even though there are many companies located in Kawempe, Hariss International is number one.
"Over the four terms I have been in the Uganda Parliament, we have received a lot of complaints from workers of several companies but I can confirm here and now that we have never received any petition or complaint about Hariss International. This means that Hariss International works in harmony with her staff and always rewards hard work," Hon Ssebagala said, adding; "As we collectively work to fight unemployment which is a big challenge in Uganda, I pray to the almighty God to enables Hariss International grow more and open up so many branches across our country so that people in other parts of Uganda also benefit from Hariss International opportunities."
The Kawempe North Member of Parliament thanked the over 1700 Hariss International staff for their immense contribution but also spared some time to advise them on how to get ever much better.
"I want to remind you that you are not paid for what you studied, but for what you do; your input, efforts and handwork. As you execute your duties; continue being honest, committed and above all treasure what you do. Thank you so much for putting us on the map," Hon Ssebagala concluded.
On his part, Mr. Yasser K. Ahmad; a co-founder and chairman of Hariss International revealed to the attending staff that his company is very proud, committed and dedicated to the Ugandan market.
"As leaders of Hariss International, we shall continue to support you, our dear staff in each and every way possible. We shall continue to invest in training, mentorship and better working conditions for you. Our priority is on Ugandans. We don't want to import expatriates to come and work here. We believe in Ugandans and are willing to continue our investment in them," Mr Yasser Ahmad said.
He added; "Unlike those multi-nationals with headquarters in America and/or Europe, our headquarters are here. We are proudly Ugandan. We want to work from Uganda and win over markets in East Africa, across Africa and the rest of the world."
All the staff that attended the event went home gifted with over 100 taking home top honours from the different Awards categories. Some went home Ugx 5 million richer than how they arrived.
Mr Chadi Ahmad, the Sales and Marketing Director noted that while 2018 was a very competitive year, his Hariss staff never disappointed and as such the end of year celebration was in order.
"In 2018, we saw our staff grow to 1700 people (permanent and temporary). This is very huge considering that we were less than 300 in 2013. In 2019, it is important for us to use our time wisely. Dedication and team work must be continued. We need to give twice, double our efforts so that we can overcome any challenges now and in the future." He noted.
The party that started at 3pm, went on until 10pm. It was spiced up by acts from Myco Ouma, Levixone, Rema Namakula, Bebe Cool and Moses Golola.
(Visited 1 time, 1 visit today)
UDB Scores high with International Fitch Rating

By Our Reporter
Fitch Rating, one of the top International Credit rating agencies worldwide based out of New York and London has assigned Uganda Development Bank Ltd (UDB) a Long-Term Issuer Default rating (IDR) of B+ with a Stable Outlook.
A credit rating is an assessment of the creditworthiness of a borrower in general terms or with respect to a particular debt or financial obligation. A credit rating can be assigned to any entity that seeks to borrow money — an individual, corporation, state or provincial authority, or sovereign government.
UDB is a state-owned development bank and its Issuer Default Ratings are driven by its Support Rating and Support Rating Floor of '4' and 'B+', respectively, which reflects Fitch's view of a high propensity of Ugandan authorities to support the bank in case of need. This is due to:
(1) UDB's important, longstanding and clearly defined policy role in financing the country's priority sectors as part of the bank's mandate of contributing to economic growth and social development
(2) UDB's 100% state-ownership
(3) Significant funding guarantees and ordinary capital contributions from the state.
UDB is Uganda's primary development bank and its unique business model would be difficult to replicate by other domestic financial institutions. It is owned by government and overseen by the Ministry of Finance. Fitch Rating believes the sovereign funding guarantees that UDB receives will remain in place over the medium term. The bank's policy role and strategic importance to the state is also evidenced by the government's annual capital contributions, which have been committed until 2022. Fitch Rating's assessment makes consideration for the government's 'B+'/ Stable IDR.
"The Stable Outlook on UDB's Long-Term Issuer Default Rating mirrors that on the sovereign," the credit rating agency highlights.
The Managing Director UDB, Patricia Ojangole expressed pleasure upon this achievement. "This rating casts confidence in the institution in terms of our credit processes, governance and unwavering support from government, this process has provided our partners with an impartial opinion about the soundness of our business," she remarked.
The Association of African Development Finance Institutions rating Uganda Development Bank Limited is a member of the The Association of African Development Finance Institutions (AADFI) and therefore adopted the Prudential Standards, Guidelines and Rating System (PSGRS) by which members assess themselves to the standards and guidelines for Development Finance Institutions across Africa. In adopting these standards and guidelines, UDB achieves two objectives in particular:
• Examine the institution's operations in terms of how well they comply with good corporate governance principles and in identifying weak areas which need to be addressed.
• Assist Ministry of Finance, Planning and Economic Development and/or other supervisory authorities to custom-design supervisory procedures that better address some aspects of the Development Finance Institution's operations that differ fundamentally from commercial bank operations.
In 2018, UDB was rated the Best Performing Development Finance Institution in Africa by the Association of African Development Finance Institutions (AADFI) with an A+ rating on its 8th peer review of AADFI member Institutions.
(Visited 1 time, 1 visit today)