Etihad Airways introduces its Boeing 787 Dreamliner to Johannesburg

A state-of- the-art Etihad Airways Boeing 787-9 Dreamliner touched down in Johannesburg yesterday afternoon after its inaugural flight from Abu Dhabi.
Etihad Airways flight EY604 took off from Abu Dhabi at 10.15am and arrived on schedule at 4.45pm local time. The return flight EY603 departed Johannesburg at 7.50pm last night, touching down Abu Dhabi on schedule at 6.10am this morning, 2 November.
Operating daily on the route, the two-class B787-9 Dreamliner features Etihad Airways' next-generation Business and Economy Class cabins. Peter Baumgartner, Etihad Airways Chief Executive Officer, said the decision to upgrade to the Dreamliner aircraft on the Johannesburg route was to meet the needs of growing numbers of business and leisure passengers travelling to and from South Africa.
"Today's modern traveller is constantly searching for comfort, innovation and convenience, and we aim to provide the highest standard of hospitality and technological advancements to make any journey a memorable one."
John Friel, Etihad Airways General Manager South Africa, added: "The introduction of the Boeing 787 is a welcome development that will further enhance our guests' experience on this route. Our luxurious Dreamliners offer a best-in-class experience, and attention to every last detail."
All Etihad Airways' B787-9 Dreamliner aircraft feature the airline's highly acclaimed next-generation interiors with 28 Business Studios and 271 Economy Smart Seats.
The Business Studios all offer direct aisle access, a fully flat bed of up to 80.5 inches long, and an increase of 20 per cent in personal space. Upholstered in the finest Poltrona Frau leather, the Business Studio is equipped with an in-seat massage and pneumatic cushion control system which enables guests to adjust the firmness and comfort of their seat. Each Business Studio has an 18-inch personal touch-screen TV with noise-cancelling headsets.
The 271 Economy Smart Seats provide enhanced comfort with a unique 'fixed wing' headrest on each seat, adjustable lumbar support, a seat width of approximately 19 inches, and an 11.1" personal TV monitor.
In addition to full mobile and Wi-Fi service with USB and power points at every seat, the Dreamliner fleet features the latest in entertainment innovation, providing more than 750 hours of on-demand entertainment, including seven live TV channels, improved gaming and high definition screens across all cabins.
The airline's renowned hospitality includes innovative services such as Flying Nannies trained by the world-famous Norland College in the UK, who provide assistance to families on board. Food and Beverage Managers handpicked from the world's finest hotels and restaurants guide guests in Business Class through the extensive a la carte and 'dine anytime' options, and provide recommendations on the best food and wine pairing.
Guests on the Dreamliner also enjoy the industry's largest windows; air that is cleaner, more humid and at a lower cabin altitude for better comfort; large overhead stowage bins, soothing LED lighting; and technology to sense and counter turbulence for a smoother ride.
Etihad Airways uniquely offers travellers from Africa the convenience of US Customs and Border Protection at Abu Dhabi International Airport. This facility, exclusive to Etihad Airways in the Gulf region, allows guests to complete immigration, customs and security clearance procedures for the USA while in transit at Abu Dhabi – avoiding lengthy queues upon arrival at US airports.
Johannesburg is the ninth city to be served by Etihad Airways' B787-9 Dreamliner. The aircraft is also deployed to Brisbane, Düsseldorf, Perth, Riyadh, Shanghai, Singapore, Washington DC and Zurich.
(Visited 46 time, 1 visit today)
Pizza Hut Uganda unveils their largest pizza ever

By Our Reporter
Pizza lovers are in for an epic treat at Pizza Hut Uganda. This after the pizza restaurant company unveiled their new pizza offering which is being touted as the biggest ever on the market.
Dubbed "The Epic" pizza, it was unveiled during a ceremony held at their Muyenga branch on Thursday where invited guests and media personalities got the first taste.
According to Laura Sseezi, the Marketing coordinator Pizza Hut Uganda, "The Epic" pizza is their largest ever and is almost twice their current large size. "'The Epic' pizza is 16 inches long, making it 75% larger than our current large size." She noted.
James Ouma, the Area Coach Pizza Hut Uganda, explained that the decision to introduce the extra large pizza was influenced by continued demands from their customers for a bigger size. "One of the biggest complaints from our customers has been the size of our pizzas," he explained. "And because we listen to our customers, we have decided to introduce, 'The Epic', the biggest pizza on the market."
The Epic pizza comes in five offerings — Pepperoni, Tandori Chicken, Veggie, Meat and Cheese. It is available at Ugx 55, 000.
(Visited 46 time, 1 visit today)
Emirates Airline Foundation transforming communities in Western Uganda

The Emirates Airline Foundation along with Outreach to Africa (OTA) has established a school with three sections; nursery, primary and secondary; The Emirates Airline Foundation campus in Geme village near Fort Portal, Kabarole District, Western Uganda. The campus is presently catering for 850 pupils and students in both day and boarding sections. What began as a collaboration to provide basic health care services to residents in 2010, has grown to become a fully-functioning school. Upon the completion of the on-going construction and renovation work currently underway, the capacity of the school will increase.
The Paul Devlin School was started by OTA in 2008; an NGO located in Fort Portal, Kabarole district, Western Uganda with a mission to empower communities by providing quality education, health care and economic empowerment projects. In 2014, The Emirates Airline Foundation in partnership with OTA announced the commencement of a project valued at over US$ 1.5 million towards a building project that would transform The Paul Devlin School. The construction of The Emirates Airline Foundation Campus – a new wing of the School, will enhance the infrastructure and capacity of the school, allowing more students to enrol and receive a well-rounded education.
"The Emirates Airline Foundation is deeply committed to helping disadvantaged children around the world. The school that we are building with OTA will contribute to empowering communities and transform the lives of so many children," said Sir Tim Clark, Chairman, The Emirates Airline Foundation.
"Our work in Uganda over the past eight years has enabled us to meet our objectives as an organization, and this project also ties in with the goals of the Ugandan government to eradicate poverty through increasing access to education," he added.
The Emirates Airline Foundation Campus is expected to be completed by December 2018; in time for the start of the new academic year in February 2019. The new facility of the Emirates Airline Foundation Campus will include dormitories for boarding students, sports fields, staff housing, a library and computer laboratory, a dining hall, and classrooms.
Over the years, the Paul Devlin School has enrolled thousands of students from vulnerable communities. Mr. Edward Nyakabwa, a board member with OTA said, "we have the responsibility to significantly meet the needs of and improve the lives of the communities in which we are stationed. The new wing whose construction was funded by The Emirates Airline Foundation will enable us to increase the number of students who will, in turn, reap the invaluable asset of education."
"We admit students from the surrounding Rwenzori region and other districts in Uganda. A large number of our students come from disadvantaged backgrounds and are in need of a quality education that will improve their socio-economic standing. This expansion means that we are now equipped to improve the lives of many students who might have otherwise not received any form of formal education," Mr. Nyakabwa added.
(Visited 46 time, 1 visit today)
dfcu Bank appoints new COO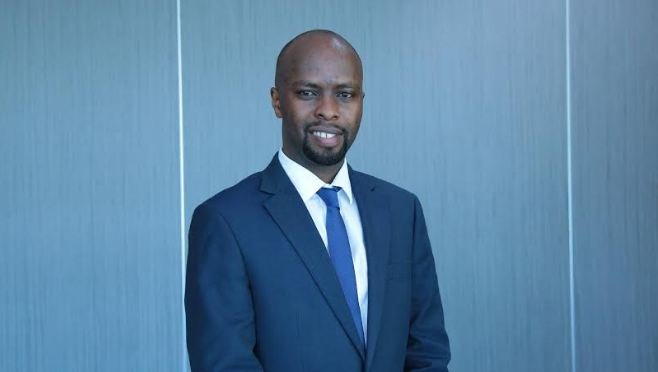 dfcu Bank has appointed Andrew Kabeera as the new Chief Operating Officer. A seasoned banker with experience spanning over 13 years, Andrew Kabeera is responsible for among other aspects establishing operational excellence and great experience across all touch points and driving the strategic goal of Superior financial performance on cost income ratio.
His role entails management of Business Technology Operations; Procurement; Facilities & Administration; Credit Operations and Banking Operations – all aimed at supporting the delivery of the Bank's strategic agenda.
Andrew Kabeera joins dfcu from Standard Chartered Bank where he was the Head of Corporate and Commercial Banking Operations. Prior to that, Andrew held a number of senior positions as Head of Consumer Banking Operations; Head of Risk; Head of Governance for Technology and Operations plus Head of Banking Operations.
He has a good understanding of Banking Operations and how to derive efficiencies through a broad range of IT services. Andrew brings on board a wealth of experience having worked in a number of big centralisation projects for both Operations and IT and also has international exposure from Nigeria, UAE, Kenya, Nigeria, Zambia, Singapore and Malaysia.
Andrew was the chairman of the Operations Committee at the Uganda Bankers Association for 2 years where he delivered a number of industry wide initiatives.
(Visited 46 time, 1 visit today)