Etihad Airways extends reach in Africa through new codeshare agreement with Kulula

Etihad Airways, the national airline of the United Arab Emirates, continues to build its presence in Africa through a new codeshare agreement with Kulula, South Africa's award-winning low cost carrier.
The codeshare deal offers Etihad Airways customers flight options to a number of key cities in South Africa that include Cape Town, Durban, George and East London via Johannesburg.
Etihad Airways will place its EY code on Kulula's scheduled flights between Johannesburg and these popular coastal cities. This agreement allows guests access to through-check- in and baggage transfer to their final destination.
The new codeshare services will go on sale from 3 October 2016, with travel from the start of the Northern Winter schedule on 30 October.
The agreement with kulula strengthens Etihad Airways' commitment to Africa and brings the total number of destinations that it serves across the continent to 23 through its existing codeshare partnerships with Kenya Airways, Royal Air Maroc, and strategic equity partner Air Seychelles.
Peter Baumgartner, Etihad Airways Chief Executive Officer, said: "kulula is an innovative and award-winning airline and this new codeshare agreement demonstrates Etihad Airways' growing ambitions to strengthen our operations across Africa. Through the agreement, Kulula will give inbound passengers direct access from Johannesburg to four key destinations along South Africa's renowned coastline, and I am certain the extended reach offered through this partnership will appeal to business and leisure travellers alike."
Erik Venter, Chief Executive Officer of kulula's parent company, Comair, said: "We are delighted to be adding Etihad Airways to our growing list of strategic airline partnerships and are excited about exploring additional opportunities to expand on the relationship. We look forward to welcoming Etihad Airways' customers on board our flights."
Etihad Airways currently operates scheduled services to 10 destinations in Africa, namely Johannesburg, Nairobi, Entebbe, Dar es Salaam, Khartoum, Casablanca, Rabat, Lagos, Cairo and Mahé in the Seychelles.
(Visited 72 time, 1 visit today)
Pizza Hut Uganda unveils their largest pizza ever

By Our Reporter
Pizza lovers are in for an epic treat at Pizza Hut Uganda. This after the pizza restaurant company unveiled their new pizza offering which is being touted as the biggest ever on the market.
Dubbed "The Epic" pizza, it was unveiled during a ceremony held at their Muyenga branch on Thursday where invited guests and media personalities got the first taste.
According to Laura Sseezi, the Marketing coordinator Pizza Hut Uganda, "The Epic" pizza is their largest ever and is almost twice their current large size. "'The Epic' pizza is 16 inches long, making it 75% larger than our current large size." She noted.
James Ouma, the Area Coach Pizza Hut Uganda, explained that the decision to introduce the extra large pizza was influenced by continued demands from their customers for a bigger size. "One of the biggest complaints from our customers has been the size of our pizzas," he explained. "And because we listen to our customers, we have decided to introduce, 'The Epic', the biggest pizza on the market."
The Epic pizza comes in five offerings — Pepperoni, Tandori Chicken, Veggie, Meat and Cheese. It is available at Ugx 55, 000.
(Visited 72 time, 1 visit today)
Emirates Airline Foundation transforming communities in Western Uganda

The Emirates Airline Foundation along with Outreach to Africa (OTA) has established a school with three sections; nursery, primary and secondary; The Emirates Airline Foundation campus in Geme village near Fort Portal, Kabarole District, Western Uganda. The campus is presently catering for 850 pupils and students in both day and boarding sections. What began as a collaboration to provide basic health care services to residents in 2010, has grown to become a fully-functioning school. Upon the completion of the on-going construction and renovation work currently underway, the capacity of the school will increase.
The Paul Devlin School was started by OTA in 2008; an NGO located in Fort Portal, Kabarole district, Western Uganda with a mission to empower communities by providing quality education, health care and economic empowerment projects. In 2014, The Emirates Airline Foundation in partnership with OTA announced the commencement of a project valued at over US$ 1.5 million towards a building project that would transform The Paul Devlin School. The construction of The Emirates Airline Foundation Campus – a new wing of the School, will enhance the infrastructure and capacity of the school, allowing more students to enrol and receive a well-rounded education.
"The Emirates Airline Foundation is deeply committed to helping disadvantaged children around the world. The school that we are building with OTA will contribute to empowering communities and transform the lives of so many children," said Sir Tim Clark, Chairman, The Emirates Airline Foundation.
"Our work in Uganda over the past eight years has enabled us to meet our objectives as an organization, and this project also ties in with the goals of the Ugandan government to eradicate poverty through increasing access to education," he added.
The Emirates Airline Foundation Campus is expected to be completed by December 2018; in time for the start of the new academic year in February 2019. The new facility of the Emirates Airline Foundation Campus will include dormitories for boarding students, sports fields, staff housing, a library and computer laboratory, a dining hall, and classrooms.
Over the years, the Paul Devlin School has enrolled thousands of students from vulnerable communities. Mr. Edward Nyakabwa, a board member with OTA said, "we have the responsibility to significantly meet the needs of and improve the lives of the communities in which we are stationed. The new wing whose construction was funded by The Emirates Airline Foundation will enable us to increase the number of students who will, in turn, reap the invaluable asset of education."
"We admit students from the surrounding Rwenzori region and other districts in Uganda. A large number of our students come from disadvantaged backgrounds and are in need of a quality education that will improve their socio-economic standing. This expansion means that we are now equipped to improve the lives of many students who might have otherwise not received any form of formal education," Mr. Nyakabwa added.
(Visited 72 time, 1 visit today)
dfcu Bank appoints new COO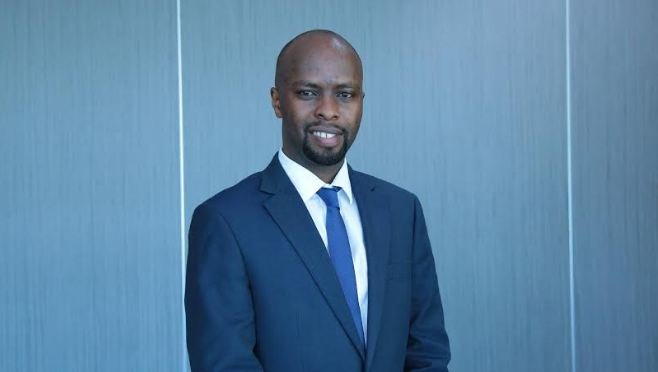 dfcu Bank has appointed Andrew Kabeera as the new Chief Operating Officer. A seasoned banker with experience spanning over 13 years, Andrew Kabeera is responsible for among other aspects establishing operational excellence and great experience across all touch points and driving the strategic goal of Superior financial performance on cost income ratio.
His role entails management of Business Technology Operations; Procurement; Facilities & Administration; Credit Operations and Banking Operations – all aimed at supporting the delivery of the Bank's strategic agenda.
Andrew Kabeera joins dfcu from Standard Chartered Bank where he was the Head of Corporate and Commercial Banking Operations. Prior to that, Andrew held a number of senior positions as Head of Consumer Banking Operations; Head of Risk; Head of Governance for Technology and Operations plus Head of Banking Operations.
He has a good understanding of Banking Operations and how to derive efficiencies through a broad range of IT services. Andrew brings on board a wealth of experience having worked in a number of big centralisation projects for both Operations and IT and also has international exposure from Nigeria, UAE, Kenya, Nigeria, Zambia, Singapore and Malaysia.
Andrew was the chairman of the Operations Committee at the Uganda Bankers Association for 2 years where he delivered a number of industry wide initiatives.
(Visited 72 time, 1 visit today)