Entebbe Town Clerk on why he rushed to close 'De Bar' where Radio was attacked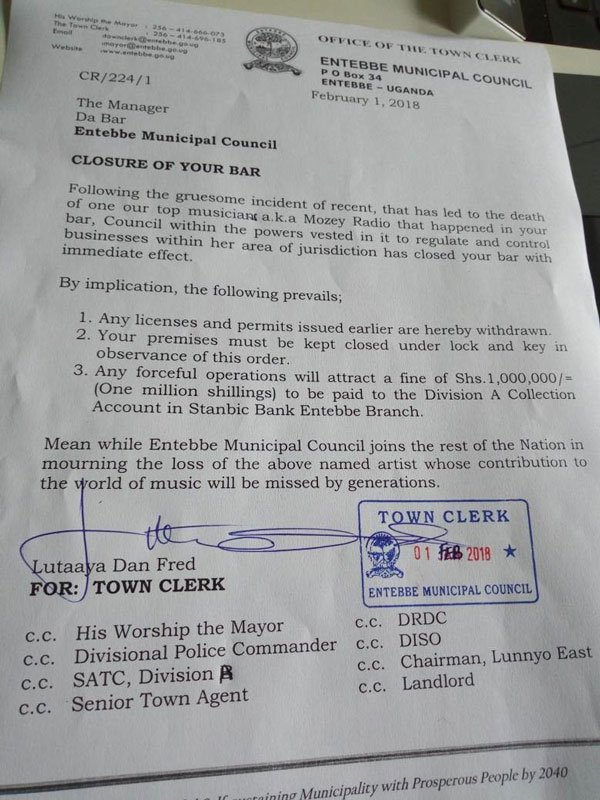 Staff Writer
Entebbe Town clerk Lutaaya Dan Fred rushed to close De Bar following a brawl that has since led to the death of music icon, Mowzey Radio. Today, he explained why he rushed to close down the bar.
According to him, he retraced the permit to avert danger and more chaos. He said; 'We have retracted the operation license and permits. If the bar had continued working Mowzey's fans would visit to drink there and then they would argue about what happened and chaos would erupt. We did our part and now we are waiting for the Police to do their part,' he said.
'If the owner wants to open up his bar again, he will go through the right procedure and assure the council that he will follow the rules to make sure customers are safe when they are on his premises. All bar bouncers will be vetted so that they know what is expected of them,' he added.
(Visited 1 time, 1 visit today)
Flavia Tumusiime's engagement ring means nothing – Apass

BigEyeUg Team
Musician Apass who was left heart-broken when TV star Flavia Tumusiime revealed that she got engaged to Andrew Kabura a fellow TV star last weekend has fired back.
According to APass who seems to be in denial, the engagement was fake. He said that people lie all the time and this is Flavia's little lie.
APass tweeted; 'The Engagement ring means nothing at all, people lie all the time. Kabura and Flavia where eating food that doesn't mean anything, it was food time so please stop sending me messages about engagement because i also have engagement on twitter.'
Flavia Tumusiime announced her engagement yesterday. She said that it was a beautiful suprise over the weekend when her man, Andrew Kabura told her that she was the woman of his life.
We will keep you posted.
(Visited 1 time, 1 visit today)
Exquisite Official Photos Of Prince Harry And Meghan Markle's Wedding

The official photos from the royal wedding between Meghan Markle and Prince Harry are out. The photos consist of the lovely bride and groom with the royal family and her mother. The photos are lovely and they speak of what really matters, simplicity and family.
They were taken by Alexi Lubomirski.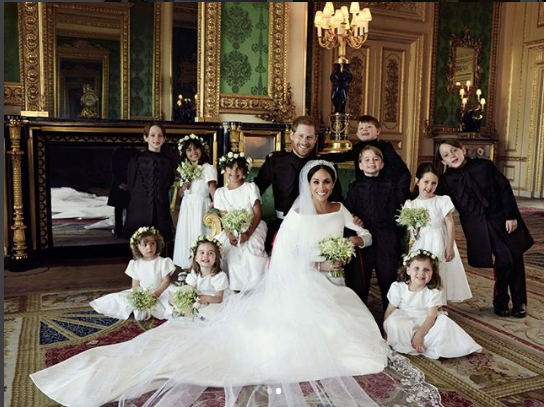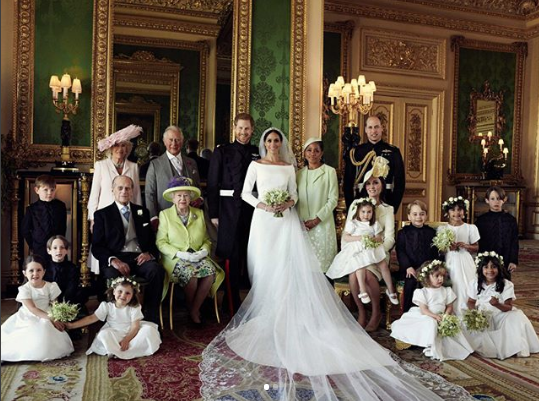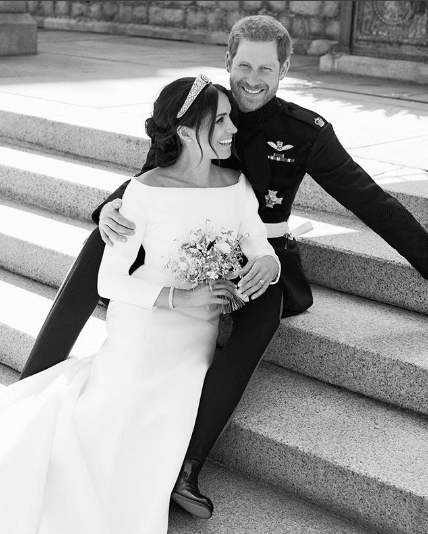 Source: StarGist
(Visited 1 time, 1 visit today)
Diamond's raunchy video with Mobetto was part of a movie – Harmonize

After a video of Diamond Platnumz making out with two different women, one of them being Hamisa Mobetto surfaced, netizens could not calm down and this led to his arrest for indecent exposure by the Tanzanian authorities.
Turns out there is a 'very good' explanation for the raunchy video.
According to Harmonize who was present and was even spotted in the video, the footage was part of a movie scene.
Talking to Radio Citizen, Harmonize stated that the movie was to be used to create awareness and teach men who look down upon women their value.
The reason for using the bongo sensation according to Harmonize was to publicize it and he being a playboy having been with countless women, it would drive the point home.
''Walikuwa wanashuti movie ambayo inaelezea wanaume ambao wanadhalilisha wanawake. Sasa ili iweze kuleta attention, ile iweze kuleta item of business, iweze kuleta value wakamtumia Diamond kama mtu ambaye ameshaonekana katika mahusiano tofauti tofauti,'' he said.
While the mystery continues to unfold, the Tanzanian police are still investigating the matter after his arrest last month.
Diamond issued an apology after meeting with officials from Tanzania Communications Regulatory Authority (TCRA).
The 'Kwangwaru' hit maker is making international moves after landing a deal to be part of the World Cup anthem.
''I had so much fun making the Coca-Cola FIFA World Cup™ Anthem "Colours" with Jason Derulo. Watch the lyric video and get #Ready to move #CokeColours 24 days left @Cocacola_Africa @CocacolaAfrica," he posted.
SDE
(Visited 1 time, 1 visit today)