Entebbe Town Clerk on why he rushed to close 'De Bar' where Radio was attacked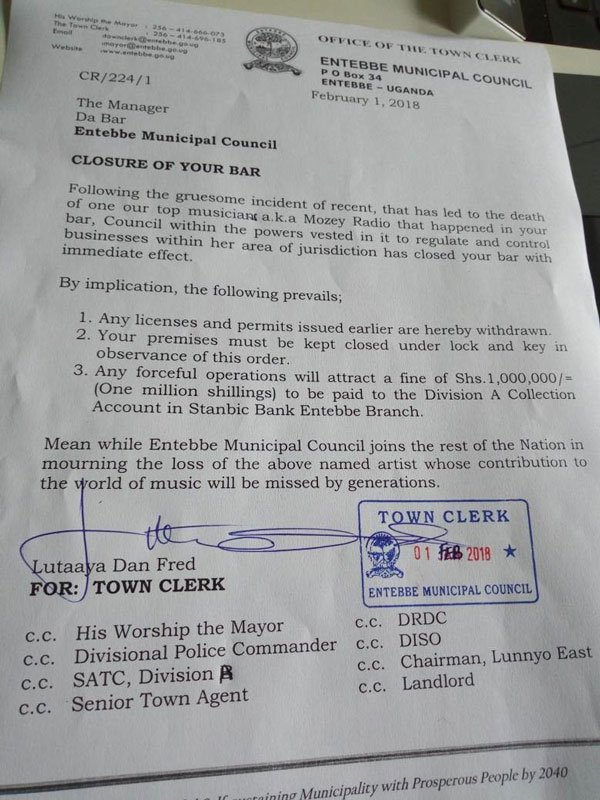 Staff Writer
Entebbe Town clerk Lutaaya Dan Fred rushed to close De Bar following a brawl that has since led to the death of music icon, Mowzey Radio. Today, he explained why he rushed to close down the bar.
According to him, he retraced the permit to avert danger and more chaos. He said; 'We have retracted the operation license and permits. If the bar had continued working Mowzey's fans would visit to drink there and then they would argue about what happened and chaos would erupt. We did our part and now we are waiting for the Police to do their part,' he said.
'If the owner wants to open up his bar again, he will go through the right procedure and assure the council that he will follow the rules to make sure customers are safe when they are on his premises. All bar bouncers will be vetted so that they know what is expected of them,' he added.
(Visited 1 time, 1 visit today)
Models, Designers to win upto 10 million at MADS Fashion show

By Our Reporter
MADS Fashion show, a Christian-oriented event, will see models and designers win upto Ugx 10 million after they take on the runway this weekend. This was announced during a press briefing held at Verses Hotel in Kampala on Friday.
The fashion show which will be held under the theme "Modern African" will feature 35 models showcasing collections from seven designers. The models who have been trained from scratch and groomed for this particular event will be competing for the best male and female awards and will be decided by a panel of judges formed of experts in the fashion industry, who will also choose the best designers (male and female).
"The judges will decide who best portrayed our theme for the event with their creations and these will walk away with a cash prize," Natasha Mbabazi, the Fashion Director MADS company, which is organising the event, relayed.
According to Nasser Nabende, a youth pastor at  Miracle Center Cathedral, Rubaga and also the President MADS Company, MADS Fashion event aims to provide a platform where youth in church can discover their talents and also express themselves in different forms including music, fashion and sports.
"Fashion is one aspect that has not been explored a lot in church, and yet its a part of our day-to-day lives," Nasser Nabende said. "We hope to use this platform to influence Christian fashion and also boost confidence among the youth."
The fashion showcase will be preceded by different fun activities including a walkathon, football and netball competitions.  It will be held on Saturday, 15th December at Miracle Center Cathedral, Rubaga. Entrance is free.
(Visited 1 time, 1 visit today)
Kitara Music Awards 2018 full list of winners

By Staff Writer
The Kitara music awards results are out and the top singers in the different categories have been named. We have the full list.
1.Artist of the year
Rapa Dico
2.Male artist of the year
Figo west
3. Female artist of the year
Princess Jalia
4.New artist of the year
Dan Muza
5.Song of the year
Mulifa Ni mununka – Bad Man crusher
6.HipHop Song of the year
Nooha Baba-Crazie Wispa ft Sagio Mhza and Shasta Pee
7.Rnb Song of the year
Excuse my Runyoro – Clian Pro, Mixola and Big Star
8.Afrobeat Song of the year
Mulifa Ni mununka – Bad Man crusher
9.Ragga Dancehall Song of the year
Waitu – Rapa Dico
10.Gospel Song of the year
Endaga Mwoyo – Darlison
11. Music Video of the year
Hope – Joanita Jackson
12.Audio producer of the year
Tx Banks
13.Video Director of the year
Ecko Arts – Boxfiles
14.Collaboration Song of the year
Mwekwate – Robert Prince & Blessed Rich
15.Dance group of the year
Sky steppers
17. Legendary Artist
Rama P
(Visited 1 time, 1 visit today)
Cardi B agrees on 10M USD deal to halt divorce with Offset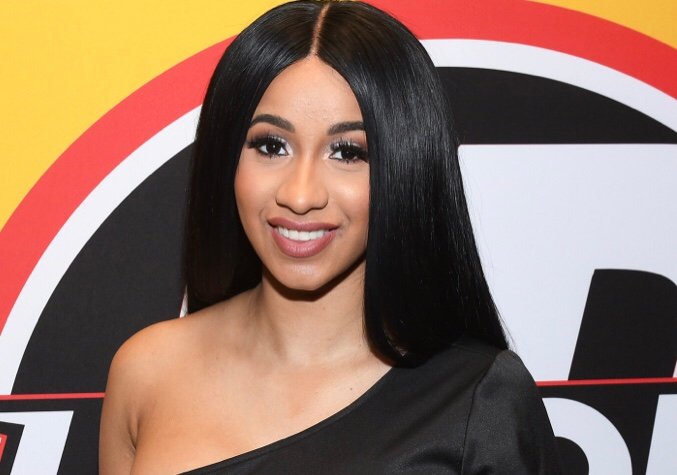 Cardi B may have settled her marital issues with Offset for a $10 million agreement. Rumor has it that the Bronx femcee has agreed to get back together with her estranged husband after he offered her a deal which is too good to be turned down.
One of Cardi's says that the 26-year-old star wanted to take Offset back, but she needed to make sure he would never cheat on her again. "Offset got Cardi out here looking bad. He's not only cheating, but being real reckless," the so-called friend explains.
Cardi reportedly agreed on the deal and wanted to put the "cheat penalty" in writing. The insider says that Cardi and Offset are no longer "separated" and are now "working on" their marriage again, adding, "It's not like everything is back to normal. But that's [Cardi's] love, and her babys father, and her husband. She's taking him back."
(Visited 1 time, 1 visit today)