Dolphins get financial boost ahead of junior swimming championship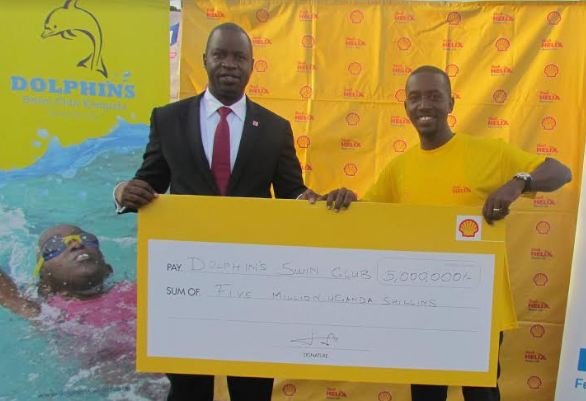 Vivo Energy continues to show support to the sports fraternity with a donation of 5 million shillings to Dolphins swimming club Kampala through its flagship lubricant, Shell Helix.
The 5 million shilling goes towards the organisation of Junior swimming championship that is scheduled for 1 st and 2nd April at Cambridge international School.
This is the first ever junior championship organised in Uganda and it has attracted ten clubs, with one coming from Kenya. The event is expected to have over 250 swimmers, who are strictly under 12 years competing for Gold, Silver and bronze medals.
Vivo Energy brand manager lubes Alex Tusingwire, who handed over the donation to Sam Ntulume Dolphins swim club chairman, noted that Vivo Energy does not only deal in fuel but has an interest in sports as well.
The company is the title sponsor for Rhinos rugby club and sponsors the annual Shell V-Power Pearl of Africa rally.
Dolphins Swim Club Kampala, is not just a swimming club, but a unique league of keen, driven and hardworking children and adults who ultimately gain more than just skill.
The Club inspires and infuses a general discipline that helps young swimmers overcome everyday obstacles and come out on top.
(Visited 105 time, 1 visit today)
Nkozi Marathon raises funds to construct accident ward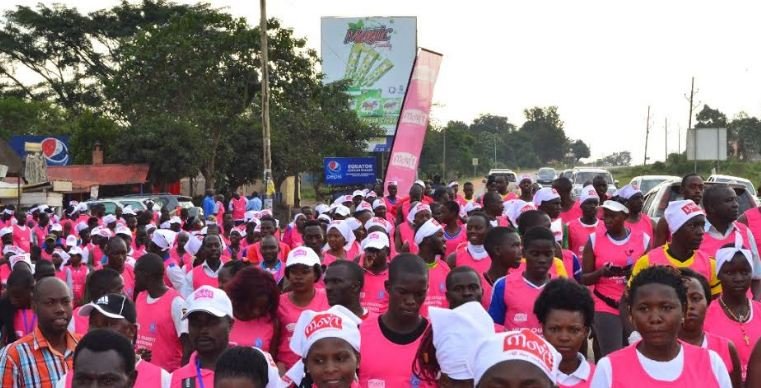 By Our Reporter
On Saturday, hordes of runners took part in the Nkozi Marathon 2018 that kicked off at the Equator in Kayabwe and ended at Uganda Martyrs University Nkozi. The run was graced by Prince David Wassajja, a member of the Buganda Royal family as the Chief Runner and various friends of Nkozi Hospital.
Speaking at the marathon, Prince Wasajja appealed to the public to keep supporting "Bulungi Bwansi" initiatives like these, adding that the public has a role to play in societal development that shouldn't be ignored. He also noted that government will only support these initiatives after the public shows interest.
The Nkozi Marathon was supported by Movit Products Limited who invested over Ugx 30 million  in  providing running Kits, Sound, media and several other goodies.
According to Kitenda Robert the PR, Media and Advertising Manager Movit Products Limited, Movit has supported this initiative for three years and its growing bigger each year and has assured the public that with their continued support, Movit will keep pushing and supporting this cause.
Proceeds from the marathon will go towards construction of an emergency accident trauma center at Nkozi Hospital which is estimated to cost Ugx 2.8b with equipment worth Ugx 1.6b. The work of building this trauma center was initiated in 2016 as an initiative from the friends of Nkozi hospital and the Nkozi hospital administration.
Over the years this initiative has been supported by several companies by the Catholic Church, Buganda Kingdom, Rotary Uganda, Parliament of Uganda, Movit Products Limited, Jude Color Solutions among several other entities.
This year, Movit Products Limited made a contribution of UGX 27 Million towards building the emergency and accident unit.
(Visited 105 time, 1 visit today)
Masaza Cup 2018 edition officially launched

For the 2nd consecutive year, Airtel Uganda has once again joined the Buganda Kingdom to launch the Masaza Cup tournament at a press conference held at the Buganda Kingdom offices in Bulange, Mengo as the platinum sponsors.
In attendance were Airtel Uganda officials led by the Managing Director Mr. V.G. Somasekhar and Buganda Kingdom officials led by Katikkiro Owek. Charles Peter Mayigga, who represented the Kabaka of Buganda, and the Sports Minister Owek. Henry Sekabembe.
The Masaza Cup is an annual Buganda Kingdom tournament that has been played since 2004 and usually features 19 teams from 19 different Buganda Kingdom regions. Last year, Gomba defeated Ssingo to emerge champion – a well-deserved win after losing to Buddu in the 2016 finals.
"We are proud to once again come together with this prestigious Kingdom to launch this tournament. Our commitment to Ugandan sports is highlighted by our involvement in football at every level right from the grass root with our Airtel Rising Stars tournament to supporting the National team-the Uganda Cranes," commented Somasekhar.
"Football unites individuals and societies, develops communities and teaches the values of team work to achieve a common goal. There are no better qualities to instill in the youth today and I would like to congratulate the Buganda Kingdom for this initiative," he added.
The Katikkiro of Buganda Owek. Charles Peter Mayigga thanked Airtel Uganda for their support of Buganda kingdom activities.
"Airtel is no stranger to this Kingdom. We have worked together in the past on a number of projects and I believe we shall continue this relationship in the future. This tournament boosts talent and creates unity and I encourage everyone to participate either as a player or as fan," he commented.
He also noted that this year, the Kabaka will grace the opening game on Saturday 23rd June in Gomba district and the finals which will be played at Namboole Stadium in August this year.
(Visited 105 time, 1 visit today)
All set for the first ever Kampala Night Run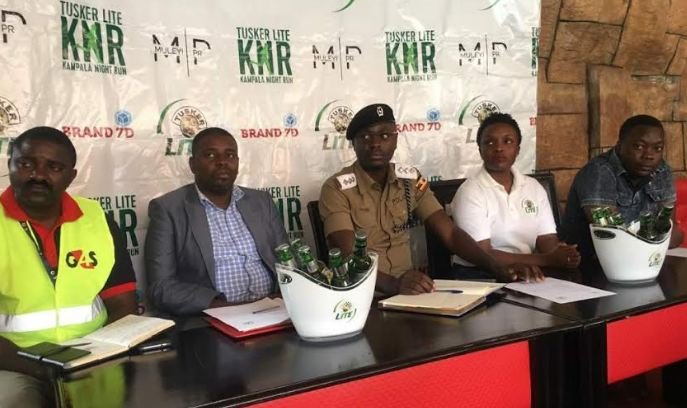 By Our Reporter
All is set for the first ever Kampala Night Run happening this Saturday June 9. This after Uganda Police Force and Kampala Capital City Authority endorsed the fun run. The two authorities confirmed they are onboard for the Tusker Lite Kampala Night Run and gave their assurances the event will run smoothly.
The Public Relations Officer, Kampala Police, Luke Owesigyire, today reassured the event organisers and those planning to participate in the run of the Police's resolve to protect their lives and property on Saturday when the event takes center stage in Kololo. He confirmed an elaborate security plan had been put in place with more than 100 police officers to be deployed along the route to ensure runners are safe and secure.
"As Uganda Police, our mandate is to serve and protect. It is therefore our responsibility to ensure that everyone taking part in the Tusker Lite Kampala Night Run is safe. We have a solid traffic management plan in place and we are going to deploy heavily to guarantee security throughout," Mr. Oweyesigyire told journalists during a press
conference at Torino Bar and Restaurant.
"We are also warning unlawful individuals or groups with intent to cause a breach of security during the run that the consequences will be severe," Mr. Oweyesigyire added.
The run also obtained a seal of approval from the Kampala Capital City Authority (KCCA), which has already provided lighting along the route to ensure runners' safety.
"We are proud to be part of this innovation and we ready to work proactively towards its realisation. As KCCA, we can confirm the night run has been approved to go on, and additional lighting was installed to ensure everyone is safe come Saturday," said Robert Kalumba, the KCCA deputy spokesperson.
The two kilometre run which will start and finish at Torino Bar is to be flagged off at 7pm with runners heading for Upper Kololo, through Impala Avenue, onto Lugogo Bypass and then returning to the set-off point.
"The security and safety of both runners and revelers is very important to us, which is why we are pleased to let everyone know that on top of our private security arrangements, both Uganda Police and KCCA are on board to ensure everyone has lots of fun without worrying about their safety or that of their property," said Grace Namutebi, Tusker Lite Brand Manager.
The Tusker Lite Kampala Night Run promises to give Ugandans a unique experience by allowing them to break a sweat and also have fun with friends at the same time. To top off the night run, there will be a mega after party with performances from Fik Fameica, Cindy, Beenie Gunter and Allan Toniks. Some of the town's best disc spinners including DJ Simples, Ciza and DJ Mary Jo will keep revelers partying until late.
(Visited 105 time, 1 visit today)