Dolphins get financial boost ahead of junior swimming championship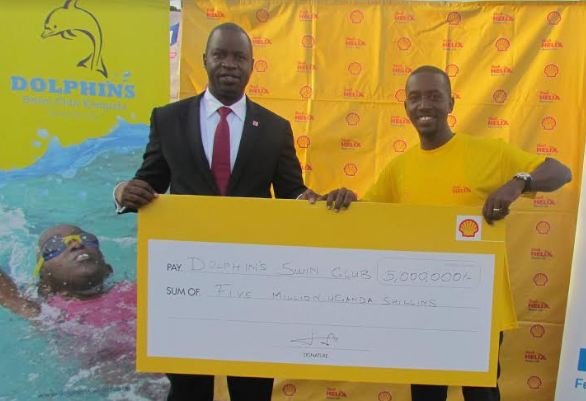 Vivo Energy continues to show support to the sports fraternity with a donation of 5 million shillings to Dolphins swimming club Kampala through its flagship lubricant, Shell Helix.
The 5 million shilling goes towards the organisation of Junior swimming championship that is scheduled for 1 st and 2nd April at Cambridge international School.
This is the first ever junior championship organised in Uganda and it has attracted ten clubs, with one coming from Kenya. The event is expected to have over 250 swimmers, who are strictly under 12 years competing for Gold, Silver and bronze medals.
Vivo Energy brand manager lubes Alex Tusingwire, who handed over the donation to Sam Ntulume Dolphins swim club chairman, noted that Vivo Energy does not only deal in fuel but has an interest in sports as well.
The company is the title sponsor for Rhinos rugby club and sponsors the annual Shell V-Power Pearl of Africa rally.
Dolphins Swim Club Kampala, is not just a swimming club, but a unique league of keen, driven and hardworking children and adults who ultimately gain more than just skill.
The Club inspires and infuses a general discipline that helps young swimmers overcome everyday obstacles and come out on top.
(Visited 105 time, 1 visit today)
Kitende beats Budo S.S to defend COPA Coca-Cola Wakiso Regional title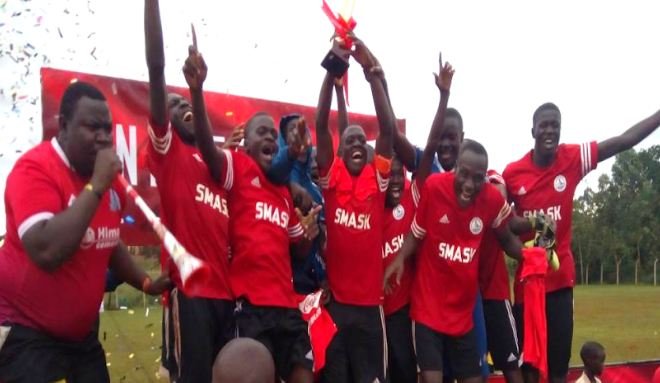 By Our Reporter
Kitende S.S successfully defended their COPA Coca-Cola Wakiso regional championship trophy when they defeated fellow Wakiso giant Budo S.S over the weekend. This victory, which earned Kitende a slot in the 2018 national finals tournament, was reminiscent of last year's Wakiso regional finals, which saw Kitende emerge victor after a formidable game against Budo S.S.
Budo S.S, St. Julian Gayaza, Standard High Zana and London College are the other four schools that will represent Wakiso in the national championships that will be held in May this year.
As part of the COPA Coca-Cola Silver Jubilee celebrations, Kitende S.S also won a brand new flat screen TV to enable them watch the FIFA World Cup that will also be happening this year.
Over the past 25 years, COPA Coca-Cola has become Uganda's largest brand-supported grassroots football tournament with notable players such as Farouk Miya, Godfrey Walusimbi, Shaban Muhamad, Khalid Aucho and many others having gone through this tournament to make it to local and international clubs as well as to the Uganda National team.
The regional tournaments are currently being played in different regions across the country and winning teams will converge in Mbarara early next month for the National Championships.
Commenting about the recently concluded Wakiso Regional game, Mrs. Maggie Kigozi, the Coca-Cola Marketing Manager for Uganda congratulated both teams for putting up a spirited fight up until the last minute of the game. "I am proud to note that the quality of football in Wakiso region has greatly improved over the years of this prestigious tournament. I believe we have instilled values that these students will leverage on as they build their futures," she noted.
(Visited 105 time, 1 visit today)
Thousands turn up for 2018 Kabaka birthday run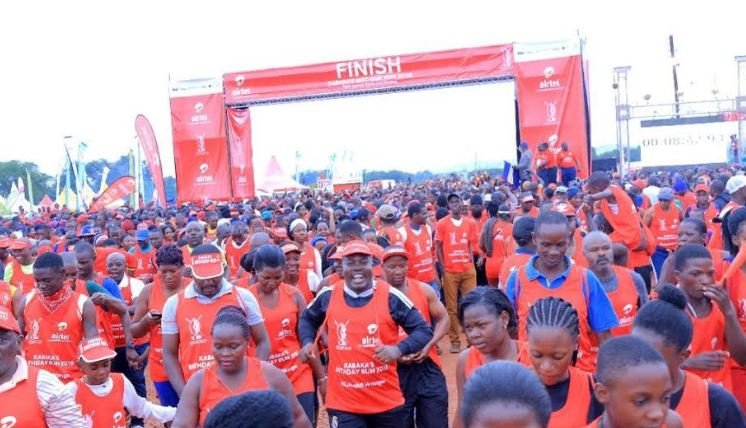 More than 40,000 brave runners braved the heavy rains to take part in the 2018 edition of the Airtel Kabaka birthday run that took place on Sunday. This year's run also celebrated 25 years of the Kabaka's coronation anniversary.
The run that was flagged off at 7.00am by the Kabaka of Buganda; Ssabasajja Ronald Muwenda Mutebi, attracted notable participants from the kingdom including; the Katikkiro of Buganda, Owek. Charles Peter Mayiga, Prince David Wasajja and Princess Katrina Ssangalyambogo.
Prince David Wasajja, who was also the Chief Runner of the day ran the 21 kilometers race while Princess Katrina Sangalyambogo took on the 10 kilometers.
The Kabaka Birthday run is part of Airtel Uganda's five-year partnership with Buganda kingdom to support four of its main annual activities including the Kabaka's birthday celebrations, Kabaka coronation and Eid-El- Fitri.
Addressing the crowds after the run, Katikkiro of Buganda Owek. Charles Peter Mayiga applauded the participants for their enormous support to the Kingdom and its causes. "Each year, we note an increase in the number of partakers in the Airtel Kabaka birthday run. This year, we have more than 10,000 more participants than we did last year and on behalf of the kingdom, I commend you all for your consistent and growing support for the causes that we have chosen to support," he said.
The Katitkiro also praised Airtel Uganda for partnering with the kingdom in advancing programs which benefit both the people of Buganda kingdom and the rest of the country.
"While we are commemorating milestones that are specific to Buganda kingdom, it is important to note that the proceeds from this year's run will go to our efforts to fight sickle cell disease in Uganda. Partnerships such as the one we have with Airtel Uganda are invaluable because they allow us to make positive impact within our communities," Mayiga added.
Addressing the media, Airtel Uganda's Managing Director; Mr. V.G Somasekhar said that through its Corporate Social Responsibility programs, the company seeks to contribute to the socio-economic advancements of vast and different communities.
"One of our key beliefs lies in the power of partnerships. Together with the Buganda kingdom, we believe we can create awareness of the threats of sickle cell disease and empower people with information that will enable them to identify and prevent the sickle cells disease," he noted.
"It is an honor to once again be part of a noble cause whose benefits will reach and help countless lives from across the country," he concluded.
According to the Ministry of Health over 25,000 babies are born each year with sickle cell disease and over 80% die before their 5th birthday contributing to 15% infant mortality- 13.3% of the total population have sickle cell traits and 21% are within the Buganda region.
(Visited 105 time, 1 visit today)
Ugandan athletes promise to make country proud at the Gold Coast 2018 Commonwealth Games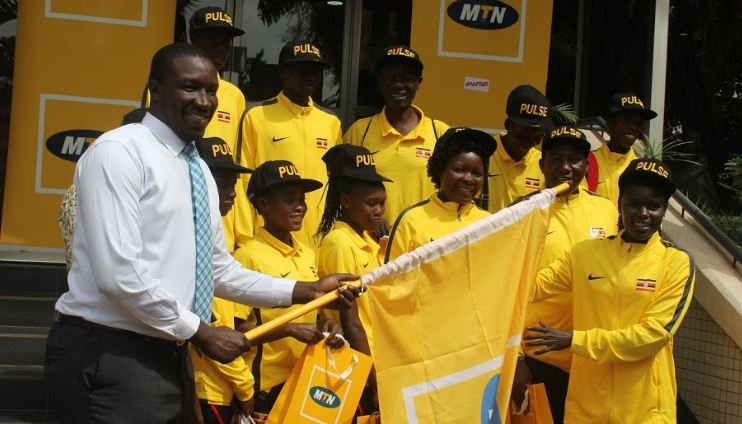 By Our Reporter
Ugandan athletes that will participate in the Gold Coast 2018 Commonwealth Games have promised to do their best and make the country proud. This was during a breakfast organized by MTN Uganda on Tuesday morning.
"I am going to defend the medal I won in 2014 and also do better," said Winnie Nanyondo, the 2014 800m Bronze Medalist at the Glasgow Commonwealth Games.
"I promise to do my best and believe that we shall come back with medals," Juliet Chekwel, a long-distance runner, also added.
MTN Uganda through its sponsorship of several UAF calendar activities hosted the athletes as part of the send-off. According to Valery Okecho, the Corporate Communications Manager at MTN Uganda, the partnership with UAF has been ongoing for the last 14 years, with the highlight being the annual MTN Kampala Marathon.
"We wish you well in Australia and we hope for medals. We are backing you 100%. You are on the world stage and this is an opportunity for you to shine. We do hope that these games translate into your personal success," Okecho told the athletes.
Speaking at the breakfast, Anne Edatu, the executive representative for the North East at the Uganda Athletics Federation (UAF), expressed confidence in the athletes noting that they have made ample preparations.
"I have confidence that the athletes will do well, considering the training they have been undergoing for the last one and half months. While in the camp, we have been working as a team and we believe there is still an opportunity for growth and success." She stated.
Uganda will have a team of about 15 athletes, participating in sprints, steeplechase, and long distance races. The athletes include; Winnie Nanyondo, Halima Nakaayi, Juliet Chekwel, Thomas Ayeko, Stella Chessang, Nanziri Emily, Albert Chemutai, Philip Kipyeko, Mercyline Chelangat and Joshua Cheptegei.
The Gold Coast 2018 Commonwealth Games are expected to kick off on Wednesday, 4th April 2018.
(Visited 105 time, 1 visit today)